Sun Dried Tomato Spread is a vibrant red, garlic and herb packed, quick and healthy way to add a taste of summer to sandwiches, dips, crackers, pastas, and more. Whip up a batch of Sun Dried Tomato Spread today and explore the possibilities!
I saw my blogging compatriots 'In Sock Monkey Slippers' and 'Farmgirl's Dabbles' whip up versions of Sun Dried Tomato Spread (or Sun Dried Tomato Jam) a couple of weeks ago and knew instantly that I was going to be making some in my house pronto. It was one of those things that I felt -beyond a shadow of a doubt- would be right up my food alley.
I tinkered around until I found the perfect blend for my crew and I'm happy to present to you today the stuff that's going to be making an appearance in many meals at my house from this day forward because WHOA BABY, you haven't had a sandwich until you've had a sandwich with Sun Dried Tomato Spread.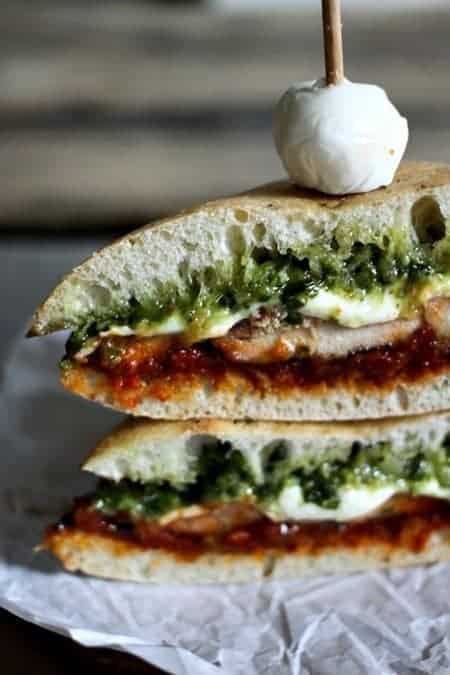 Just how badly do you want to chomp down on that sandwich right about now? I don't know about you, but I might elbow a small child out of the way to get to it.
It's hard to explain precisely WHY the brick red Sun Dried Tomato Spread is so stinkin' wonderful, because it's not just foodstuffs, it's a PRESENCE in food. It's the aroma of summer: tomatoes and herbs in the hot sun. It's the concentrated taste of those warm tomatoes and herbs made fragrant with a little garlic and a hint of red wine vinegar smoothed with olive oil. All this with a touch of sweetness to set it all off and simmered gently to thicken then pulsed with a stick blender or in a food processor or blender just until it's spreadable. This is the stuff on which food dreams are made. My word. Sun Dried Tomato Spread is the full eating experience: texture, visual, scent, taste… You need this in your refrigerator!

Cook's Notes:
For this recipe, you use jarred sun dried tomatoes packed with herbs in oil. There are several great brands out there from which you can choose. Keep in mind that the jarred tomatoes are not interchangeable with the dry ones in bags.
While recipes normally suggest NOT allowing onions and garlic to brown, in this recipe, it's actually desirable to get a little brown around the edges of the onions and garlic. You don't want to FRY the whole works, mind you, just get those edges a little golden brown. It intensifies the flavour in the end product.
Sadly, this is not a good candidate for canning -whether boiling water bath or pressure canning- because of the thickness of the product. It's just too viscous to be recommended for home canning. Please store this in the refrigerator for up to a month or freeze in ice cube trays then transfer to re-sealable plastic freezer bags for longer storage.
How would YOU use this Sun Dried Tomato Spread?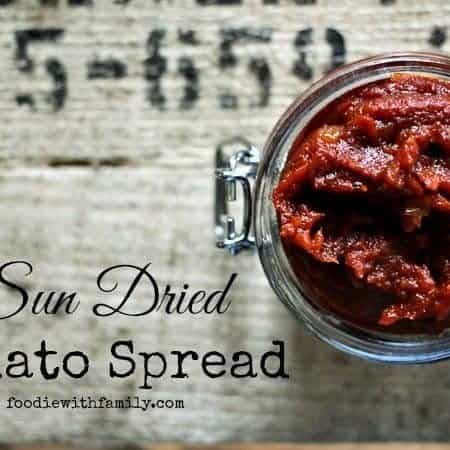 Ingredients
1

yellow cooking onion

peeled, trimmed of the ends, thinly sliced

2

cloves

of garlic

peeled and pressed or minced

1

tablespoon

olive oil

1

jar Julienne cut sun-dried tomatoes with herbs in oil

8.5 ounces, drained, oil reserved

1

can tomato paste

6 ounces

1 1/2

cups

water

1/4

cup

red wine vinegar

1/2

teaspoon

dried thyme

3/4

teaspoon

salt

1/2

teaspoon

black pepper

1

tablespoon

balsamic vinegar
Instructions
Heat the olive oil and 1 tablespoon of the reserved sun-dried tomato oil over medium heat in a 2 quart saucepan with a heavy bottom and tight fitting lid. When the oil is shimmery, add the onions and garlic. Cook them, stirring frequently, for 3 minutes, or until the onions begin to soften and the edges have lightly browned. Add the sun-dried tomatoes, tomato paste, water, red wine vinegar, dried thyme, salt, and pepper to the pan. Stir until everything is evenly combined. Bring to a boil, drop the heat as low as it can go, put the lid on the pan and let it simmer for 30 minutes, stirring from time to time. After 30 minutes, remove the lid and let the mixture simmer until most of the liquid has evaporated, stirring frequently. Remove from the heat, stir in the balsamic vinegar, and let the mixture cool for 30 minutes. Scrape the contents into a blender or food processor or use an immersion blender to pulse until you have a thick, spreadable paste that still has good texture. Transfer to a jar with a tight fitting lid, level the contents, and drizzle olive oil over the top before fitting the lid in place. Store in the refrigerator. For best flavour, use within 2 weeks. If you'd like to store it longer than that, freeze in ice cube trays until solid then transfer to a zipper top bag and keep frozen for up to 4 months.

For best taste, use within 1 month.
Nutritional information is an estimate and provided to you as a courtesy. You should calculate the nutritional information with the actual ingredients used in your recipe using your preferred nutrition calculator.