Silky smooth icing is nice, but Brown Sugar Cinnamon Buttercream Frosting Recipe has crunchy little crystals of brown sugar throughout it making it reminiscent of snickerdoodle cookies. Use Brown Sugar Cinnamon Buttercream Buttercream Frosting Recipe on my now-classic Snickerdoodle Cake, white cake, or carrot cake for an indulgent touch!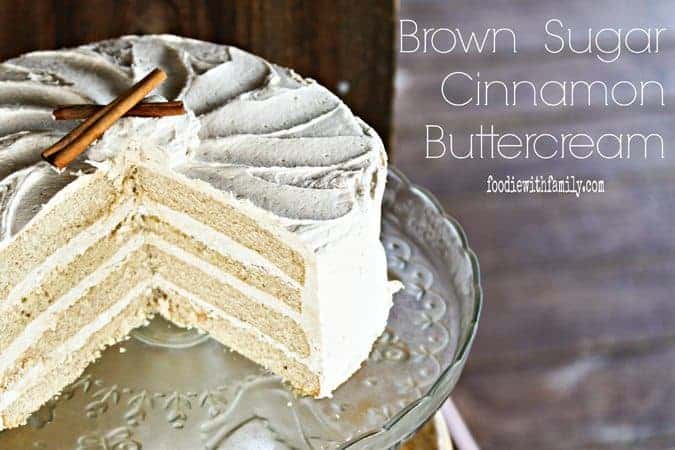 What is it about a cake that makes you go back for more? If you're like most people, it's the frosting. My husband is one of the only people I know who actually scrapes frosting OFF of cakes and eats the cake only. Mostly.
I say mostly because the frosting (or icing, depending on your geography) you see in that picture above is one of the only ones he eats with enthusiasm. We're talking about Brown Sugar Cinnamon Buttercream Frosting Recipe, folks. You're looking at something that is quite possibly the most indulgent frosting that can possibly be made. It makes a seriously abundant amount: enough to frost a large layer cake QUITE generously or a double batch of cupcakes or a bunch of cookies and still have a couple of spoons full left for snitching to boot.
This isn't your average buttercream, and it makes me wonder if that's why my husband loves it so. Brown Sugar Cinnamon Buttercream Frosting Recipe is flecked with crunchy little bits of brown sugar and is fragrant with sweet cinnamon making it a stand-out in the frosting/icing/what-have-you field. It absolutely belongs on my now-classic Snickerdoodle Cake, but it's also beyond perfect on white cake and makes a unique and welcome change from the norm when used to frost a carrot cake.  Maybe 'crunchy sugar bits' and 'frosting' aren't normally something that would be thought of as a great pairing, but once you've tried it, I think you'll agree; it's just so darned good.

Cook's Notes:
Admittedly, this makes an ENORMOUS amount of Brown Sugar Cinnamon Buttercream Frosting Recipe. If you're planning on making my Snickerdoodle Cake, you're not going to want to reduce the recipe, but if you're making cupcakes or cookies or a single layer cake, you may find that halving the recipe will still give you plenty. Honest-to-Pete, though, the worst case scenario is having extra buttercream on hand. I don't know about you, but I am almost always glad to have buttercream around.
There is a range given in the recipe for the confectioner's sugar. This is because not everyone likes their buttercream the same thickness. If you prefer a more easily spreadable frosting, you'll probably want to go closer to the 8 cup mark. Want it thicker and more architectural? Add closer to 9 cups.
While here in the US, half and half is abundant, I understand that it isn't as widely available internationally. If you're wondering what to substitute because half and half isn't available in your market, mix together light cream and whole milk in equal parts. Tada!
Brown Sugar Buttercream Frosting Recipe
Ingredients
4

and 1/2 sticks butter

or 1 pound, 2 ounces by weight, softened to room temperature

1

cup

light brown sugar

packed

2

teaspoons

ground cinnamon

8-9

cups

confectioner's sugar

powdered

1

teaspoon

vanilla extract

1/2

cup

of half and half

plus more if needed
Instructions
To Make the Buttercream:
Beat together the butter, brown sugar and cinnamon until fluffy and pale in colour.

Add 6 cups of the confectioner's sugar and the vanilla extract and beat, starting on low and moving up to high, until it is fully incorporated.

Scrape down the bowl and add the half and half. Beat to incorporate again.

Add another 2 cups of the confectioner's sugar and beat, starting on low and moving up to high, until fully incorporated. Check the consistency of the buttercream. If it needs to be thicker, add the remaining confectioner's sugar. If it is too thick, add more half and half a teaspoon at a time, beating after each addition, until it reaches the consistency you like. Store unused portions of the buttercream in the refrigerator for up to a week.