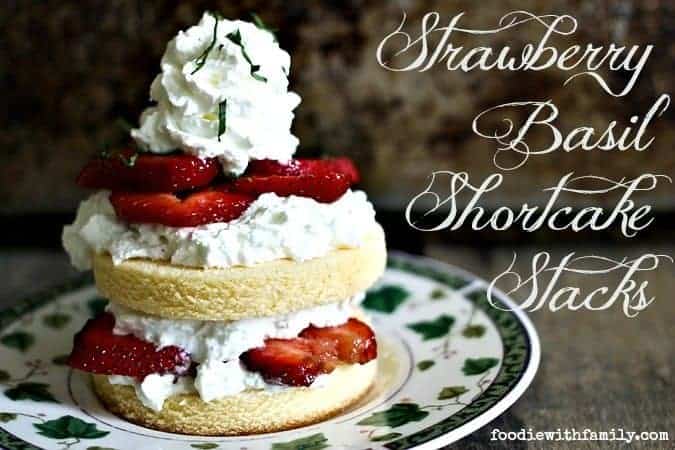 My husband has two perennial requests for his birthday feasts. The first is that he be given a mixing bowl full of chewy/crispy bacon and be allowed to eat as much or as little of it as he wishes with no restrictions. The second is that he have strawberry shortcake for dessert.
The bacon thing? Well, that might be because whenever I make it I have a purpose for every last strip and crumb of crispy bacon. It goes INTO things. It goes ONTO things. What it never is is frivolous. The man just wants a big old bowl of bacon and his freedom. I get it.
The strawberry shortcake? Simply put, he just plain loves it. He loves it with every fiber of his being. And as a good southern boy, he loves strawberry shortcake on biscuits. And as a good food blogger, I messed with it.
"Oh, Honey! This looks great. Heyyyyy. What's that green stuff on my strawberry shortcake?" he said mistrustfully.
"It's just decorative, sweetie. Isn't it pretty?" I said cloyingly.
"Bite chew chew chew chew." he chewed enthusiastically. "Hey. This is GREAT. Now really. What's making these strawberries so strawberry-y? I can't stop eating this!"
"BASIL! HAHA! And BALSAMIC VINEGAR!" I yelled triumphantly while victory dancing in one of my less kind-and-gentle-wifey moments. Then I hugged him. I'm not heartless, you know.
"Whaddya know. That's really good. Really, really good. I like basil with my strawberries. That's really unique. And really, REALLY good." He said.
For real, folks. He's right. Basil and strawberries go together as well as blueberries and pie. Basil's natural perfume has a way of heightening the perfume of the strawberry. Balsamic vinegar? Shoot. Don't look at me like that. It makes strawberries TASTE even more strawberry-y. If you doubt me, try this. Sacrifice just ONE LITTLE STRAWBERRY to this experiment. Hull it, slice it, add 1/4 teaspoon balsamic vinegar and 1/4 teaspoon of sugar and one little tiny strip of fresh basil. Toss it and let it sit for 10 minutes then eat it. You're going to be blown away. Trust me. Now when you've done that, come on back for our cook's notes.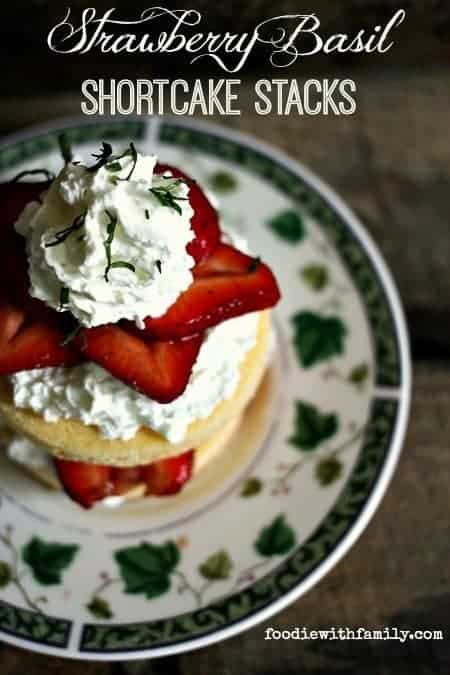 Cook's Notes:
I don't honestly care if you use homemade pound cake or store bought here. It goes without saying that homemade is probably going to deliver the better result, but there are some darned good pound cakes at bakeries out there. Just slice it into slabs and punch out your pretty little pound cake circles.
This is a job for fresh strawberries only. I do love frozen strawberries out of season, but mercy… there are some GOOD berries showing up in stores and markets now. TAKE ADVANTAGE OF IT.
Don't you even think of skipping the balsamic vinegar. You don't need the fancy pants aged stuff (but if you wanna use it, I'm not going to stop you and WHOA will you be in for a treat!). Dip your finger in the balsamic. If it tastes nice, doesn't screw your nose up and make you pull faces, you're fine.
I don't sweeten my whipped cream for this because I think the strawberries and pound cake are plenty sweet. If it isn't a dessert unless your teeth hurt from the sugar, feel free to sweeten yours a bit.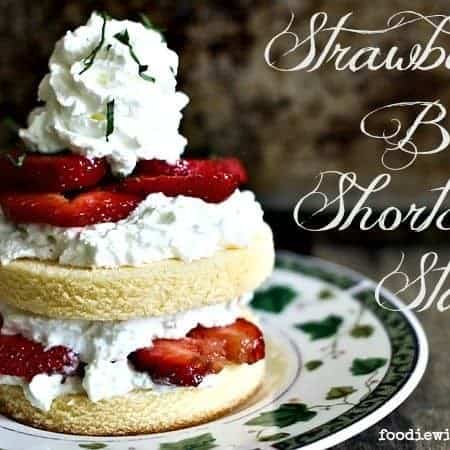 Ingredients
1

loaf pound cake homemade or purchased

cut into 1/2-inch thick slabs then cut into 3-inch diameter circles using biscuit or round cookie cutters

1

pint

whipping cream

whipped to firm peaks

1

quart

strawberries

hulled and sliced

1

tablespoon

plus 1 1/2 teaspoons sugar

1

tablespoon

balsamic vinegar

6-8

leaves

fresh basil

rolled up and thinly sliced
Instructions
Gently toss the strawberries, sugar, and balsamic vinegar together in a mixing bowl and let it sit at room temperature for 10 minutes. Toss in all but a tablespoon of the thinly sliced basil. If desired, this part can be done up to 4 hours ahead of time, covered with plastic wrap, and refrigerated until serving time.
To Plate:
Lay one round of pound cake on a plate. Spread a tablespoon of whipped cream on the pound cake round. Arrange several slices of strawberry on the whipped cream, top with another 2 tablespoons of whipped cream, another round of pound cake and repeat the whipped cream/strawberries/whipped cream pattern ending with a generous dollop of whipped cream and a few thin strips of the basil. Serve immediately.
Nutritional information is an estimate and provided to you as a courtesy. You should calculate the nutritional information with the actual ingredients used in your recipe using your preferred nutrition calculator.