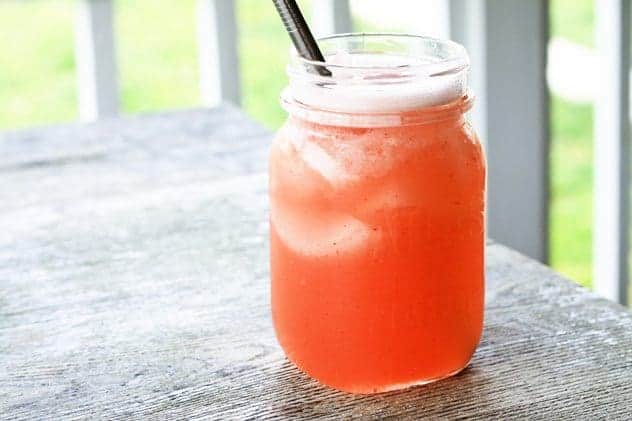 I should begin by saying that serious wine snobs should probably look away. Quickly.
I'll give you a second or two.
Are they gone now?
Okay, it's about to get all kinds of classy in here. And by classy, I mean serving wine in jars mixed with juice. Yeah, baby. That kind of classy.
I have had a couple of very crazy weeks here with various groupings of kids going to various camps, preparing for my brother's wedding, getting the house ready for company, and then there was some very fun travel for yours truly.
How fun was that travel? Let me show you a picture or two…
So yeah. That's me. Do you recognize the digs? Yes? No? How about now?
Maybe you recognize the lady behind my right shoulder? (Stage right. Not your left. Oh dear. Did I just make it worse?)
Last weekend, I had the incredible joy and privilege of visiting my friend and food blogger extraordinaire, Ree Drummond, a.k.a. The Pioneer Woman. For a little over a year, Ree and I have been planning a weekend workshop extravaganza of cheesemaking, bread baking, and canning. I couldn't wait to get out there and show folks how to make some of my favourite foods. What I didn't know was that Ree, in the way she does, was planning a surprise! She brought in a group of women and fellow food bloggers I've become friends with on Twitter to take part in the fun. We drank wine, we whined, we ate, we cracked adolescent jokes about cutting cheese, we made cheese, we ate cheese, we made bread, we ate bread, we ate massive steaks and barbecue chicken. We canned, we cried, and in short, had a seriously grand time.
My word. There just aren't enough words to explain how fun it was. I was delighted to find out that Bridget, Robyn, Wendy, Sandy, Amy, and Georgia are not only every bit as nice as they seem on their blogs, they're *gasp* EVEN NICER. And pretty. Holy wah, folks. Have you ever seen such a pretty group of women?
But there is a reason I'm bringing all of this up. Two nights before I left, I made a batch of strawberry lemonade for my kids. It was hot out that night, and I poured some into a glass (okay, a jar)  that I'd been drinking out of moments earlier. The catch is that I forgot I'd been drinking white wine out of that jar. Like I said, classy.
The result was something so refreshing I ended up having another glass. Geez. Yes, it was still a jar.
It was delicious, it was light, it chilled me when I needed it most. As good as it was, I resolved to never, ever tell anyone about the fact that I was mixing strawberry lemonade and white wine. I guess I'm a prideful creature.
Then that weekend, at Ree's, I was offered a glass of white wine mixed with French tangerine soda. It was good. No. It was guuuuuuuuud. After sipping with the ladies, I blurted out my strawberry lemonade/white wine transgression. When no one laughed me out of the Lodge doors and into the 115°F heat (Hey, Oklahoma… 115°F? Woah. I'm relieved to know the natives don't even like that!) I figured I'd take the leap and share it here. So there you go, friends… My super classy, super chic, super refreshing wine thingy. If you've stuck with me this long, you're either an oenophile who is absolutely horrified right now or you're with me.
Either way, I'm glad you're here. I love you people. MWAH. (And that's not the strawberry wineade talking…)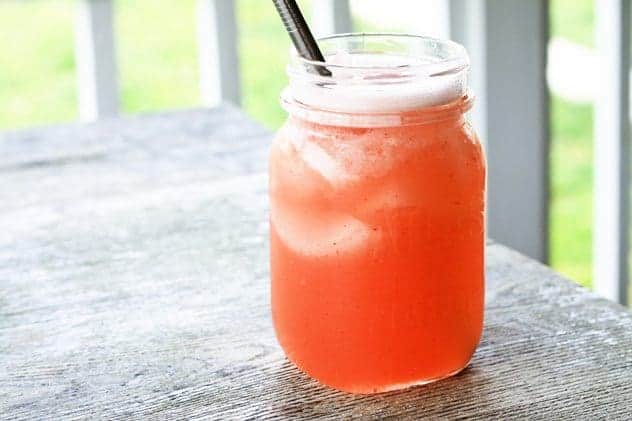 Super refreshing Strawberry Wineade is the result of a happy accident in hot weather. Fresh strawberry lemonade mixed with chilled semi-dry white wine over ice. There is NOTHING fancy about this other than the beautiful pink colour but it sure takes the edge off of the hot weather!
Ingredients
To Make the Strawberry Lemonade
1

cup

sugar

1

cup

water

1

cup

freshly squeezed lemon juice

1

quart

cold water

1

cup

frozen

hulled, unsweetened strawberries
To Make the Strawberry Wineade
1/2

cup

strawberry lemonade

1/2

cup

chilled semi-dry white wine
Instructions
Gently heat 1 cup of sugar and 1 cup of water together, stirring, just until the sugar is completely dissolved.Pour it into the work carafe of a blender and add the lemon juice, quart of cold water and frozen strawberries. Put the lid firmly in place and blend on HIGH until smooth. Pour into a pitcher or a jar with a tight fitting lid. Store in the refrigerator until ready to use.
To Make a Strawberry Wineade:
Fill a pint jar with ice cubes, pour the 1/2 cup of white wine over the ice and follow that with the 1/2 cup of strawberry lemonade. Use a chopstick or straw to stir gently.

Put your feet up in a classy way and enjoy!
Nutritional information is an estimate and provided to you as a courtesy. You should calculate the nutritional information with the actual ingredients used in your recipe using your preferred nutrition calculator.
I'd like to thank Ree for the use of the pictures of me making cheese above. The picture of people taking photos of me making cheese is by Sandy Coughlin, The Reluctant Entertainer. For more of our cheesemaking shenanigans, read Ree's fantastic post here.