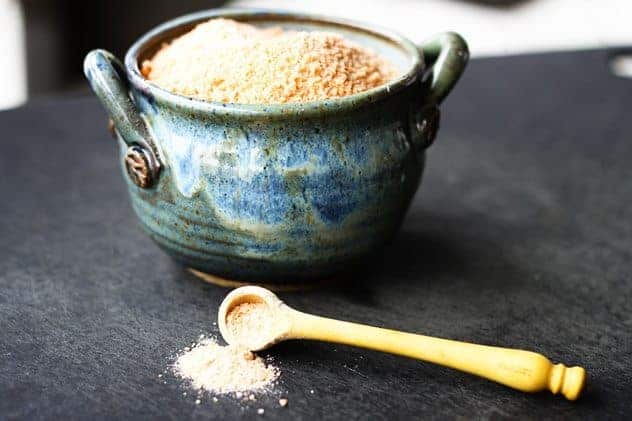 We are a popcorn family. We eat at least one batch every day. That is not as random a declaration as it sounds. It'll become important in a moment…
This is Sriracha Salt. It is exactly what it sounds like: Sriracha + Salt. It is -in essence- two of my best loved kitchen friends in one tidy little package. We squeeze Sriracha onto and into a lot of stuff chez us. Burgers, fries, rice, soup, falafel, salad dressing, and -in the case of my second born son- crackers. I'm not kidding. The child eats Sriracha on crackers.
Until recently, we also squeezed Sriracha on popcorn. It was tasty. It was good. It gave a spicy punch to the popcorn but it did one thing I didn't like. It made the popcorn near the bottom of the bowl soggy.
Blech.
I don't do soggy popcorn.
It's true.
In fact, more often than not I even eschew butter to keep my popcorn super crunchy. Yes, that's right. ME giving up butter. That's how much I dislike soggy popcorn.
And that's how much I like Sriracha. It was a huge battle of the likes vs. dislikes every time I made popcorn for a late snack. Do I put the Sriracha on it and eat quickly so it doesn't get soggy or do I just salt the popcorn and live with it?
…Enter Sriracha Lime Salt.
I read about the straight up Sriracha + Salt version of it in "The Sriracha Cookbook"
and knew it was the solution to my little neurotic popcorn issue. I added a little lime juice to the mix and was not disappointed.
Sriracha Lime Salt is as easy as 1-2-3 to whip up and puts Sriracha flavour in places where you want it minus all the liquid. Yes, we put it on popcorn. A lot. But we also sprinkle it on fries, tots, cottage cheese, avocado cubes, hard boiled, scrambled or fried eggs and vegetable sticks. You know what's more exciting than celery sticks sprinkled with Sriracha Lime Salt? (Okay, maybe it's just me. I found it terribly exciting.)
…For adults only: a friend of mine enjoyed rimming a tequila glass with a little Sriracha Lime Salt. I'm not brave enough to DRINK tequila like that, but she said it was fabulous and reminded her of a margarita minus the muddling.
I'm just glad I made a big batch. I'm thinking this is going to be outlandishly good sprinkled on roasted turkey and mashed potatoes. Oh yum! And roasted sweet potatoes. Oh my! It's going to be a very spicy Thanksgiving at our house!
P.S. This makes ahead of time BEAUTIFULLY and stores indefinitely. Filling a jelly jar with Sriracha Lime Salt and tying a pretty label around it with ribbon or rafia makes the perfect hostess gift or frugal Christmas gift for the chile heads in your life. If you accompanied the Sriracha Lime Salt with a copy of "The Sriracha Cookbook"
, it'd be better yet!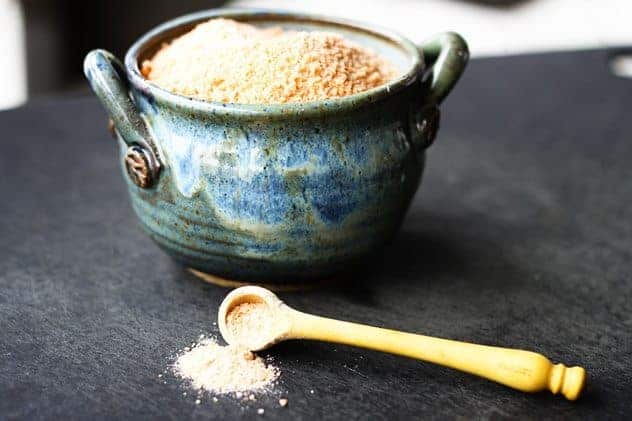 Anywhere Sriracha can go, give Sriracha Salt a try. Sprinkle on popcorn, French fries, tater tots, hard boiled, scrambled or fried eggs, guacamole, avocado cubes, raw or steamed vegetables. Adapted gently from The Sriracha Cookbook by Randy Clemens
Ingredients
1

cup

kosher salt

1

teaspoon

lime juice

3

tablespoons

Sriracha sauce
Instructions
Toss all ingredients together in a bowl using a fork until the mixture is even in colour and moisture.

Spread out the salt on dehydrator sheets or a rimmed baking sheet (if using the oven.) Try to get the salt in as thin a layer as possible.

Save

Dry in a dehydrator at 125°F (if the dehydrator has a temperature selection function, otherwise, just turn it on.) for 2-5 hours (depending on your dehydrator) until the salt is bone dry.

*If you do not have a dehydrator, preheat the oven to 350°F. When the oven has reached full temperature, turn it off, open the door to the oven just long enough to put the baking sheet in the oven and close the door. Let the salt sit in the oven until dry, about 2 to three hours.

If you use a dehydrator sheet, the salt should come up very easily. If you use a baking sheet, the salt will most likely stick to the pan a bit. Don't despair. A metal spatula will pry up all your Sriracha Lime goodness.

Leave as is -it will be chunky- or break up briefly in a blender or mortar and pestle. Store in an airtight container indefinitely at room temperature.
Nutritional information is an estimate and provided to you as a courtesy. You should calculate the nutritional information with the actual ingredients used in your recipe using your preferred nutrition calculator.