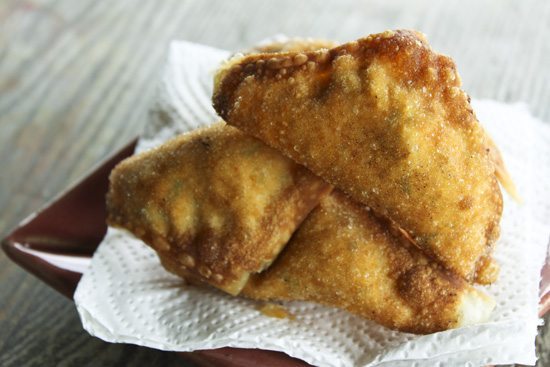 This is the last of my Rule of Three deep-frying posts. Look for more hat tricks of deep-fried recipes in the future!
Yes, I crabbed (heh) about these rangoons two posts ago, but I tell you this honestly and truly… Every single one of these was devoured. The children wanted more. The husband wanted more. I wanted more. The truth is, had I not doubled the recipe*, and had I not overfilled and then sealed them with a lick and a prayer**, I wouldn't have had such issues with the popping and the exploding and the grease burns. All that being said, these Sriracha Crab Rangoons were worth every single grease burn I acquired in the making of them.
*It's a compulsion. I'm working on it.
**I don't mean I actually licked them to seal the wrappers. I mainly mean that I was distracted while sealing them and in a hurry. What? Who's distracted? SQUIRREL!

Sriracha Crab Rangoons. Honestly. could something sound any better? First of all I need to make a confession. I adore Chinese Buffets. It's indecent really. I'm not talking about authentically Chinese food*. I'm talking about thoroughly Americanized deep-fried, kind-of Hunan, sort-of Szechuan, not-really Cantonese steam tables loaded with Crab Rangoons, Sweet and Sour Chicken, General Tso's Chicken, French fries, hot dogs and donuts that suspiciously resemble deep-fried canned biscuit dough dusted with cinnamon sugar. I know crab rangoons have about as much to do with authentic Chinese food as Boston Coolers have to do with Boston. It doesn't matter. They're so good.
*I have had real Chinese food. It's amazing. My overwhelming love of what my friend calls "WPCF" does not at all detract from my adoration of the real-deal. By the same token, though, I pledge my troth to General Tso and his Happy Family forever and ever, Amen. If it tastes good I will eat it; authentic or not.
Honest-to-Pete, you do not want to sit, stand, or otherwise be in between me and the crab rangoon steam tray at a buffet. Crispy wrapper (we've talked about my crispy foods issue), creamy crab filling, green onions, etc… Come on. That's the stuff of dreams. When you add Sriracha you have hit another level of crave-ability entirely. Rooster sauce + Crab Rangoons= Heaven.
It will probably not surprise you to know that there are no Chinese buffets near where I live (unless, that is,  you count a forty-five minute drive both ways as being near.) As much as I love this not-Chinese Chinese food, I'm far too lazy and far too cheap to drive that far for a craving. Farfarfarfarfar. Could I say that again?
The solution in these situations -because I often find myself craving things- is to make them myself. This is how I found myself manically and maniacally overstuffing wontons that I hastily sealed with hands shaking from hunger*. This is also how I came to stuff a fresh-from-the-fryer rangoon straight into my mouth. I do not recommend this move. Patience isn't just a virtue, it's a saver of the roof of your mouth.
*PSA: Foodie With Family does not recommend approaching a deep frying project when you are shaky because all you have consumed are two pretzel sticks, a fistful of raisins and an ill-advised cup of coffee. We recommend you eat a hard-boiled egg, at the very least, and come back to the job in a half hour. Too long to wait for fried happiness? I understand. There's always the make-someone-else-do-it approach. We endorse that.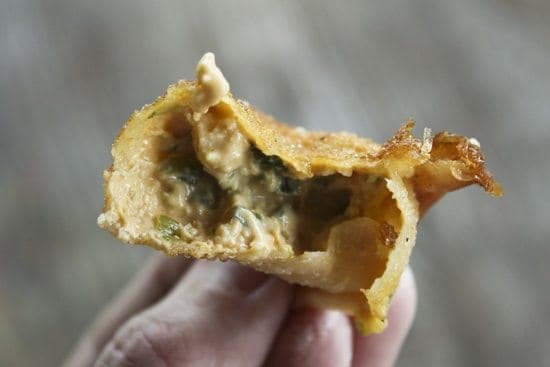 Here's the other thing to remember about this recipe. Halfway through, when I realized that the 72 crab rangoons that were the inevitable result of doubling the recipe would be excessive even for a family the size of mine, I abandoned stuffing wontons and decided on the filling-as-dip/Sesame Wonton Crisp approach. Those were fantastic, too. Approach this as the spirit moves you. Either way you do it, you're going to be eating happy.
Because I am nearing the end of the school year with the kids and this is what homeschoolers do, let's RECAP!:
Doubling this recipe? Bad idea unless you have a lot of time. This should've been evident from the "Yield: 36 wontons" statement in the book.
Overfilling or not sealing the wontons well? Bad idea #2. Don't go there. Take your time and do the job right or you'll have quite the clean up job and a couple lovely red grease burns to boot.
Eating these straight from the fryer? Also a bad idea unless you dislike the skin on the roof of your mouth.
Making these very soon? Great idea. You will NOT regret it.
Don't feel like frying? Make the filling, call it dip and dunk Sesame Wonton Crisps in it with joy!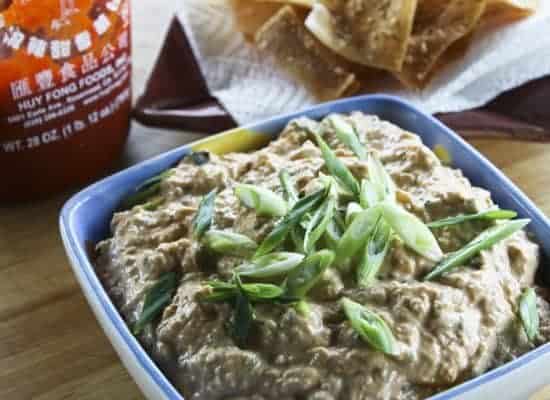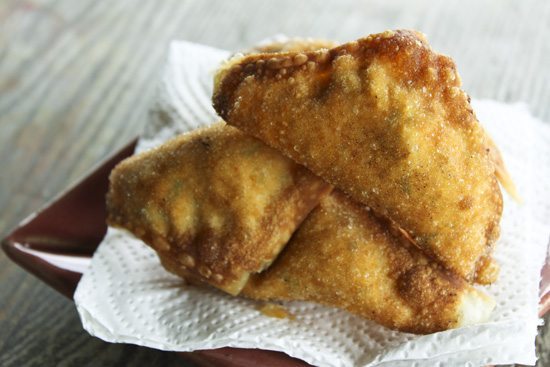 This spicy, garlicky, combination of crabmeat, cream cheese, garlic, green onions and Sriracha is great as a stand-alone dip or stuffed into wontons and deep fried.
Ingredients
1

brick cream cheese

8 ounce, brought to room temperature

1

tablespoon

Sriracha

6

ounces

drained

flaked crabmeat

1

tablespoon

soy sauce

1

clove

garlic

peeled and minced or pressed

4

green onions

*see notes for what to do with the white parts!, green part only, minced

1

teaspoon

toasted sesame oil

36

wonton wrappers

**see notes

1

egg white

beaten until frothy

vegetable or peanut oil

for frying
Instructions
To Make the Dip:
Use a wooden spoon or stand mixer to beat together the softened cream cheese and Sriracha until it is an even colour.

Stir the crabmeat, soy sauce, garlic, green onions and sesame oil into the cream cheese mixture.

Chill, tightly covered, and serve as dip. Or...
To Make the Sriracha Crab Rangoons:
Preheat about two inches of vegetable or peanut oil in a high-sided frying pan or pot until it reaches 375°F.

Line a pan or large platter with paper towels, set aside.

Lay a single wonton wrapper in front of you oriented like a diamond.

Brush all four outer edges of the wonton wrapper with the beaten egg white.

Spoon about 1 teaspoon of the filling below the top point, but above the centerline.

Fold the bottom corner up over the filling to match with the top corner and form a triangle.

Carefully and firmly seal the outer edges completely by pressing the edges tightly.

Fry the stuffed wontons in batches of 2-3, taking care not to overcrowd the pan, for 3-5 minutes, or until golden brown, delicious and crispy looking.

Carefully transfer the rangoons (this is where they like to pop) using a skimmer or slotted spoon, preferably, or tongs to the towel lined platter.

Repeat until all rangoons are fried.

Let rest 2-3 minutes before eating, but serve while still hot!
Notes
*Don't toss out those white root ends of the green onions! Put them, roots down, in a jar with water about halfway up the white portion and stick in a sunny window-sill. Change the water every two days and before you know it, you'll have more green onion ends to use! **Most wonton wrappers are available in the frozen section of grocery stores. Be sure to thaw them completely before using or you'll have to fight to separate them!
Nutritional information is an estimate and provided to you as a courtesy. You should calculate the nutritional information with the actual ingredients used in your recipe using your preferred nutrition calculator.