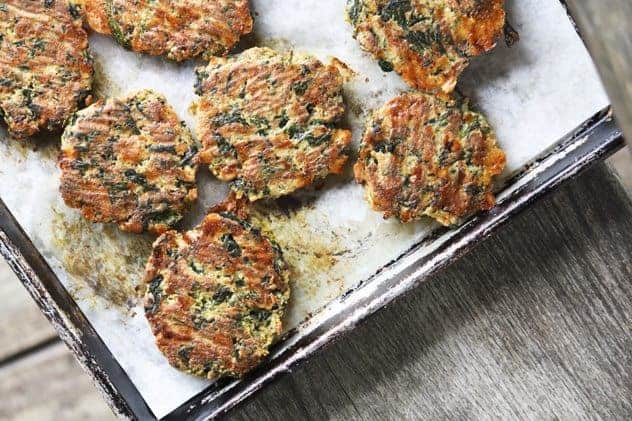 My name is Mrs. Bacon Onion Cheddar-Spinach, but you can call me Mrs. Spinach. I loved spinach so much that I married it.
Er, not really, but you get the point.
Spinach. Sigh. This is a bittersweet story. For years, I didn't cook spinach as much as I'd like because my kids -most of 'em anyway- didn't really like it. I put it on pizza (well, one of the several pizzas I make whenever I make pizzas), made the occasional spanakopita, etc… but I'm the kind of person who could happily eat spinach nearly every day and here I was eating it once a week.
And then I went to Oklahoma. What does this have to do with spinach? Let me tell you.
My kids went to stay with a friend of mine who is nothing less than a living saint*. When I came home, one of the founding members of the "no-green-stuff-in-my-food" cabal approached me and asked, reverently, "Mama? Can you please ask Mrs. Danner for her quiche recipe? That was the best thing ever." When I answered that I would and asked what kind of quiche it was, you could've knocked me over with a feather when he answered, "Spinach!"
*I think we'll all agree that a woman who agrees to watch all five of my sons and my dog (ages five through thirteen) in addition to caring for her own four children, feeds them, goes for hikes to rivers with them, helps remove leeches from them (thereby providing dinner [and all other moments] conversations for the following month), lets them watch Doctor Who, delivers them home fully alive, and still speaks to me afterward is a living saint. I think her first miracle was getting my kids to eat spinach. That counts, right? Three cheers for Mrs. Casda Danner!
The brain, it boggled. Because honestly, his answer implied both a.) that he liked it and b.) that he was aware that he had actually eaten and liked spinach. I pursued the subject…
"Who ate the spinach quiche?" I asked. All but the baby. "And who liked it?" Again? All but the baby. Holy moly. The next day at the playground, I quizzed my friend about how she accomplished this great deed. Her answer, and I'm paraphrasing here, was that people try to serve spinach to kids all wrong. She told me, "Everyone serves it wilted with vinegar, " [totally true on my part] "when what they should do is serve it with generous amounts of butter, cheese or cream."
I told you she was a saint, but she not only is beatified, she's brilliant.
And so. While wasting incredible amounts of time researching on Pinterest, I stumbled upon a very tempting picture of broccoli cheese bites. "Self," quoth I, "You ought to try something like that… but with spinach." I channeled Casda, combined wild amounts of Cheddar cheese, spinach and bacon (because where Cheddar cheese is, bacon should be!) and inspired by the aforementioned broccoli cheese bites, I achieved spinach-to-children's-mouth success.
These Spinach Bacon Cheddar Munchy Cakes (so dubbed by my eldest son after I struggled with what to call them) are packed with all the culinary joy that results when spinach, bacon, and Cheddar get together. It's hard to believe something so satisfying can be thrown together so quickly. More good news? These little beauts are very inexpensive. Omit the bacon and you have a vegetarian friendly entree or hearty snack.
A batch of these disappeared at light speed. And guess who tried it? The baby! And guess who liked it? Everyone! Including the baby!
We all opted for sriracha to accompany our munchy cakes. This one is mine. See the ladylike, evenly placed hot sauce dots?
This? This one is my husband's. No pretty dots for him. No-siree-bob. Man. Need. Much. Sriracha.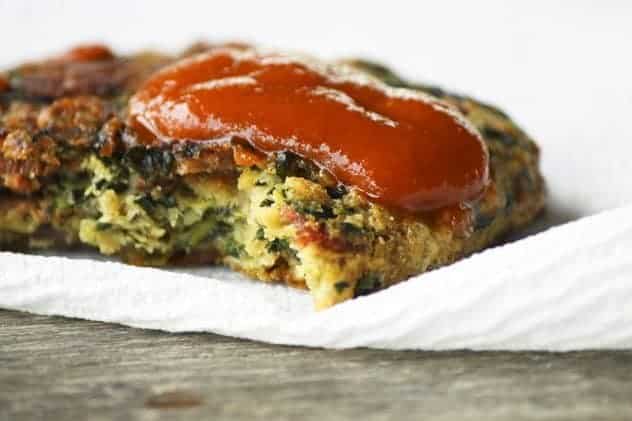 All I know is this; I probably won't win any health food awards with this recipe and I don't care. They're just so tasty.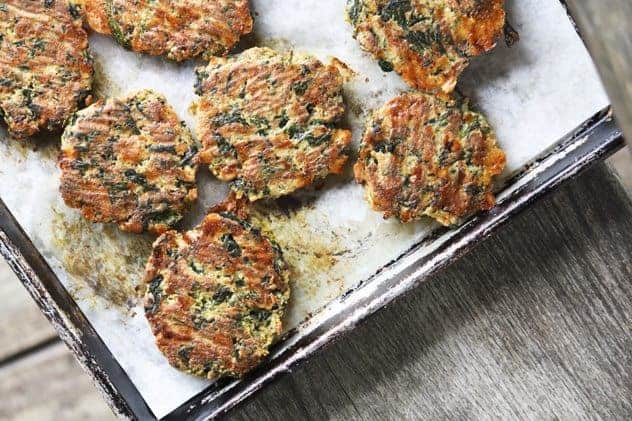 When bacon, Cheddar and spinach come together in these savoury snack cakes, smiles are inevitable. Even the pickiest eaters tucked into these with gusto!
Ingredients
1

pound

package frozen spinach

thawed and squeezed to remove most of the liquid

3

cups

shredded Cheddar cheese

I prefer extra sharp for this.

1 1/2

cups

fine dry bread crumbs

seasoned or plain

6

large eggs

1/2

pound

of bacon

cooked, drained and crumbled

3

tablespoons

finely minced onion

1/4

teaspoon

dry mustard powder

I prefer Coleman's.

freshly ground black pepper to taste
Instructions
Preheat oven to 375°.

Line a baking sheet (or two, depending on size) with parchment paper.

Stir all ingredients together until even.

Scoop about 1/4-1/3 cup of the mixture (an amount about equal to the size of a plum) and form into a patty. Place patties on prepared pan.

Repeat until all of the mixture is formed into patties.

Bake for 25-30 minutes, flipping the patties after about 15 minutes, until they are all golden brown and crisp on the outside.

Serve hot, warm or cool with your preferred hot sauce.
Nutritional information is an estimate and provided to you as a courtesy. You should calculate the nutritional information with the actual ingredients used in your recipe using your preferred nutrition calculator.