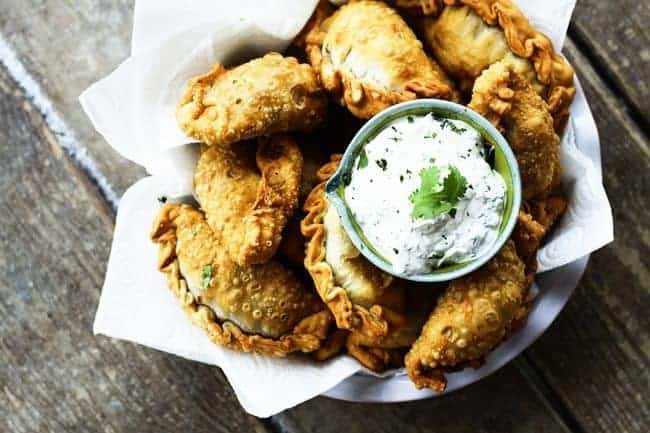 It's time for another installment of  "I'm Obsessed with Empanadas". I've made them stuffed with just about everything I can possibly think to stuff in them. The particular empanada recipe I'm sharing today starts with leftover pulled pork. This pulled pork recipe is perfect because it is already spicy enough. If you don't have any of this kind handy, there's an easy kludge I'll share with you, but I do like eliminating work for myself where I can.
…And because I like sweet with spicy, I soaked some golden raisins in rum for a little kick before stirring them into the pork. You could use any variety of raisin you have on hand. The only reason I went with golden ones is that I had an abundance of them. If you're not a raisin fan, I suppose you could omit them if you'd like, but I think they bring something special to the party.
Rounding out the lineup with the spicy pork and the sweet, rum-soaked raisins is a bit of minced red onion. It adds just enough punch and brightness to make itself known without being overpowering. Now, added to all this is a neat little hand-held, fried package that makes my heart sing.
The longest part of the procedure is soaking the raisins and even that can be hurried a bit if you cover it with plastic wrap and put it in the microwave on HIGH for a minute.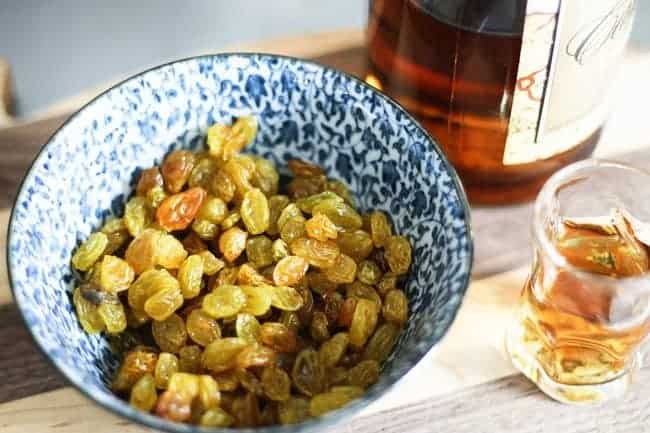 If you have pulled pork and empanada wrappers in the freezer, and raisins, onions, and oil in the pantry, you're mere moments away from chomping down on crispy, puffy, sweet and spicy pulled pork empanadas. I like to serve them with a side of sour cream that has just a little chopped cilantro and lime juice mixed in for dipping, but they're equally great nibbled solo or with fresh salsa.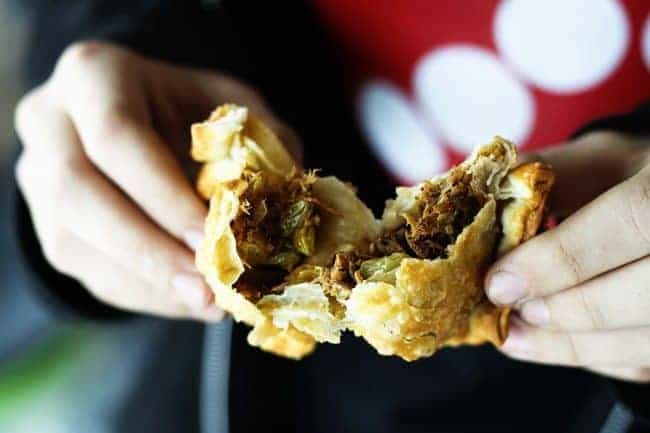 I can't get enough of the spicy, juicy pork mixed with sweet, slightly rummy raisins and bright crisp-tender onion.
How about you? Are you a fan of empanadas? How about raisins with pork?
XO Rebecca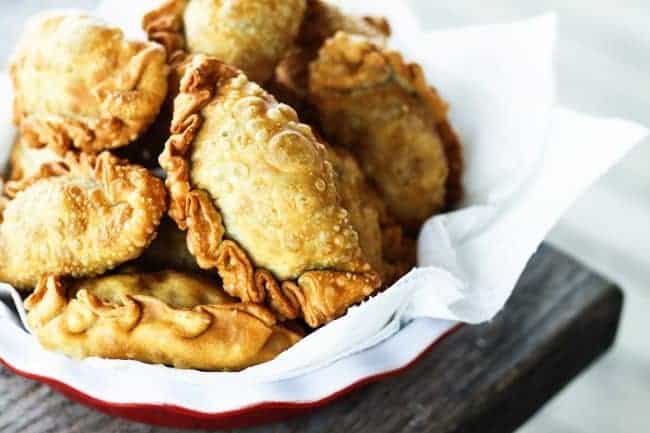 Crispy, Spicy Sweet Pulled Pork Empanadas are just moments away when you have pulled pork and empanada wrappers on hand in your freezer. These hand-held meat pies get a little extra kick from minced red onion and raisins soaked in golden or dark rum. Serve these as a blockbuster appetizer or movie night main dish.
Ingredients
2/3

cup

seedless raisins

2/3

cup

golden or dark rum

3

cups

fully cooked pulled or shredded pork *See Notes

1/4

cup

minced red onion

1

clove

garlic

peeled and minced or pressed

Optional: one chipotle from a can of chipotles in adobo

mashed with a fork

2 10-

count packages frozen empanada wrappers

I use Goya Discos

Enough canola

vegetable, or peanut oil or lard to fill a high-sided pan or skillet with 2-3 inches.
Instructions
Put the raisins in a heat-proof bowl. Pour the rum over the top and cover with plastic wrap. Let the raisins soak in the rum for at least an hour or overnight. **See Notes.

If there is any rum that has not been absorbed by the raisins, pour it off carefully. Toss the raisins with the shredded pork, minced onion, garlic, and chipotle (if using) until all ingredients are evenly distributed.

Lightly roll out each empanada wrapper (just to thin it out a bit) and place about 2 tablespoons of the filling slightly off center. Fold the wrapper in half over the filling and crimp the edges with a fork. If desired, you can fold and crimp the edges decoratively as well.

Heat your oil to 350°F. Line a plate with several thicknesses of paper towels. Carefully lower only as many empanadas into the oil as can fit with quite a bit of extra room for them to move about as they fry and expand. Fry the empanadas for 3-4 minutes, turning about halfway through frying, or until they are a deep golden brown. Remember that they will continue to darken when they are removed from the oil. Transfer the cooked empanadas to the paper towel lined plate and let cool slightly before serving.

Serve with fresh salsa or sour cream with cilantro stirred into it.
Notes
*I use this recipe because it is already spicy. If you don't have leftovers of a spicy pork, you can crush one chipotle from a can of chipotles in adobo and stir it into the pork to approximate the spice and flavour levels.
**If you're in a big hurry for empanadas (and who can blame you?) put the plastic wrapped covered bowl into the microwave and microwave on HIGH for 1-2 minutes, or until the raisins have plumped and absorbed much of the rum. Pour off any excess rum and proceed as directed above.
Nutritional information is an estimate and provided to you as a courtesy. You should calculate the nutritional information with the actual ingredients used in your recipe using your preferred nutrition calculator.