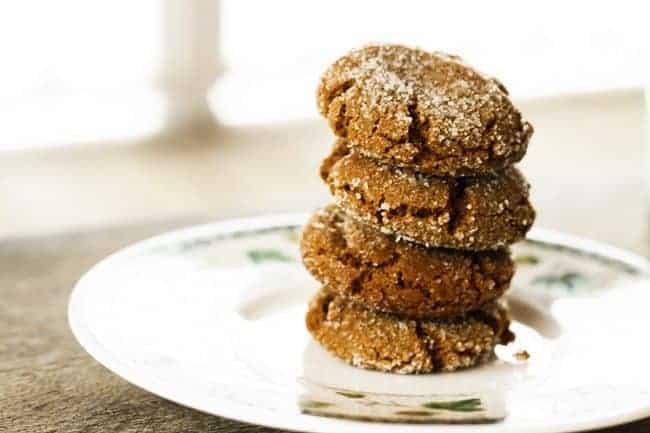 Cookies are the instant gratification fix of the food world. You mix things together, you scoop, you bake and you iiiiiiinhale them. Or at least that's what I do. This recipe was developed at the request of my dear-ole-dad who asked me to find a road-tested peanut butter and molasses cookie recipe for him. I couldn't. So I did what any self-respected recipe developer would do.
I made one up. Then I tested it like I was doing a recipe for a company, because people, this is my DAD we're talking about. I don't give him lousy recipes. Something about owing my life -in part- to him, blah blah blah.
I put everything my dad loves in a cookie into one little chewy, crispy package: peanut butter, molasses, and ginger. And Dad specifically asked that I make it "not-cakey". He said, "Crispy and chewy are both fine, but if I want cake, I'll eat cake."
Understood.
The addition of peanut oil to this recipe helps it to spread while it bakes. This does double duty- it prevents cakiness and it adds a bit of crispiness to the edges. I call these "The Incredible Morphing Cookies" because when they come out of the oven, they're domed and puffy and soft.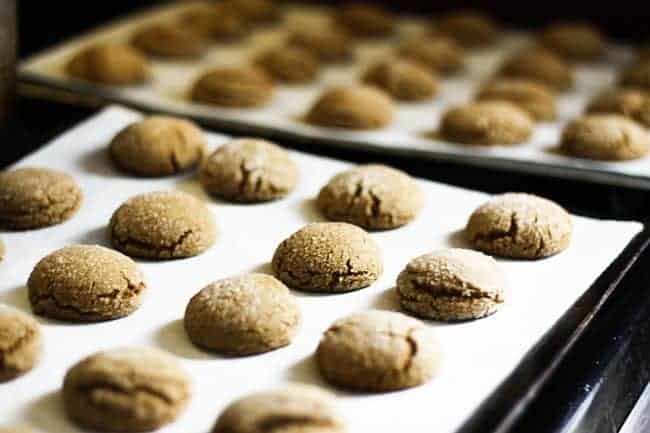 As they sit on the cooling racks, they deflate a bit. When they're completely cooled, they become crisp. When you transfer them to a cookie jar and let them rest overnight, they remain crisp at the edges and soften to chewy inside. Every single stage is delicious. I highly recommend eating a couple at each point. You know, for scientific reasons.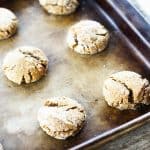 Print
Peanut Butter Molasses Ginger Chews
These crisp-yet-chewy cookies are full of good stuff: peanut butter, molasses, white whole wheat flour, ginger, butter and more. They are simple, fast and taste like Mary Jane candies!
Ingredients
2

cups

brown sugar

packed

1

cup

smooth peanut butter

1/2

cup

butter

softened

2/3

cup

molasses

1/2

cup

peanut oil

or vegetable or canola oil

2

large eggs

2

cups

all-purpose flour

2

cups

white whole wheat flour

4

teaspoons

baking soda

2

teaspoons

ground ginger

1

teaspoon

salt

Extra granulated sugar for rolling the cookie dough balls
Instructions
Preheat oven to 375°F. Line 4 cookie sheets with parchment paper or silpat.

Cream together the sugar, peanut butter, butter, oil, molasses and eggs in the bowl of a stand mixer or in a large mixing bowl until smooth.

Sift the flours, baking soda, ginger and salt together then add to the peanut butter mixture. Beat on low or stir in the flour until it is well mixed and even.

Use a small cookie scoop or a teaspoon to scoop the cookie dough into mounds that are about 2 teaspoons worth of dough. Roll the dough into balls and roll the balls in the extra sugar to coat completely.

Place the sugar coated cookie dough balls in 5 rows of 4 (using an extra cookie sheet if necessary to make sure you have at least 2 inches between each cookie dough ball.)

Bake for 8-10 minutes, or until the cookies are set in the center and firm at the edges.

Let the cookies cool on the pans for 2 minutes then transfer to a cooling rack. Store at room temperature in a cookie jar or other airtight container.