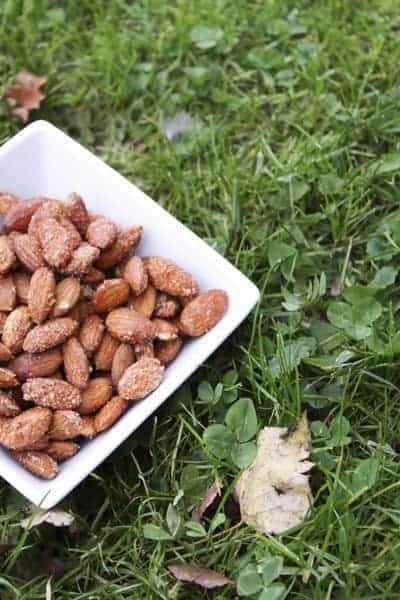 Aw, nuts!
As in aw, nuts. As in I'm nutty. As in I'm nuts for you guys. As in… let's just make these nuts already, eh?
Spicy, sweet, salty, and totally addictive, these nuts will become an instant necessity in your holiday food arsenal. You will dream about these. Years ago (and we won't say how many because I might be having an aging crisis), a friend brought these to an event that I organized at the office*. Let's just say that these didn't make it past my desk to the buffet table. They stayed with me. And my friend wasn't allowed to pass the desk until he jotted down the recipe for me. Because I'm just that kind of person.
*The aforementioned event -my brainchild- was "PigFest" wherein we spent each Friday in November bringing in dishes to pass with the express aim of expanding our stomachs to better hold the bounty that would be lain before us at upcoming holiday events. Who ever said advertising people were impractical?
Let's talk about these nuts for a moment. You can serve them warm (kept that way in a little slow-cooker) or room temperature; either way has its advantages. You can change out the seasonings used to spice them up. You can ratchet up or scale back on the heat. You can swap out walnuts, cashews, peanuts, Brazil nuts or whatever floats your boat for the almonds. You can pour a bunch of the cooled nuts into a clean canning jar, wrap some ribbon or rafia around it and give it as a fabulous hostess gift. But what you can't do is skip making these.
Now, we cook.
Aw, nuts.
Essence (Emeril's Creole Seasoning)
Recipe by Emeril Lagasse
2- 1/2 tablespoons paprika
2 tablespoons salt
2 tablespoons garlic powder
1 tablespoon black pepper
1 tablespoon onion powder
1 tablespoon cayenne pepper
1 tablespoon dried leaf oregano
1 tablespoon dried thyme
Combine all ingredients thoroughly and store in an airtight jar or container. Yield: about 2/3 cup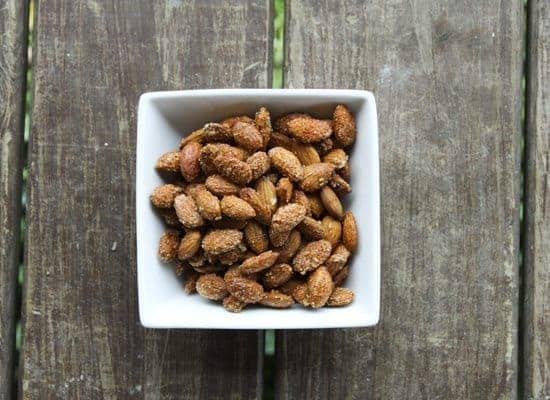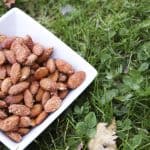 Print
Spicy Cocktail Nuts and a Giveaway! (Updated)
Addictive. That's the only word to describe these spicy, sweet, crunchy, roasty-toasty cocktail nuts. Make with almonds, cashews, peanuts, walnuts... You choose!
Ingredients
1

large egg white

1

teaspoon

water

4

cups

raw almonds

...or raw walnuts, pecans, or peanuts

1/2

cup

sugar

2

tablespoons

Emeril's Essence

or whichever spice blend you prefer..., recipe follows in notes

1/2

teaspoon

cayenne

1/4

teaspoon

salt
Instructions
Preheat the oven to 250 degrees F. Line a large baking sheet with parchment paper.

In a large bowl, whisk together egg white and water until frothy. Add the nuts and toss to coat. In a small bowl, combine the sugar, Essence, cayenne, and salt. Add to the nuts and stir to coat evenly. Spread the nuts on the prepared pan and bake until dry, about 45 minutes, stirring every 15 minutes. Remove from the oven and stir to separate. Let cool on the baking sheet. Serve warm or at room temperature.
Notes
Essence (Emeril's Creole Seasoning) Recipe by Emeril Lagasse * 2- 1/2 tablespoons paprika * 2 tablespoons salt * 2 tablespoons garlic powder * 1 tablespoon black pepper * 1 tablespoon onion powder * 1 tablespoon cayenne pepper * 1 tablespoon dried leaf oregano * 1 tablespoon dried thyme Combine all ingredients thoroughly and store in an airtight jar or container. Yield: about 2/3 cup