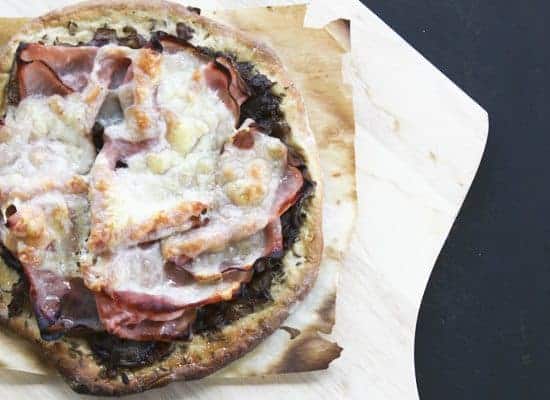 Here we are in Challenge #5 in Project Food Blog from foodbuzz.com! Thank you all many times over for the support you've given me in the comments here, via email, and on the Foodie With Family Facebook fan page. (That's an awful lot of effs.) The competition has been more fun than I ever expected it to be.

This prompt for this challenge stated, "One recipe, 100 variations! We're challenging each of you to put your own spin on the same recipe. How you do it is up to you. …You'll be asked to put your own spin on Pizza. For the purpose of this contest and challenge, we are defining pizza as having a solid base, a sauce and at least one topping." Oh my. We are in my wheelhouse on this one, folks. My middle name is "Put My Own Spin On Pizza".

Pizza. Can we pause for just a second?
(Contented sigh and wistful expression stealing over my face.)
I say -without a touch of hyperbole- that I could happily eat pizza every day of my life. From pepperoni-and-cheese to Hawaiian pizza to Chicago deep dish to more outlandish combos, I love it all, but, and this is a biggie*, I am choosy about my pizzas.
*I mean a big 'but' not to be confused with a big 'butt' which would be the inevitable result of me eating pizza daily.
I don't order pizzas because I am, ahem, a little high-maintenance when it comes to pizza. If I'm going to pay twenty dollars for one meal, it had better be the best representation of that meal that ever was. And -God love them- the pizza joints around here just don't measure up. Good pizza can take some serious planning and time, but my last minute cravings still have to be obeyed. So how does such a picky-pants get a quick pizza on the nights when you really need one?

Enter the freezer from stage left. You probably already know that it's a good idea to keep frozen pizza dough on hand, but did you know that you can keep frozen partially baked pizza crusts, too? I'm sure you've seen the variety of pre-baked pizza shells you pick up in shrink wrap at the grocery store near the bread section. These are like that, except that they're -wait for it- tasty.
There's no real mystery to the process. On days when you find yourself with a little bit of time to spare, whip up your favorite pizza dough, portion it out and roll it or stretch it out like you're going to make a pizza. Bake it for just a handful of minutes and remove from the oven before the crust starts to color to cool. Then freeze and wrap the crusts individually. Here are a few helpful things to keep in mind when making partially baked pizza crusts:
For the best results, use a pizza stone that preheats with your oven. Transfer your dough to and from the oven on a cornmeal dusted peel. If you don't have a pizza stone, the next best option is a parchment lined pan dusted with cornmeal or semolina.
Get generous with the cornmeal or semolina. Use a good layer of cornmeal or semolina flour on your pan, peel or parchment; whichever vehicle you use to get your crust in and out of the oven. Since you're not completely baking the crust, it is crucial to prevent the dough sticking before or after baking. This step provides a little insurance against sticking dough.
Cool crusts completely before stashing in the freezer. This simple step improves the final baked pizza, so don't skip it.
To save room in the freezer, make a stack of crusts, separating each layer with parchment paper. After stacking, wrap tightly in a double layer of plastic wrap or a large, resealable freezer bag. You can use the parchment separating the crusts beneath them during baking, too.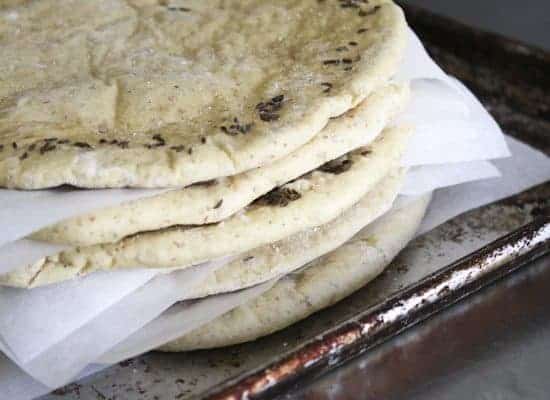 When time is short and pizza calls your name, simply pull a crust from the freezer, top, and bake. It doesn't get much easier than that. You can have a pizza done before the local place could have delivered one. There are a couple of tricks to getting the perfect pizza from your homemade frozen shells.
Use pre-cooked or mostly cooked toppings on pizza shells. Since the crust is already partially baked, you aren't going to need to cook it as long. That means that your toppings aren't going to cook as long, so you need the head start cooked toppings will provide. This means cooked, chopped meats are good (as is pepperoni since it's already fully cooked.)
Don't overload the crust! Okay, this rule applies to using fresh dough, too, but it bears repeating. As tempting as it is to put half a pound of cheese on your personal pan pizza, it just doesn't work. The crust would be blackened before your cheese was all melted and bubbly. If you have too many toppings, your crust will suffer for it. Resist!
Break out the olive oil. Lightly brush the outer edge of your pizza crust with olive oil before topping. This helps develop a deep brown, crackling crisp crust. (Of course, if you prefer the paler variety, this can be omitted!)
And finally, since I'm on a hint-sharing binge, I want to let you in on some of my favorite ways to use pre-baked crusts.
Get creative. Experiment a little. I've found that most of my favorite sandwiches (Reubens, Smoked Turkey with Cheddar, and French Dip Sandwiches, just to name a few…) translate very well to the pizza medium. Have fun with it.
Make a build-your-own-pizza bar on movie night. I have not yet met a kid who isn't in love with the idea of building his or her own pizza. Lay out bowls with toppings and sauces and give each person their own pre-baked crust. I guarantee happy faces. (Psst… It's a great way to use up odds and ends from the refrigerator, too. Got a little leftover cooked chicken and some hot sauce? Hello, Buffalo Chicken Pizza!)
Miracle last minute bread. I have, on more than one occasion, pulled a pizza shell from the freezer, topped it with cheese and tossed it (on its parchment square) straight onto the rack of a hot oven until the cheese was melted and bubbly. Ta da! It makes almost instant crispy bread to serve alongside hearty soups in lieu of crackers. Dunked into a steaming bowl of sausage and white bean soup or a humble tomato soup, this really shines!
To help get you started on stocking your freezer I'm sharing one of my favorite pizza crusts; onion rye. Rolled thin, this crust gets cracker-crisp and holds up well to all kinds of pizza toppings. It is an obvious choice for my favorite game of "turn this sandwich into a pizza".
This crust serves as a perfect compliment to the  flavors of a classic deli Ham and Swiss on Rye. Tender balsamic caramelized onions provide the sauce on a pizza that is so good that you'll be ready to bake another one as soon as you take a bite of the first. And what's to stop you since you already have all those crusts in the freezer?
For a printer friendly version of this recipe with no photos, click here!
Ham and Swiss with Caramelized Onion on Rye Pizza
Ingredients for Onion Rye Pizza Shells:
Yield: 4 individual sized crusts, 2 small crusts or 1 medium-large (note: Yield has been modified to to reflect the quantities specified in the recipe. I always double recipes -yes, even my own- and based my original yield on the fact that I doubled my recipe. I'm sorry for any confusion!)
1-1/4 cups water
1 Tablespoon canola oil
1 large egg yolk
2-1/4 cups bread flour
2 cup white whole wheat flour
1/4 cup rye flour (Use light, medium or coarse, depending on how strong you like your rye flavor. I use coarse. Rye? Because I love it.)
1 Tablespoon malt powder or sugar
1 teaspoon salt
pinch of white pepper
2 Tablespoons dried onion flakes
2-1/2 teaspoons instant yeast
Optional: 1 egg white whisked with 1 teaspoon water until frothy, caraway seeds and coarse salt for sprinkling over the edge of the crust.
Bread Machine Instructions:
Combine water, oil, egg yolk, bread flour, white whole wheat flour, rye flour, malt powder, salt, pepper, onion flakes, and instant yeast in the pan of your bread machine according to manufacturer's instructions. Program for a simple dough cycle and press start.
Stand Mixer Instructions:
Combine water, oil, egg yolk, bread flour, white whole wheat flour, rye flour, malt powder, salt, pepper, onion flakes and instant yeast in the bowl of a stand mixer fitted with the dough hook. Turn the mixer on the lowest setting. Continue mixing until a smooth and elastic dough is formed. Place in a lightly greased bowl. Cover with a damp tea towel and let rise in a warm, draft-free place until doubled in bulk, about 1 hour.
Hand-prepared Dough Instructions:
Use a whisk to combine bread flour, white whole wheat flour, rye flour, malt powder, salt, pepper, onion flakes and instant yeast in a large mixing bowl. Add the water, oil and egg yolk and mix with a sturdy spoon until a cohesive dough forms. Turn the dough out onto a lightly floured counter and knead until smooth and elastic, about 15 minutes. Place in a lightly greased bowl. Cover with a damp tea towel and let rise in a warm, draft-free place until doubled in bulk, about 1 hour.
To Prepare the Pizza Crusts:
Preheat the oven (with a baking stone, if you have one) to 425°F.
Turn the dough out onto a lightly floured counter, punch down to deflate, and divide into 4 equal pieces. I find a bench knife is the easiest tool for this job. Form each piece of dough into a ball.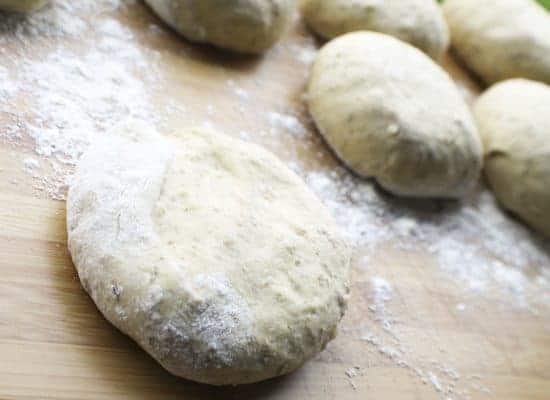 Gently flatten the dough balls and cover with a tea towel. Remove one dough ball from beneath the towel and use a rolling pin or your hands to stretch it into an approximately 10-inch circle. A rolling pin gives you the super thin, cracker-crisp crust which I prefer in this recipe.
Dust a peel (or parchment lined pan) generously with cornmeal or semolina flour, lift the dough circle and place on the cornmeal. If desired, brush the outer 1/2-inch of the crust with the egg wash then sprinkle with caraway seeds and coarse salt. Use the peel to slide the dough directly onto the stone (or place pan in the oven.)  Bake for 4 minutes, or until air bubbles start to puff up on the dough. Remove the now partially-cooked crust from the oven and place on a cooling rack. Gently pierce any air bubbles in the center part of the crust (the part you will top) while the dough is still hot. Repeat with the remaining dough balls.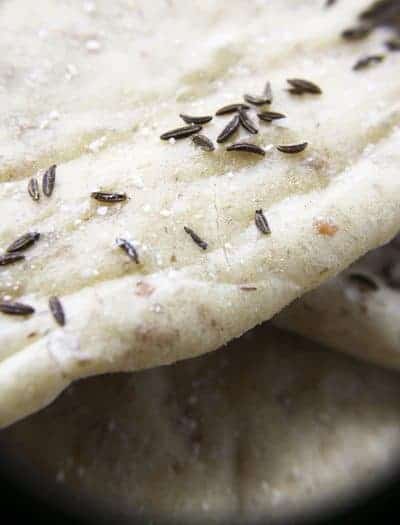 When all are completely cool, place each on a square of parchment that is the same size as the crust. Stack the crusts and parchment and wrap tightly with a double-layer of plastic wrap or put in a large, resealable freezer bag before freezing. These are best when used within 3 months of being made.
To Make a Ham and Swiss with Caramelized Onion Pizza
Ingredients for Two Personal Pizzas :
2 frozen Onion Rye pizza crusts
4 large cooking onions, peeled, cut in half and thinly sliced
2 Tablespoons butter
a pinch each of salt and sugar
balsamic vinegar
freshly ground black pepper, to taste
12 thin slices of good quality deli ham (I used honey baked ham.)
2-1/2 thin slices of Swiss cheese
Optional, 2 teaspoons Dijon mustard mixed with mayonnaise for dipping
Begin by making the caramelized onions: Melt the butter over low heat in a heavy-bottomed mid-sized saucepan. Put onions in the pot, sprinkle the pinch each of salt and sugar over the onions and toss to coat with the butter. Stir occasionally until onions begin to become soft and start giving up their juices. Continue cooking over low for about 35 minutes, adding a splash of balsamic vinegar any time the onions begin to look as if they're drying out. The onions are done when they are so tender it seems they're melting. They should be moist, but not sitting in pools of liquid. Remove from the heat.
Preheat oven (and baking stone, if available) to 500°F.
Take two Onion Rye Crusts (and their parchment squares) from the freezer. Divide the caramelized onions evenly between the two crusts, spreading near the edges. Fold the ham slices gently onto the crust, covering most of the onions. Arrange the Swiss cheese slices evenly over the top and use a peel or your hands to slide the parchment and crust onto the pizza stone or directly onto the oven rack. Bake for 6-9 minutes, depending on how crispy you prefer your crust. Six minutes will give you a softer, lighter colored crust, while nine minutes will yield a pizza like the one in the photographs here.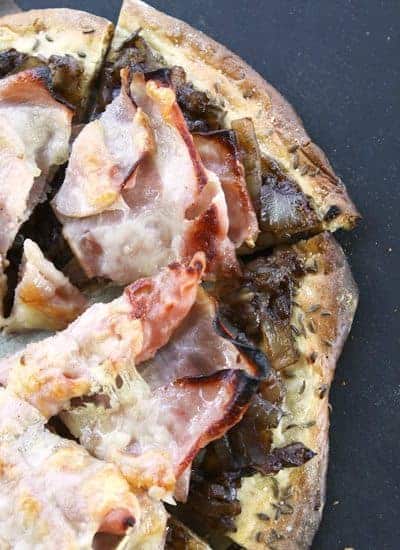 Let cool 5 minutes before slicing. If desired, serve with the dijon mayonnaise for dipping.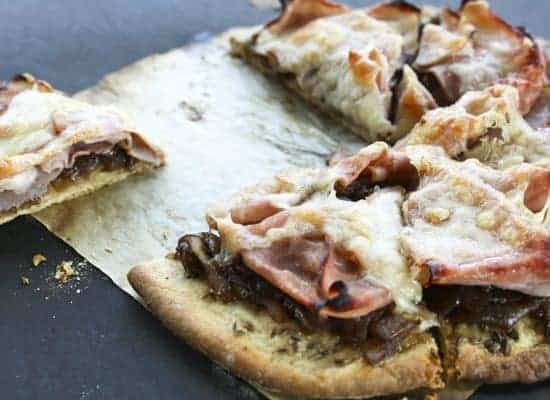 This is my fifth entry in Project Food Blog over at Foodbuzz.com. Did you like this recipe and the post? I'd appreciate your vote of support! Voting is now open. To show your support for Foodie With Family, you can click here or on the orange "Vote for Me" tab in the Official Project Food Blog Contestant widget in the upper right sidebar. Thank you from the bottom of my heart for getting me this far and for your continued support!