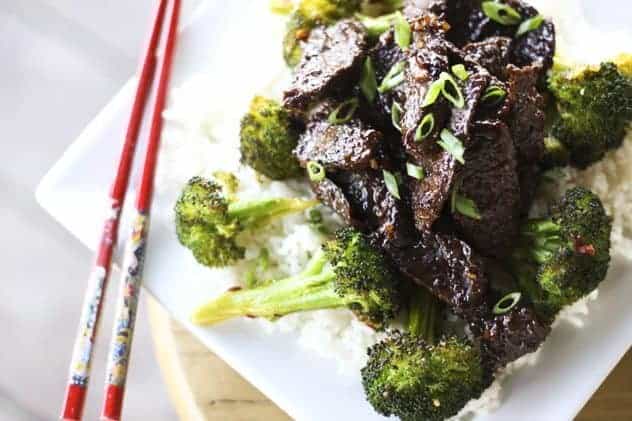 I was a weird kid. Unlike many teenaged girls that I knew, I hated babysitting. I only did it a handful of times and each time ended up providing me with a cautionary tale of terror about children. It's a wonder I decided to procreate.
One time, a couple had me babysit their infant while they went out for dinner and a movie. Being so very rural, that required a drive of no small distance, so the evening was going to be a long one. Their house was decked out with all kinds of deer, elk, and moose heads on the walls and I had an overactive imagination. It wasn't long before I was convinced those heads were watching me wherever I went in the house. I called my mom who did not laugh at my fears, but instead sent my aunt over to check on me. My aunt helped me drape dishcloths from the antlers so I couldn't see the eyes on the critters and I was fine. At least until I forgot to take down the towels before the couple returned. They didn't say anything, but I wasn't asked back again either. I didn't blame them and I was somewhat relieved. I promised myself I would never eat deer, put a deer head on the wall or marry a hunter.
It's funny how life can change you. Somewhere along the line, I realized how delicious venison is and did a nice about face. In fact, I became a little obsessed with venison.
My husband decided to take up hunting two years ago at my request. He did it semi-enthusiastically. He liked the idea of cheap meat, but wasn't thrilled about the whole process of gutting. He was a man who was torn.
I was a little more excited about the whole thing. Okay, let's be honest. I was a little Lady Macbeth about it. I wanted venison and I wanted it badly. We had hunting friends and neighbors who kindly shared venison with us and one mega-hunting buddy who went so far as to give a couple of deer he had harvested to us in their entirety last year but it just wasn't enough. I wanted a freezer full of the stuff.
I spent all year talking up the romance of hunting season. I sewed felted wool boot inserts to keep his feet warm. I knitted a toasty scarf. I planted visions of venison salisbury steak with piles of creamy mashed potatoes and buckets of gravy. By the time hunting season opened, my man was ready. And I was hungry.
Day one, he came back in at dusk and told me he had seen a young four pointer but passed it over because he wanted a bigger buck. Here, I became even more Lady Macbeth. I think my speech may have even included, "But screw your courage to the sticking point and we'll not fail!" along with a reminder that his first buck probably wouldn't be a trophy, but that all venison was good venison. Sigh. Not one of my prouder moments. At least I said it in a supportive tone. Ahem. Moving on.
We reached the second to the last day of hunting season and the hub wanted to go out hunting one last time. I had to do some grocery shopping, so I kissed the mighty hunter as he walked out into the back field, left the eldest minion in charge and drove up the hill to our Amish friends' home to see if they wanted to go to the big grocery store with me. Seeing as it's a forty five minute drive there and back, they can't go unless an "English" neighbor or friend takes them along. My friends Ada and Anna grabbed their lists and hopped into my van and we were off. We were in the entry way to Wally World (a.k.a. The Walmart) when I got a cryptic text from my beloved.
"8 pointer"
I responded with a question that reflected the lack of success we'd had even catching a glimpse of any bucks beyond that first four pointer.
"As in you saw one or shot one?"
The next text I got from him was a picture of a big old buck in a very relaxed pose. Super chill. As in dead.
I showed the picture to my friends and there stood I, big fool that I am, hopping up and down yelling excitedly while my Amish friends clapped and whooped. I'm sure it was quite the scene. For a brief moment, I felt like passing around cigars like dads would in a nineteen-fifties era neonatal waiting room.
Then came the giddy call from my husband who was now well and truly hooked on hunting. "Hey. The gutting wasn't as bad as I thought it would be! God bless Youtube. There were so many awesome videos on how to eviscerate deer." This is not a phrase you hear uttered every day, but it was music to my red-meat loving ears.
Here's where my heretofore solid analogy to the Scottish Play fails, though. There was no wringing of hands and attempts to rub out spots. There was zero guilt. There was eager anticipation. I got in there with my knife and helped butcher the majestic thing. And the only perfume I needed to sweeten my hands was a little garlic and ginger and soy concoction to go along with the beautiful, beautiful venison filling my frying pan.
For the record, I had some serious crow to eat along with my venison. That buck was a trophy buck. He was huge. And in a little under a year, I'll do something I swore I never would. I'll proudly hang an artistically mounted deer head from my wall. Ah, the circle of life.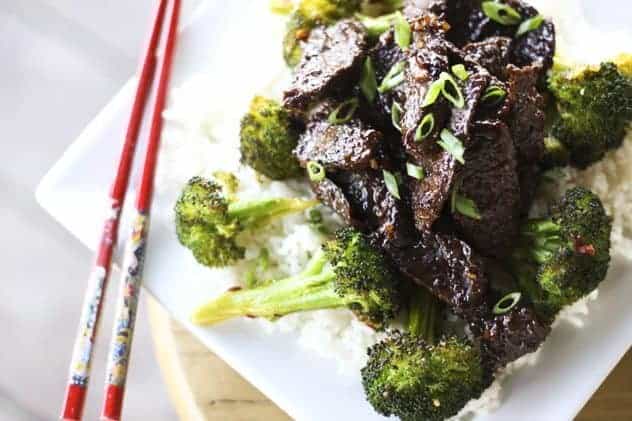 Sticky Garlic Ginger Venison (or Beef) Stir Fry
Rate Recipe
A sticky, caramelized crust coats this tender and fragrant garlic and ginger laden stir-fry of lean red meat. I prefer venison, but lean beef can be used if venison is not available to you. This healthy Asian-inspired solution to dinner is on the table in under a half hour making it an ideal meal for busy nights. Adapted with thanks from Hunger and Thirst's Roadkill Elk
Ingredients
1

pound

venison

or lean top round beef steak

3-4

tablespoons

lard or canola oil

2-

inch

knob of fresh ginger root

grated finely

5

garlic cloves

peeled and minced

1/4

cup

plus 1 tablespoon raw sugar

or brown sugar, if necessary

1/4

cup

soy sauce

plus more if needed
Optional for garnish: sliced green onions
Serve with hot rice and your favourite greens. I like Spicy Asian Broccoli with it.
Instructions
Slice the venison (or beef) diagonally against the grain into strips that are about 1"x 4" and about 1/8" thick. Set aside.

Place a large, heavy-bottomed skillet over high heat and melt the lard or canola oil until shimmery. Add the grated ginger and garlic cloves and stir constantly until fragrant, about 15-30 seconds. Add the venison to the pan and stir-fry until it is cooked about halfway through. Sprinkle the raw sugar over the meat, then drizzle the soy sauce over the top. Stir to coat well and let it cook, undisturbed, until the liquid becomes thick. At that point, begin stirring until a sticky, deeply caramelized, crusty coating forms around the venison strips. Remove from the heat and serve immediately garnished with sliced green onions.
Nutritional information is an estimate and provided to you as a courtesy. You should calculate the nutritional information with the actual ingredients used in your recipe using your preferred nutrition calculator.