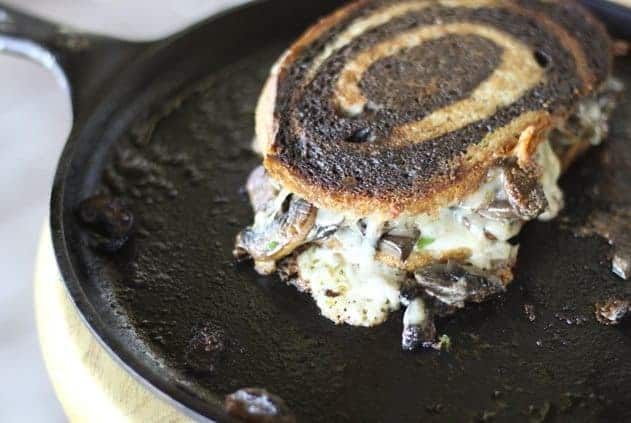 I want to talk about my new favourite sandwich.
This sandwich firmly bridges the gap between dude food and chick vittles. Grilled cheese is always the ultimate in sandwichery, but grilled cheese that is crammed to overspilling with seared mushrooms? It's the best of all worlds. The combination of gooey, salty cheese and umami packed mushrooms with just a hint of onion on buttery toasted rye bread is unparalleled. We're talking about the kind of food you continue eating after you're already full just because you want to keep tasting it.
You can go any direction you want with the mushrooms… I opted for baby portabella mushrooms (also known as cremini mushrooms) but you could go with white buttons or chanterelles or any other mushrooms or combination of mushrooms that are readily available and/or ding your chimes. The key is to sear them in a screaming hot pan until you get lovely brown bits on the outside. That's where the flavour lives in a seared mushroom. While the seared mushrooms are accompanied by a bit of onion and white wine in the cooking and deglazing process, they gain a vibrancy you don't want to miss when thinly sliced scallions are stirred in after they're off the heat. Sounds good so far, right?
Enter the cheese which no longer has to stand alone.
Cheese and mushrooms are a match made in heaven. Both naturally contain those flavour compounds commonly known as umami but together they tickle your taste buds in ways that make your eyes roll back into your head.
It's a well known fact that I love cheese (aside from the waxing rhapsodic above…) but I tell you the truth when I say it's the mushrooms that really and truly make this sandwich sing. I cannot emphasize enough how much you should make the seared mushrooms. Make them. Really. Today. REALLY. Even if you're not going to use them in grilled cheese (what are you nuts?!?) you can still have these handy to put on steaks or burgers or wrapped in omelets or topping scrambled eggs or add to sauces or just plain on a fork. They're so good that I make them with three pounds or more of mushrooms at a time and portion them out in little plastic containers to freeze for the upcoming month. Because a supply of these mushrooms is ever present in my home and freezer, when I read Kevin at Closet Cooking's post about mushroom grilled cheeses, I was more than halfway there to my rendition of his recipe.
When I'm slicing that many mushrooms at a time, my new best friend, this Togiharu Gyutou 8.2″ knife sent to me by the folks at Korin.com is absolutely indispensable.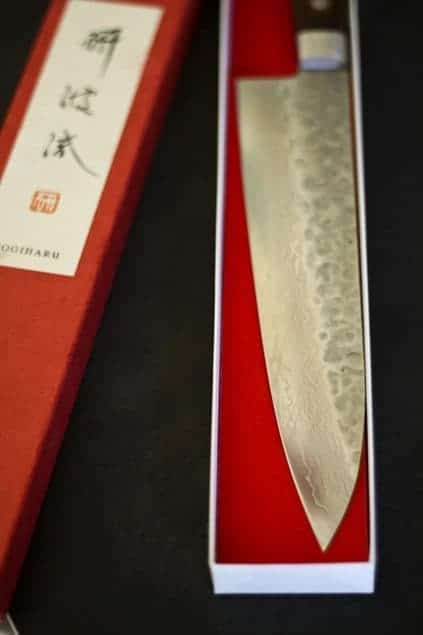 In actuality, I'm so reliant on this knife after just two weeks I can't remember how I sliced things before I got it. It's the sharpest knife, by far, that I have ever owned. In fact, I have a little confession.
I knew Korin was sending me the knife and I went a little fan girl over it. I've admired their knives from afar for quite some time. While some people collect baseball stats and memorabilia, music trivia and cds, etc… I collect information about my favourite chefs and the gear they prefer. I know Chefs Daniel Bouloud and Chris Costentino both swear by Japanese knives from Korin. That was good enough for me. I was hyper waiting for the package to arrive. When the UPS guy knocked on my door and handed me the package he remarked that the return address looked like it was in the same neighborhood as the old Yankee Stadium. I took that as the only ouvre I needed to start yammering about the knife that was in the box. Evidently, my UPS guy is a fan of great knives, too, because he asked to see it. I opened the packaging, took out the gift box in which the knife was packaged, lifted the lid and made my first mistake. Because the gift box was pretty, I didn't want to put it down on my floor, so I attempted to hold it and slide the plastic safety sheath from the knife simultaneously. I promptly cut my finger. On the plus side, the knife was so incredibly sharp* that the only indication I had that I'd done such a stupid thing was the little stream of crimson dripping from my finger to the floor. The UPS driver oooed and aaahed over the knife (and I'm pretty sure he missed the quick blood letting I performed on myself) and headed out. I retired to the kitchen to bandage myself** and start slicing things that were not attached to me and my nerve endings.
*Like my dad always says, a sharp knife is a safe knife. That was the cleanest cut I've ever incurred in the kitchen. It closed itself almost instantly and healed up in two short days.
**Yes, I keep bandages in the kitchen. What can I say? I'm a klutz.
The way I see it, a good knife cuts stuff, but a great knife slices, chops and cuts in a way that takes the effort out of the task and looks good while doing it. This is a great knife. Whether you're slicing onions and mushrooms or chopping kale stems or slicing paper thin strips of pork for tocino (future post teaser!), it makes the job easy.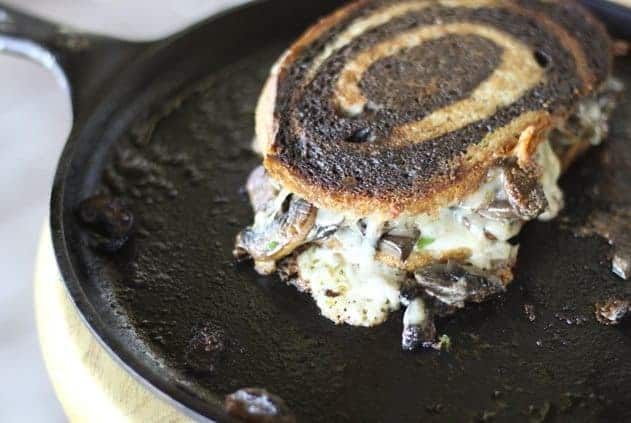 Seared mushrooms are accompanied by a bit of onion and white wine then tossed with scallions for added vibrancy before being combined with a variety of cheeses and turned into the ultimate grilled cheese sandwich. Make these exceptional seared mushrooms even if you're not a grilled cheese lover. You can keep them handy to put on steaks or burgers or wrapped in omelets or topping scrambled eggs or just plain on a fork. Adapted from Kevin at Closet Cooking
Ingredients
For the Seared Mushrooms:
1 1/2

pounds

assorted mushrooms

sliced (baby portabellas, chanterelles, button mushrooms, etc...)

1

tablespoon

or more neutral oil such as canola, peanut, vegetable, etc...

salt and pepper to taste

1/2

of a small yellow onion

diced very small

1

clove

of garlic

peeled and minced

splash of white wine or stock

4

tablespoons

butter

3

green onions

green part only, thinly sliced
For the Mushroom Melt:
3/4

cup

of seared mushrooms

1/2

cup

grated assorted nice melting cheeses

I used a mix of Kerrygold Blarney Castle, fontina and extra sharp Cheddar

2

slices

hearty bread like rye or pumpernickel

1

tablespoon

butter
Instructions
To Make the Seared Mushrooms:

Place a heavy-bottomed skillet over medium high heat. When the pan is hot, add the oil and heat through until shimmery. Add the mushrooms (you can divide into batches to avoid overcrowding the pan if necessary) and a pinch of salt and use a spoon to distribute the mushrooms evenly in the pan. After you do that, don't stir the mushrooms for at least 1 minute (unless they start to smell or sound like they're cooking too quickly.) The goal is to develop a nicely browned surface on the mushrooms.

If you have to cook the mushrooms in batches, just move the previously cooked batch to the perimeter of the pan and add a little more oil before putting in the next batch of mushrooms with a pinch of salt.

When the mushrooms are flecked with brown, toss in the onion and garlic, stir and cook just until fragrant (about 1 minute or less), then add the white wine or stock to the hot pan and scrape up any brown bits that are stuck to the pan. Add the butter and cook, stirring, just until melted. Remove from the heat, taste for salt, then add pepper and any additional salt to taste.

Eat hot or store leftover mushrooms in individual portion sizes in the freezer for up to a month.
To Make the Mushroom Melt:
Toss the seared mushrooms and grated cheese together in a small bowl. Set aside.

Melt half of the butter in a heavy-bottomed skillet or griddle over medium heat. Place one piece of the bread on top of the melted butter, pile the mushroom cheese mixture on the bread, then place the remaining piece of bread on top. Let the sandwich cook and toast until the bottom piece of bread is golden brown. Lift the sandwich with a spatula and toss the remaining butter into the pan. Put your hand on top of the sandwich and carefully flip it over before lowering it to the pan (taking care not to burn your fingers!)

Toast for 1 minute, add a splash of water to the pan and cover for another minute to melt the cheese completely. Remove the lid and continue toasting the sandwich until the bottom is a deep golden brown. Transfer the finished sandwich to a cutting board to slice before plating and eating.
Nutritional information is an estimate and provided to you as a courtesy. You should calculate the nutritional information with the actual ingredients used in your recipe using your preferred nutrition calculator.
Korin.com sent the knife to me to review, but all opinions about the knife are mine.