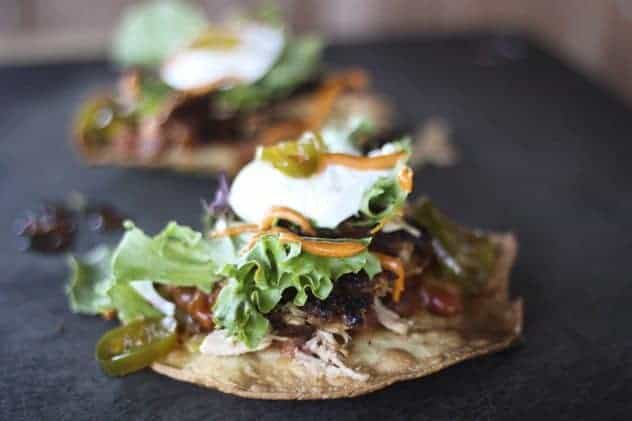 Authenticity Alert: As in, this is not authentic but it is far, far too tasty not to share, and so, I am telling you now that I am completely not responsible for anyone taking offense to what I've done to Tex-Mex or Mexican cuisine. Honestly, I don't even know enough to tell you which of those categories it strays from the most. All I know is you should make these tonight.
I know. Carnitas are pork. Crispy, delicious, succulent little fried bits of braised pork. This is not that. But it is the chicken equivalent and I'll be darned if it isn't crispy, delicious, succulent little fried bits of chicken on a crunchy fried tortilla with pan sauces and all the things that are great and good about Tex Mex food piled on top. Hallelujah, Amen, and pass the tostadas.
First, though, I have to tell you a little story.
Last week there was a day that mucho much candy entered our home. I think you know which day I mean. When I say much candy, let me set the stage. Five grandsons, one Nana, and a good working knowledge of which houses in town give out the best goodies. There was so much candy that I feared for the peace in our home. Or at least for the textured ceiling. I mean honestly, sugared up kids bouncing off the ceiling leaves a mark. Each child had netted close to three pounds of candy in a little over an hour of wandering the beautiful streets of Geneseo. I had visions of weeks of blue tongues and green lips and twirly eyes. After forty-eight hours of utter chaos, I laid the smack down.
"Guys. You can each choose ten pieces of candy and put them in one of these bags," (here I brandished pre-labeled zipper top bags), "Those are your pieces. You can stretch them out as long as you want. The rest of the loot goes into this bag," (I waved a two-and-a-half gallon zipper top bag), "This is the family bag. I'll use it in brownies and on cakes and all sorts of good stuff like that." Then I braced myself for the blow-back.
"Cool! You'll make brownies?" said one son while the others sorted through to pick their ten favourite pieces before handing over the rest. Don't pity them. They each had at least two regulation sized, honest-to-goodness candy bars in their bags. Geneseo folks don't mess around.
The rest of the candy went into the mega bag and then into the broom closet and I didn't think of it for a few days.
Then came this weekend…
The weather was glorious. The sun was shining, the breeze blew and we had loads of yard work to do to prepare for the winter weather that's right around the corner. My husband and I were like two ships passing in the pretty-nifty day. We were hanging laundry on lines, stacking wood, trimming weeds and whatnot when I asked, "Has anyone seen Daddy?"
Our youngest said, "Daddy's out in the annex eating candy." I said, "Hey. Don't tell fibs. The candy isn't out there. Is Daddy really in the annex*?", then got distracted by yet another yard chore.
*Before you start thinking I'm all fancy with my annex let me explain that it is a large, uninsulated, exterior-walls-only room with window openings (sans glass) that is full of wood for keeping us warm over the winter and is attached to the house. Why such a hoity-toity name? Because I can. And technically? I'm right. Plllllbbbbbt.

Later that night when the kids were all tucked cozily into their beds, my husband brought the loot bag to the den have a little sweet snack. I reached in for a Heath bar (again, Geneseo gets mega points) and asked my husband how they got so cold. I wondered aloud whether there was a problem with the insulation in the broom closet. He responded, "I'm keeping them in the annex in a locked box. Hey! Where you going?"
I went straight upstairs to apologize to my son then came back down for the Heath bar.
The candy has been flying like glitter before a cheerleading tournament. People are fired up here, self included, so we needed something to counteract all that sugar and food dye. Enter mondo protein meals, stage left.
Protein gives your body something to do other than jitter. I can't think of a simpler way to get a delicious protein-packed meal into you than these Carnitas-style Chicken Tostadas. The body soothing protein comes in the form of three-ingredient braised chicken that is then shredded and dropped into a wicked hot pan with a little oil so that it is crispy on the outside and succulent on the inside. This is, quite possibly, the easiest meal this side of heaven.
Toast or fry some corn tortillas and pile on refried beans (the protein fairy says hi!), the crispy chicken, some lettuce, cheese (Huzzah for more protein!), hot sauce or The Sauce, some candied jalapenos, and a fistful of chopped cilantro if you fancy it. Now comes the only difficult part of the whole process; balancing the whole shebang and getting it to your mouth. I do advise you to eat this over a plate. Then eat another. Maybe one more? Now call everything that fell onto your plate a taco salad. See? I love you. And I'm not at  all sugared up*.
*Chocolate bars don't have sugar, right?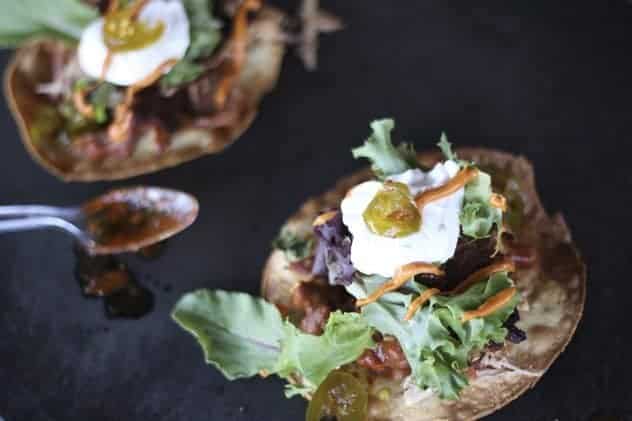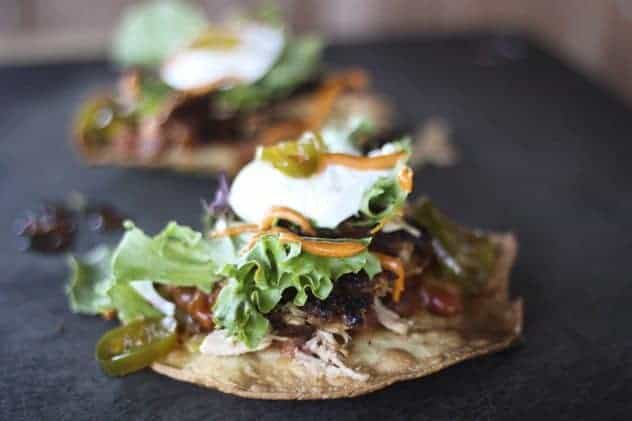 This super fast and satisfying supper takes advantage of individually frozen boneless, skinless chicken thighs. In a little over an hour and a half, you go from frozen blobs of chicken to braised, flavourful, crisped chicken on crunchy corn tortilla tostadas with a compliment of refried beans, cheese, sour cream, smoked paprika and chipotle sauce and candied jalapenos. I am willing to bet this becomes a regular in your rotation like it is for us on busy nights.
Ingredients
For the Chicken:
3

pounds

of individually frozen boneless

skinless chicken thighs (you can start with fresh rather than frozen, just adjust cooking time accordingly.)

1

teaspoon

canola

vegetable or peanut oil, plus additional oil for crisping the meat later

2

cups

of chicken broth

1

cup

of your favourite salsa

I use smoky roasted tomatillo and tomato salsa

4

garlic cloves

peeled but left whole
For the Tostadas:
1-

inch

of vegetable or canola oil in a heavy pan

corn tortillas

2-3 per person

salt

to taste

refried beans

shredded or baby lettuce

sour cream

Candied Jalapenos
Instructions
In a large, heavy pan with a tight fitting lid (preferably a dutch oven) over high heat, pour the teaspoon of oil. Arrange the frozen boneless, skinless chicken thighs in the pan in such a way that the lid can be put on it and sit firmly. Before adding the lid, toss in the garlic cloves and pour the salsa and chicken stock or brother over the top. Place the lid on the pan and let cook over high heat until steam starts escaping from under the lid. Drop the heat to medium low and let it continue cooking until a piece of chicken removed from the pan shreds easily between two forks, between 45 minutes and an hour*.

*If you start with fresh (not frozen) boneless, skinless chicken breasts, you can cut that time down a bit.

Remove all of the chicken to a bowl or platter, leaving the juices in the pan, and allow it to rest for 5 minutes, lightly covered with foil. Replace the pan over the burner and turn the heat to high, bringing the pan juices to a boil and letting it reduce by 3/4, or until thick like gravy. Set aside.

Use two forks to shred all of the chicken. Set aside.

In a large, heavy skillet (preferably cast iron) over medium high heat, add 1-inch of canola, peanut or vegetable oil. Fry tortillas, 1 or 2 at a time, until golden brown, about 2 minutes, flipping once or twice to ensure it is crispy all over. Transfer the fried tortillas to a paper towel lined plate and season with salt.

Drain all but about 1 tablespoon of the oil from the skillet and return it to high heat. When the oil is very hot and shimmery, slide about half of the shredded chicken into the pan and press down on it with the back side of a sturdy spatula so that you bring more surface area of the chicken in contact with the hot oil and pan. Do not stir the chicken. When the edges appear to be dark brown or deep golden brown, pick up the crisped chicken with a spatula and flip it crisp side up onto a plate. Repeat with another tablespoon of oil and the remaining chicken.
To Assemble Tostadas:
Spread hot refried beans on a crisped tortilla, top with chicken, a drizzle of the reduced pan juices, cheese, lettuce, sour cream, Smoked Paprika and Chipotle Sauce and candied jalapenos.
Nutritional information is an estimate and provided to you as a courtesy. You should calculate the nutritional information with the actual ingredients used in your recipe using your preferred nutrition calculator.