In honour of Valentine's Day I'm bringing back one of my most popular posts EVER here on Foodie with Family from the archives. That's right, folks, Snickerdoodle Cake with Brown Sugar Cinnamon Buttercream is back. Make this sweet for your sweetie.

This Snickerdoodle Cake is something special folks. A towering four layer Snickerdoodle cake made with cinnamon, vanilla, and butter is generously iced with a rich Brown Sugar Cinnamon Buttercream Frosting Recipe for a cake that is the stuff of dreams. Make no mistake. This one is indulgent and it is worth it!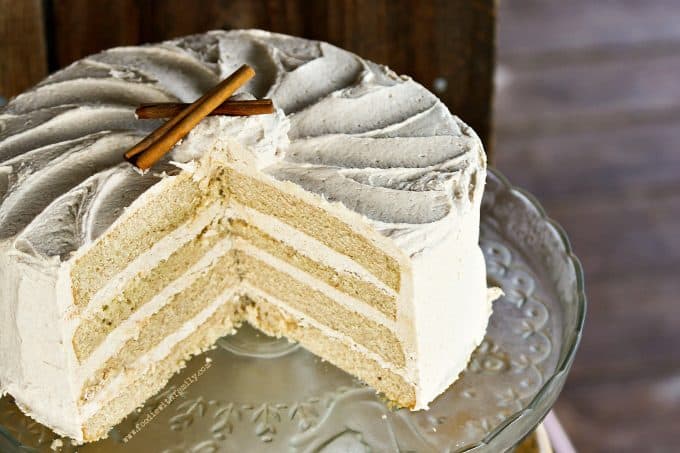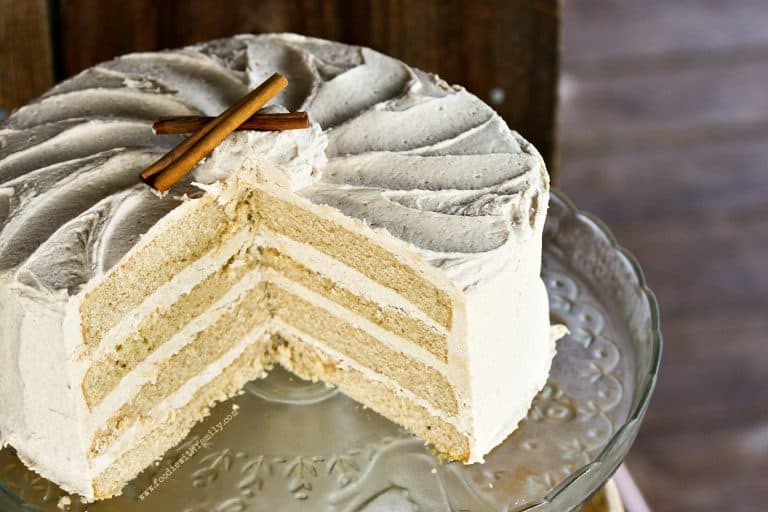 Here is the cake that upended my tidy little world. This is a Snickerdoodle Cake with  Brown Sugar Cinnamon Buttercream Frosting Recipe.
I've mentioned before that I'm not fond of cake or frosting. (Here and here, for starters…) As a little girl, I watched "Pollyanna" over and over. I'm talking about the original nineteen-sixty Disney film. It was one of the twenty five movies available for rental in the small movie  section of the Glen's Market in Gaylord, Michigan where we shopped. Despite my dislike for cake, I dreamed of the giant slab of cake she scored at the fair. That towering layer cake called to me like no other cake could. And for the most  of my life, I resigned myself to the fact that while that Pollyanna cake looked so good, no cake measured up to the promise it offered. That is still true except. for. this. cake. And who do I blame thank for this earth shaker? My friend, Krysta. She, without a word, sent me this link. No word of warning, no heads-up. No. Just a link. She knows my feelings on snickerdoodles so she sent it my way. She didn't know it, but she delivered my Pollyanna cake to me.
All of a sudden, in my brain at least, I was Hayley Mills wandering around a small town fair with the world's largest slice of layer cake, in this case, Snickerdoodle Cake and a sunny disposition. I might've even belted out the National Anthem and poked at the little prism dangling in my kitchen window. It was as good as I thought it would be.
The Snickerdoodle Cake itself is a cinnamon vanilla butter cake. (I died a little bit just typing that…) It is moist, it is cinnamon-y. I've never had a cake like that. It is layered around and slathered with the only buttercream I have ever craved in my life; brown sugar cinnamon butter cream. (A little more dead now…) It is smooth yet still crunchy with sugar. It has little bursts of brown sugar and cinnamon and it is smoothed out with half and oh-my-goodness half. People. The buttercream. It must be stopped. CLICK HERE for the Brown Sugar Cinnamon Buttercream Frosting Recipe.
Who's in?
Before you pop over to the recipe for the Brown Sugar Cinnamon Buttercream and rub your eyes and question me, that is not a typo. Yes, there really ARE 4 1/2 sticks of butter in the buttercream. I told you it must be stopped.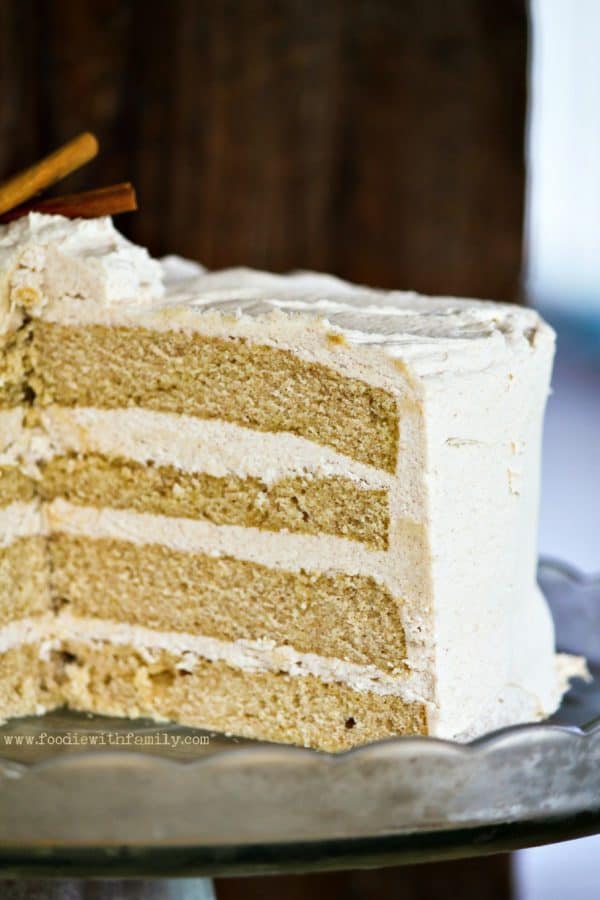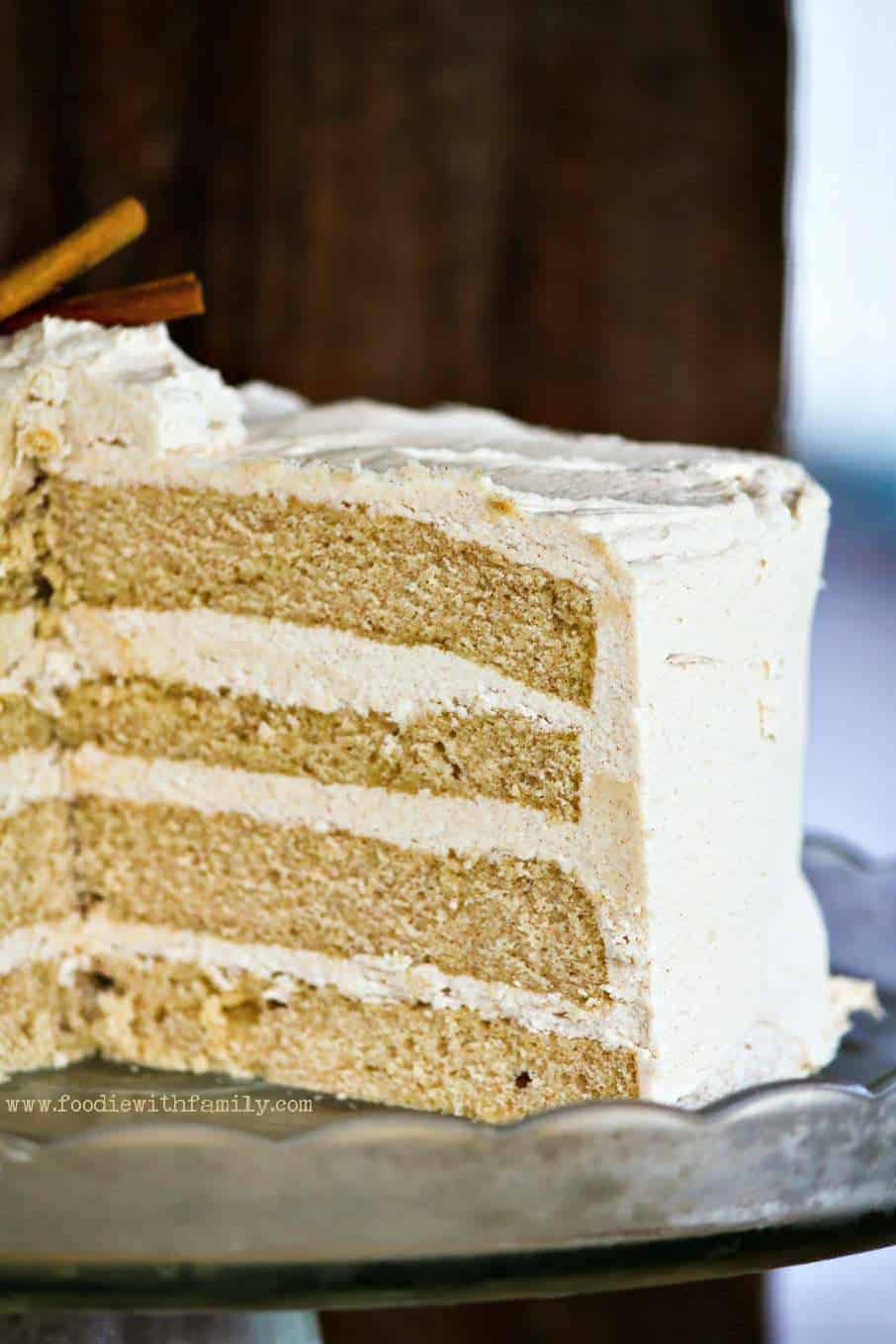 Cook's Tips
Here are some tried and true cake baking and decorating tips to help you get the most polished finished product before you polish off your finished product.
-To butter two pans easily, smear the pans with the butter wrappers you used for the cake itself (use more soft butter if necessary.) *If you choose to use parchment, too, butter under AND over the parchment for easiest release.
-To flour those pans neatly, toss 1/4 cup of all-purpose flour into one pan, swirl it around over the second pan then tap the excess into the second pan. Repeat the process with the second pan, then tap the excess into the garbage.
-When dividing cake batter between pans, use a scale to get them as close to even as possible. No scale? Scoop it in with a measuring cup.
-Smooth the top of the cake batter into the pan and tap firmly on the counter several times before baking to settle the batter evenly.
-Rotate pans front to back and side to side mid way through baking.
-Cool the cakes COMPLETELY before slicing into layers. Do not hurry this or you will regret it immensely while you cry over your broken cake.
-Before slicing your cooled cakes into layers, use a large serrated knife to even up the top of the cake. (In other words, to slice off any dome that formed while baking.)
-Before you move your cake to the plate you'll use to frost and serve it, lay four strips of parchment or waxed paper around the edges. Center the cake on the parchment strips. This will help you frost the cake rather than the plate. When you're done frosting, pull the strips straight away from the cake. Ta da! Professionally done. Go you!
-Make sure each  layer of frosting/cake is level before adding another level. It is much easier to adjust as you go along than to try to fix everything with frosting.
-When the cake is assembled, refrigerate for at least an hour (preferably more) before attempting to slice into wedges. If you skip this step, the cake is likely to shift around on the frosting and look like it was thrown together by drunken monkeys.
-If you forget all of these steps it really won't matter because you'll still have this cake. Pour yourself a nice hot cup of coffee or tea and enjoy it anyway!
Connect with Foodie with Family
facebook | pinterest | instagram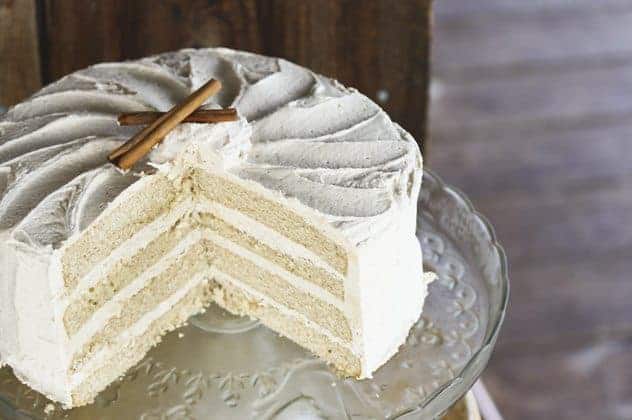 The name says it all: Snickerdoodle Cake with Brown Sugar Cinnamon Buttercream. This is the well-loved snickerdoodle cookie rewritten as a moist cinnamon vanilla butter cake layered and surrounded with a smooth, decadent buttercream laced with sweet ground cinnamon and brown sugar. Gently adapted from
Always With Butter
Ingredients
1 1/2

cups

all-purpose flour

1 1/2

cups

cake flour

1

tablespoon

baking powder

1/2

teaspoon

salt

1

tablespoon

ground cinnamon

2

sticks butter

8 ounces by weight, softened to room temperature

1 3/4

cups

fine or superfine sugar

4

large eggs

room temperature

1

tablespoon

vanilla extract

1 1/4

cups

whole milk

warmed to room temperature

1

batch of Brown Sugar Cinnamon Buttercream Frosting Recipe
Optional:
Whole cinnamon sticks for garnish
Instructions
To Bake the Cake:
Preheat oven to 325°F.

Butter and flour two 8- or 9-inch round cake pans.

In a mixing bowl, whisk together the flours, baking powder, salt and cinnamon. Set aside.

Cream together the butter and sugar until fluffy and pale in colour.

Beat the eggs in one at a time, fully incorporating each egg and scraping down the bowl between each addition. Beat in the vanilla.

Add about 1/3 of the milk, beat to incorporate, then 1/3 of the flour, again beating to incorporate.

Repeat this process, scraping down the bowl as necessary, until all of the milk and flour are added and mixed in evenly.

Divide the batter evenly between the two pans and bake, rotating midway through, for about 35 minutes or until the cake tests done.

Let the cakes cool in the pan on a rack for 5 minutes before turning out onto the racks to finish cooling.
To Assemble and Frost the Cake:
Level out your cooled cakes and cut each into two even layers.

Place one layer on a cake plate then add a layer of buttercream, spreading to the edges and evening out as you go. Repeat with the remaining layers.

Frost the top and sides of the cake with the remaining buttercream.

If desired, garnish the top of the cake with whole cinnamon sticks.

Cover and refrigerate for at least an hour before slicing.

Store leftovers tightly covered in the refrigerator.
Nutrition
Calories:
269
kcal
Carbohydrates:
54
g
Protein:
6
g
Fat:
2
g
Saturated Fat:
1
g
Cholesterol:
57
mg
Sodium:
131
mg
Potassium:
187
mg
Fiber:
1
g
Sugar:
30
g
Vitamin A:
120
IU
Calcium:
92
mg
Iron:
1.3
mg
Nutritional information is an estimate and provided to you as a courtesy. You should calculate the nutritional information with the actual ingredients used in your recipe using your preferred nutrition calculator.
Originally published August 26, 2011.