I have a long, love/hate history with meatloaf. I never liked it as a kid. The texture just had me all kinds of wound up. In the interest of accuracy, though, I should say "hate/love" relationship because I've discovered as I aged that it wasn't the loaf I hated as much as it was that I was exceptionally picky on the subject. While I love meat in general, I don't love it enough to just slap a bunch of it into a pan with some binders and call it a day. It needs to be spot on for texture (not tough, but not falling apart either, and moist, but not wet), FULL of flavour (I won't eat bland meatloaf), and have a little bit of spice to make things interesting. Because my husband LOVES meatloaf (but prefers it without a ketchup glaze), the task of making a meatloaf that fit both of our preferences got tricky.
Our kids further complicated the quest for the perfect meatloaf by interjecting that they'd really rather not see bits of vegetables peeking out of their serving. This is real life, friends. Sometimes pleasing them all is impossible, but not always, and I'm happy to report that after much experimenting and a near metric ton of meatloaf going through my home, that I have finally worked out the perfect meatloaf for all of our weird preference restrictions.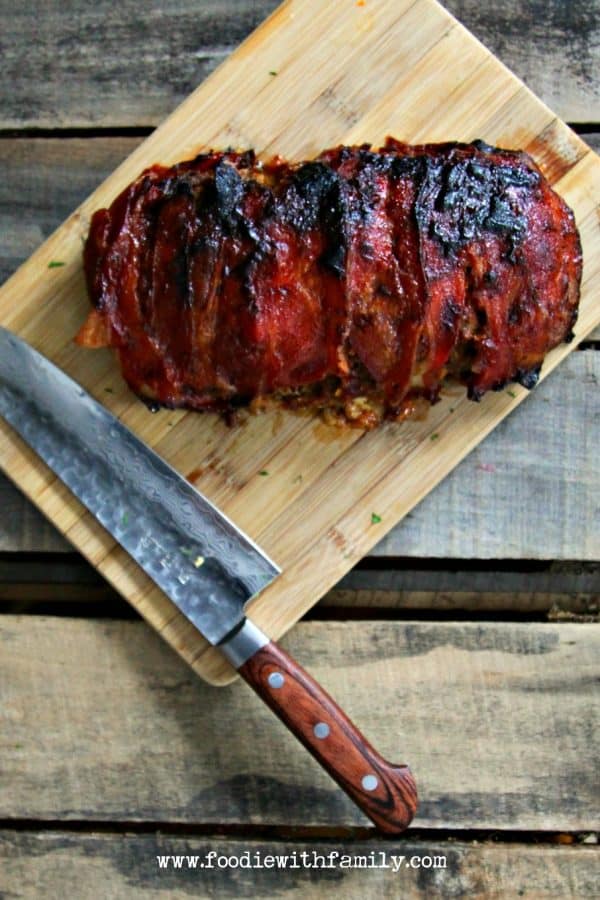 I present for your dining pleasure: Bacon Jalapeno Meatloaf. This is the unicorn meatloaf for my family… I don't mean it's ground unicorn, obviously, I just mean that it's the magical answer to all our meatloaf dreams.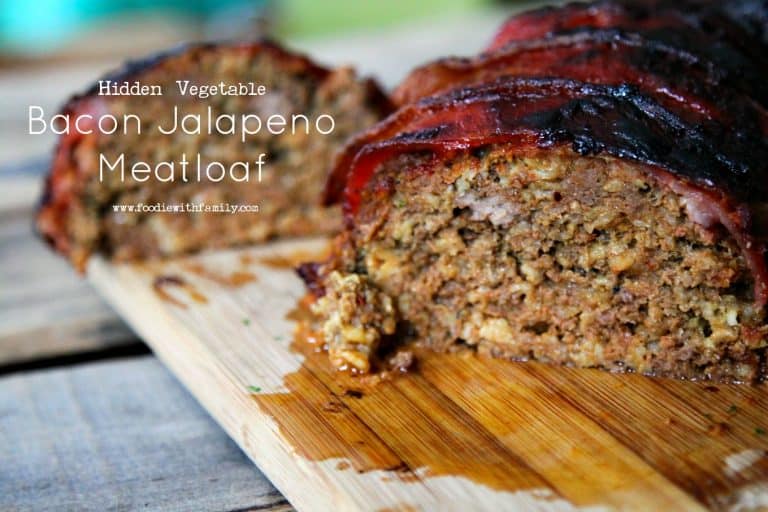 Too much?
Sorry. We ate a LOT of failed meatloaf in the attempt and this one? Well, can we call a meatloaf magnificent? Because I'm tempted. Bacon Jalapeno Meatloaf has a hold-together-yet-tender texture from a combo of cracker crumbs and oats with plenty of moisture that comes courtesy of a generous portion of vegetables that are blended up and hidden in the meat. Flavour? This Bacon Jalapeno Meatloaf has it in SPADES! Part of the ground vegetable mixture is onion and garlic, so that is majorly helpful, but there is also a goodly amount of barbecue sauce mixed into the loaf as well. The mild spice kick is provided by the fresh jalapenos ground in with the vegetables. The whole meatloaf is wrapped in bacon that bastes the meatloaf as it cooks. When the meatloaf has reached the desired internal temperature, it's brushed lightly with a little more barbecue sauce then broiled until the bacon is crispy. All of this is why Bacon Jalapeno Meatloaf is hard to beat.
Cook's Notes
I tried everything from fresh bread crumbs to dried ones to only oats or only cracker crumbs and all things in between. I found the best texture came from a combination of fine Ritz-type butter crackers and old fashioned oats. The oats don't scream at you from the final product, but they really provide some structure to the meatloaf that I found to be lacking without them. In this case, I did use old-fashioned rolled oats rather than quick oats. I did not test the recipe with quick oats, so proceed at your own risk should you choose to substitute them for old-fashioned rolled oats.
Likewise, this recipe is geared toward the vegetables being fully pureed together in the blender or food processor. If you're okay with visible vegetables, my bet is that finely diced vegetables would work in place of the puree, but I haven't tested it, so can't speak to the results if you choose to do that instead.
When mixing the meat with the other ingredients, use a light hand. You want to evenly distribute the ingredients without overworking it. In other words, mix but don't squeeze. As soon as you have an even looking mixture, stop stirring or mixing it.
For best results, line a rimmed half sheet pan with foil and divide the meat mixture in half. Gently form each half into a free-form loaf that is roughly 8-inches long by 4-inches wide.
Let's address the bacon wrapping portion of the meatloaf programme. I start with thick sliced bacon and use the blunt spine of my knife to stretch it out a bit. This way, I can cut the bacon slice in half and it will still be long enough to wrap over the free-form meatloaf on the pan. You're stretching your bacon both literally and figuratively.
Wrap the ends of the meatloaf in bacon first, because then when you wrap the bacon over the tops and sides, those slices hold the end pieces in place.
The bacon cooks through during the meatloaf baking process, but needs a little time under the broiler to crisp up when the meatloaf is done. To bump up the flavour of the final Bacon Jalapeno Meatloaf, I brush just a wee bit of barbecue sauce (1/4 cup per finished meatloaf) over the bacon and pop it under the broiler.
Yes. The recipe for Bacon Jalapeno Meatloaf makes A LOT of meatloaf (two full loaves), but the leftovers make the best meatloaf sandwiches ever, so if you're fond of meatloaf, go ahead and make the full recipe. You'll be so glad you did when you're nibbling on one of these. To store leftovers, wrap the loaves tightly in plastic wrap and set on a plate to store in the refrigerator. Bacon Jalapeno Meatloaf does freeze well after being wrapped and well-chilled. You can even cut the chilled loaf into single serving portions and wrap those before freezing for fast meals or meatloaf sandwiches like the one above.
Connect with Foodie with Family
facebook | pinterest | instagram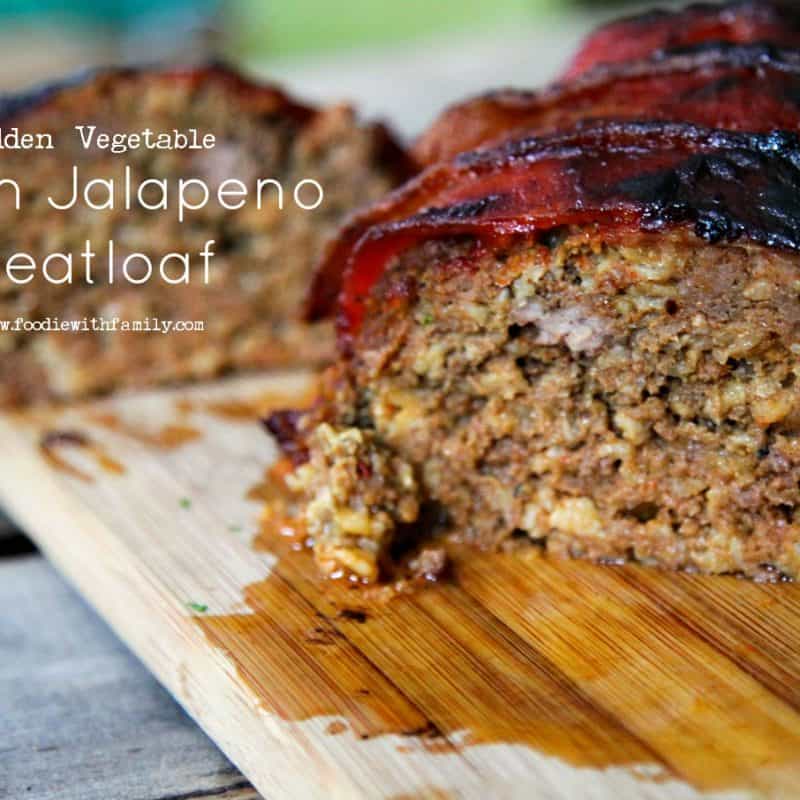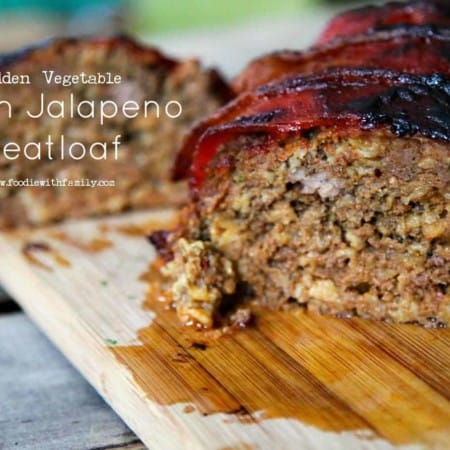 Ingredients
2

small onions

peeled and roughly chopped

4

jalapenos

stems and seeds removed, roughly chopped

1

red bell pepper

stem and seeds removed, roughly chopped

1

cup

baby carrots

1

cup

plus 1/2 cup barbecue sauce

homemade or purchased, divided

1/4

cup

Worcestershire sauce

4

eggs

lightly beaten

2

teaspoons

kosher salt

2

teaspoons

ground black pepper

2

cups

old fashioned rolled oats

2

sleeves of Ritz crackers

crushed finely

4

pounds

of 80/20 ground beef

3/4

to 1 pound thick sliced bacon
Instructions
Line a rimmed, half-sheet pan with foil and set aside. Preheat the oven to 350°F.

Add the chopped onions, jalapenos, red bell pepper, carrots, 1 cup barbecue sauce, and Worcestershire sauce to your blender or food processor and process on HIGH until smooth. Add the eggs, salt, and pepper, and pulse to combine. Pour into a large mixing bowl and add the oats, cracker crumbs, and ground beef. Use your hands to combine the mixture gently until it is even in colour and texture. Divide the mixture in half and form each half into a loaf that is roughly 8-inches long by 4-inches wide on the prepared pan.

Working with one slice of bacon at a time, lay it on a cutting board and slide the blunt spine of a large knife over the slice of bacon, pressing as you go, stretching the bacon to about twice its original length. Cut the stretched bacon in half. Wrap the ends of the meat loaves with bacon, covering the whole surface of the ends. Then repeat stretching and slicing the bacon, and use the slices to wrap around the top and sides of the meatloaf, slightly overlapping the slices. When the meatloaf is completely covered, bake for 40 minutes, or until the internal temperature of the meatloaf reads 160°F on an instant read thermometer.

Brush the tops of the meatloaves with the remaining barbecue sauce and return to the oven, this time under a HIGH broiler. Broil until the bacon is crisp and the barbecue sauce is caramelized on top. If you find it is browning before it crisps, move the pan further away from the broiler. Remove the pan from the oven and let rest for 10 minutes to set up before slicing. Store leftovers tightly wrapped in the refrigerator for up to 4 days or wrap with a double thickness of plastic wrap and freeze for up to three months.
Nutritional information is an estimate and provided to you as a courtesy. You should calculate the nutritional information with the actual ingredients used in your recipe using your preferred nutrition calculator.