This is a continuation of my Southern New Year's Foods series. And it comes with an executive decision. I was unable to get photos of the dish, but I wanted you to have the recipe before New Year's Eve. So up it goes sans photos of the greens! If I get photos of it at a later date, I'll post those on here. Happy New Year!
Black-eyed peas, collard greens, cornbread… all these foods are indelibly linked to the South. No matter which city, town, county or mountain holler you call home, if you're from the South it's a pretty safe bet that you have a family recipe for these rattling around somewhere. I have not one, not two, but three recipes for greens all written longhand by my Grandma Shaffer on laminated recipe cards. They are my heirlooms.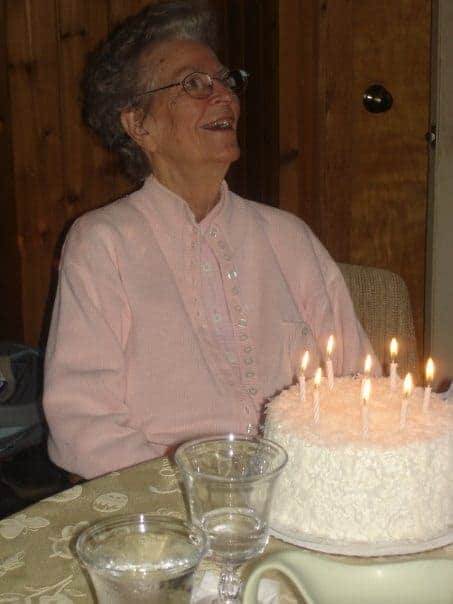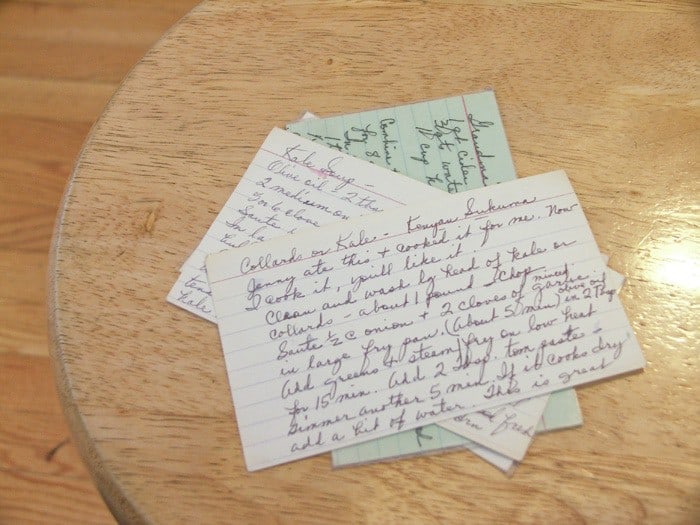 Collard greens are one of the foods that are traditionally served in southern homes on New Year's Day. While black-eyed peas represent coins, collard greens represent paper money. Combining the two dishes for the first meal eaten in the New Year traditionally represents a forthcoming time of prosperity. Since my family is worth much more than its weight in gold, I'd say the practice has been effective.
There is some disagreement among collard green lovers as to how long they should be simmered. My vote is for however long it takes for them to become fall-apart tender. I think it is nearly impossible to overcook collard greens. On the stove top this usually translates to anywhere between one and a half hours to four hours. In a slow-cooker -provided you have enough 'pot liquor' (cooking liquid) you can easily let them simmer away overnight. (Assuming you can sleep with the glorious smell of greens wafting through your home.)
There is a small but vocal crowd who like their greens chewier and would simmer their greens for a far shorter time than I would. I ignore them.
This is my special occasion version of greens and nothing screams,"Special Occasion!" quite like salted pork products. I do believe my Grandpa Shaffer would've agreed with me heartily. Provided, that is, that your special occasion is not a dinner party for your vegetarian friends. You always have the option of making this vegetarian friendly by omitting the salt pork and replacing the pan drippings with olive or canola oil.
For a photo-free, printer-friendly version of this recipe, click here!
Slow-Simmered Collard Greens
Ingredients:
3 pounds washed, trimmed and cut collard greens
1 large red onion
6 ounces salt pork
4-8 cloves garlic, according to preference, thinly sliced
2 cups water, plus additional water as needed
1-1/2 cups dry white wine or chicken broth
Coarsely ground black pepper, to taste (I like a great deal of pepper and usually use between two teaspoons and a tablespoon.)
1/2 teaspoon Kosher salt
Thinly slice the salt pork (about 1/8 of an inch thick) then cut the slices into thin strips (about 1/4 of an inch thick.)  Transfer salt pork strips to a deep, heavy bottomed skillet, pot or dutch oven with a tight fitting lid over medium heat. Stirring frequently -taking care because salt pork pops and spits a lot as it browns- cook the salt pork until crispy all over and golden brown. Use a slotted spoon to transfer the crispy salt pork strips to a paper towel lined plate and set aside.*  Remove any excess fat drippings from the pan, leaving only 1/4 cup of drippings in the pan.
*The reserved crispy salt pork can either be scattered over the greens before serving or baked into the best cornbread you'll ever taste. I've done both and I've loved them equally.
Cut onion in half and peel. Lay -cut side down- on the cutting board and slice into moderately sized half-moons (between 1/4 and 1/2 of an inch thick.)  Move onions and garlic into the pork drippings in the hot pan still over medium heat. Cook for one to two minutes or until fragrant but not browned.
Add a handful or two of greens to the pot and stir until reduced slightly in size (about one minute). Repeat with greens, one handful or two at a time, until all the greens have been incorporated and slightly wilted. Add water, white wine, salt and black pepper and stir. Bring liquids to a boil, tightly lid the pan and turn the heat to low. Allow to simmer for about one and a half hours, checking liquids and adding as necessary, or until the greens are fall-apart tender.
Serve hot with cornbread, black-eyed peas and hot pepper vinegar for greens are so good they'll make you say, "Well, shave my legs and call me smoothy." Because I'm pretty sure  that's what my Grandpa would've said…