This is the second installment of my Southern New Year's Foods series. Happy New Year!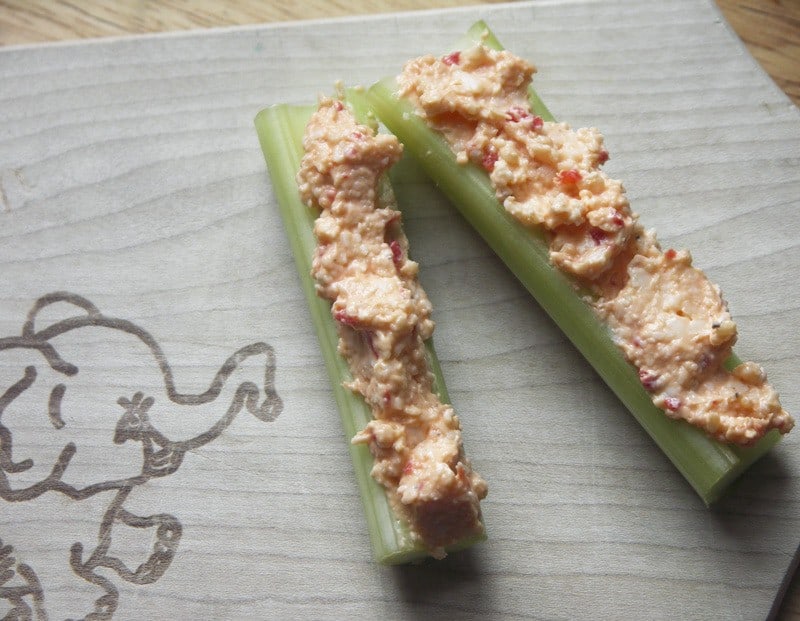 Really, The Evil Genius and I complete each other. While I sit here on the couch with the laptop, contemplating pimiento cheese, he is watching 'Alien vs. Predator' and talking about which characters he thinks will be eaten. So see? We're both thinking about food.
This family marches on its stomach. Long before I met my southern transplant husband, I was learning to cook southern food from my Arkansan grandma. And while I'm certain he didn't marry me just for  Grandma's pimiento cheese, collard greens, and cornbread recipes, I'm equally certain that the ability to execute those dishes well contributed to my charms.
Although I wouldn't swear to it, I do believe that I detected tears of joy in his gorgeous blue eyes when I placed a dish of this pimiento cheese along with a plate of crackers in front of him so many years ago. Just for the record, there's no shame in a good ole boy weeping over food like Grandma used to make… He may be Evil, but he still loves his Mammy.
Pimiento cheese is a food that is as big a part of the South as the phrase "y'all". This flavorful creamy cheese spread is flecked with bits of sharp cheddar and bright roasted red peppers. It is as at-home on an elegant buffet table as it is on humble celery sticks for an after-school snack. Thrown together in a flash, pimiento cheese is big on flavor and low on effort.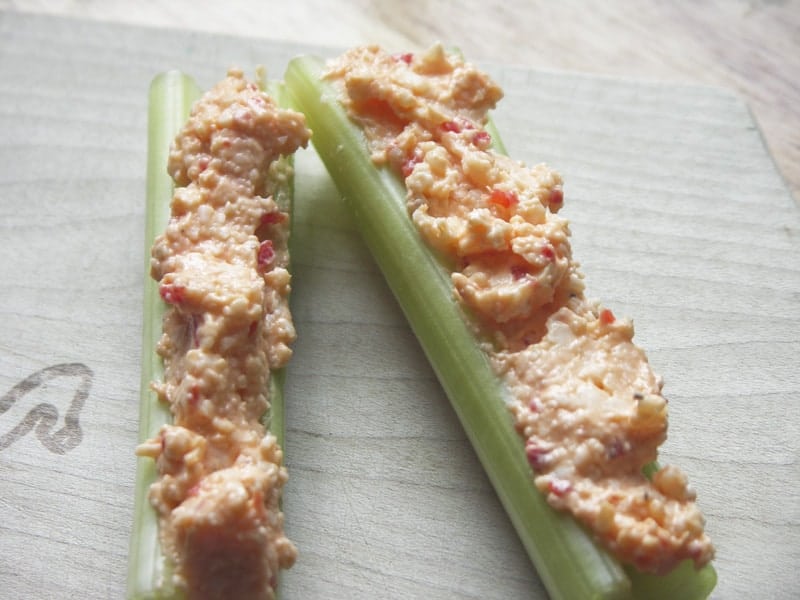 Don't just stop with at the crudites and crackers, though. Whether you trim the crusts and add watercress for sophisticated tea-time  sandwiches or slap it between two slices of buttery white bread, pimiento cheese makes a delicious and satisfying savoury sandwich filling. You can't get much more Southern than a having a pimiento cheese sandwich and a glass of sweet tea for lunch on the front porch. And you just may have the best grilled cheese of your life if you toast two slices of hearty wheat bread filled with pimiento cheese.
A party just isn't a party without pimiento cheese in some form, and New Year's Eve is the biggest fete of the year! So break out a bowl this festive spread and have copies of the recipe handy to pass out, because you will be asked. It is that good.
Happy New Year Y'all!
For a printer friendly, photo free version of this recipe, click here!
Pimiento Cheese
Ingredients:
1 (3 ounce) package cream cheese, softened to room temperature
16 ounces grated Cheddar cheese (I like to use a blend of extra sharp and sharp cheddar.)
1/2 cup mayonnaise
1/2 of a small onion
2-3 Tablespoons pimientos (or roasted red peppers) smashed with juice from the jar.
1/2 teaspoon each granulated garlic, granulated onion, coarse salt and freshly ground black pepper
Add the cream cheese, mayonnaise, granulated garlic and onion, salt and freshly ground pepper to the work bowl of your food processor that has been fitted with the blade.
Grate the onion into the the food processor on top of the other ingredients.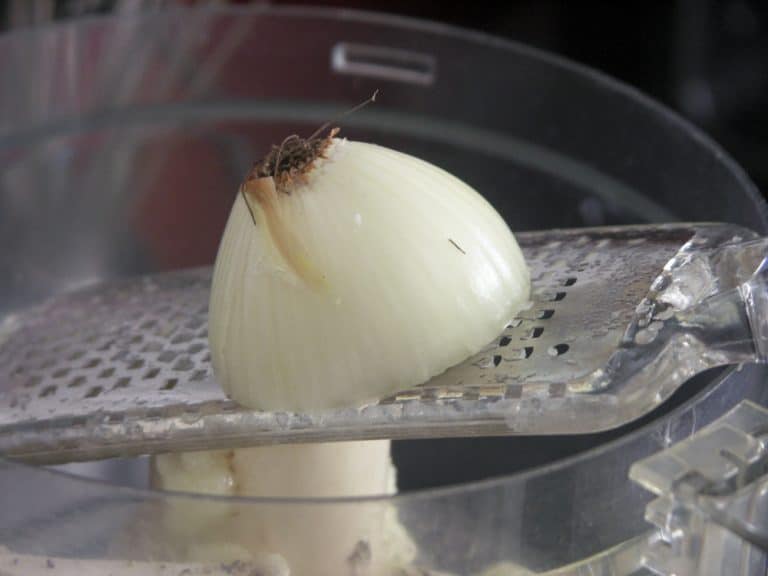 Pulse until smooth.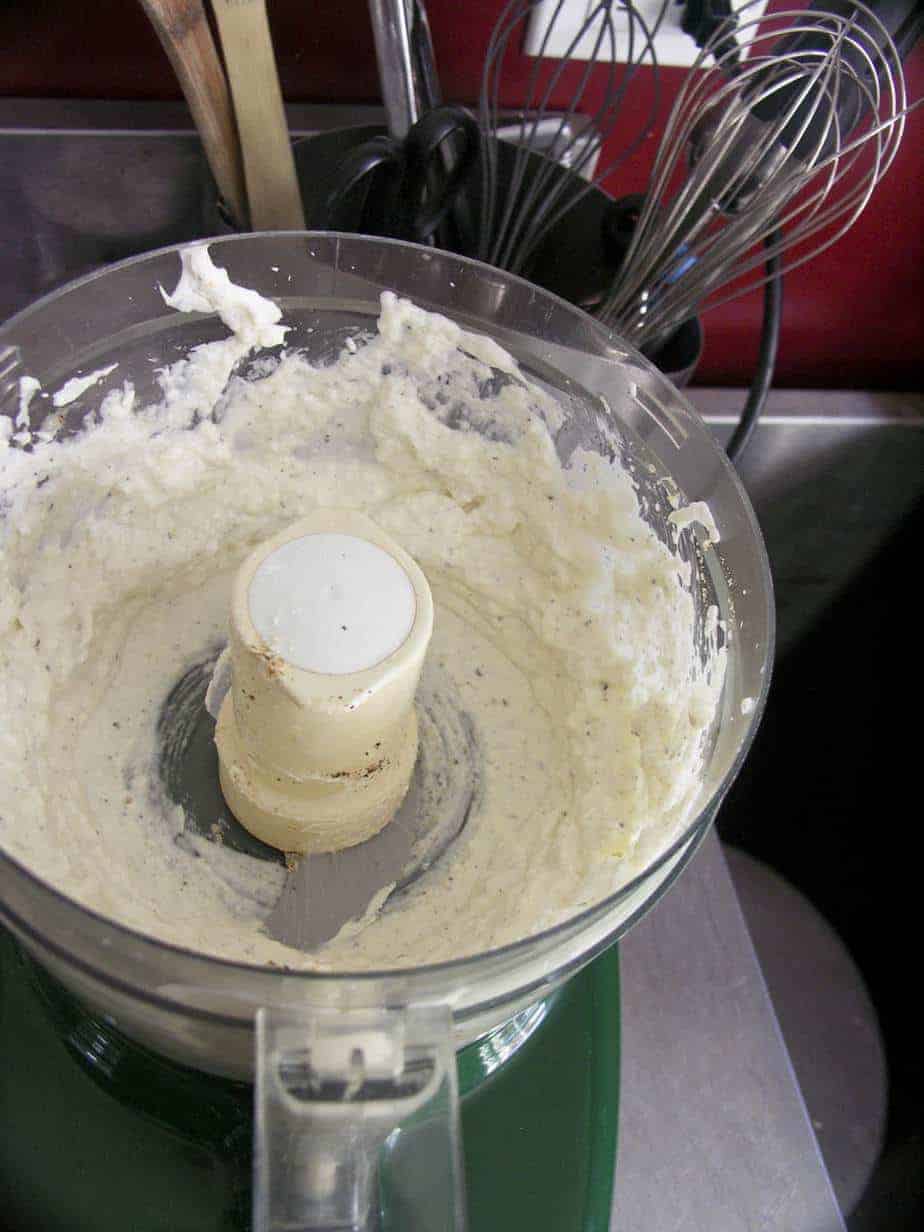 Scrape down the sides of the bowl and add the shredded cheddar. Pulse seven or eight short bursts; just until the cheese is mixed into the cream cheese. Scrape down the bowl again and add the pimientos with their juice.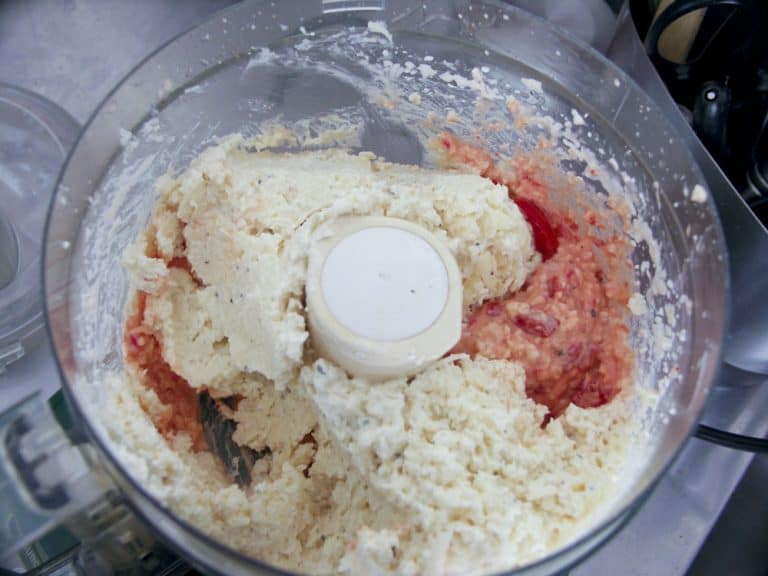 Pulse four or five more short bursts; just until the pimientos are chopped to the point where they are blended in, but still in recognizable pieces.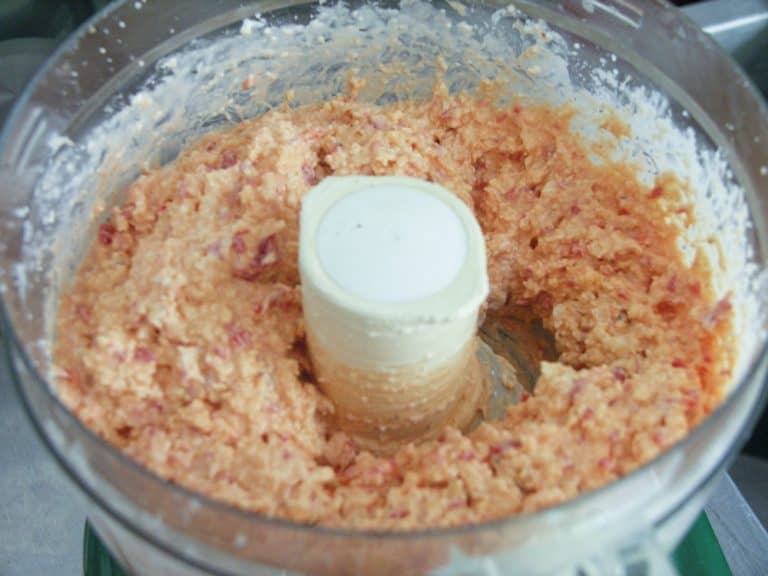 Use a silicone scraper or spatula to transfer the mixture to a serving dish or storage container. Cover tightly with plastic wrap and refrigerate for about an hour prior to serving to allow the flavors to meld.
Leftovers can be kept tightly wrapped in the refrigerator for up to a week.
*If you do not have a food processor simply combine all the ingredients in a large bowl and stir vigorously with a sturdy spoon until thoroughly blended.
Now slather this on some celery sticks, pour yourself a tall glass of sweet tea and say y'all a few times. You might just like it.