I get really excited about granola. Is that weird? I'm sorry if it is, because I'm about to get a little geeky over it. This Almond Joy Granola is the perfect breakfast or pick-me-up snack.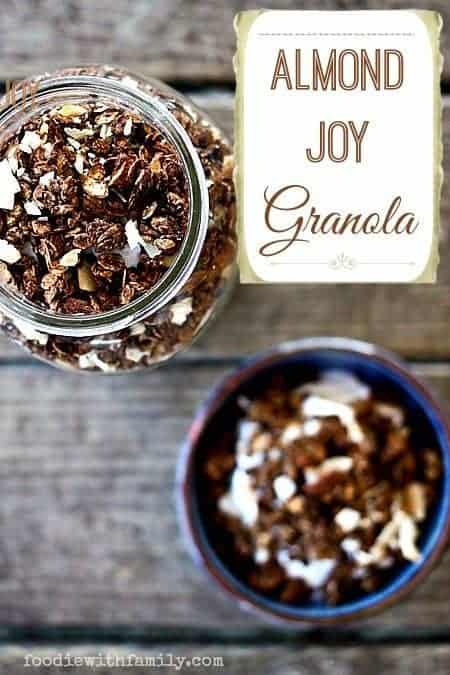 I make granola fairly regularly; there's almost always a jar of one sort or another on the table here. It's crunchy, it's satisfyingly filling, and it feels wholesome. There's just something about it. We all like to munch on it out of hand as a snack, the hubby and a couple of the kids like to eat it with milk for breakfast, but I like it best over a bowl of plain Greek style yogurt any time I feel like it. Mmmm. Good stuff. The point is we go through a lot of granola here.
We rotate through a few of our favourite granola recipes so that everyone's best-loved version is around once a month or so, but there's a new top dog in our house and you're looking at it today: Almond Joy Granola. Can we just talk about this for a moment? Almond. Joy. Granola. It's full of everything that makes the Almond Joy candy bars so tasty -coconut, chocolate, and almonds- without ANY of the junk that makes the candy bar so awful for you. No preservatives, no bad fats. Comparatively (to other granolas) speaking, this one is pretty darned healthy. It uses mostly maple syrup with a little brown sugar for sweetening, doesn't have any added fats to speak of (just the coconut oil used to slick the pan up a bit), and has only all-natural ingredients that are -mainly- quite good for you. You could most certainly argue that it would be better for you to leave out any sweetening altogether, but that would be a miserable bowl of dry, boring oats to chew on, wouldn't it? I'll leave the hair shirts to the Middle Ages and carry on with my maple syrup and brown sugar, thankyouverymuch. It's whole grain. Take a victory where you can.
This granola is sweet, full of pieces of almond and coconut flakes, and oh-so-chocolatey. So chocolatey is it -in fact- that the milk that my boys pour over it transforms into a slurpable chocolate milk by the time they're done eating all of the granola in the bowl.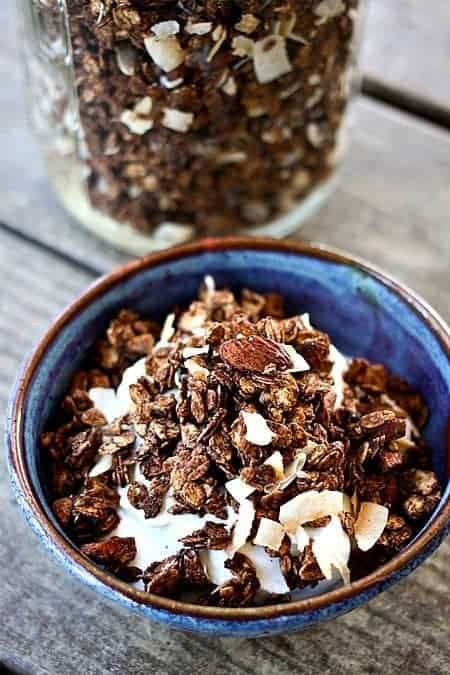 Cook's Notes:
Don't STIR the granola, FLIP it. This helps form the highly coveted clumps that make granola so munchable. To flip it, you slide a spatula or fish turner under a section and gently turn it over. Repeat all the way around the pan.
Because you're toasting this granola at a higher temperature than you might otherwise for a granola, you are going to want to flip it every 5 minutes instead of every 15.
…and because this contains cocoa powder, you're going to want to be very sure you don't forget to flip it. Cocoa powder has a tendency to scorch when unattended while cooking. Don't scorch your granola. You will be sad.
Don't be tempted to add the coconut flakes earlier in the cooking process, they, too, will scorch and that is no bueno.
When you take the granola out of the oven, don't mess with it. Let it cool right there on the pan without stirring it. This is more clump insurance. Clumps are good.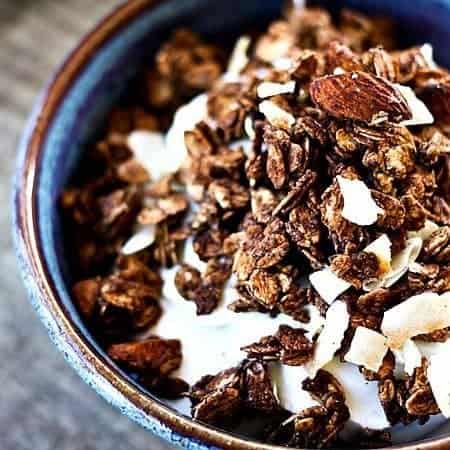 Ingredients
extra virgin coconut oil

5

cups

old-fashioned rolled oats

2

cups

roughly chopped raw almonds

or slivered raw almonds. *See Notes

1

cup

unsweetened puffed rice

brown rice holds up best here

1/2

cup

unsweetened cocoa powder

I use Dutch processed cocoa powder

1/2

cup

brown sugar

1

cup

pure maple syrup

preferably Grade B

4

teaspoons

pure vanilla extract

or 2 teaspoons pure vanilla extract and 2 teaspoons chocolate extract

2

cups

unsweetened flaked coconut
Instructions
Preheat the oven to 325°F. Smear a light film of coconut oil over the bottom and sides a rimmed half-sheet pan. Set it aside.

In a large mixing bowl, stir together the oats, almonds, puffed rice, cocoa powder, and brown sugar until evenly dusted and no clumps remain of the sugar and cocoa powder. In the measuring cup used to measure your maple syrup, stir in the extract(s) . Pour it over the oat mixture and stir it in. At first, it will seem like you don't have enough liquid, but keep stirring gently and it will become evenly moistened. When it is a uniform colour and evenly coated, spread it out over the prepared half-sheet pan and put it in the oven. Bake for 45 minutes, flipping the granola every 5 minutes. When there are 5 minutes remaining, sprinkle the coconut flakes over the top of the granola and then flip it. Bake for the final 5 minute stretch, then remove the pan from the oven and let cool completely before transferring to a container with a tight fitting lid. Store at room temperature for up to 2 weeks.

If after 2 weeks you have some remaining and it has started becoming stale, you can refresh it by placing it on a cookie sheet in a 325°F oven for 5 to 10 minutes. Let cool completely before storing in an airtight container again. It is not recommended to refresh the granola more than once as it will deteriorate in flavour.
Notes
*I prefer to start with whole, raw almonds and roughly chop them with a big kitchen knife. I like the way they toast while cooking better, and prefer the texture it gives the final granola. If you want to save a couple of minutes, or prefer smaller, more uniform pieces, you can substitute an equal amount of slivered raw almonds.
Nutritional information is an estimate and provided to you as a courtesy. You should calculate the nutritional information with the actual ingredients used in your recipe using your preferred nutrition calculator.