Love these Slow Cooker Korean Beef Tacos? Check out our other fabulous Korean Food Recipes!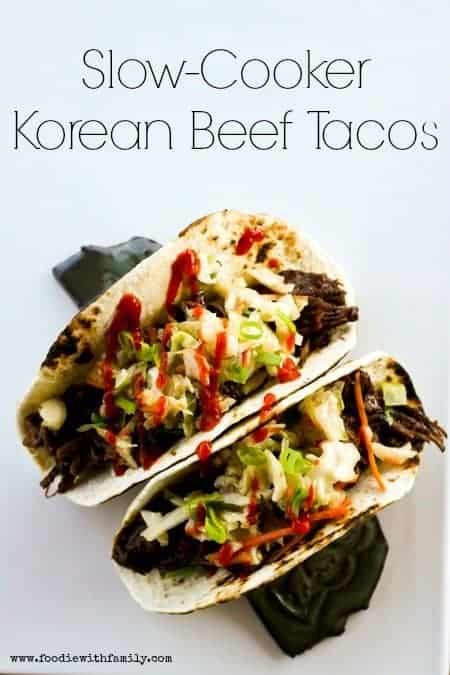 My brother and his wife live in Korea. When he went over to teach English, none of us knew he was going to meet and marry one of the most beautiful and kind women on the planet. The culture in Korea suited him to a 't'. We get it, but we miss him. The upside of this (in addition to getting an AWESOME sister-in-law) is that when they come to visit -sadly, infrequently- they bring suitcases full of food goodies for me. Us. I mean us. It's not exclusively mine. He intends for me to share it with the children and my husband. Dangit.
I spent a lot of time trying to learn to create Korean flavours before their first visit so I could make them feel at home. Now I'm borderline obsessed. Okay, I'm just plain obsessed. It's just so good. Korean cuisine is, to me, the comfort food of Asian cuisine. It's so good, it's so hearty, it's so flavourful, and it has a little KICK to it courtesy of the ubiquitous gochujang*. Even better than all of that is the fact that Korean food is easy to make at home. REALLY EASY to make at home! Once you have the most common ingredients in your pantry, you're just a hop-skip-and-jump from tantalizing, home-cooked Korean food.
 *Thick, brick-red, fermented hot pepper paste that tastes deliciously spicy and salty. It's like a spicy umami bomb! (The image below is an affiliate link. If you click on it and purchase it, I will receive a small commission which in no way effects the price of the item. Thank you!)

Today's recipe is a perfect example of A.) Why Korean food rocks and B.) How easy Korean food is. If you're thinking tortillas aren't authentically Korean, you're absolutely right. This just happens to be one of my favourite delivery-to-my-mouth methods for this particular beef. If you wanted to be more in line with how this would actually be served, you'd be more than welcome to serve it over sticky rice. That'd be super tasty, too… But this was my beef and I wanted tacos. Desperately. Besides that, I don't think the tortilla delivery device stands out big time. It still tastes totally Korean to me!
When you see the list of ingredients, don't freak out. It's a little lengthy, but it's a lot of pantry stuff AND the work isn't daunting! You start by generously salting and peppering some fresh boneless beef short ribs. And can I just say for a moment how over-the-top my love is for beef short ribs? Moving on…
The salted and peppered beef short ribs are laid down in a screaming hot pan to brown on each side. Please, for the love of all that is tasty, don't skip this step. I know a lot of folks think that a slow-cooker should relieve you of all effort in cooking, but it just isn't so. Sure, it takes most of the work out of the long, slow braise it was designed to accomplish, but you still have to build flavours before it goes in to get the optimal result. SO! While you're browning all of the available surfaces of these soon-to-be-succulent short ribs, you can turn your attention to assembling the sauce/braising liquid. DON'T PANIC. You're just stirring things together here. Peel, core, and remove the stem for a ripe pear and grate it into the slow-cooker. To that, you'll add grated ginger, minced garlic, soy sauce, gochujang, sesame oil, mirin (or rice wine vinegar), pear or apple juice, and a bit o' brown sugar. After you stir that all up, you nestle those browned short ribs into the sauce, add the cover and let it rip until the beef falls apart when pulled at with a couple of forks.
At that point, you transfer the beef to a container with a tight fitting lid and deposit it in the refrigerator. I'd like to point out that I ate one of these short ribs before moving onto the next step. Quality control, ya know.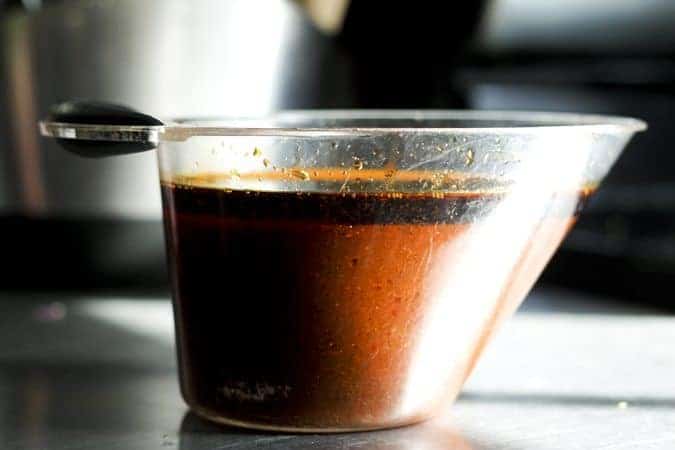 The pan sauces are poured into a large, heat-safe bowl or measuring cup, covered with plastic wrap, and stashed in the refrigerator until the fat rises to the top. Skim the fat off and hold onto the sauce. There's a good chance there will be more than you need, but the beautiful beefy, spicy sauce is excellent drizzled over bowls of hot rice as a snack.
Once the sauce is skimmed, dinner is mere moments away. Shred the beef with two forks, toss with as much of the sauce as you need to make it flavourful and moist but not sloppy then serve. Serve it on charred tortillas, topped with slaw or kimchi like I did, or over rice, but do make this. You can freeze any leftover shredded beef in single meal portions to thaw and reheat for a fast meal later on, making this an ideal addition to our Make Ahead Mondays series. Shoot, it is so good, you probably want to double it so you HAVE some to freeze! While you're at it, triple the recipe so you can freeze some for entertaining. If you break these out at a football party you will get quite the reputation as the entertainer.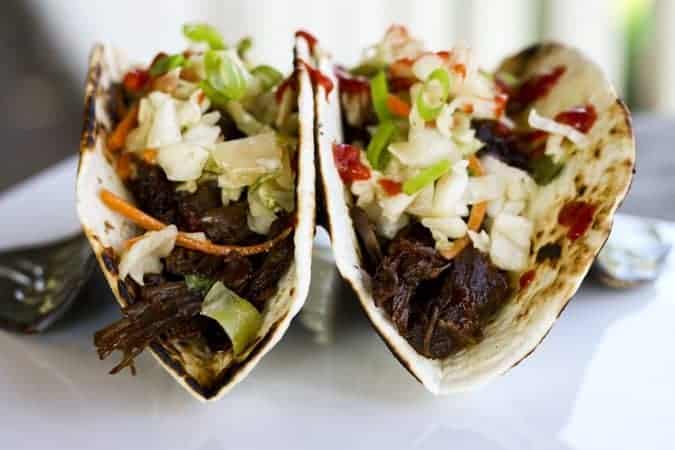 P.S. Cilantro is not usually used in Korean food, but I tossed a few leaves on my taco because I wanted them there. I say go for it if you want them!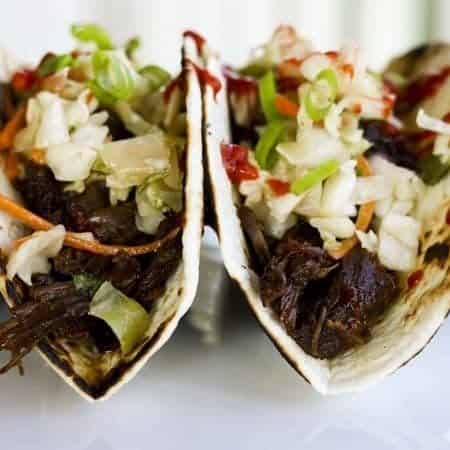 Slow-Cooker Korean Beef Tacos | Make Ahead Mondays
Rate Recipe
Korean tacos are a big deal in the food world right now. Get to know why when you put your slow-cooker to work on flavourful, tender, Korean beef short ribs and serve them on charred tortillas topped with kimchi or Asian slaw. Double the recipe and freeze leftovers in meal sized portions so you can enjoy whenever the urge strikes!
Ingredients
4

pounds

boneless beef short ribs

salt and freshly ground black pepper

1

teaspoon

vegetable or peanut oil

1

cup

pear juice

or unsweetened apple juice

3

tablespoons

minced garlic

3-4

inches

of fresh ginger root

grated

1/2

cup

light brown sugar

1/2

cup

gochujang

1/4

cup

mirin or rice wine vinegar

2

tablespoons

sesame oil

1

tablespoon

soy sauce

1

pear

peeled, cored, and stem removed
To Serve:
Flour tortillas

charred over an open flame on the stove top, or wrapped in foil and heated in a moderate oven.

Kimchi or Asian Style Slaw and Asian Pickled Carrots

fresh leaves of cilantro

if the spirit moves you

Sriracha
Instructions
Generously salt and pepper the beef short ribs and set aside.

Put a cast-iron or other heavy-bottomed skillet over high heat and let it heat while dry for at least 2 minutes but up to 5 minutes. While the skillet heats, stir together the garlic, ginger, light brown sugar, gochujang, mirin or rice wine vinegar, sesame oil, and soy sauce in the crock of your slow-cooker. Grate the pear over the sauce. Cover and turn the heat to HIGH.

Drizzle the oil into the hot cast-iron pan, swirl to coat, and place as many short ribs into the pan as you can without crowding them. They should not touch in the pan. Let them cook about 2-3 minutes, or until the short ribs have developed a deep brown crust on the cooked side, then flip them onto another side. Continue until all four sides of the short rib are well browned. Transfer the browned ribs to the sauce in the slow-cooker. Repeat until all of the short-ribs are well browned. When all the ribs are in the slow-cooker, return the hot pan to the HIGH burner and carefully pour in the pear or apple juice. It should bubble up almost immediately. Scrape all of the caramelized bits off of the pan then pour it into the slow-cooker. Cover and cook on HIGH for 4 hours, or until the beef ribs come apart easily when pulled at. Use tongs to transfer the cooked beef to a container with a tight fitting lid and put it in the refrigerator. Pour the cooking liquid from the crock into a large heat proof container or measuring cup. Cover with plastic wrap and refrigerate until the fat separates from the rest of the sauce and rises to the top, about 30 minutes or so. Spoon off the fat and discard it.

If necessary, reheat the beef slightly in the microwave then shred with two forks or your hands. Toss with only as much of the sauce as is necessary to keep it moist. You don't want it to get sloppy wet.

Serve on charred tortillas with Kimchi or

Asian style slaw

and

Asian Pickled Carrots with a drizzle of Sriracha over the top.
Nutrition
Calories:
461
kcal
Carbohydrates:
25
g
Protein:
14
g
Fat:
33
g
Saturated Fat:
13
g
Cholesterol:
62
mg
Sodium:
295
mg
Potassium:
300
mg
Fiber:
1
g
Sugar:
8
g
Vitamin A:
10
IU
Vitamin C:
5.5
mg
Calcium:
49
mg
Iron:
2.4
mg
Nutritional information is an estimate and provided to you as a courtesy. You should calculate the nutritional information with the actual ingredients used in your recipe using your preferred nutrition calculator.