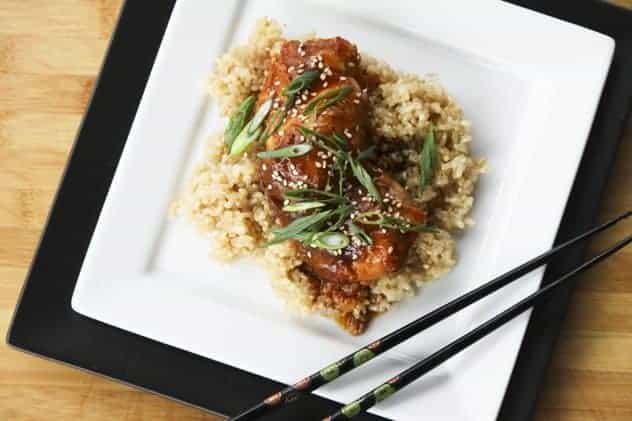 Update: Like a goose, I left the onions out of the ingredients list and instructions. I have fixed and updated the recipe. My apologies to those who might have printed it before seeing the correction. I imagine it will still taste marvelous made sans onion, but with onions, it sings!
Everybody wants a unicorn recipe. It's the kind of dish we all secretly hopes exists but despair of actually finding. You try recipe after recipe after recipe trying to find something, ANYTHING that isn't a burger (Not that there's anything wrong with that.) or a hot dog (Nothing wrong with that, either, but EGADS, give us some variety, please.) that will make everyone happy. All we want is tasty unicorns.
What would you say if I told you that I have a slow-cooker recipe that requires no more work than chopping an onion and a few garlic cloves and a wee bit of ginger, whisking a few liquids together and pouring it over some boneless skinless chicken thighs in the slow cooker? And then if I were to tell you that you didn't have to do any pre-browning on that chicken? Wait, then I also said that it was easy on the wallet, too.
But what if I followed all that up by saying that four hours after doing that, you would have a dish that (even out of the slow-cooker) was deep and complex, flavourful and beautiful, and made every single person in my family happy. Would you think I was a liar?
Or would you believe me if I told you this is a unicorn?
Normally something that simple doesn't yield palatable let alone fabulous. This, however, is fabulous.
Sweet, tangy, spicy, garlicky, gingery with a velvety sauce and tender chicken. It's just so very good. I first saw this over on my friend Amy's blog and knew I had to try it. True to Amy's promise of success, we had no leftovers the first time I made it (and I had doubled her recipe!) And as a testament to the taste of this unicorn, I made it again just under a week later, this time with a few changes that I wanted to try. My husband was on (ANOTHER) business trip, and again, I doubled the amount of meat. And again? No leftovers. I repeat. NO LEFTOVERS. My five sons and I polished off a batch of it that was every bit as large as the batch that my adult male husband helped us consume earlier in the week.
Woah.
A.) These guys eat a lot. Okay. I'm no slouch. But still… I weep for my food budget.
B.) I may have to triple the recipe next time.
C.) Help.
When I told my husband later that night what we'd eaten for dinner as we caught up over the phone, he said, "Oh man. I missed it? That stinks."
He had gone out to a restaurant that night and was jealous of our dinner. I call that a score for me.
Let me tell you one more thing, though… I've mentioned my picky pants gruesome-twosome anti-veg contingent before, right? They sucked this up like hoovers. They didn't slow down to realize there were itty bitty minced onions in the dish.
Saddle up this unicorn and believe!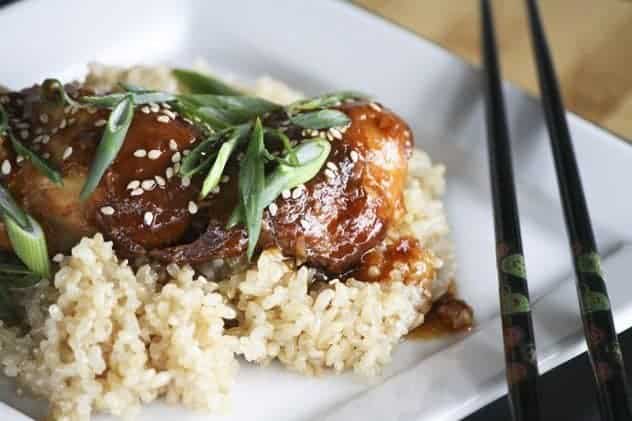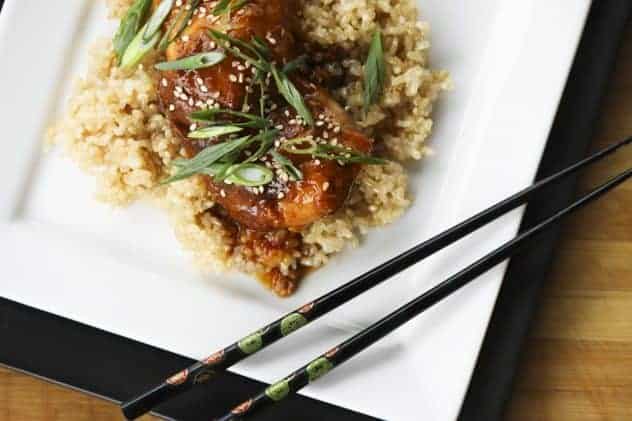 Sweet, tangy, spicy, garlicky, gingery: You never expect something that is this simple to make to taste this deep and complex. With a maximum of 10 minutes of hands-on time required to put this together, you will be thrilled and so will the rest of your family! Adapted with big thanks from my dear friend, Amy of Very Culinary
Ingredients
3

pounds

boneless skinless chicken thighs

salt and pepper

3/4

cup

honey

1/2

cup

soy sauce

1/2

cup

minced onion

1/4

cup

plus 2 tablespoons ketchup

1

tablespoon

canola oil

1

tablespoon

toasted sesame oil

1

tablespoon

minced or grated fresh ginger

4

cloves

garlic

peeled and minced

3/4

teaspoon

crushed red pepper flakes

4

teaspoons

cornstarch

1/4

cup

of water
Serve with:
Hot cooked rice

Sesame seeds

Scallions

thinly sliced
Instructions
Very lightly season the chicken thighs with salt and pepper and place them in the slow cooker.

Whisk the honey, soy sauce, onion, ketchup, canola and sesame oils, ginger, garlic and pepper flakes together in a mixing bowl and pour over the chicken thighs. Cover the slow cooker and cook on low for 4 hours, or until the chicken is tender and cooked through.

Use tongs or a slotted spoon to transfer the chicken to a rimmed plate or bowl and cover lightly with foil, leaving the pan juices in the slow cooker.

Stir the cornstarch into the water with a fork or small whisk until dissolved. Whisk the mixture into the pan juices in the slow cooker. Re-cover the slow-cooker and turn the heat to high. Let it cook and thicken for 15 minutes.

Carefully transfer the chicken back into the slow-cooker. Serve the pieces of chicken over the hot cooked rice, spoon the sauce over the chicken and garnish with sesame seeds and scallions.
Nutrition
Calories:
239
kcal
Carbohydrates:
20
g
Protein:
23
g
Fat:
7
g
Saturated Fat:
1
g
Cholesterol:
107
mg
Sodium:
690
mg
Potassium:
338
mg
Sugar:
18
g
Vitamin A:
90
IU
Vitamin C:
1.2
mg
Calcium:
17
mg
Iron:
1.3
mg
Nutritional information is an estimate and provided to you as a courtesy. You should calculate the nutritional information with the actual ingredients used in your recipe using your preferred nutrition calculator.