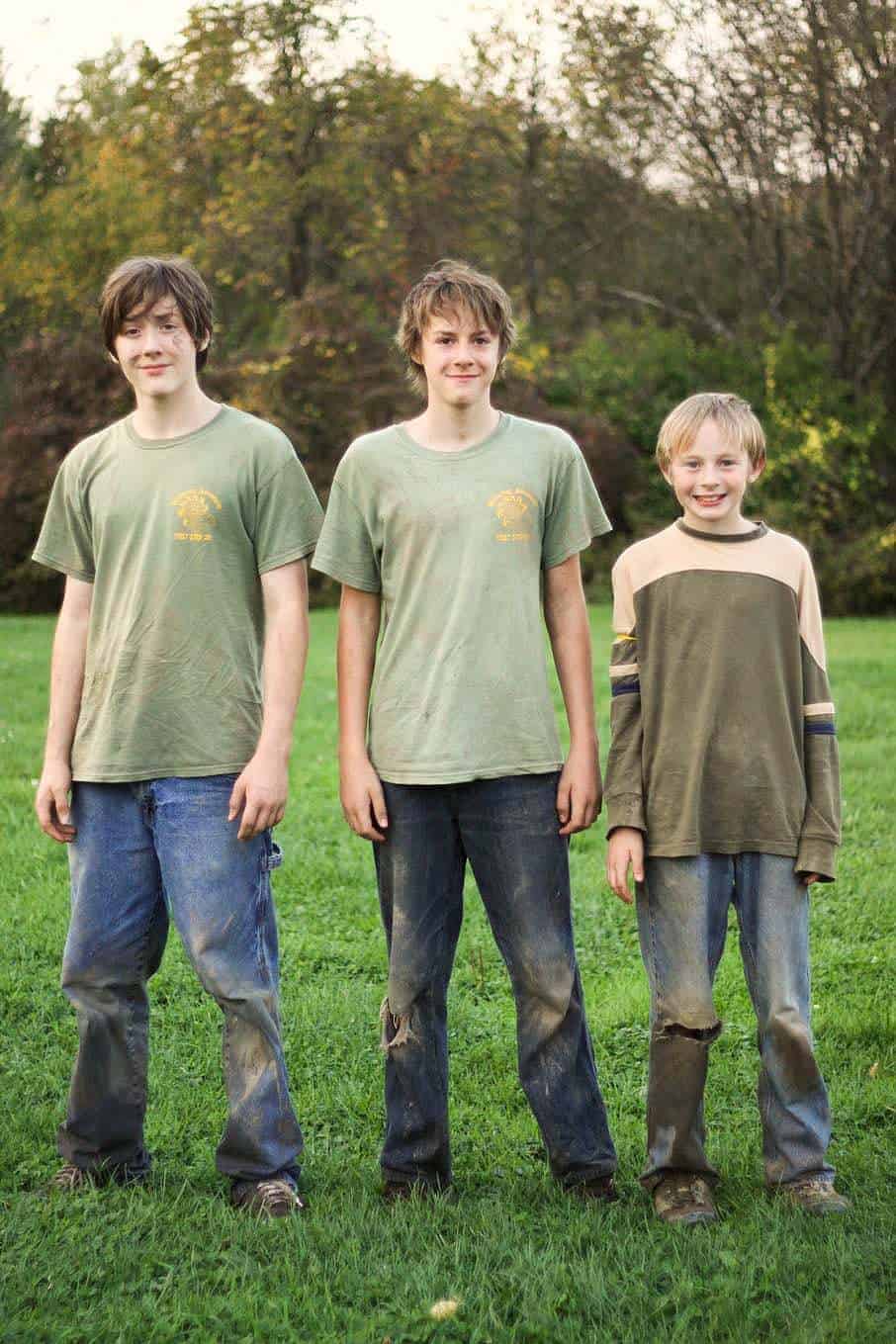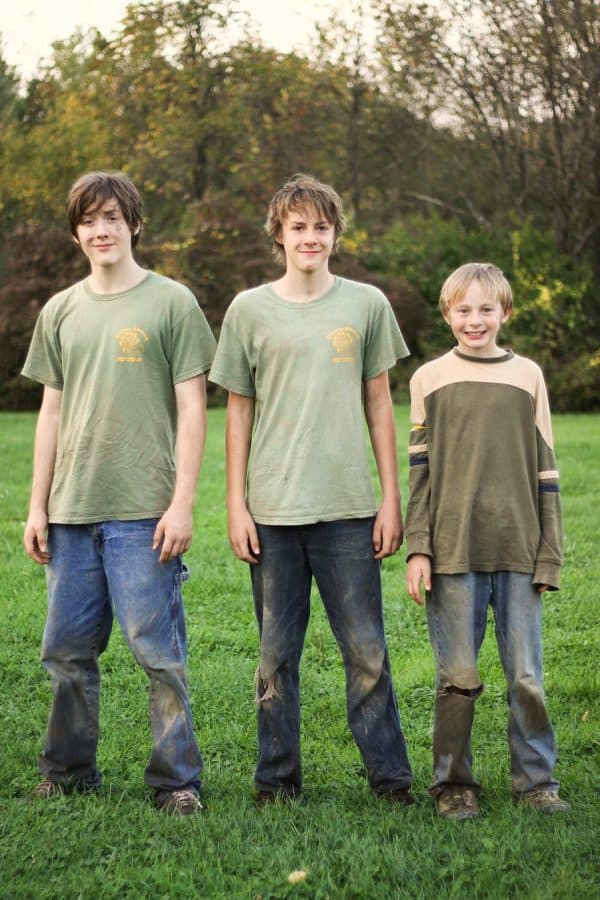 Whether you celebrate Hannukah, Christmas, or something else, no one can deny 'tis the season for giving! With five sons in our house (and five birthdays between October 10th and January 4th) it can seem like money is flying out the windows this time of year.

We have made a conscious effort to keep our purchases to a minimum while at the same time trying to choose gifts that aren't junk. It sounds like an uphill battle, but it really just takes a little bit of planning. We have a pretty solid bias in favour of constructive play things, so this list is pretty short of electronic beepy things. (This may or may not have anything to do with the fact that I can't STAND being ignored because of something that isn't sentient! Or it may have something to do with the fact that I feel a little stabby when I have to listen to the same BeepbeepBLOOP over and over and over. You choose. Either way, the result is the same.)
Since I've already done all the footwork, I thought I'd share some of the great finds we've discovered and why everyone in our family loves them. Each of these has been road-tested in our high-stress laboratory on site (translation: by five boys of various ages and their friends in our living room) and received the approval of all the kids AND we the parents.
Games
Rory's Story Cubes: This game is a tiny package with a huge amount of fun included. The box is slightly larger than a pack of playing card and holds 6 dice that have pictures on them. The player rolls the dice and makes a story about the pictures that surface. The beauty of this is that the kids can play solo or with as many brothers or friends he can muster. This gets a special mention for being under $8!
Rory's Story Cubes Add Ons: Even cooler, there are two add-on sets "Actions" and "Voyages" which each have nine additional cubes. You can buy all three sets in one fell swoop for under $20.
Make and Break: This is another game that accommodates as few as one or as many players as you have handy. There are sturdy wooden blocks, a timer, and cards with patterns of varying difficulty levels that you need to replicate. It's insanely fun for all ages! Of all the board and other games we own, this one gets the most play by far.
Qwirkle: My kids love this game. It consists of 108 tiles that come in a certain number of colours and patterns. You line them up strategically to form a grid, accrue points, advance and win. Loads of fun. Loads of strategy. It's way cool.
Spot It: This is another awesome game. Cards are dealt to between 2 and 8 players. Players have to find what the similar characteristic is between the cards. The first person to find it wins that round. There is always only one similarity between the cards. It's fast paced, competitive, brain-expanding, and wicked fun.

Triominos: Our love of this game goes back to my own childhood. My dad had a set that he kept tucked away in his office (which was in our home). If we were really good and promised to take good care of it, we got to play it. If we were really lucky, Dad would play with us. My kids love this game as much as I always did, too. Wonder of wonders, it's a quiet game. It encourages quiet play, and in a house with five boys, I try to do that as much as possible!
Toys
Nerf N-Strike Blaster: This one-shot Nerf blaster is the one that most of my boys owned as their first Nerf gun. It shoots far (up to 75 feet!), has a light beam trigger (Laser like lights! Woohoo!), and has a tactical rail where you can add on accessories. It's a fantastic entry-level Nerf gun. (My advice: Add eye protection to eliminate any worry!)
Stomp Rockets: Man. If I had a dollar for every hour my kids have spent playing with these, I'd be rich. I'd say they're best suited to a child who has good leg strength (and understands just how much trouble they'll be in if they try to launch it indoors, say, near the wood stove or delicate vase. Also? Got boys? Put that delicate vase in storage until they move out. That advice was free of charge for you and hard won by me.)
Darice 80-Piece Art Kit: This is my almost-8-year-old's most treasured possession. He received one for Christmas last year and has guarded it from marauding brothers, scandalous chihuahuas, and thoughtless parents. Two of his older brothers take private art classes and this makes him feel like he's in on something big. This is a surefire hit for any kidlets you have with an artistic bent.
Measuring Tape: I am not even kidding. My kids love to measure things. They even invented a game where they see who can extend the tape longest without it buckling. I'm telling you, if your kids are bored, have 'em talk to mine. It won't last.
Lego Bricks and More Brick Box: There are only 232 pieces in this set, but there are some fun versatile pieces and the box is worth it's weight in gold as a great storage solution for Legos. It has the added bonus of being of such a size that you can store smaller creations in it.
Lego Creator Thunder Wings 3-in-1 Kit: This cool windswept wing fighter plane kit can also be built as a futuristic car or a robot. Any Lego kit that is under $20 is a bargain!
Lego Creator Construction Hauler 3-in-1 Kit: This awesome construction hauler kit can be rebuilt into a cherry picker or off-road transporter with a dune buggy. SCORE!
Lego Green Building Plate: Do not even laugh. My kids use this single $5 piece more than almost any other piece in their vast Lego collection and who gets to use it has even been the subject of numerous fights.
Bushnell Powerview Binoculars: These are for all. the. kids. My older boys love them, my littler boys love them. These compact, foldable, binoculars come with a handy neck strap and carrying case. The boys love to take these out on nature walks, stand in the dining room and stare at deer or hawks out in the yard, and all sorts of other adventurous things. These aren't some cruddy, plastic, toy binoculars, either. They're good. My husband regularly borrows the boys' so he can check out the size of the buck in the back yard.
Books
The Dangerous Book for Boys: Here's another total time hoover for my kids. The guys have spent hours upon hours reading this book. That's not all, though, they've done projects from it, taught themselves semaphore and morse code, learned to juggle and build a lean-to, and countless other amazing things from this book alone. I can't recommend this highly enough. Have boys? Give them this book. Seriously.
Stuntology: This one should come with a warning. My little sister is a librarian and knows how to buy books that kids absolutely devour. The warning? Simply this. Give it to them along with a lecture about how you to pull pranks ethically. Otherwise, you might end up with a paper bag of flour or a wet towel plopping down on your head from a not-at-all-suspiciously-propped-open door. EXPERIENCE. Also? My sister's 6-week old baby boy just may be getting this for Christmas in 8 years or so. Not that I hold a grudge…
How to Survive in the Woods: This book is a personal favourite of my 13 year old. He spends hours upon hours studying this book- WHILE in the woods. He knows -theoretically- how to survive a bear attack, why to stay away from deer in rut, how to make a fire pit, how to identify poisonous plants, ford a stream or a river, survive when stranded outside in inclement weather, build a fire, and all sorts of other handy things that fire a 13 year old's imagination. If you have an outdoorsy kid, you simply can't do better than this book.


Shake: Do you have a dog lover extraordinaire among the little ones for whom you're gift shopping? This book is new and ever-so-slightly breaking the rules. We grabbed it for my newly 10 year old for Christmas. He saw many of the photos on the site of the photographer who snapped these high-speed shots of hysterically adorable dogs shaking their heads. You wouldn't think something so cute could look so very silly, but the proof is in the pages! The reason this is a rule breaker is it hasn't made it to his hands yet, but judging by the reaction he had looking over the website, this one is going to be a huge home run for my boy who often says he wishes he was a dog.
Software
Learn to Play Chess with Fritz and Chesster: This is probably some of the best money I have EVER spent on my children. Every single boy has learned to play basic chess from it, and some of the boys are quite good. They play their dad (not me) because their dad loves chess strategy (and I love cookies.) It gives their daddy and I an inordinate amount of pride to hear them talk chess strategy and name gambits. SERIOUSLY- my kids can talk chess moves like I talk recipes. The best part of the whole thing is the way the game is constructed, none of them has ever felt like learning it was a chore. They LOVE it. They BEG to play it. $20 gives you all three levels of the game.
Movies:
My Neighbor Totoro: First of all, this movie isn't just a favourite of my boys, but is a favourite of our entire family. It was the first Miyazaki film we ever saw and it completely and utterly pulled us into the realm of mega-Miyazaki fans. It is the beautiful story of sisters -ages 10 and 4- who move into an old-fashioned country home with their professor dad while their mom is in the hospital. In the enormous forest near their home, the girls discover a giant forest spirit (who looks like a cuddly bunny) named Totoro. Unlike many films 'made for children', this movie isn't sappy or dumb. The children in the move aren't brash, super-sweet, or any of the other extremes usually portrayed. They're real kids in a fantastic adventure. It has beautifully quiet moments and my kids were absolutely enthralled when they saw it the first time and every time since. We all love this movie. In fact, we love it so much that I'm hand-making gifts inspired by the film for each of my kids and I know they'll flip for them!
Spirited Away: Speaking of Miyazaki… Spirited Away is one of his best. In this story, Chihiro (a young girl) is trapped in a weird world of traditional Japanese spirits and needs to become braver and more plucky than she has ever been before in order to save herself and her parents. Again, Miyazaki uses quiet as a dramatic device and manages to produce a film that keeps both kids and adults completely riveted. The animation is lush and the story is wonderful.