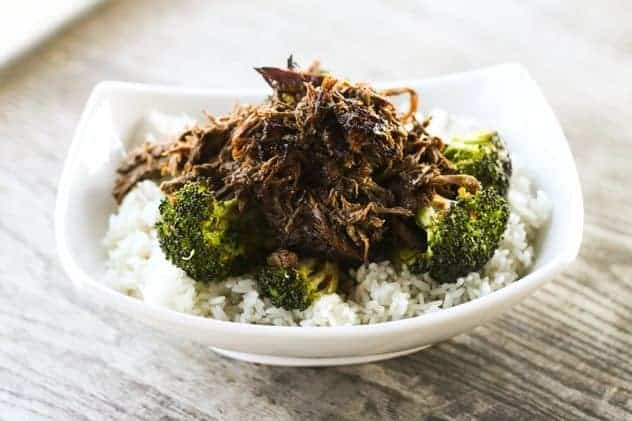 Let me tell you about my friend, Robyn. She's gorgeous, brilliant, talented, kind, warm-hearted, and has a seriously adorable family. Robyn is good people, people. All that's impressive enough, right? Well, the woman can cook, too. She posted the most incredible looking Balsamic Roast Beef recipe a few of weeks ago and I about fell out of my chair it sounded so good.
In fact, her recipe is on that short list of ones that have sounded so darned good that I had to make it the minute I read it. Literally. As in, I stood up, unplugged my laptop and moved to the kitchen to begin making it AS I was reading it. I made that roast twice in one week.
…Then the third time I started making it (Yes, three time in two weeks. What?!? Me? Obsess much?) I realized I was out of a couple of ingredients. I preserved Robyn's method and played around with the stuff I always have handy. In this house, that usually means going Asian directions with recipes. The result was fah-hah-haaabulous.
It was so delicious I stood there pulling piece after piece off of the fall-apart tender beef dunking it into the pan juices and slurping it up. I dare not admit how much of it I consumed. I'll just say that my husband came in the room to find out from whence the delectable aroma was coming and said, "Oh, I guess it was a small-ish roast?"
It was four pounds.
Ahem.
Yeah, so. The point is that it's not just good, it's great. If you have more willpower than I do, or start with a larger roast than I did, leftovers store and freeze, and reheat beautifully.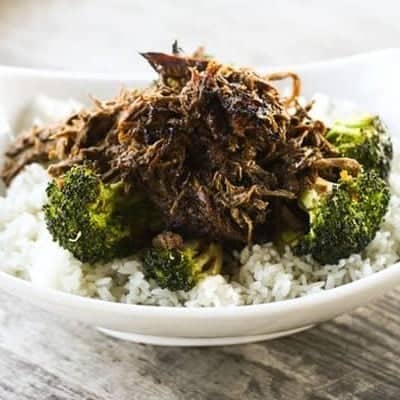 This succulent, spicy and just-a-little-sweet Asian beef is almost sinfully easy to prepare in the slow-cooker -no pre-browning, extensive preparation or complicated sauces- yet somehow yields incredibly deep flavours. It's good enough to serve to company. Adapted gently from and with many thanks to the lovely Robyn Stone of Addapinch.com
Ingredients
1 3-4

pound

boneless top round or bottom round beef roast

1

cup

beef or chicken broth

½

cup

balsamic vinegar

1/4

cup

honey plus 2 tablespoons

divided

1

tablespoon

soy sauce

1

tablespoon

fish sauce

1-2

tablespoons

Asian Chili-Garlic Sauce

depending on heat preference.

4-6

cloves

garlic

peeled and lightly smashed with the side of a knife, depending on how garlicky you like things.

1

2-inch piece of ginger, lightly smashed with the side of a knife or a mallet
Instructions
Place the beef roast in the crock of a slow-cooker. Scatter the ginger and garlic cloves over and around the beef. Stir together the broth, balsamic vinegar, 1/4 cup of the honey, the soy and fish sauces, and the chili garlic sauce and pour over the beef roast. Cover and cook on HIGH for 4 hours, or LOW for 6-8 hours or until the beef is fork tender.

Carefully transfer the beef to a casserole dish or a large bowl. Pour the juices from the slow cooker into a small saucepan with the remaining 2 tablespoons of honey and bring to a boil over high heat. You can reduce by as much as 3/4, just keep in mind the flavours will intensify the more you reduce it. While that is boiling, use two forks to shred the beef as finely as you wish.

You may pour the reduced pan juices directly over the beef or serve as a sauce to be used at the table. We like to pour it directly over the beef, toss it, and serve over Spicy Asian Broccoli and hot rice.
To Freeze and Reheat Leftovers:
Put leftover meat and pan juices in a freezer-safe bag. Squeeze as much air out of the bag as you can before sealing and freeze flat. To reheat, empty the contents of a bag into a microwave or oven safe dish. Heat covered (by plastic in the microwave or foil in the oven) at a moderate temperature (75% in the microwave or 350°F in the oven) just until heated through.
Nutritional information is an estimate and provided to you as a courtesy. You should calculate the nutritional information with the actual ingredients used in your recipe using your preferred nutrition calculator.