Pizza Party Bread: ooey, gooey, melted mozzarella and crispy pepperoni on buttery garlic bread that is made to be torn apart and shared by friends.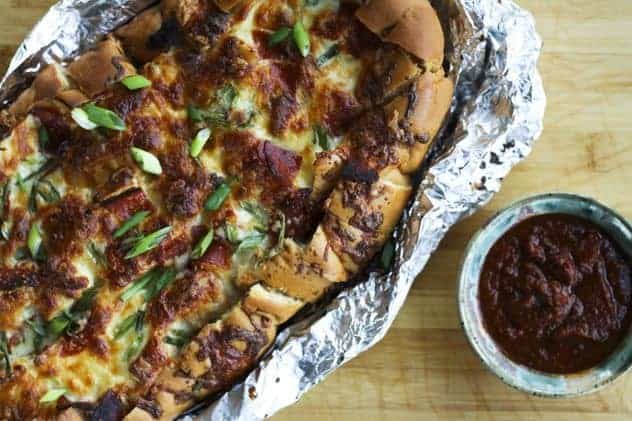 I know all good food bloggers are posting their best Thanksgiving recipes right now. They have that covered. Believe me, I'm thinking of the big show, too, but there are a lot of days between then and now and a lot of days afterward and it can't be turkey and stuffing all the time.
This recipe today is for the parties. We're party central this time of year. Between mid-October and the first week of January, every one of my five sons has their birthday. Every. Single. One. Of. Them.
In other words, from mid-October to the first week of January we are the hap-hap-happiest, most festive household since National Lampoon's Christmas Vacation. (Now, let's see… who is our Cousin Eddie? Come on. You KNOW every family has one.)
If it's not a birthday party it's a Thanksgiving party. If it's not a Thanksgiving party, it's a Christmas party. If it's not a Christmas party it's a New Year's party. And after that? Well, there's Super Bowl, of course! We cannot be the only household doing this right now.
See that bread? That's a total sanity saver. It's not only mega comfort food -can food get more awesome than bread/cheese/butter/garlic/pepperoni?- but it's as easy as can be to make. The Pizza Party Bread is everything you love about pizza and garlic bread minus the call for take out or the time involved in making homemade pizza.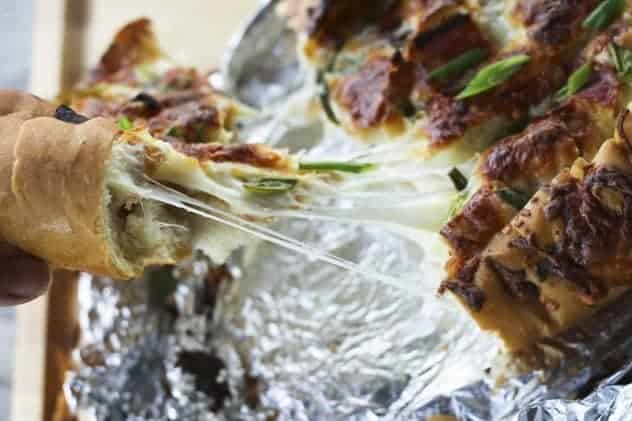 It's party perfection… who can resist ooey, gooey, melted mozzarella on buttery garlic bread in the first place? Not me, I'll tell ya that. And when you add lovely crisp little pieces of pepperoni? It's all over but me licking the foil, folks.
To really drive that pizza flavour home, we like to serve this with a bowl of warmed pizza sauce for dipping on the side. And much like the recipe that inspired this one, there are never leftovers. Whether you serve this for a quiet movie night at home or in quantity for a party buffet, you're going to be a very happy camper.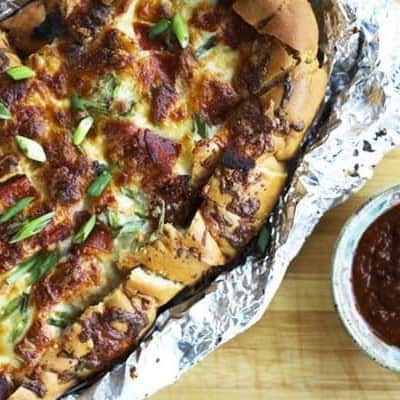 Comfort food writ large. Scads of ooey, gooey mozzarella melted onto a pull-apart loaf of tender garlic bread studded with pepperoni. Does it get better than this? Maybe, but I can't see how
Ingredients
1

loaf Italian bread

16 ounces, by weight

1

pound

grated mozzarella cheese

1

stick

4 ounces by weight butter

1

large clove of garlic

minced or pressed

1

bunch of green onions

scallions trimmed and thinly sliced

24-30

slices

of pepperoni

cut into quarters

Nonstick cooking spray and foil

Optional: additional chopped scallions for garnish.
Instructions
Preheat oven to 350°F (or preheat grill to medium heat). Lay out a double thickness of standard foil (or a single thickness of heavy-duty foil.) Spray lightly with nonstick cooking spray. Set aside

In a microwave safe bowl, or a heavy-bottomed skillet, heat the butter until melted and mix in the garlic and sliced green onions. Stir with a serving spoon.

Lay the loaf of bread on the cutting board and cut a ½" grid pattern into it stopping about ¼" above the base of the bread so that it stays connected. Gently pry apart the bread and spoon the butter mixture along the seams. Gently wrap the foil up around the top of the loaf and put on a rimmed baking sheet. Bake for 10 minutes.

Remove the pan from the oven, open the foil and sprinkle the mozzarella cheese over the top, gently pushing some of the cheese down into the cut bread. Separate and scatter the pepperoni over the top, shoving some into the sliced bread, too.

Leave the foil open and return the pan to the oven or grill and raise the heat to 425°F or HIGH for another 15 minutes or until the cheese is completely melted and bubbly and lightly browned on top.

Let set for 3 minutes before garnishing with additional chopped scallions, if desired. Serve while still hot or warm.
Nutritional information is an estimate and provided to you as a courtesy. You should calculate the nutritional information with the actual ingredients used in your recipe using your preferred nutrition calculator.