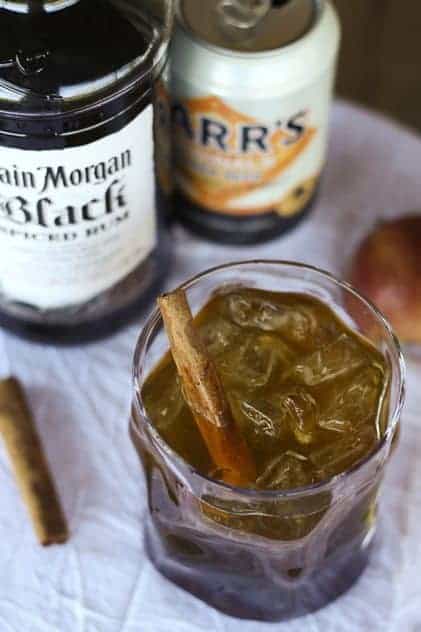 It was a Dark & Stormy night in the orchard…
No, let's start again.
"You poured your apple cider in my Dark & Stormy." "No, you poured your Dark & Stormy in my apple cider!"
Hmmm. Closer, but not quite right. Let me start at the beginning.
I'm in a contest. (Ah, that's better.) In the Spice Up the Holidays contest, nine of my fellow bloggers and I will be duking it out (virtually, 'cause I'm a lover not a fighter, man…) over the next couple of weeks to throw a party spiced up with the aid of Captain Morgan's Original Spiced Rum and Black Spiced Rum. We'll all be developing recipes for an appetizer, a cocktail and a dessert that are oomphed up with rum.
This whole shebang will be judged by Spike Mendelsohn: the former Top Cheftestant and current Next Iron Chef contestant. Chef Spike. When I was watching him on Top Chef admiring his creativity I never expected to have him inspecting my food. Eep.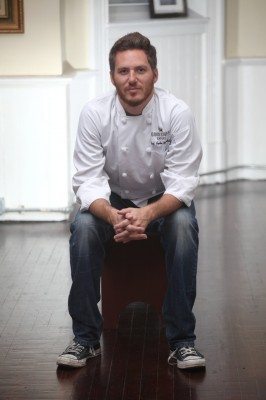 I feel obliged to tell you your left shoelace is untied, Spike. If you fell and got hurt, I'd feel guilty. What can I say? I'm a mother.
"Why are you doing this?" you might ask. Here's why I'm all in; they will donate $1,000 to the charity of the winner's choice. The generous prize package they're offering the winner doesn't hurt, but that donation to charity? That's SWEET! That's worth all the jitters and visions of abject humiliation. (Totally healthy self-image, I assure you. So long as I'm not in a swimsuit. Ahem.) Also? I love a challenge.
This week and next, I'll share the recipes I'm making for this big par-tay of mine. I'll share the plans and then photos of the party and then finally the name of the winner. Judging by the competition, we are in for some spectacular food and cocktails.
Now that you know what I'm doing, let me tell you where you all come in to the picture because I need you. I love having people over to share dinner with us, but I don't do a lot of "entertaining". As in get-out-the-nice-plates soirées. I need help. Big time. What do you do to make your parties fun/exciting/fancier-than-Chinet? I mean beyond getting the Legos off of the couch and the science experiments off of the table. Do you see how much assistance I need here?
Oh dear.
I think we'd better start with the drinks.
Ah, the Dark & Stormy. What's not to love about that? Spiced or dark rum with burny ginger beer. That's my kind of adult beverage. I couldn't very well do a plain old Dark & Stormy for a competition, though, so I ran it through the orchard. Not literally, mind you. I don't run unless something is chasing me with a big knife.
I added just the right amount of boiled cider syrup (a.k.a. apple molasses) to my gingery rummy concoction to make it seem like Captain Morgan got himself marooned on the Maine coast and made the best of it.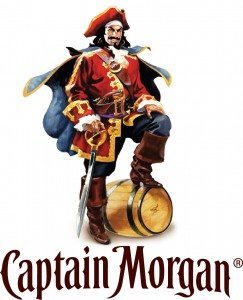 The tart, concentrated apple molasses add both flavour and perfume to the party. It's a natural match for the cinnamon, clove, and nutmegy goodness of the Captain Morgan's Black Spiced Rum.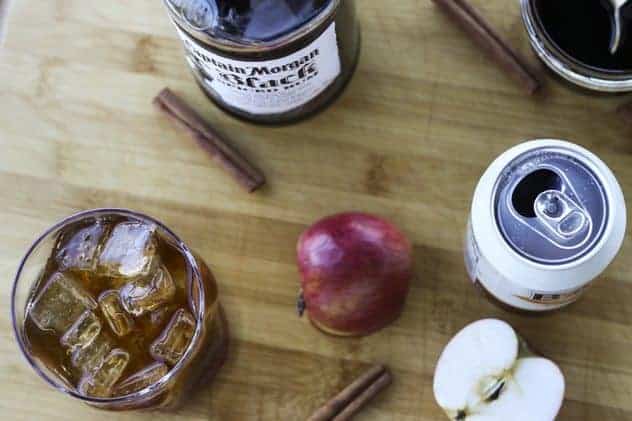 My husband -who is most assuredly NOT a cocktail kind of guy- declared it delicious and drank the whole thing. He even SIPPED it. His pinky, however, was not up. That's okay, there's only so far a guy can deviate from the path before he has to rethink his life.
So please, whip up a Dark & Stormy Orchard for yourself and contemplate your best entertaining tips while you sip away. Pinkies are optional, but do share your ideas with me, please!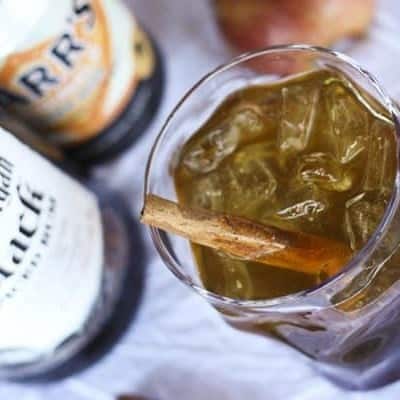 Ginger, spiced rum and apples are a match made in the orchard. The classic Dark & Stormy takes Captain Morgan's Black Spiced Rum on a tour of the Maine coast with the addition of boiled cider syrup (a.k.a. apple molasses) and a cinnamon swizzle stick.
Ingredients
Per Drink:
a highball or double old fashioned glass full of ice

1

tablespoon

Boiled Cider Syrup

a.k.a. Apple Molasses

2

ounces

Captain Morgan's Black Spiced Rum

Dark Rum or Original Spiced Rum may be substituted if desired.

11

ounces

Ginger Beer

Use Q Ginger, Barr's, Reed's, or Papa's Hooch for best results.
Optional: A cinnamon stick for stirring.
Instructions
Pour the boiled cider syrup over the ice. Follow this by adding the Black Spiced Rum and then the ginger beer. Use a cinnamon stick or spoon to stir lightly. Serve immediately.
Nutritional information is an estimate and provided to you as a courtesy. You should calculate the nutritional information with the actual ingredients used in your recipe using your preferred nutrition calculator.
Once you have your drink in hand, stop on by and say hi to my fellow competitors. They're good people, people!
 Disclosure: I am a participant in the Spice Up the Holidays contest sponsored by Captain Morgan USA. I received products to use in my recipe development and compensation for additional ingredients but all opinions are my own.