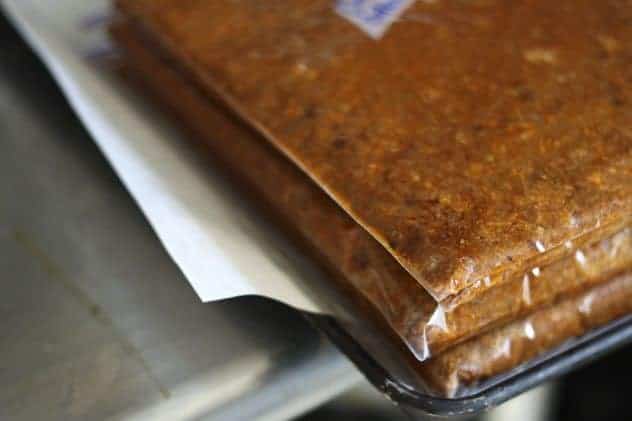 For this week's Make Ahead Monday, I want to feature a recipe from the  Foodie With Family archives; Cincinnati Chili. This is one of my favourite items to stock in the freezer. Cincinnati Chili is a meat lover's dream. Served up in the intended way (see the original post for all of the various ways Cincinnati Chili is served), it is a go-to dinner. But why stop there?
Cincinnati Chili is also the perfect topper for a chili dog. Because it is most akin to the chili sauce (meaty, saucy, spicy, and fragrant) served over hot dogs in places like Nick Tahoe's in Rochester and American Coney Island in Detroit, it is perfectly suited to the task.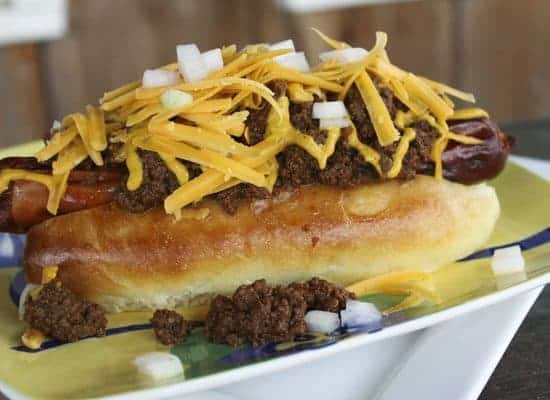 Bonus Make Ahead Monday points to you if you make your own hot dog buns and freeze them! And still, though, we're not done with the good things we can do with a freezer full of Cincinnati Chili. How about Cincinnati Chili Empanadas? Excuse me while I drool on my keyboard. This is seriously crave-able food.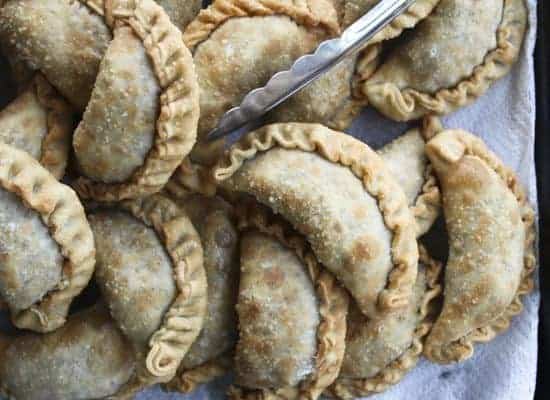 How about a look inside those?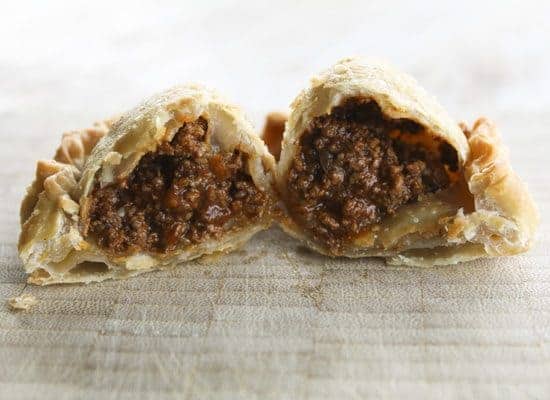 Are you with me? I look at those and I'm instantly hungry. The spicy, meaty Cincinnati Chili stuffed into empanada dough and then deep-fried (or baked) is just about enough to send me into a tizzy, especially since I didn't eat before writing this post. Note to self: don't look at empanadas when hungry.
When you make a single, double, or triple (you laugh, but we eat a lot of chili!) batch of Cincinnati Chili, you are just minutes away from any of these meals. In the time it takes to boil spaghetti, grate cheese, chop an onion and heat some chili beans, you can thaw and heat a bag of Cincinnati Chili from the freezer. In the time it takes you to roll out empanada dough (or run down the road to get Goya discos from the store), you can thaw a batch of chili and get some oil or the oven heated for Cincinnati Chili Empanadas. And in the time it takes to grill a few hot dogs, you could thaw and heat some Cincinnati Chili for chili dogs!
If you're anything like me, you're feeling very peckish now… By peckish I mean ravenously hungry. Let's talk nuts and bolts on how to freeze this meal so you can have it ready for just such a moment as this. I've titled them freeze and reheat Cincinnati Chili, but the method remains the same for any old homemade chili. If Cincy Chili isn't your thing, try it out on your favourite.
To Freeze Cincinnati Chili:
Transfer freshly made chili from a pot into a container with a tight fitting lid. Refrigerate until completely chilled through, preferably overnight.
Decide how you would like to use the chili -chili dogs, chili meal, empanadas- and divvy the chili accordingly into clearly labeled resealable zipper top freezer bags. I like to do a couple chili meal sized bags and a couple of chili dog sized bags. I can thaw two chili dog bags for a small batch of empanadas or do a big batch of them from a "meal sized" bag. Be sure you've labeled which type of meal you intend to make from the bag.
Squeeze as much air from the bag as possible and seal it. Lay the bag flat and squish the contents until you have a flat bag. (See lead picture above.) This helps the chili to freeze AND thaw more quickly.
Lay your stack of bags flat in the freezer and store for up to eight months.
Methods of Reheating Cincinnati Chili:
Remove a bag of chili from the freezer, snip the top from the bag and break the contents into a microwave safe dish. Cover the dish, venting one side, and use defrost on the microwave to thaw the chili, then heat on high. Alternatively, you can just go straight to heating the chili as long as you stir it every minute or so.
Remove a bag of chili from the freezer, snip the top from the bag and break the contents into a large, heavy-bottomed saucepan along with 1/4 of a cup of water. Put the lid on the saucepan and heat over low, stirring occasionally, until the chili is thawed and heated through.
Just in case you missed the links above, here they are again, for your eating pleasure:
Chili Dogs (Technically it's a homemade hot dog roll recipe, but what's to know otherwise? Pile chili, cheese, mustard and onion on a grilled dog. Voila!)
Ah, Cincinnati Chili. I love you so.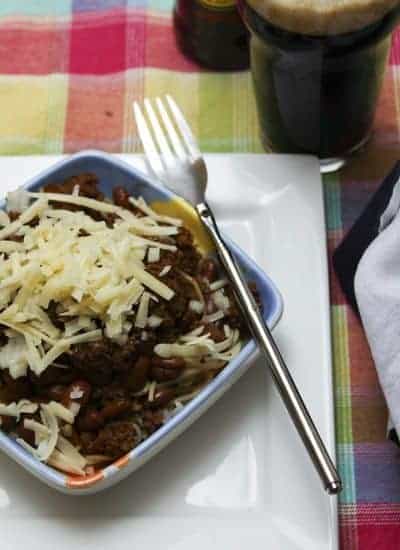 Pssssst. Come back here tomorrow. You are not going to want to miss the recipe I post. I'll give you some hints. It involves my Amish neighbors and cookies.