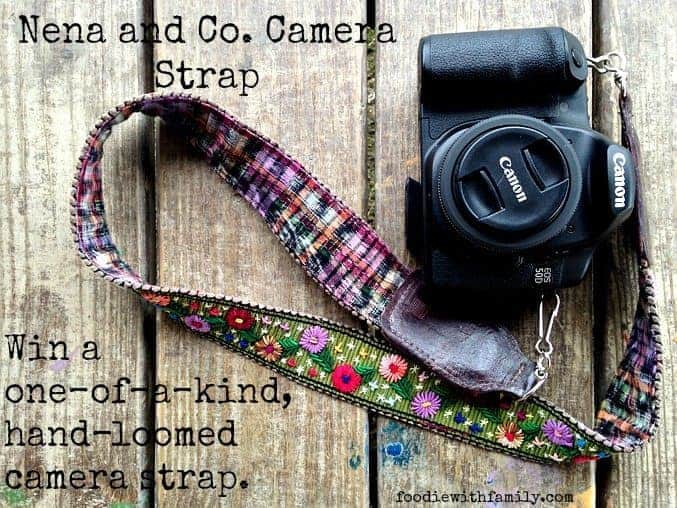 I get giddy over pretty things. I love to see beauty in the world. I adore gorgeousness. And I absolutely, positively get rapturous when someone uses beauty to do good.
Case in point, Nena & Co. Oh my goodness, friends. I've been like a total creeper on their Instagram feed for months. I've spent way-hay-hay too much time admiring every single thing on their website. So who or what IS Nena & Co.? Let me fill you in. Nena & Co. was founded by Alejandra Hynek to celebrate the textiles of her family's Guatemalan heritage. She works with Guatemalan artisans to integrate their colourful handi-work into modern camera straps, totes, day bags (over which I have been drooling desperately for months), and weekender bags. She doesn't just design around their wares, though, she helps give back to the community through her "100% Peace Pilgrim" program. All this beauty being created combined with all this good? That's amazing.
Since I've been stalking their products via social media, I was pretty beside myself when they put out a call for collaboration. I told them I would love to give away one of their camera straps to my readers and they were kind enough to agree that my readers are awesome enough people to deserve a giveaway. Bonus: they sent me one of their camera straps for review.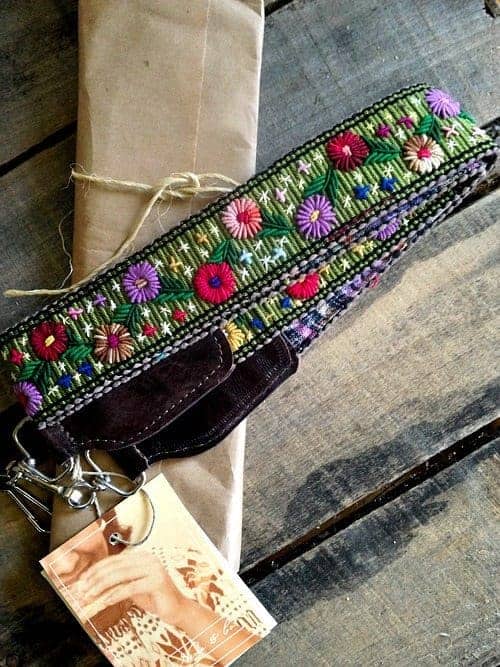 Let's talk about this strap for a moment. Obviously I already knew how gorgeous their work was. My only concern when looking at them was whether they'd be scratchy or stiff around my neck. I've spent years with sub-par camera straps that irritated my sensitive skin. (Such a baby, aren't I?) As soon as I opened the package and felt the fabric, I knew that wasn't going to be a problem. It's the softest cotton I've ever felt. No rough or scratchy or stiff edges, and it's completely supple. It moves with you. The strap is capped on either end with high-quality, super-soft leather and heavy-duty clasps. This thing is built to last. Not only is it almost weepy beautiful, it's more comfortable than I thought a camera strap could be. I'm kicking myself a little for having waited this long to get a good strap.
Is it worth the small investment? I know you're probably asking that because I am notoriously frugal. In short, yes. If you wear your camera a great deal and want comfort, if you want something attractive, if you want to do good with your purchasing power, then yes- it is absolutely worth it. And hey, friends, Mother's Day is right around the corner. Treat your mama, your favourite mother, or yourself to a camera strap that is as unique as you are.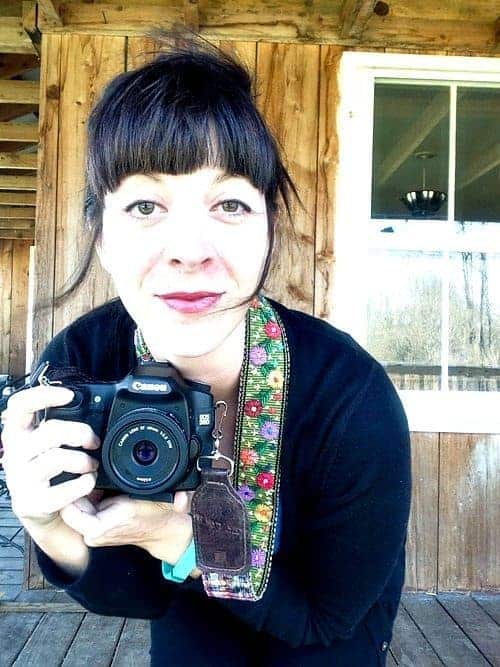 Honest-to-Pete, this strap is so comfortable and so pretty that I'm tempted to wear my camera as an accessory. That wouldn't be weird at all, right? Grocery shopping while wearing my camera?
Hop on over to Nena & Co and tell me what you like best; is it the shoes, straps, ready-to-wear, totes, beach bags, clutches, day bags, weekenders, backpacks, or turbans? It's so hard to choose. I want one of everything! The tricky bit is that each one is so unique! Once it's gone, there won't be another one identical to it!
The Giveaway:
Nena & Co. has kindly agreed to give one camera strap to one lucky Foodie with Family reader. They'll surprise the winner with an absolutely unique, one-of-a-kind camera strap. It could be any one of these, or another one entirely. One thing you know for certain is that it will be as well made and beautiful as the one I'm modeling above. They want everyone to share in the fun, though, and have graciously provided a coupon code exclusively for Foodie with Family readers. For this week only, you can get 10% off of your entire purchase by entering the coupon code FOODIEWITHFAMILY10 at checkout. I hear Mother's Day squeals coming your way! To enter for a chance to win a Nena & Co. Hand Loomed Camera Strap, use the PromoSimple widget below!
Disclosure: This is not a sponsored post. A camera strap was sent to me free of charge for review by Nena & Co, and they are providing one camera strap to one winner, but all opinions and lead photos remain my own. Thank you!