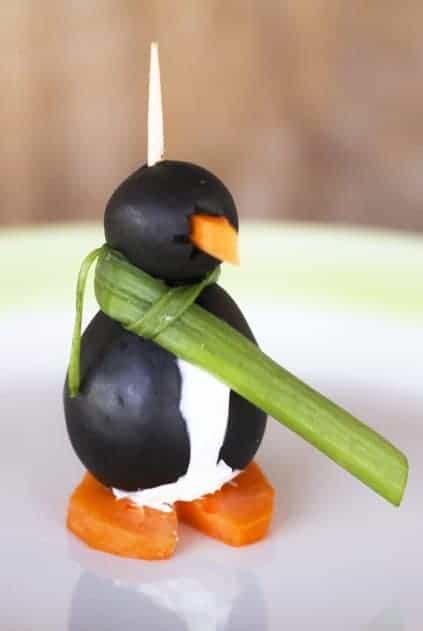 Okay, everyone. Say it with me in 3…2..1…
Awwwwwwwwwwwwwwwwwwwwwwww!!! Come on. Isn't that the most clever things you've ever seen? At a recent Christmas craft event put on by our homeschool group, one rockstar mom (hi, Tonya!) eschewed the usual brownies, cookies, fudge and mints (not that there's anything wrong with those and may I please have another serving?) and brought adorable cream cheese filled black olive penguins.
I'm telling you, every single person who went past them either squealed or poked someone in the ribs to make them look at the cutest things in the world.
Even more fabulous is that these ingenious little penguins take three ingredients for the basic model and four for the fancified versions (with scarves). Sadly, my usual wait-til-the-line-wears-itself-out-then-get-food approach failed me at the craft fair and by the time I got to the buffet, the penguins had all been pilfered.
I cornered Tonya and told her she wasn't leaving until she gave me the recipe*.
*Okay. That's not entirely true. I asked nicely, but sometimes I like to make myself sound tough. It's to counteract the cutesy poo penguins and the overuse of superlative synonyms for adorable. I can't lose my street cred. Word? Yes? No? Okay. No. I have no street cred. Back to the penguins.
I slept that night with visions of cream cheese filled Black Olive Penguins dancing in my head. Those penguins had to get made and get made fast.
I made them for the very special event that was Tuesday happening. Seriously? I didn't need to wait for anything. I wanted to eat them and I figured, correctly, that my Viking horde could polish off a plate of these in no time.
So tasty.
We preferred them with green onion scarves. That little nip of onion with the cream cheese and olive really pushed the flavour into another realm. A snowy realm. Filled with penguins!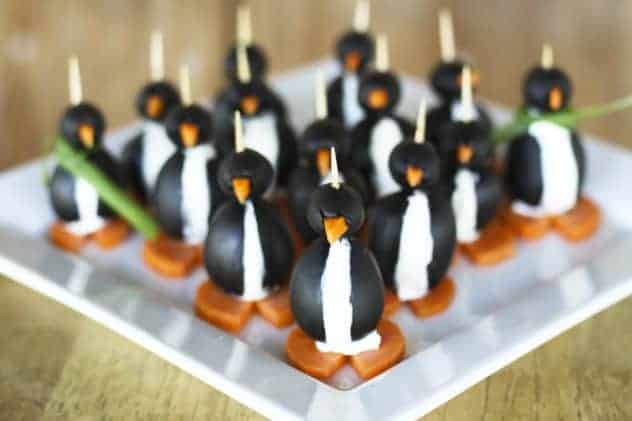 P.S. Stash these in lunch and bento boxes, take to school events, grown up parties, or just throw together a tray for the world's most fun afternoon snack. They hold well in the refrigerator for a day or two if covered tightly, so what are you waiting for?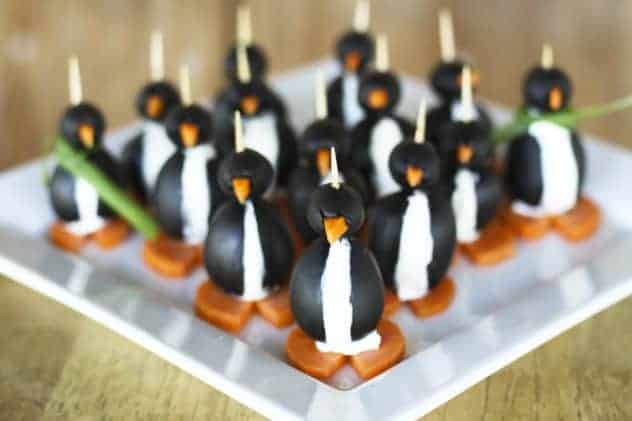 These super cute cream cheese filled black olive penguins are the hit of every party, but they make a seriously adorable late afternoon snack, too!
Ingredients
1

can colossal pitted black olives

about 16, drained

16

small pitted black olives

give or take, drained

about 4 ounces of Cream Cheese- I like the 1/3 less fat Neufchatel here as it is softer and easier to stuff into the olives

1/2 of a standard 8 oz brick

16

thin slices of the fat end of a peeled carrot

give or take

8

green onions

long green section only

16

toothpicks

give or take
Instructions
Cut a small triangular wedge out of each carrot slice.

Use a skewer or toothpick to push the narrow end of a carrot triangle through the wide hole of each small olive until it pokes out the narrow pitted hole.

%https://www.foodiewithfamily.com/wp-content/uploads/2011/12/black-olive-penguins-4.jpg

Make a lengthwise slice halfway into each colossal olive. Gently hold the olive open and push as much cream cheese into the opening as you can, filling the olive. Use your fingers or a paper towel to tidy up along the edges of the opening.

Place a filled olive, large hole side down, on a carrot round, lining up the white of the cream cheese with the wedge cut from the carrot round. Use a toothpick pushed down through the center to hold the "chest" of the penguin to the "feet".

Push one head, "beak" side lined up with the "chest" and "feet" down onto the toothpicks.

Cover tightly with plastic wrap and refrigerate until ready to serve.
Nutrition
Calories:
26
kcal
Fat:
2
g
Cholesterol:
5
mg
Sodium:
90
mg
Potassium:
27
mg
Vitamin A:
135
IU
Vitamin C:
1.2
mg
Calcium:
15
mg
Iron:
0.1
mg
Nutritional information is an estimate and provided to you as a courtesy. You should calculate the nutritional information with the actual ingredients used in your recipe using your preferred nutrition calculator.
P.P.S. See that knife in the photo with the carrots? That is my new best friend (a Togiharu Gyotou knife) sent to me courtesy of Korin.com There will be a review in the next couple days, but suffice it to say that everyone should go by one of them for themselves or as a Christmas present. Right now. The penguin says so.