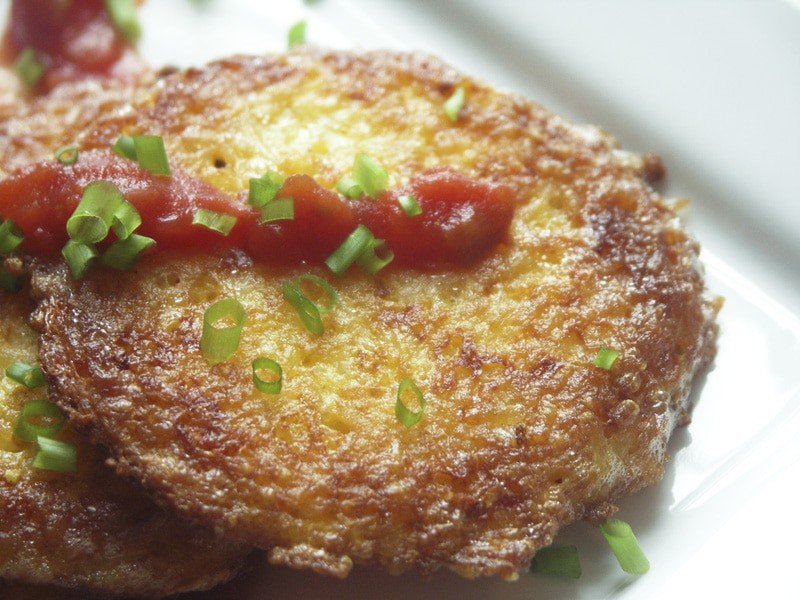 Looks tasty, doesn't it? It's crisp around the edges with the perfect balance of saltiness and creaminess in the center. It's nourishing. It's delicious. It fills you up. It only takes five minutes to make from start to finish. But you know what else dings my chimes about this dish? It costs $3.42 for four large servings. And yes, that includes garnish.
And no, I'm not joking.
I sat down today prepared to write a little 'how-to' on saving money in the kitchen with a family favorite recipe thrown in to boot. The keyword here was 'little'. An hour into writing, I realized there was no way to condense what is a way of life into one itty-bitty post with a recipe. I have enough material to fill four posts and I will get to every bit of it. I want you to come back for all of this. Here's the deal. I know saving money in the kitchen isn't exactly the sexiest topic. I get it. So I have a little incentive to offer. But first, a question.
How much do you spend on food each month? And how many people are you feeding? You don't have to tell me unless you feel so inclined, but just consider it for a moment. According to the USDA's Cost of Food reports (published monthly), my family of seven should be spending $804.40* per month on our food.
*This is calculated according to the 'Thrifty' food plan numbers given on the chart. If I were to use the 'Low' food plan we would be expected to spend in excess of $1,067. This trend continues on up through the 'Moderate' and 'Liberal' plans.
Here is my incentive. I'm going to tell you what I spend every month on groceries. I'm also going to tell you what another blogger buddy of mine, my dear friend Krysta a.k.a. Evil Chef Mom,  pays monthly to feed her family of six. Just one other question, though, before divulging our food budgets. Would you agree, from all appearances here at Foodie With Family and over at Evil Chef Mom that our families eat pretty well? You might even say a wee bit on the fancy-pants side occasionally? I think that's fairly safe to say, right?
I spend $500 a month. I feed seven people and whatever friends or family happen to be hanging around at meal time out of that.
Krysta spends between $650 and $700 a month. She's feeding three, count 'em, THREE teenagers, a pre-teen, a host of kids' friends (also teenagers), and any family or friends who might be present at meal time.
We both make food good enough to share.
That puts me in at more than $300 under what the government believes is the least amount of money a family my size would reasonably spend per month in food.
Lest you should get the wrong idea let me tell you something important. Neither of us coupon shops. Neither of us obsessively watches sales. None of us -ourselves, our kids or our husbands- feel deprived of the food we want or crave. We are food lovers.
It's really simple. Really. I wouldn't lie to you!
Starting tomorrow we'll go through a series of posts chock full of tips, tricks, and methods that can potentially help you save beaucoup bucks in the kitchen without sacrificing flavor or slaving away in the kitchen. Unless, of course, you like slaving away in the kitchen. The point is that it's your choice.
Let me break down the food cost from today's recipe:
2 cups of uncooked rice from a 25 pound bag. The bag was $16. There were 62.5 cups of rice in the bag. That translates to $0.51 for this recipe.
6 eggs from a dozen at a cost of $1.50 per dozen (from our own chickens). The cost for the eggs was $0.75.
1 cup of shredded cheese from a 3 cup bag that cost $2.79. The cost of the cheese for this recipe was $0.93.
1 Tablespoon of hot sauce from a bottle containing twenty tablespoons. The bottle cost $2.99. The hot sauce used in this recipe cost $0.15.
1 teaspoon of salt from a one pound box that cost $2.99. The one pound box contained 283 teaspoons. That puts the cost of the salt in this recipe at a fraction of a cent over $0.01.
2 Tablespoons of canola oil from a $1.00 jar that contained sixty tablespoons. The cost of the oil is $0.03.
8 Tablespoons of salsa from a jar containing twenty two tablespoons. This is the big splurge in our recipe. Since the jar cost $2.79, the total cost of the salsa for the dish was a whopping $1.04.
That makes the grand total for the whole recipe a bank-book friendly $3.42. If you skipped the salsa you'd clock in at $2.38 for the whole entree.
This is great-tasting food, too. You can make a whole batch of them, store them in an airtight container in the refrigerator, and take a couple a day to work or school for lunch. They reheat beautifully. If you  need a little something extra, throw a handful of salad alongside. Bang. A complete meal.
There are more options. You can mix in some leftover cooked meat or vegetables. Wrapped in a piece of foil or a paper towel it's a meal you can take on the road with you. No matter how you slice it, it's going to be cheaper and more filling for the money than even the dollar menu.
Frugal does not have to look or taste like sacrifice.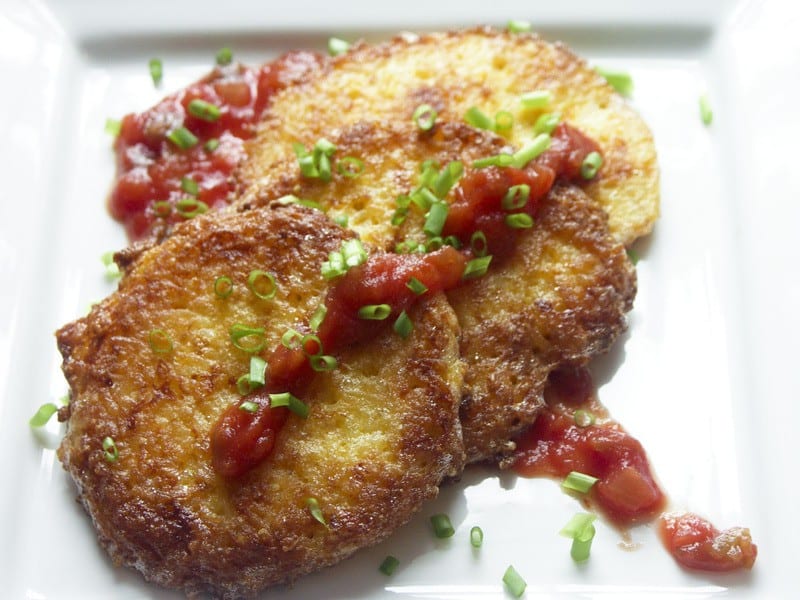 Hang on. There's more to it. It's good for you. It's great for you. The egg provides lean protein. The rice provides a healthy carbohydrate. The canola oil is non-hydrogenated. The salt is negligible. On it's own, it's healthy. If, however,  you compare it to fast-food or pre-packaged, processed food you're going to come out leaps and bounds and miles ahead nutritionally.
How about it? Are you interested? Try the Savoury Rice and Egg Pancakes and then come back tomorrow. This is going to be fun! I promise!
For a photo-free, printer-friendly version of this recipe, click here!
Savoury Rice and Egg Pancakes
Ingredients:
4 cups chilled leftover cooked rice
6 large eggs
1 cup shredded cheese, whatever type you have on hand
1 Tablespoon hot sauce
1 teaspoon Kosher salt
2 Tablespoons Canola oil (or non-stick cooking spray)
8 Tablespoons salsa
optional: thinly sliced green onion tops
Break up the cold rice in a mixing bowl (or in a resealable plastic bag) with your hands so that no chunks remain.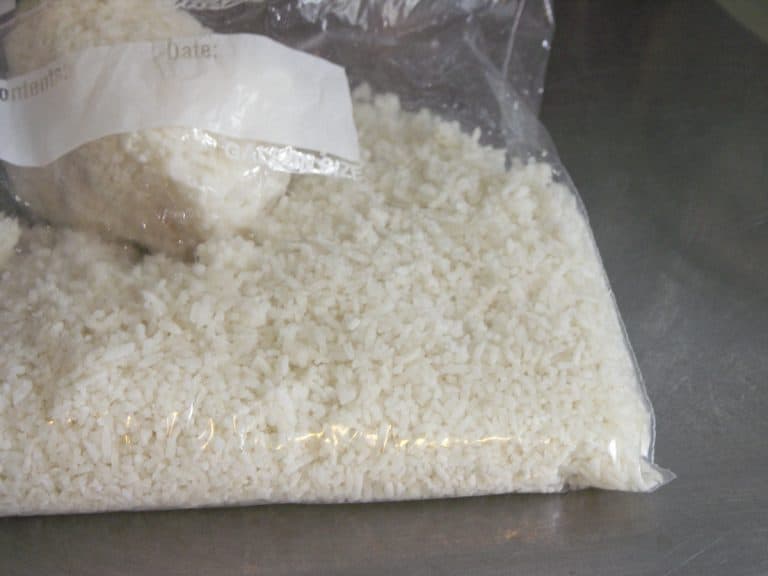 Crack eggs into the rice, add shredded cheese, hot sauce and Kosher salt. Mix thoroughly.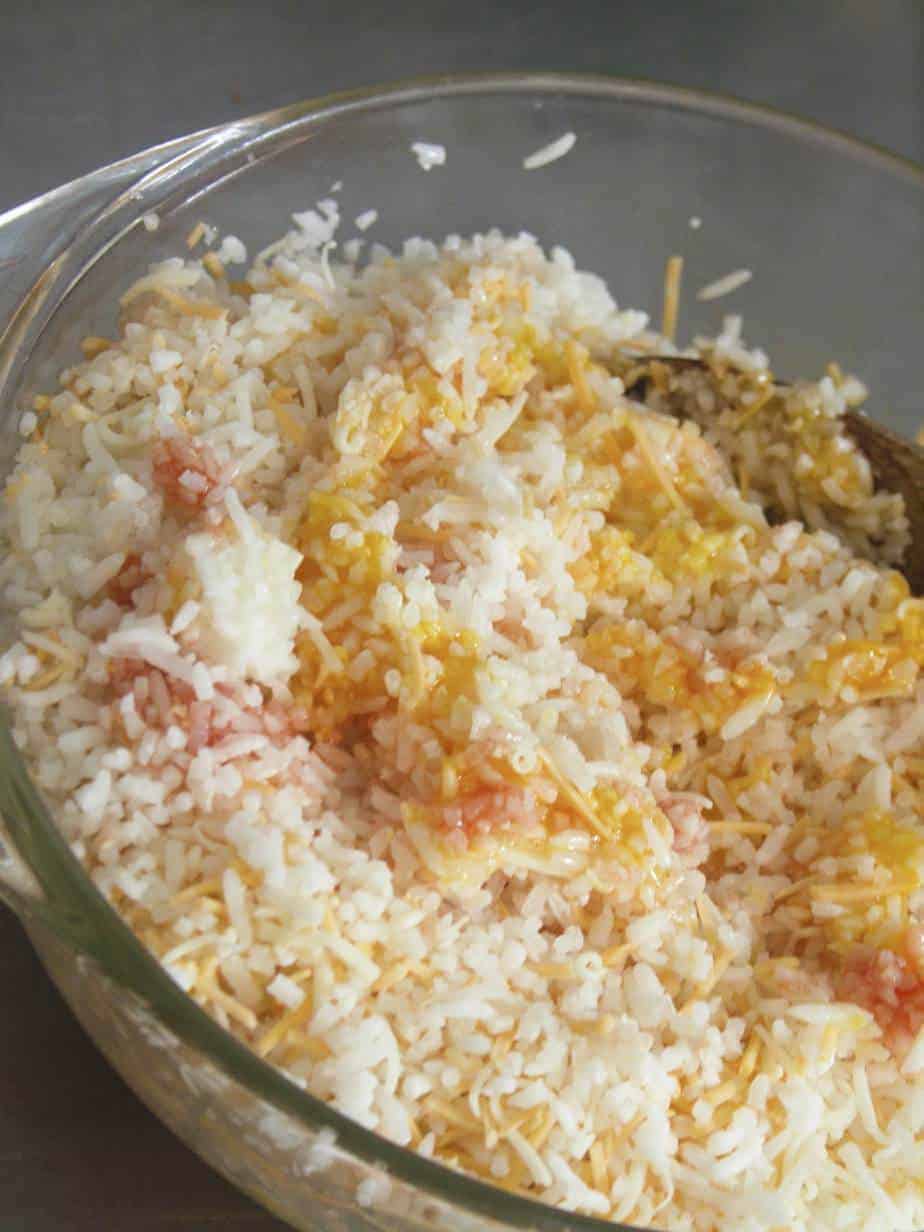 If your mixture is too thick or dry, you can crack another egg into it. Eggs vary in size, so this may happen occasionally. So, gee whiz, add another $0.10 to the total if you need to do it.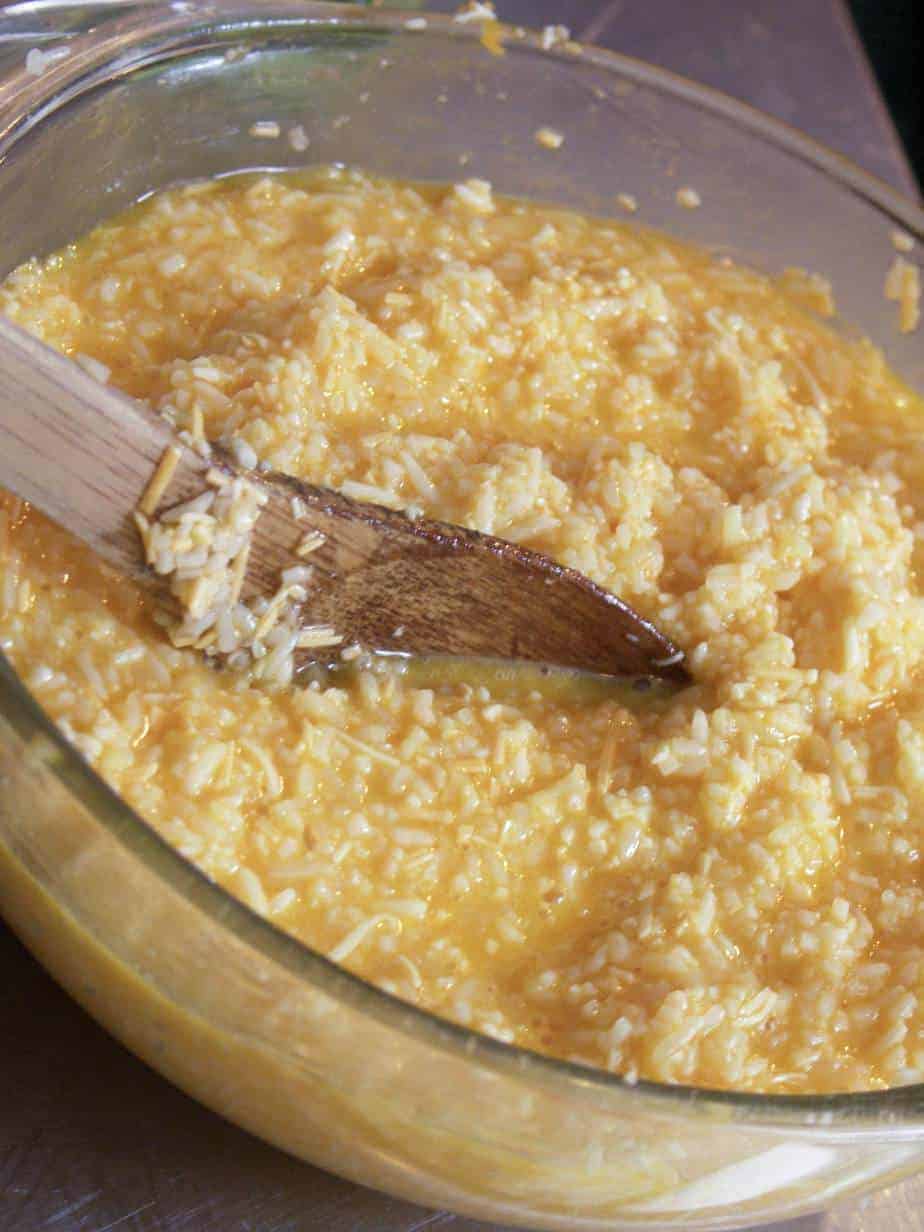 Add just enough oil to a non-stick skillet to lightly coat the pan. Place pan over medium high heat. When the pan is hot scoop a scant quarter cup into the pan. Use the bottom of the scoop to gently pat the rice mixture out to a thinner patty shape. The mixture will not spread on its own.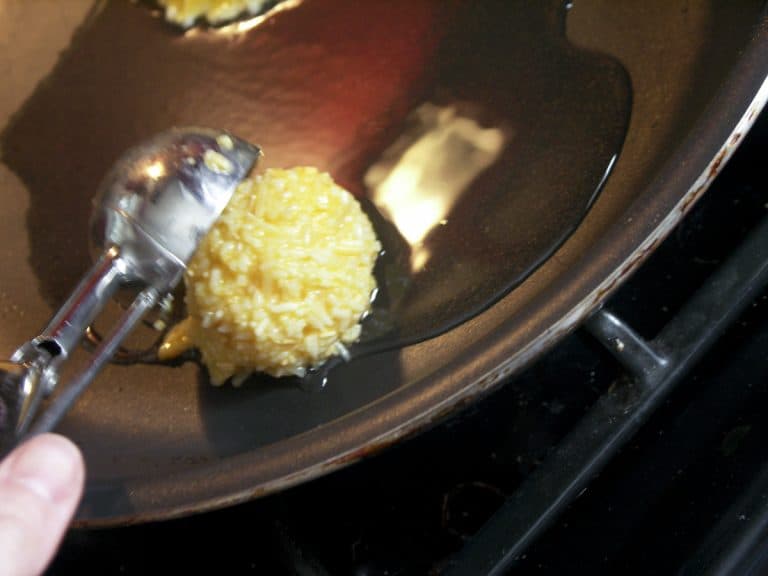 Don't crowd the pan. This 12″ nonstick pan can comfortably fit four pancakes at a time.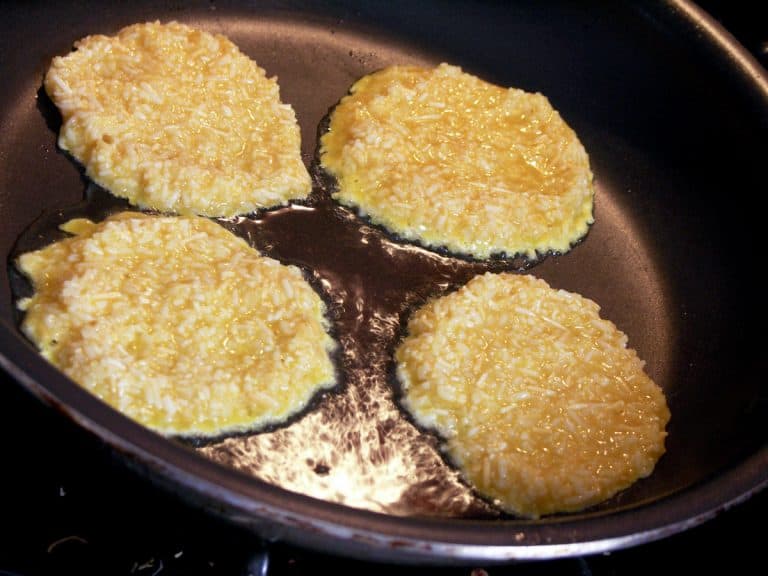 Cook for about two minutes per side, or until deep golden brown on each side.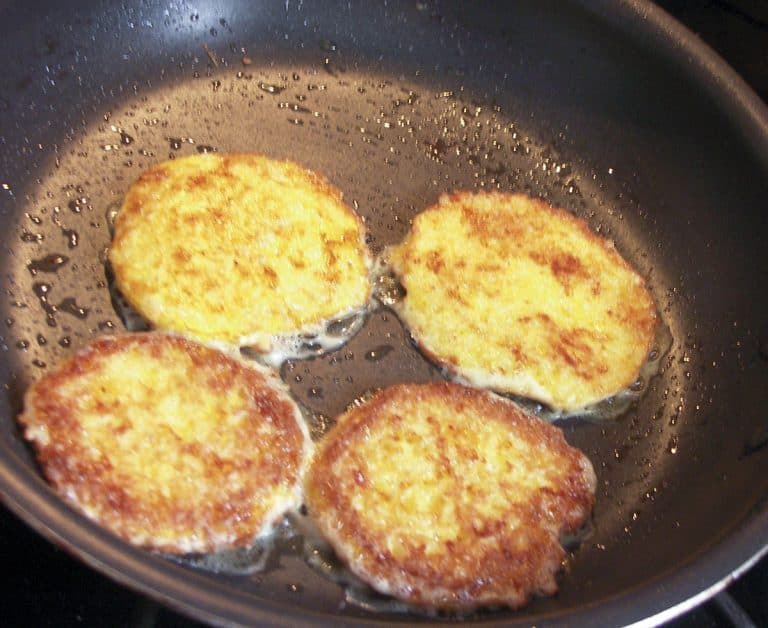 Transfer to a waiting plate and repeat with the remaining rice and oil until it is gone. Serve with salsa. You can plate it up all perty-like if you want. And I want.