I'd like to observe a moment of silence for my waistline.
*Silence punctuated by the sound of chewing. Munch, munch, mmmmmmm…
It's moments like these that I wonder what I'm doing to you folks: you kind, sweet people who come read my recipes, laugh with me, send me wonderful notes and leave flattering and/or hilarious comments. Then I stop, take another bite of that cheesecake up there, realize that this is so good it needs to be shared with everyone in. the. whole. world and finish this post on a Peanut Butter Cup Mini Cheesecake fueled writing bender.
Very Important Aside: Who was the first person to combine peanut butter and chocolate? They had to be divinely inspired.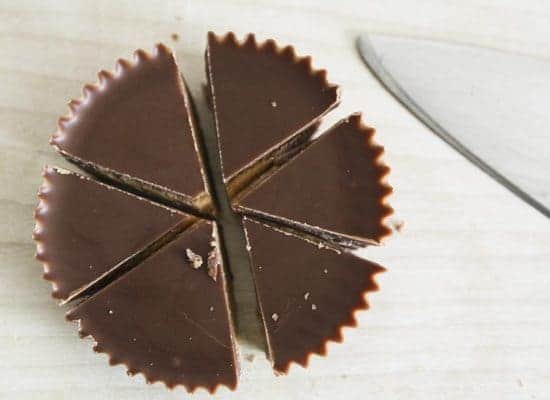 In a (pea)nutshell, this is one of the best desserts I've ever made. Creamy, fluffy, rich, peanut butter filling sandwiched between a chocolate cookie crumb crust and pure, silky chocolate ganache. When you drop the edge of a fork down through the cheesecake, you don't meet resistance until you reach the crumbly chocolate cookie crust. It's elegant enough to grace even your most chi-chi dinner party but it's delicious enough to eat straight out of the pan with a fork, spoon, or crooked fingers. Hubba hubba.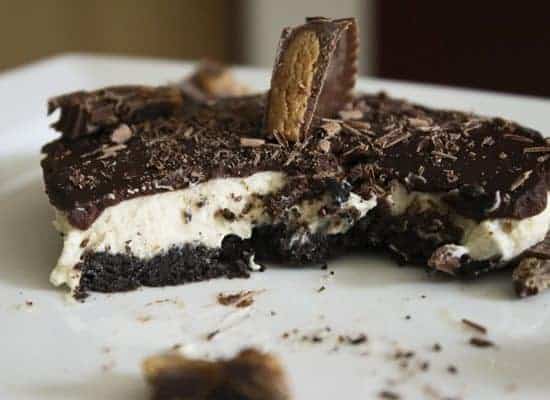 In case you need convincing, these mini-cheesecakes (which can also be made as one large cheesecake if'n you don't have the same compulsion to buy cute little pans* that I do) freeze beautifully for up to a month. You can eat them straight from the deep-freeze for an ice cream like treat (frozen cheesecake is divi-i-ine), or leave out for thirty minutes prior to serving for a cold, but soft and creamy, dreamy dessert. I would be remiss if I didn't point out the advantages of having a stash of  just such a dessert… Last minute dinner guests? Midnight cravings? Dessert club? Really lousy day? No problem. You have these little servings of heaven in the freezer.
*These pans are mini-tart pans with removable bottoms. That makes extrication of the cheesecakes blessedly simple. Any removable bottom or spring-form pan (either miniature or standard size) will work admirably here. If you don't have spring form or removable bottom pans, a deep dish pie plate will substitute nicely. All that being said, I like these little tart pans because the fluted edges remind me of Reese's Peanut Butter Cups. And I am total sucker for Reese's.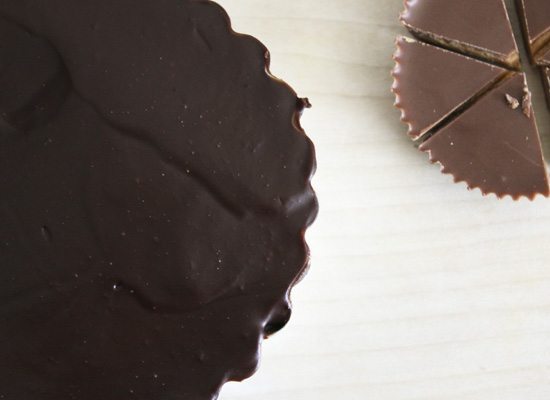 Glory hallelujah and pass the forks, please.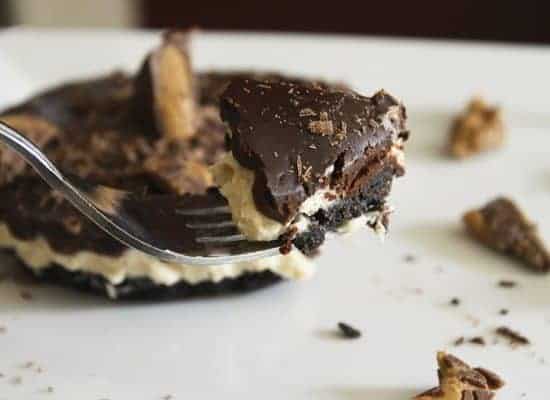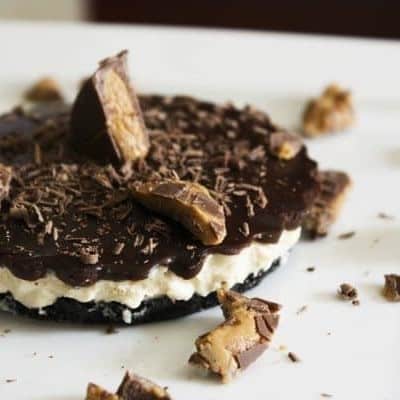 These heavenly, dreamy, mini no-bake cheesecakes come in the classic combination of peanut butter and chocolate. Easy to make and freeze ahead of time, they can be eaten chilled or frozen.
Ingredients
20

cream filled chocolate wafer cookies

Think Oreos or Newman's Own

4

ounces

by weight butter

1 stick, melted

2

packages Neufchatel Cream Cheese

8 ounce, Commonly labeled 1/3 less fat., softened to room temperature

2/3

cup

creamy peanut butter

1/2

cup

sugar

use 3/4 of a cup if using natural peanut butter

2

cups

heavy cream

whipping cream, divided

8

ounces

semi-sweet chocolate

roughly chopped

Optional: chopped peanut butter cups and shaved dark chocolate for garnish
Instructions
In a food processor fitted with a blade, pulse the chocolate cookies until they are pulverized to fine crumbs. Add the melted butter and pulse until evenly combined. (If you do not have a food processor, put the cookies in a zip-top bag and beat the tar out of them with a rubber mallet, heavy pan or rolling pin, then empty into a bowl and toss the butter in with a fork.)

Arrange 12 removable bottom tart pans or mini springform pans on a platter or pan with an edge and spray with non-stick cooking spray. Add 2 packed tablespoons of the cookie crumb mixture to each pan and use your fingers to distribute the crumbs and pack them firmly and evenly against the bottom of the pan. (If using one large pie pan, add enough to cover the bottom of the pan and pack down firmly.) Put the crusts in the refrigerator to firm up while you work on the filling.

Use an electric or stand-mixer to blend the cream cheese on HIGH until smooth and creamy. Turn off the mixer, scrape down the sides of the bowl, add the peanut butter and mix again, on HIGH, until even and smooth.

Add 1 cup of the heavy cream, blending on HIGH until slightly thickened.

Turn off the mixer, scrape down the sides, add the sugar and mix on HIGH until quite thick.

Divide the filling evenly between the pans and smooth the tops. Put the platter or pan into the refrigerator for 20 minutes while you work on the ganache topping.

Put the chopped chocolate into a microwave safe bowl with the remaining cup of cream and microwave on HIGH for one minute and thirty seconds, watching to make sure the cream does not boil over.

After heating, allow the bowl to rest in the microwave, keeping the door closed, for 5 minutes.

When the 5 minutes are up, remove the bowl and whisk slowly in one direction until even, smooth, and glossy. You're going to think at first that I've lied to you. It'll look splotchy and gross and curdled. Stick with it, though, it'll get there.

Let the ganache rest on the counter for 5 minutes then spoon over the chilled cheesecakes. Smooth the tops and refrigerate until firm, at least 2 hours.

You can either serve them or freeze them once chilled.
Notes
These little lovelies are rich! One mini cheesecake can easily be split in half for those who prefer a lighter dessert. They can be served chilled or directly from frozen for a more ice-cream like dessert. Either way is delicious. If you'd prefer them thawed, just set out on the counter-top for 10-30 minutes before serving.
Nutrition
Calories:
524
kcal
Carbohydrates:
36
g
Protein:
6
g
Fat:
40
g
Saturated Fat:
20
g
Cholesterol:
75
mg
Sodium:
242
mg
Potassium:
272
mg
Fiber:
2
g
Sugar:
24
g
Vitamin A:
830
IU
Vitamin C:
0.2
mg
Calcium:
50
mg
Iron:
3.2
mg
Nutritional information is an estimate and provided to you as a courtesy. You should calculate the nutritional information with the actual ingredients used in your recipe using your preferred nutrition calculator.