Today, I am a mind reader.
I am going to predict the reaction of all readers outside the Western New York region (or those who have never lived or visited here.) "Wow. Boiled potatoes with butter. Big deal."
I must tell you gently that you're wrong. Wrongity wrong wrong WRONG wrong.
These are no mere boiled potatoes. These are salt potatoes.
Look closely at the photo. Do you see that white dusty appearance to the potatoes?
That is a super fine coating of salt left from boiling in heavily salted water, draining and air drying. Are you ready for another telepathic demonstration?
Many of you are now saying, "Oookay. Boiled potatoes in salty water. Whoopee." Have a little faith, folks!
I only share my favorite recipes with you. This is definitely one of them.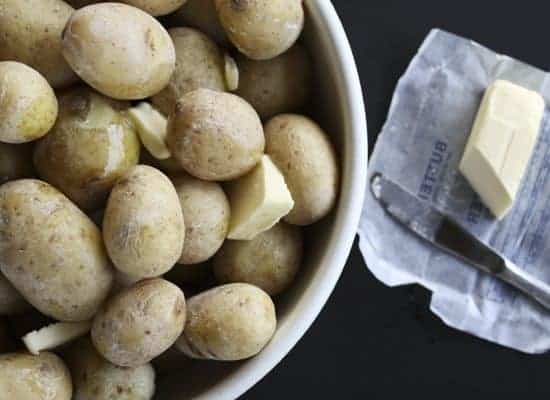 Salt potatoes are a fixture on the Upstate New York and Western New York summer barbecue/picnic/county fair/carnival circuit. Where there is a grill fired up, there is likely to be a pot of water on the boil for a big bowl of buttered salt potatoes.
Around these parts, salt potatoes represent summer as much or more than potato salad. They ARE summer.
They are so popular, that they're sold as "kits" (the kits are nothing more than perfect sized potatoes and a packet of salt) in even the smallest grocery stores. It was one the first things my husband requested for his Father's Day cookout and I guarantee you these will be on the Fourth of July menu for three-quarters of the households in our region.
So, what's the difference between a mere boiled potato and a salt potato? A boiled potato is dropped into plain or lightly salted water, boiled until tender and served, usually, with butter and chopped herbs.
Salt potatoes, on the other hand, use a formula to determine how salty the water should be. Generally speaking, bring to a boil three quarts of water, stir in three-quarters of a pound of good old-fashioned table salt, then carefully lower in four and a quarter pounds of Size B new white boiling potatoes.
When they're tender, drain in a colander and let air dry a bit to form that signature white dusting of salt. Top with butter and serve hot, warm, cold or anywhere in between. Then die of happiness when you take your first bite.
It is this method and formula that transforms a plain old boiled potato. Because of the quantity of salt in the water, it boils at a higher temperature, better cooking and developing the starches the potato contains.
When this happens, you have a creamier potato. And whoah is it creamy.
Tender, but not waterlogged; salty but not Dead-sea salty; salt potatoes are a revelation.
I have a third and final example of my powers of thought transference. Some are now asking what they would possibly do with four and a quarter pounds of cooked potatoes.
Well, my first answer is "eat them!", but I understand that not everyone is feeding a regiment with each meal like I am. There are some mind-bendingly delicious applications for leftover salt potatoes.
Home fries: Chop up leftover salt potatoes and fry in a heavy skillet with additional butter or bacon grease. You've never had better home fries in your entire life.
Crash Hot Potatoes: The Pioneer Woman's fabulous Down-Under treatment for potatoes becomes that much easier with leftover salt potatoes. It probably goes without saying, but I'll say it anyway, you can ramp back on the salt you sprinkle over the smooshed, olive oiled and rosemaried potatoes before baking. They are salt potatoes, after all.
Smashed Potatoes: Reheat your salt potatoes, smash lightly, add a splash of heavy cream, some garlic, black pepper and chopped herbs. Stir well with a wooden spoon, serve with a grilled steak or portabello mushroom and prepare to be very happy.
Potato Salad: Cut chilled leftover salt potatoes into bite sized pieces, toss with mayonnaise, chopped onions and celery, a squirt of yellow mustard, freshly ground black pepper and stir. Voila! Almost instant potato salad.
Cold Salt Potato Midnight Snack: Yes. You haven't lived until you've hit the refrigerator after staying up too late to watch a movie, skewered a cold salt potato on a fork, and nibbled delicately until the potato has disappeared. Trust me.
There is one last item to cover in this salt potato discussion; that is the question of whether to toss with butter or let the butter melt and run down over the hot salt potatoes. I'm in the latter camp, because I like the slight salt crust to be accented by rivulets of melted butter.
I love dunking my salt potatoes in the butter that pools at the bottom of the bowl. In my opinion, tossing the hot potatoes with butter to cover them completely takes away a bit from the charm of salt potatoes. The melted butter obscures the salty outer dusting.
However -and I speak the gospel truth here- they're still delicious that way. They're still distinctively not your average boiled potato.
They're still creamy and salty; they're just covered with butter. That's not a bad thing.
This recipe is a perfect illustration of how simplicity so often delivers the most refined, intense flavours. Eating salt potatoes -whether taking a bite from the end of the little gem and dragging it through the melted butter on the plate before biting again or licking the melted butter dripping down your fork and the side of your hand- is one summer's purest joys.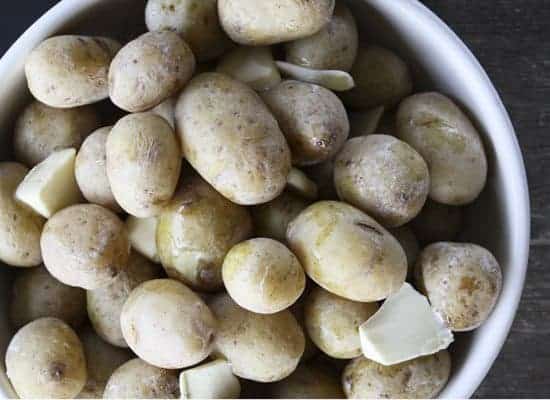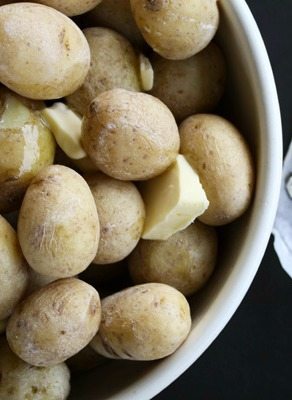 Salt potatoes are a fixture of summertime picnics, feasts, barbecues and festivals in Western New York for great reason; they're creamy, tender, salty, buttery and vastly superior to the average boiled potato.
Ingredients
3

quarts

of water

12

ounces

fine salt

approximately 1 1/2 cups

4 1/4

pounds

one-to-two bite sized new white boiling potatoes

*see notes, washed

1

stick cold butter

4 ounces, cut into 8 pieces

Optional:

Chopped parsley for garnish
Instructions
Bring water to a boil in a large stockpot or soup pot over high heat.

When water reaches the boil, stir in all of the salt.

Lower the potatoes into the water, one or two at a time, taking care not to splash yourself.

Return the water to a boil, lower heat to medium and simmer until the potatoes are tender, between 15 and 25 minutes, depending on the size of the potatoes. (**See notes for methods on testing the potatoes for doneness.)

Pour the water and potatoes into a colander in the sink and leave to air dry for 5-10 minutes.

Transfer the potatoes to a serving dish and dot with the pieces of butter.

Serve as is or garnish with chopped parsley.
To Store Leftovers:
Pour potatoes and butter from the bowl into a container with a tight fitting lid or a zipper top bag.
Notes
*Salt potato kits, sold all over Upstate New York, use a very specific size of potatoes; Size B, Grade US no. 2. While most grocery stores don't define their potatoes using this method, you can't go wrong buying small creamer potatoes that are one-or-two-biters. The shape of the potato doesn't matter at all. **To test your potatoes, use tongs to lift a large potato from the boiling water. A skewer plunged into the potato should pass through the potato completely if it is done.
Nutrition
Calories:
112
kcal
Carbohydrates:
23
g
Protein:
4
g
Sodium:
13219
mg
Potassium:
796
mg
Fiber:
4
g
Vitamin C:
21.9
mg
Calcium:
75
mg
Iron:
6.4
mg
Nutritional information is an estimate and provided to you as a courtesy. You should calculate the nutritional information with the actual ingredients used in your recipe using your preferred nutrition calculator.