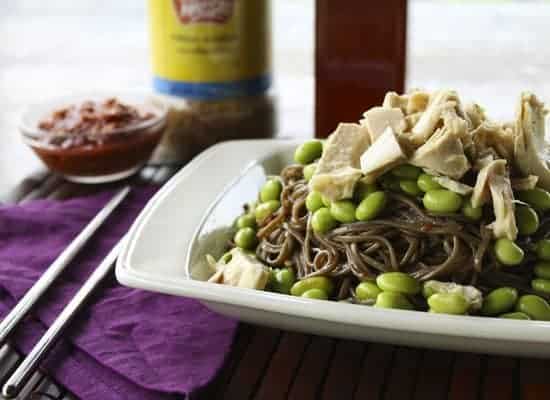 It's been a long time since I've been grocery shopping. What with one thing and another, it's been close to a month and a half since my last real shopping trip.* There have been quite a few creative food combinations happening and some of those creative combinations have been really happy accidents. For instance? This.
*What can I say? I've been busy. Thank heavens for a well-stocked pantry and freezer.
I grabbed a bag of what I thought were peas from the freezer and popped them into the refrigerator to thaw. The idea was to make an über-classy tuna casserole. When I opened the bag the next day, I stared blanky wondering who had swapped my peas for edamame. Derp.
When I realized what happened, I really didn't want to put edamame anywhere near my tuna casserole. I am, as you might say, a tuna noodle casserole purist.*And so? We moved on to Plan B. Except that I didn't really have a Plan B in place yet. So, really, we moved onto Plan Nebulous.
*It is written, in the book of me, that tuna noodle casserole should be a good white sauce, onions, tuna, peas, egg noodles and a crispy buttery crumb coating. No more. No less.
Plan Nebulous is a fun way to make a meal… Here's how it works. Start with a loose category of the flavours you want: in this case, Asian inspired. Gather up any ingredients you have that might fit that category; I grabbed soba, chile garlic sauce, fish sauce, soy sauce, toasted sesame oil, pickled ginger, fried garlic bits, and some nice albacore tuna. That covers the basics of a main dish: Starch, vegetable, protein, and goodies. No need to complicate it… That's all that's necessary for a great dinner.
Next, contemplate the ingredients. What's the best way to cook and combine them? Here, the edamame were already thawed and just needed a quick cook: one that could be accomplished by cooking it along with the noodles in the pot of boiling water. Whomp! Two birds with one stone. The sauce ingredients were all whisked together, tossed with the drained and rinsed noodles, piled on a plate, topped with the rest of the ingredients and -quicker than you can dial for take out- dinner was served.
Lovely cold soba tossed lightly with a gently spicy sesame sauce, topped with edamame and flaked albacore tuna, and garnished with fried garlic; When served with additional chile garlic sauce, sesame oil, fried garlic and a bowl of pickled ginger we are talking about a serious treat.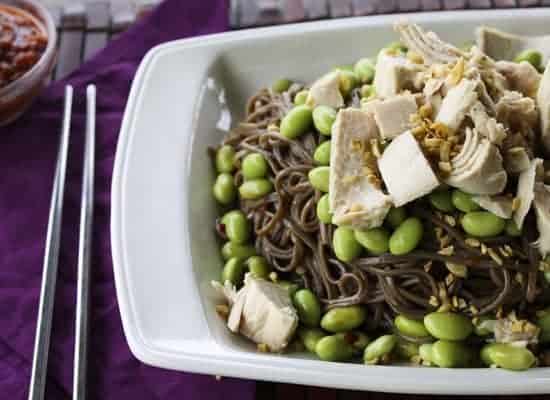 I want to let you in on a little secret. I know soba can be a little tricky.
So often, they're mushy, clumpy and gummy. This is because the package is lying to us. Lying like a dog. In fact, it sits on a throne of lies.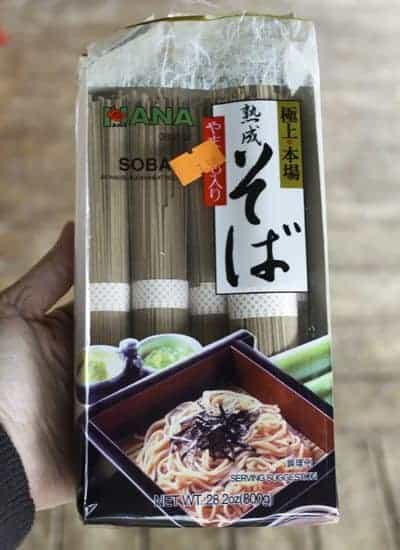 The back of my pack of noodles says, "Boil 6 minutes, stirring occasionally." If I did that, I'd be left with a giant wad of glue noodles. That is not a good thing. Let me tell you how you really want to do this. Whether you're serving them hot or cold, try this next time:
Boil for two minutes less than specified on the back of the package. Test a noodle. It should still have body. In other words, it shouldn't be crunchy, but neither should it disintigrate. My noodles are perfect at two minutes under the suggested time. Experiment a bit with yours and find your perfect number.
Drain the noodles and immediately rinse them very well with cold water. The goal is to stop the cooking as fast as you possibly can. This is the most important bit. By rinse well, I mean pick up the noodles with your hands so the water can rinse and chill every single one.
If serving cold, toss with your dressing or sauce and let chill, covered, in the refrigerator before eating.
If serving hot, reheat by dropping into boiling water only until heated through. Toss with dressing or sauce or put into your soup bowl and serve immediately.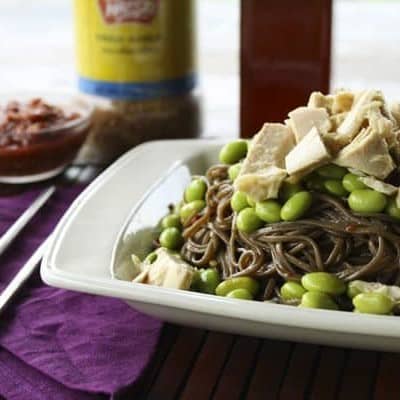 Lovely cold soba tossed lightly with a gently spicy sesame sauce, topped with edamame and flaked albacore tuna, and garnished with fried garlic; When served with additional chile garlic sauce, sesame oil, fried garlic and a bowl of pickled ginger we are talking about a serious treat. This takes under 10 minutes, making it a perfect heat-beating main dish!
Ingredients
2

portions of dry soba

buckwheat noodles

1

pound

of frozen shelled edamame

thawed

3

tablespoons

toasted sesame oil

1 1/2

tablespoons

chile garlic sauce

1

tablespoon

soy sauce

a splash fish sauce

about 1/2 teaspoons, more or less

1

can albacore tuna

drained
Optional for serving:
fried garlic bits

*see notes

pickled ginger

additional chile garlic sauce
Instructions
To Cook the Noodles and Edamame:
Bring a gallon of water to a boil in a large pot over high heat.

Add 2 teaspoons of salt and the edamame to the water.

Boil for one minute before adding the soba.

Stir frequently, boiling for 2 minutes less than specified on the package of noodles.

Test a noodle. If it is cooked through with a little body left to it, drain right away.

Immediately rinse the noodles and edamame well with cold water to stop the cooking. The edamame will mostly fall to the bottom of the colander.

Let the noodles drain while you make the sauce.
To Make the Sauce and Dress the Noodles:
Add the sesame oil, chile garlic sauce, soy sauce and fish sauce to a large mixing bowl. Whisk until smooth.

Use your hands to lift the noodles into the mixing bowl, leaving most of the edamame in the colander.

Toss the noodles in the sauce, using hands or tongs, to coat evenly.

Transfer the noodles to your platter or bowl.

Chill, covered, for at least 30 minutes.
To serve:
Scatter the edamame and then the tuna over the noodles.

Serve with bowls of fried garlic, pickled ginger and additional chile sauce as optional toppings.
Notes
*Fried Garlic is available at some grocery stores, most Asian food markets and via mail order. If you can't find it, you can simply fry minced garlic in a little neutral oil, such as canola or peanut oil until golden brown and drain on paper towels before serving. This recipe scales up and down easily depending on how many you wish to serve. Just count on cooking one "bunch" of noodles (soba is usually sold with individual portions wrapped inside the main package) per adult or half a "bunch" per child. Likewise, count on using half of- or an entire five-ounce can of albacore tuna, drained, per adult and half a can per child, depending on appetite. Adjust the quantity of sauce accordingly.
Nutritional information is an estimate and provided to you as a courtesy. You should calculate the nutritional information with the actual ingredients used in your recipe using your preferred nutrition calculator.