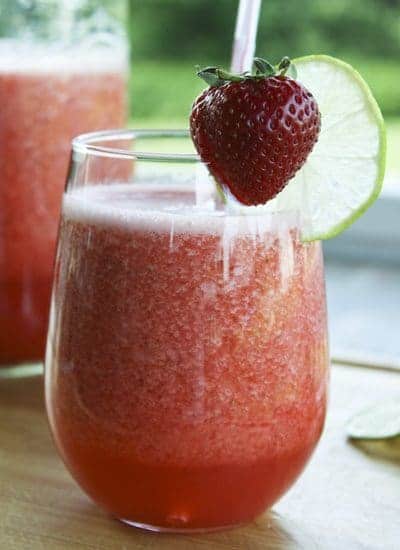 Happy First Day of Summer, everyone!
It's sweaty, sticky, humid, sunburn season. It's time for spreading a blanket under a tree and reclining with a great book. Prepare for baseball and swimming and frisbee and creek stomping. Make moments for hamburgers and hot dogs and steaks and shrimp on the grill, potato chips, popsicles, and ice cream cones. More than anything else, though, it is officially time for Strawberry Limeade.
This is directly inspired by my good friend Melissa. She hosted a birthday dinner party for herself a couple weeks ago. Unfortunately, I couldn't be at her party (a whole dratted continent got in the way of me attending) but two dear mutual friends (I'm jealous of her and her) were able to represent for me. After the party, they regaled me with tales of the company, the chicken, and the white bean dip. Above all else, though, they talked about Melissa's strawberry lemonade. And they talked. And some more. And they begged her for the recipe. And they wouldn't. stop. talking. about. the. lemonade.*
*The Braggy Braggertons had fresh strawberries. (*Shakes fist toward California's early produce.)
When our first New York strawberries made their appearance at our market last weekend I pounced. I leapt. I bounded. I vaulted over little old ladies and small children to get to them. The whole drive home was spent anticipating the strawberry lemonade which my friends had discussed at such length.
I got home, set up the blender, prepped the strawberries, measured sugar and water and found that I was approximately completely out of lemons and bottled lemon juice. GAH! Regroup! I had limes. Limes were good. It was going to be strawberry LIMEade. And wow.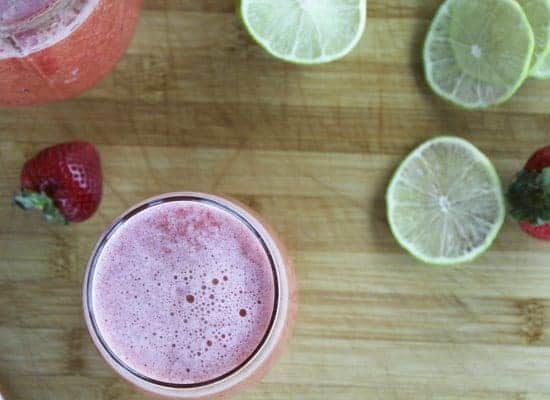 Strawberry limeade is simply fresh, succulent strawberries blended with lime juice, sugar, and water and chilled. It doesn't get much easier than that, but hoo boy, it is something else. Refreshing doesn't quite cut it as an adjective. It's strawberry writ large with a straw. We're talking about drinkable lime-kissed strawberries. *SLURP*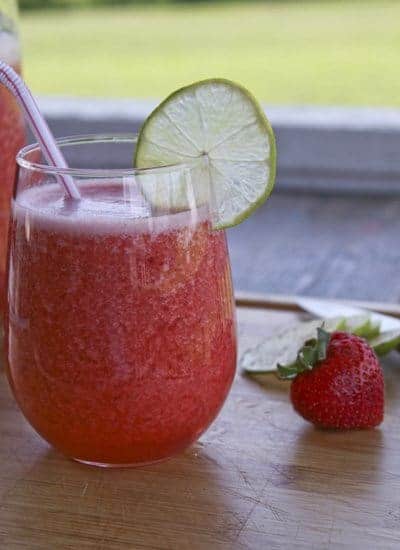 I got the hype, even if I didn't get the lemonade. So let me pull on you what my friends did on me. TRY THIS! Oh dear me, try it. Today. Make this while the strawberries are still so juicy that they burst when you put them between your teeth. Make it with lime or with lemon, but do make it.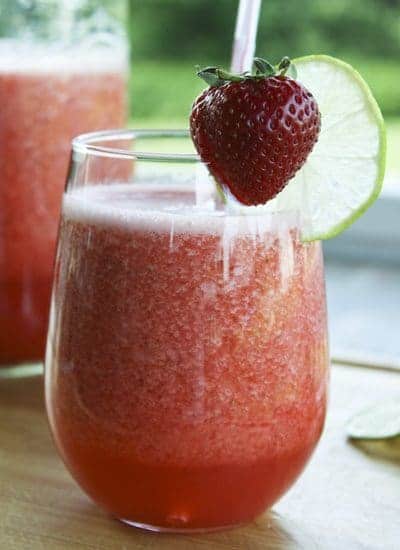 Sweet strawberries pureed into homemade limeade and chilled make the ultimate refreshing summer beverage.
Ingredients
1

pound

ripe strawberries

washed, hulled and quartered

1/2

cup

granulated sugar

1

cup

fresh lime juice

up to 6 cups cold water
Optional garnish:
additional lime slices and strawberries
Instructions
Add the strawberries, sugar and lime juice to the pitcher of your blender.

Blend until completely smooth.

Add 4 cups of cold water and pulse just 3 times to combine.

Taste, add more water to adjust and pulse, if desired.

Put the lid on the pitcher and put the pitcher into the refrigerator (or transfer into a jar with a tight fitting lid) for an hour before serving.

Pour into tall glasses (*see notes), with or without ice, and garnish the rim of the glass with additional lime slices and strawberries, if desired.

Serve with a straw.
Notes
*If you prefer a smooth, pulp-free limeade, you can pour it through a fine-mesh sieve or cheesecloth into a jar or pitcher with a tight fitting lid. I personally love pulp, so I leave it!
Nutritional information is an estimate and provided to you as a courtesy. You should calculate the nutritional information with the actual ingredients used in your recipe using your preferred nutrition calculator.