I know much of the country is in a lovely thaw right now, but not us here in Western New York. It is not unheard of to have a blizzard on Easter, so we are holding on for a few more weeks, eagerly awaiting peeks of green grass and buds emerging from trees that are finally getting some sun to warm them and tickle them into growth.
In the meantime, I am fighting off winter blahs by eating ALL OF THE GREEN THINGS. Spinach, broccoli, green beans, arugula, Romaine lettuce, snow pea pods, pea shoots, bean sprouts, watercress, and everything.
I am accompanying all of this with fish. Okay, it is Lent, but I just plain love fish, and this time of year, I crave it even more.
Maybe it's because my body KNOWS deep down inside that I need all this healthy food? All this to introduce my newest food obsession: Salmon + Greens Asian Noodle Bowl.
Toothsome noodles topped with fresh mushrooms, watercress, pea shoots or bean sprouts, green onions, thinly sliced bell peppers, snow peas, and simple seared salmon, with a ladle or two full of garlic and ginger infused vegetable broth and a pinch of chili threads perched on top. This is my thang these days, friends.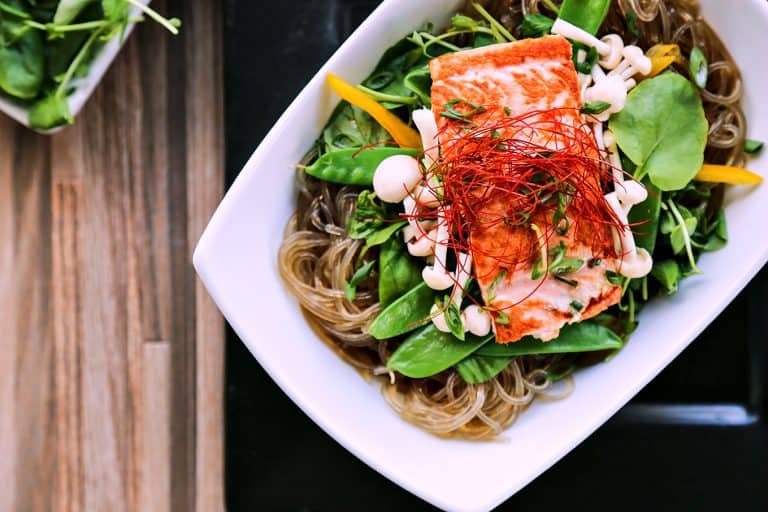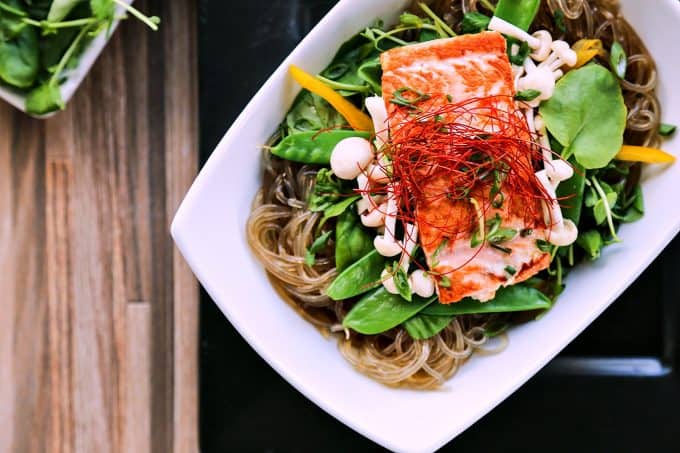 Salmon + Greens Asian Noodle Bowls is restaurant worthy fare, my friends. At least my husband says so.
He's not biased at all (well, maybe he is). The truth is, though, that I would be thrilled to be able to order this at a restaurant when I'm traveling, and he would, too.
The construction of the dish is about as easy as it can possibly get, and true to the maxim that treating good foods simply yields the best results, it is memorably delicious.
Salmon + Greens Asian Noodle Bowls employ a couple of ingredients you may or may not have encountered before, but I'll include a list of links for ordering the items at the bottom of the post and the dish is so divine that it makes it worth hopping a little outside of your normal comfort zone. Salmon, broth, snow pea pods… they're all fairly familiar, right?
The noodles I prefer for this dish -glass noodles- are where we start getting a little exotic (unless you live in Korean, then you're giggling a little already).
They're made from sweet potatoes, but honest-to-Pete, even if you know that, you will be utterly unable to discern even a hint of sweet potato in them. The great advantage to using glass noodles is that it is dreadfully difficult to overcook them to mush, and mushy noodles are anathema to me.
I love the way they soak up flavours of the vegetable broth that is augmented with some tingly, warm ginger and garlic without falling apart. Bonus: if you're cooking for any gluten free friends and family, this dish is totally a-okay for them!
The second ingredient with which you may or may not be acquainted is watercress. If you imagine tender baby spinach crossed with radishes, you've got a pretty accurate description of what it tastes like.
If you can't find watercress, you can substitute arugula in the bowls to pretty tasty effect. Third on the list of possibly new ingredients are chili threads.
These are exactly what they sound like; wild, red, piquant, thread-like strings of chili peppers. To say I'm obsessed with them is putting it mildly.
They don't impart an overtly spiciness to the dish, they just lend a little touch of je ne sais quois and the barest hint of a memory of spice. I will say that I think they contribute mightily to the overall dish as a layer, so if you can justify buying them, please do! You might surprise yourself at how many dishes you find to garnish with the chili threads.
More Salmon Recipes
If you're looking for more ways to use salmon, I highly recommend our Smoked Salmon Pasta Salad. It's great with any grilled main dish or on its own as a summer meal.
Blackened Salmon is great alone or recycled into Blackened Salmon Caesar Salad. And our Best Way to Cook Salmon recipe is a surefire winner.
Where to find the ingredients:
It's true that you can probably locate any of these items in a well-stocked city grocery store or an Asian foods market, but for those of us who live nowhere near any of those, we have good old reliable Amazon. Here are links to the funkier ingredients:

Salmon and Greens Asian Noodle Bowls
Don't overthink the salmon, friends. It really is as easy as patting the filets dry, sprinkling generously with salt on each side, and searing without moving it until a gorgeous golden brown on the bottom, then flipping and repeating the searing process.
I have a kid who almost reflexively pours soy sauce on everything and he agreed this just doesn't need it, so if you're in the SOY SAUCE ALL THE THINGS category, you may want to taste before seasoning.
You can use whichever vegetable broth you prefer. I like Better than Bouillon Vegetable Base reconstituted according to instructions.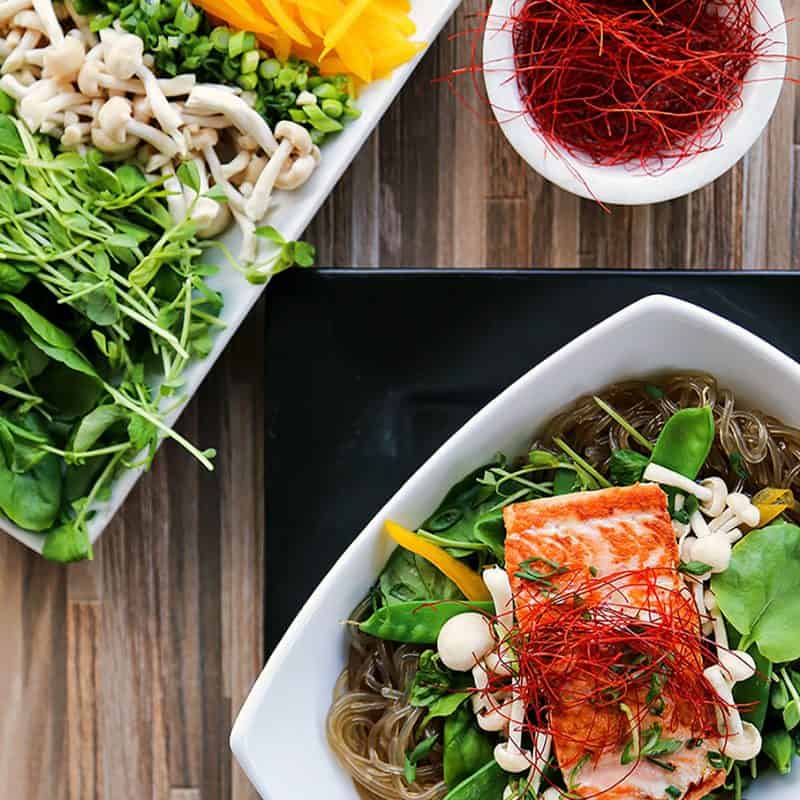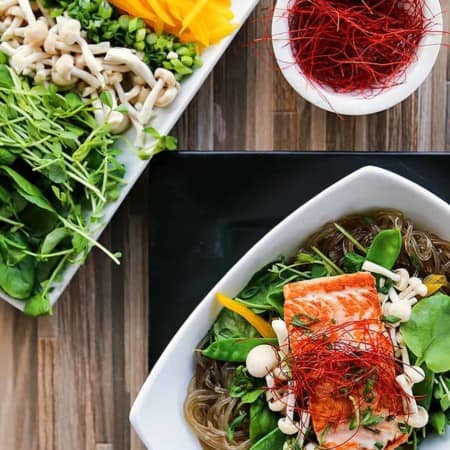 Salmon + Greens Asian Noodle Bowl. Toothsome noodles topped with fresh mushrooms, watercress, pea shoots or bean sprouts, green onions, thinly sliced bell peppers, snow peas, and simple seared salmon, with a ladle or two full of garlic and ginger infused vegetable broth and a pinch of chili threads perched on top.
Ingredients
2

quarts

vegetable broth

4

inch

piece fresh ginger

lightly smashed with a pan or meat tenderizer

4

large cloves garlic

peeled

12

ounces

glass noodles

3

cups

snow pea pods

3

teaspoons

sunflower or canola oi

4

boneless

skinless salmon filets

2

cups

watercress leaves and tender stems or arugula

1

cup

pea shoots or bean sprouts

1

yellow bell pepper

stem and seeds removed, thinly sliced

6

green onions

root ends trimmed, thinly sliced, 1 tablespoon reserved

1

cup

very thinly sliced shiitake mushrooms or beech mushrooms

enoki
Instructions
In a medium sized pot, bring the vegetable broth, ginger, and garlic to a boil. Lower the heat and simmer for 5 minutes. Drop in the glass noodles and simmer for 5 to 6 minutes, or until cooked through and tender but still toothsome. Use tongs to transfer the noodles, ginger, and garlic to a colander. Keep the broth simmering. Add the snow peas and simmer for 2 minutes. Use the tongs to transfer the snow pea pods to the colander, gathering them in a neat little pile to the side. Keep the broth simmering.

Place a cast-iron or other heavy-bottomed skillet over a high burner. When you can feel heat radiating from the pan and it is uncomfortable to hold your hand too close to the surface, drizzle in the sunflower oil and swirl the pan to coat the surface. Salt both sides of the salmon filets and carefully lower them into the pan. Do not attempt to move the filets for at least 2 minutes. When they are golden brown on the bottom and the cooked area extends at least halfway up the sides, ease a flexible spatula under them and flip carefully, about 3 minutes. Repeat on the second side, cooking the filets to your desired doneness. Transfer to a plate.

Divide the cooked glass noodles between 4 deep serving bowls. Distribute the watercress or arugula, pea shoots or bean sprouts, bell pepper, green onions (minus the reserved amount), and mushrooms over the noodles. Divide the hot broth between the bowls, then lay 1 or 1 1/2 salmon filets on each bowl. Garnish with the reserved green onions and a hearty pinch of chili threads. Serve immediately.
Nutritional information is an estimate and provided to you as a courtesy. You should calculate the nutritional information with the actual ingredients used in your recipe using your preferred nutrition calculator.