This Root Beer Syrup recipe remains one of my kids' favourites. It is the best, most authentic root beer you can make at home unless you break out a carboy and fermenting lock. And while I've been know to do that sort of thing, this is an achievable, delicious, and simple means to a homemade Root Beer Syrup end.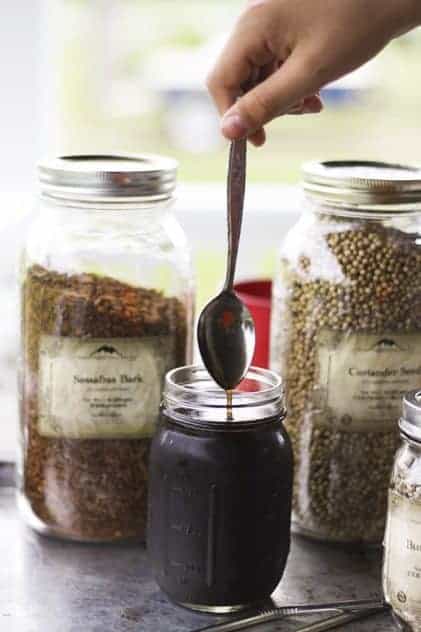 I am a fizzy drinks gal. My usual preference is for plain or flavoured (but not sweetened seltzer) but I have a deep and abiding love for two kinds of soda: ginger ale and root beer. I love the warm, spicy flavours of both of those. What I don't adore, however, is the insane amount of sugar in most commercially available sodas.
My dad taught me to make my own ginger ale a few years back and that took care of the need for ginger ale, but until the last couple of weeks, I didn't have a way to satisfy my root beer cravings without getting a sugar bomb in the process. With the exception of a few boutique brands of root beer (that are very tasty indeed but also pretty pricey), the sugar bomb in those sodas came in the form of high fructose corn syrup. I'm not going to wade into a debate here. Intelligent people disagree (vociferously) on the subject, but in our family we just don't consume much HFCS.
I've tried making my own root beers from extract kits, but I was always a little disappointed because I like making things from the ground up. Buying a little bottle of some liquid and adding water and sugar just kind of felt like cheating. Yes, I realize I'm a little nuts.
But I discovered something. I'm clearly not alone in thinking this way. I discovered Hank Shaw a.k.a. Hunter Angler Gardener Cook. Hank Shaw is, in a nutshell, awesome. I've always had a DIY bent, but Hank Shaw?
I'm in an analogy frame of mind, since I just finished up standardized testing with my kids, and I'm thinking that might be the best way to describe him. I am to Hank Shaw as Sandra Lee is to Martha Stewart. Sure, Sandra Lee decorates a table and whips up a cocktail, but Martha felled the tree, built the table, hand-wove the cloth for the decorations, smelted the metal for the silverware, designed and threw her own pottery, raised the animals and vegetables, slaughtered and prepared everything herself AND was a supermodel in the process.
In short, I have MAD respect for Hank Shaw. I have no idea whether his hair is perfectly coifed, but I rather suspect it is.
The point is this; Hank Shaw posted a recipe for homemade root beer syrup that looked like what I'd been seeking for ages. I had some dried burdock root (it grows EVERYWHERE around here, so I'm not sure this gets me my foraging badge), I ordered dried sassafras (because that DOESN'T grow around here), and raided my spice cabinet for the other bits and pieces*, and set to infusing.
*That spell of detective work just might get me the foraging badge after all!
The key to Root Beer Syrup is a slow infusion (decoction, tisane, what-have-you) of water with the roots and spices. After it simmers a bit, some molasses is added (for both colour and flavour) then you simmer again.
Then comes the WHAT?!? portion of the programme: wintergreen. I'm not kidding you. Go pop open a bottle of root beer and sniff. What are you getting? You're getting the smell of sassafras and wintergreen (although of the two, wintergreen is probably the only one that is actually in commercial root beers any more.)
Don't skip this! And please, you might be tempted, but don't sub in peppermint. The wintergreen is truly important. If you can't lay your hands on fresh wintergreen leaves, you can always use wintergreen flavour or extract.
As soon as the roots and spices started simmering my brain was panting, "Root beer. Root beer. Root beer." It smells so good while it simmers. It smelled so good, in fact, that I dunked a spoon in to lick it. Um, it was not a great at that point.
'Twas bitter but I carried on and continued the project. I started it late at night, so I let the cool down/infusion process go overnight. In the morning, I strained, measured, added to the pot with sugar and then simmered again.
I dipped my spoon in again, cautiously licked it and holy man. It was good. Root beer syurp was great!
While I like to pour it over ice and top with my beloved plain seltzer for a spicy, rootsy-tootsy root beer beverage, you can also use the syrup to drizzle over your vanilla ice cream for a root beer sundae. On the other hand, you can sweeten your iced tea for a deliciously different sweet tea. Root beer sweet tea. Can I get a heck-yeah from the sweet tea lovers out there?
I'm going to tell you, this is NOT the root beer you get at the store. It just isn't. It's real. It has oomph. It has character. It's not cloyingly sweet (although, if sweet is your thing you can always up the sugar content in the syrup.)
When you smell it and taste it there is no doubt in your mind that this is root beer, but this is root beer as it's meant to be. I'd take a tall glass of this root beer any day over the stuff on the shelves. My husband, who despises soda in general but likes seltzer, loved this root beer.
Three of my five kids think this the best root beer they've ever had. (One of the remaining two just doesn't like root beer, so he's consistent. The other decided to be contrary.)
Use this to make Root Beer Syrup: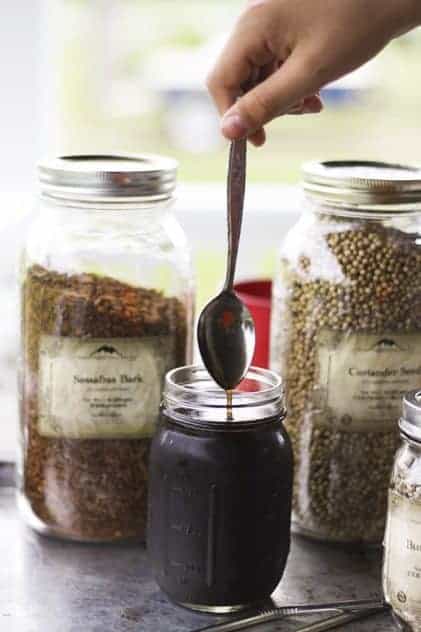 Make an honest to goodness delicious homemade root beer syrup that transforms into root beer soda pop with the simple addition of cold seltzer water.

Ingredients
6

cups

water

3

ounces

dried sassafrass root

1/2

ounce

dried burdock root

1

teaspoon

dried whole coriander seeds

1

whole star anise

1

whole clove

1/4 cup

dark molasses

(not blackstrap)

3-4

wintergreen leaves

or 2 drops (1/8 teaspoon) wintergreen flavouring or extract

up to

6 cups sugar

preferably raw, but granulated white sugar can also be used
Instructions
Put the sassafras and burdock roots, coriander seeds, star anise and clove in a heavy-bottomed 2 quart saucepan that has a tight fitting lid. Pour the water over the top of the roots and spices and bring to a boil over high heat. Drop the heat to low and simmer for 15 minutes. If it keeps bubbling up and out, vent the lid just a bit.

Add the molasses, stir, replace the lid, and return to a simmer for 5 minutes. Remove the pan from the heat, add the wintergreen flavouring or extract, replace the lid and let the mixture cool to room temperature. (I let mine cool on a cold burner on the stove overnight because I prepared my sassafras infusion late at night.)

Line a fine mesh strainer with cheesecloth, place over a large measuring cup with a pouring spout or a pitcher, and pour the cooled infusion into it to strain. Do not press on the contents, but let the roots rest in the strainer for about 30 minutes before proceeding. While that strains, rinse the pot in which you infused it to get any lingering bits of root or spice out of it.

Measure your sassafras infusion, return it to the rinsed pot and add an equal amount of sugar -by volume- to the pot. For instance, if you have 4 1/2 cups of infusion, add 4 1/2 cups of sugar. Bring the mixture to a boil, drop the heat to low and let simmer for 5 minutes. Pour the syrup into canning jars, fix clean, new, two-piece lids on top and store in the refrigerator up to a year.

!To Make a Root Beer Drink from the Syrup:

Use 1 tablespoon of syrup over ice to 1 cup of plain seltzer water. Stir gently. Enjoy!
Nutrition
Calories:
145
kcal
Carbohydrates:
37
g
Sodium:
2
mg
Potassium:
1
mg
Sugar:
37
g
Vitamin A:
5
IU
Calcium:
2
mg
Nutritional information is an estimate and provided to you as a courtesy. You should calculate the nutritional information with the actual ingredients used in your recipe using your preferred nutrition calculator.