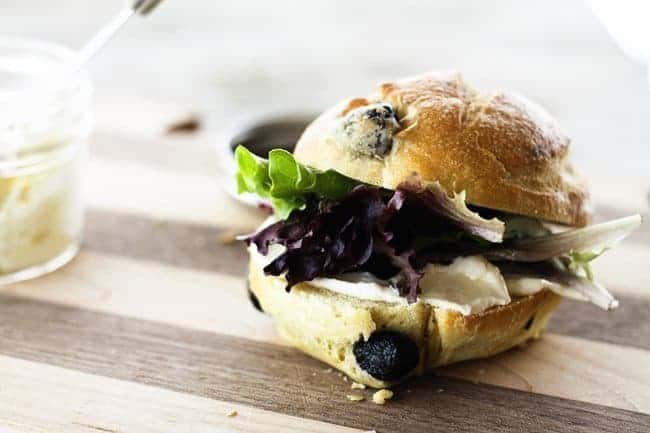 Can we have a heart to heart for a moment? I love foods that stink: garlic, feta cheese, olives, braunschweiger, pungent and runny French cheese, onions, and much, much more. And what's more, I have loved this stanky stuff for as long as I can remember.
Once -when I was a teenager- my mom stopped me as I was on the way out the door to a dance. (And can I get a 'Hallelujah' and 'Amen' of thanks from anyone else who was more than glad to leave those years behind?) She said, "Honey? You may want to consider brushing your teeth or something before you go the dance. You know, since you ate an onion and mustard sandwich and all?"
First of all, it was an onion, mustard and Cheddar sandwich, so there. Second, you'd think my momma would've wanted to encourage me to have bad breath since I was so boy crazy. It might've made keeping me away from them much easier.
That aside, the point is that stinky food just tastes better, doesn't it? And today's recipe combines some of my most loved breath-offenders of all time: roasted garlic and feta cheese.
Everyone knows that feta cheese has an alarming habit of falling off of things. It's just kind of the way it's built. That lovely crumbly texture is fine and dandy when it's in a pilaf, Greek salsa, baked on a pizza, or in spanakopita dip. But you sink your teeth into a sandwich you've adorned with the salty, briny, crumbled stuff and it makes like lemmings off a cliff falling off the front, side and anywhere that isn't already in your mouth. This makes me sad.
Enter my friend Jessica at How Sweet Eats. A month or so ago, she posted Whipped Feta. In one fell swoop, she solved my feta problem and made my breath eternally bad. I almost hopped in my car, drove a couple hours south and kissed her face. She's probably pretty thankful I didn't, though, because I decided to spike my whipped feta with a hearty helping of roasted garlic which both makes it even more exciting and even more deadly.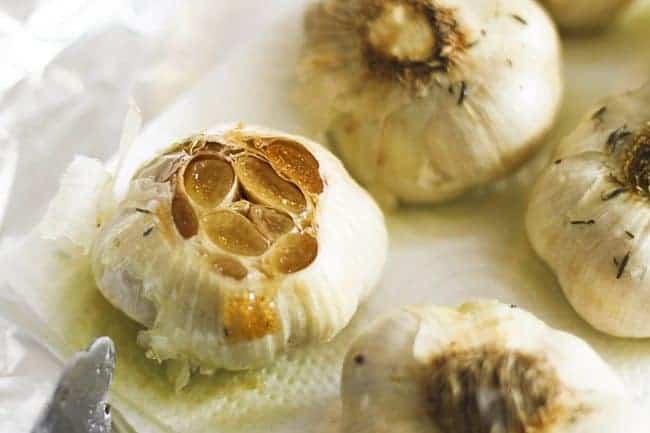 If you're not already drooling like a teething baby, let me explain what makes this so delicious. Copious amounts of crumbled feta are added to softened cream cheese along with several cloves of buttery roasted garlic.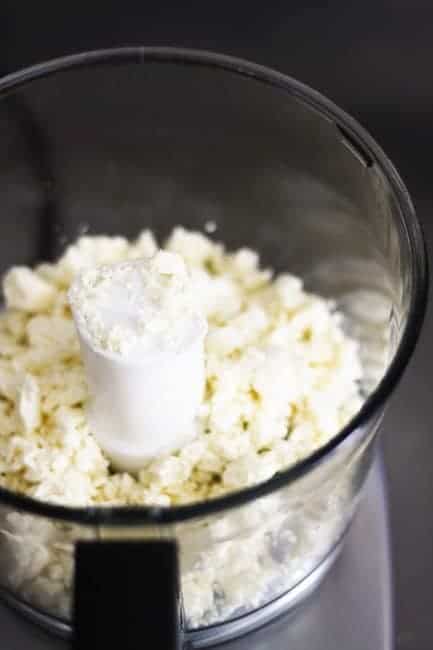 They're beaten together mercilessly in the food processor until perfectly smooth.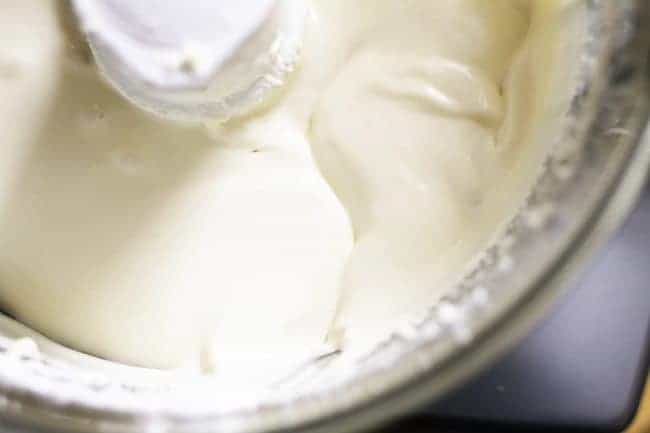 At this point it's warm and melty from all the processing. Right then, right there, if you can resist sopping up the inevitable left-behind spread in the food processor bowl with torn hunks of fresh bread, then you're a far, far stronger person than I am. I am not ashamed to say that when I ran out of bread, I licked the food processor bowl.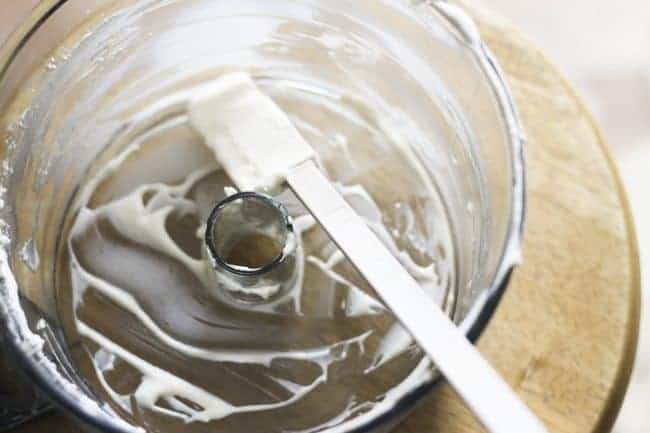 People. I'm married. I can do this now just as long as my darling Evil Genius partakes with me. And he does. The man is no fool.
So whaddya do with a big old jar of Roasted Garlic Whipped Feta? Oh darlin'… what don't you do? I smear it generously on Black Olive Rolls with a handful of greens and call it lunch, apply with abandon to toasted burger rolls before topping with a grilled turkey burger and some baby spinach (Instant Greek Burger! VOILA!), spread it on crackers, serve as dip with vegetables, and top grilled fish with it. Now, given that I've only had the stuff handy for about a month, I'm willing to assert that I haven't even scratched the surface of ways that Roasted Garlic Whipped Feta can be used. How will you use this?
XO
Rebecca
P.S. You're ahead of the game if you already made your own batch of fantastic homemade feta because it works beautifully here!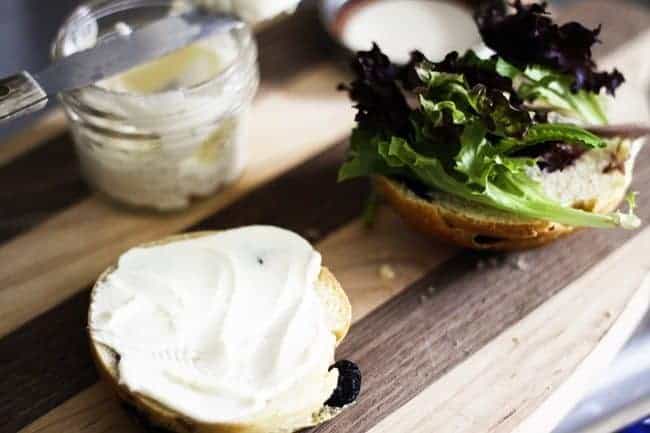 Roasted Garlic Whipped Feta | Make Ahead Mondays
Rate Recipe
The fabulous punch of feta cheese and roasted garlic in a creamy, flavourful spread that is great on sandwiches, burgers, fresh bread, crackers, or as a dip or dolloped into soup. Adapted from and with grateful thanks to
How Sweet Eats who adapted it from the fabulous
Ina Garten
Ingredients
8

ounces

feta cheese crumbles

brought to room temperature

4

ounces

cream cheese

Full fat or 1/3 less fat, according to preference.

4-8

cloves

roasted garlic either purchased or homemade

See this recipe for instructions on roasting garlic.
Instructions
Fit your food processor with a metal blade and pulse the feta cheese until it is completely broken up into tiny crumbs. It should look like this:

%https://www.foodiewithfamily.com/wp-content/uploads/2013/04/Making-Roasted-Garlic-Whipped-Feta-Foodie-with-Family.jpg

Add the remaining ingredients and process -stopping to scrape down the sides occasionally- until it is completely smooth and creamy, about 4-5 minutes. Scrape into a jar (or jars) with a tight fitting lid and store in the refrigerator for up to a month.
Nutritional information is an estimate and provided to you as a courtesy. You should calculate the nutritional information with the actual ingredients used in your recipe using your preferred nutrition calculator.