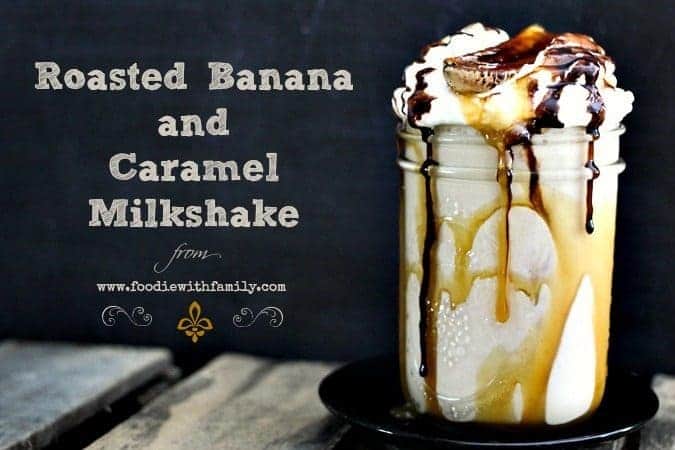 What you are looking at is the current resident of the top of the list of things my sixteen year old wants for me to make for him when Lent is over. That boy has so much willpower it puts his daddy and I to shame. He gave up sweets for Easter. While I've been good about providing healthy sweet snacks (loads of fresh fruit, smoothies, and whatnot) and trying to work on sweets recipes while he's at work or at friends' houses to try to avoid tempting him, there is still the occasional moment when he's home and I'm working on something that is most definitely on his no-fly list right now. This is the boy around whom no bags of chocolate chips were safe. The boy who ate eight full-sized pieces of The Pioneer Woman's sheet cake in one sitting. The young man who can't walk past the candy counter at the store without buying something if he has money in his pocket.
…And he has given up sweets and stuck to it. He has full intentions to get back to it after Easter, though, and he has truly compiled the aforementioned list, and today's recipe ACTUALLY holds the first slot. It is what he wants to have to break his fast first, before Easter candy, before Easter breakfast even.
I was trying to hurry myself along and get this done and photographed before he got home from a friend's last week. It's not that it takes a long time, it's just that with four other boys, I kept getting interrupted. Those other four have given up -in descending order by age- texting, "Legend of Zelda", Minecraft, and "Bookworm Adventures". I roasted the bananas; someone needed help finding a book. I scooped ice cream into my blender; someone needed help getting a tennis ball out of the dog's mouth. I washed my hands. I promise. I split more bananas in half and sprinkled them with sugar and then caramelized the sugar with a blow torch; someone drilled into their hand while building a project out of wood. I washed HIS hands. I promise.
I finally got the milkshake made, drizzled caramel sauce around the inside rim of my glass, poured the milkshake in, topped it with whipped cream, drizzled on a little more caramel sauce and some chocolate sauce over the top, added one of the brûléed bananas and quickly grabbed my camera…
…right then the door swung open and there stood my sixteen year old master-of-his-will, staring at the milkshake and silently clutching his stomach.
At that moment, I won  "Worst Mother of the Year".
That's when the list started. It's posted in my kitchen above my work space. So far, it reads:
Roasted Banana and Caramel Milkshake
Thin Mints
All the chocolate in the house
While I spend part of my remaining forty days searching for a solid hide place for my chocolate, let's reflect on what makes these milkshakes so good. It is an unabashedly banana-y milkshake that isn't for banana haters. It's creamy, thick, with a sweet, concentrated banana flavour courtesy of roasted bananas.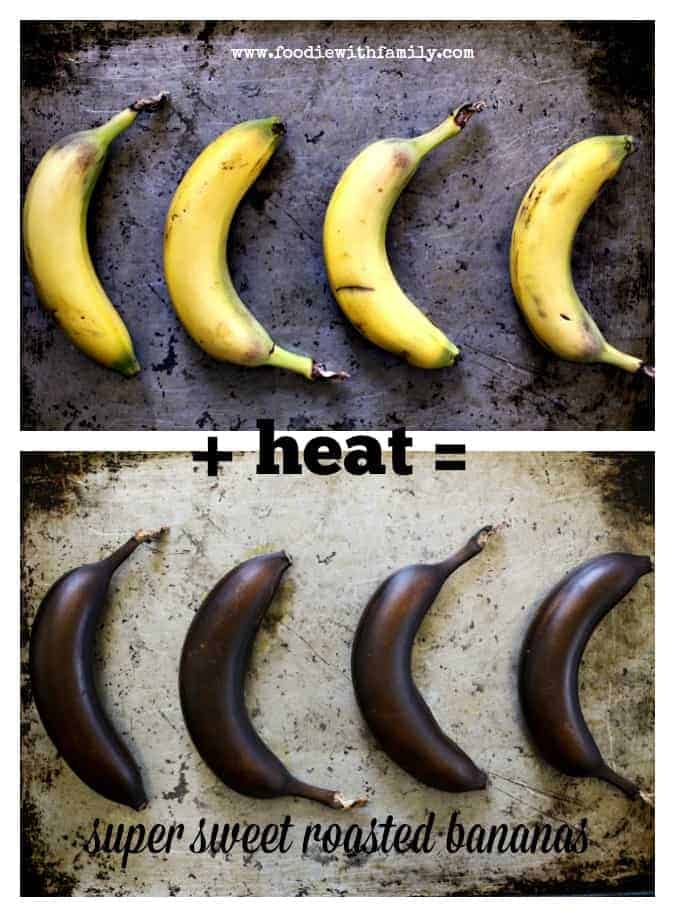 How and Why to Roast Bananas
That's right. Roasted bananas. Have you ever had them? You take whole bananas in the peel and put them in a hot oven until the peels turn black. That's all there is to it! The high heat deepens and concentrates the banana's natural sweetness. It's kind of magical what roasting does to a plain old banana. You can even take a slightly underripe banana and end up with a sweet, fragrant roasted banana. Since we're already applying heat to bananas, let's talk about the brûléed bananas that top the milkshake. The recipe for them lives on this super ancient post from my 'interesting angle food photography' phase (sigh) but is redeemed by photos of my second youngest baby (Mah BAYBAY) from five years ago. He was so tiny. He's not now. He has big boy teeth. Could we please take a moment to be grateful that my photography has steadily progressed from that point? Yeah. Moving on.
The point is that the bananas have a crème brûlée kind of thing going for them, sweet and creamy with a layer of deeply caramelized, burnt-sugar on top. They're eyes-rolling-back-into-the-head good. Who needs a cherry on a sundae when you have brûléed bananas?

Cook's Notes
You can roast extra bananas then squeeze them out of their peels and into ice cube trays to freeze for smoothies (ROASTED BANANA SMOOTHIES!), future milkshakes, or baking. They're darned good in banana bread.
I used homemade salted caramel sauce because it's beyond words it's so good. If you don't want to make it or have a jar handy of the commercial sort, use that! Or if you want to go allllllll in, make this homemade dulce de leche, warm it up a bit, and drizzle THAT inside your glass.
I used Schwan's Dulce de Leche ice cream and it was fabulous. If that's not available where you live, use a caramel swirl type ice cream. If you can't find that, substitue a nice French vanilla ice cream and add a couple tablespoons of caramel sauce to the blender when you make the milkshake.
Because the milkshake is already so sweet, use lightly sweetened or unsweetened whipped cream on top.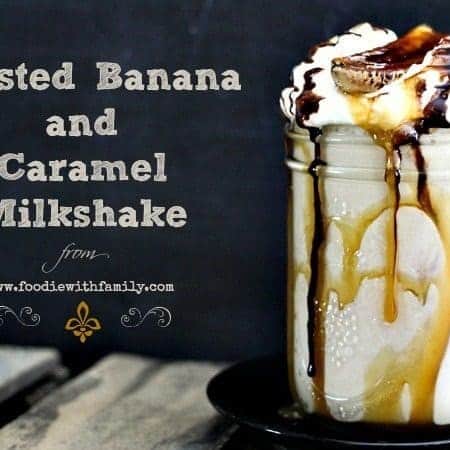 Ingredients
2

whole bananas

3

cups

dulce de leche or caramel swirl ice cream

1/4-1/2

cup

of milk

depending on thickness desired

Optional: ice cubes to make it super thick.

1

tablespoon

caramel sauce

warmed just enough to be pourable

unsweetened or lightly sweetened whipped cream
For Garnish:
additional caramel sauce

chocolate sauce

2

halves of a bruleed banana

3 step tutorial found here
Instructions
Preheat the oven to 400°F.

Place the bananas, still in their peels, on a rimmed baking sheet. Roast the bananas for 15-20 minutes, or until the peels have turned black and they look shiny and swollen. Remove the pan from the oven and let cool to at least room temperature before handling them.

Cut the tip off of the banana peels and squeeze the room temperature, soft, roasted bananas into the blender. Add the ice cream and 1/4 cup of milk. Blend until smooth. If a thicker milkshake is desired, you can blend in several ice cubes to thicken it. If you'd like it thinner, add the remaining 1/4 cup of milk.

Take 2 pint jars, or similarly sized glasses, and drizzle some of the caramel sauce around the inside rim. Let it drip down before dividing the milkshake between the two cups. Top each glass with a generous cap of whipped cream then drizzle a little more caramel sauce and some chocolate sauce on top. Nestle a bruleed banana half in the whipped cream and serve immediately! Leftovers can be poured into popsicle molds for wonderful banana cream popsicles.
Nutritional information is an estimate and provided to you as a courtesy. You should calculate the nutritional information with the actual ingredients used in your recipe using your preferred nutrition calculator.