We've been enjoying a lot of the foods that go along with this season, hot teas and cocoa, soups, homemade breads and muffins, and I've been coming up with some interesting combinations as I work through my pantry. In one of my 'what will I find in here today' searches, I found a lonely cup or so of arborio rice. For those of you who are familiar with this rice, you know it is THE rice to use to make risotto, a creamy, flavorful and often cheesy Italian dish. It's comparatively easy to make, but does take some time and patience since it requires close to continual stirring for about 20 minutes, but while it is often served as a side dish, it can serve as the main part of your meal–add a little salad or some grapes or sliced fruit, a little glass of wine, and you're good to go.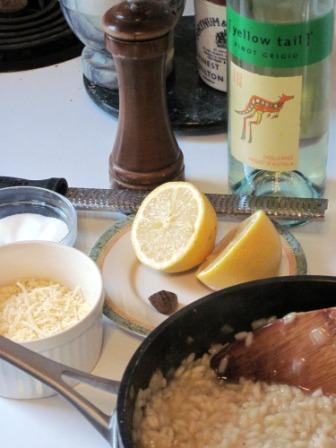 I was going to try a crockpot risotto recipe, but I decided to stick with the tried and true–it had been so long since I'd made this, I wanted to be sure we would enjoy the end product, especially since it was going to be the main course.
As mentioned earlier, the main essential to a good risotto is good arborio rice; you can usually find it in most good grocery stores, or through a whole foods co-op, or (gasp!) Amazon!
I've been checking out alternate sources for certain grocery items, and sometimes Amazon has the best price, and with free shipping, there are no additional costs. They also offer 'subscription' service which means you set up an automatic order for 1, 3 or 6 month terms, which entitles you to an additional 15% off the regular price. I ordered an 11 pound bag of rice today that normally cost $22.00, but came to 18.70 after the discount, coming to $1.70 per pound, much cheaper than at the grocery store, and 35 cents per pound cheaper than what my co-op could offer, and to get their best price I would have had to order 50 pounds at once. I can just see my husband's face as I ask him to carry that bag to the basement!
Good olive oil, butter, and savories such as onion, shallots, leeks, garlic, herbs–there's a lot of room for some variety there. White wine is usually one of the ingredients, and I definitely prefer the version with wine than without–it helps cut some of the richness, adding a bit of a sharp note against the cheese that is added later. Broth is the main liquid; I've most often seen chicken broth used, but a light beef broth would probably work, or a good flavorful veggie broth.
Freshly shredded parmesan is best if you have it; if not, I get shredded parmesan in 2 lb. bags from our local restaurant supply, and keep it in the freezer to use in dishes like this. The per pound price is cheaper than most of the grated parmesan products in regular stores, and the flavor much better. Regular grated parm can be used, but try to find a brand that is as close to 100% cheese as possible. Cream and extra butter is often stirred in at the end, but we no longer do that–we like the risotto just a little lighter. Final touch for me is grated lemon rind and a good squeeze or three of lemon juice. Like the wine, it helps balance out the cheese in the dish.
Adding veggies to the dish? No problem. I really enjoy peas or mushrooms in risotto, and I usually prepare them separately and add the last couple of minutes before serving, so they just heat through but don't have time to really cook any more. Mushrooms I sautee until browned, peas are simply cooked in a little salted water till just done. (If using the petite peas, I often just let them thaw, heating them through in the end–I like them to have a bit of a bite.)
As I mentioned earlier, this is an easy dish, but does take some attention. It's a good time for listening to your favorite music, or just enjoying some quiet time at the stove (quiet time at the stove is probably something we empty nesters enjoy more often than some!). Without further ado, here is the recipe I made last night.
Risotto with Parmesan and Lemon
1 cup arborio rice
4 cups chicken or veggie broth, kept hot in saucepan
1 small onion, chopped fine
2 cloves garlic, chopped fine or pressed
2 T. olive oil
2 T. butter
1 t. dried thyme
1/4 t. nutmeg, freshly grated
1/2 cup dry white wine
2/3 c. shredded parmesan
Ground black pepper to taste
Grated rind of one lemon
juice of 1/2 large lemon, or whole small lemon
Heat broth in a separate pan, and keep warm while you prepare the risotto.
Heat olive oil and butter in a larger flat-bottomed saucepan over medium heat. Toss in onion and garlic, and sautee until transparent. Stir in rice, and mix until the rice is all coated, then add thyme and nutmeg, stirring till well mixed.
Add the 1/2 cup of wine, and stir for a few minutes until the wine is absorbed and your spoon leaves a clear path on the bottom of the pan; at this point add about a half cup of broth, again stirring until it is absorbed. Keep repeating this a few times more. If the broth seems to absorb to quickly, you should turn down your heat a bit so you won't run out of broth before your rice is cooked.
After about 20 minutes or so have elapsed, taste a grain of rice to check for doneness. It should be firm, but not at all crunchy. If more time is needed, continue to add the broth and testing the rice every couple of minutes. Once the rice is fully cooked, and you have a nice creamy sauce holding it together, it's time to add the cheese and lemon. I add the cheese and lemon rind together, making sure it is well incorporated, then squeeze in the lemon juice. I usually have to taste a couple of times before I'm satisfied with the balance–I definitely want the lemon to come through, but not to overpower the dish.
This is also the point where you would stir in a little heavy cream, a little extra butter, and any veggies you would like to add.
And that's it. Serve it up in some nice bowls, sprinkle with a little extra parmesan (I had a tiny bit of extra nutmeg on mine),  have a nice plate of freshly sliced kiwi fruit nearby, and pour yourself a glass of that nice dry white wine. I have to say, that is as close to a perfect meal as I've had in a while!