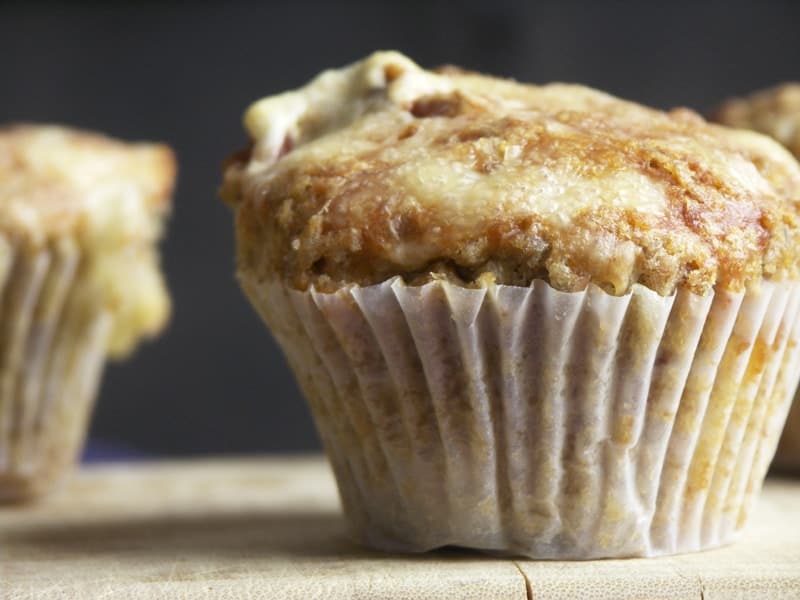 These muffins won't win any beauty contests. They're not the prettiest muffins on the block. They have a muffin face only a mother could love. But man-oh- man, they're delicious. Let me break it down for you…
They have bacon. That alone should be enough to convince you.
They have Swiss cheese both in them and toasted on top of them. If the bacon didn't do it, the Swiss should.
They have rye. Rye? Because it's delicious. That's rye. (Hi, Dad. Thanks for the line.)
Any of those ingredients alone would be enough to make me dive mouth first into a muffin, but putting them together? Oh my. Oh me. It's enough to drive a girl crazy with food lust. The salty, smoky bacon, pungent Swiss cheese (nothing neutral here) and sharp Rye flavors are all enhanced by a subtle presence of onion. It's the ultimate deli experience encapsulated in one lovely (in a ugly duckling to swan sort of way) muffin.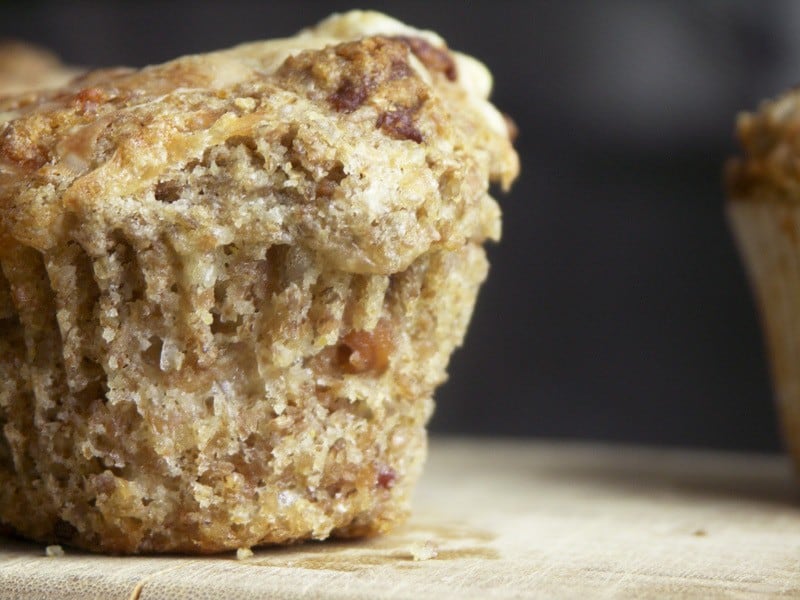 What can you serve with these muffins? Soup, salad, or nothing at all. While they make a wonderful companion to creamy and brothy soups, or dinner salads, they stand alone as a hearty snack or breakfast, too. They store well, wrapped, in the refrigerator and I would imagine they freeze well, too. There is a disclaimer, though; we've never had a batch last long enough to freeze. Mainly they vaporize within a day.
In the interest of science, though, I wrapped and hid three muffins in the back of the refrigerator for four days. Okay, the truth is I put three muffins in the fridge and ate one the next day. On the second day I ate another one. On the third day, my son broke his arm. On the fourth day, I ate that last one. It was still marvelous. It was, as I said, a highly scientific process.
One more look before we make them? Certainly.
For a printer friendly, photo-free version of this recipe, click here!
Bacon and Swiss Rye Muffins
Adapted from King Arthur Flour's Ham-and-Cheese Rye Muffins
Ingredients:
2 cups (7 1/2 ounces) whole rye flour (also known as pumpernickel flour)
3/4 cup (3 1/8 ounces) high-gluten flour (also known as bread flour)
2 1/2 teaspoons baking powder
1/2 teaspoon baking soda
1 teaspoon Kosher salt
3/4 teaspoon granulated onion
1 1/2 cups Swiss cheese, grated and divided
1 large egg
1 1/2 cups (12 fluid ounces) buttermilk (or 1 1/2 teaspoons cider vinegar in a measuring cup topped with enough milk to reach 1 1/2 cups)
1/2 cup (4 ounces by weight) melted unsalted butter
1/2 pound of bacon, sliced into thin strips and then cooked until crispy and drained on paper towels
Preheat the oven to 375°F.
Generously grease a muffin tin or line with papers that are sprayed with non-stick cooking spray. This may seem like overkill, but the cheese likes to stick. Greasing the papers or the tins will ensure that you don't have to gnaw crispy cheese bits from paper or a pan. I've done it. Trust me. In a big mixing bowl, whisk together the rye flour, high-gluten flour,  baking powder and soda, salt and granulated onion. Toss in 1 1/4 cups of the grated Swiss cheese to ensure it's coated with flour.
Whisk together the egg, buttermilk and melted butter in a separate bowl or large measuring cup. Pour into the flour mixture all at once and stir until it is evenly moist. Do not overmix. Gently stir in the crisp bacon.
Scoop the batter into the prepared pan. Since whole grain muffins do not rise as much as their non-whole grain counterparts, you can fill these tins or papers fairly full. You should get 12 muffins out of this batter.
Evenly divide the remaining 1/4 cup of Swiss cheese between the tops of the muffins and put the pan in the oven. Bake 25 minutes or until the cheese on top is toasty and deep golden brown and the muffins test done. (To test muffins, insert a skewer or toothpick into the center. If it comes out clean- with perhaps a little oil from the cheese or bacon but no clumps of batter- the muffins are done.)
Allow the muffins to cool in the pan for 5 minutes then turn them out on a rack to continue cooling. Or just eliminate that step and eat them immediately. I won't tell.