Disclosure: I am proud to present this recipe in partnership with the American Dairy Association and Dairy Council. The recipe and opinions remain my own.
Rhubarb Cheesecake Pie is a marvel of a dessert. It manages to marry my twin dessert obsessions -fruit pie and cheesecake- in one perfectly creamy, delightfully tart, easy-on-the-eyes package. Rhubarb Cheesecake Pie also holds the distinction of being my husband's favourite dessert from the first time I made it for him over 10 years ago to the present with no signs of his oath of fealty being broken any time soon. Rhubarb Cheesecake Pie starts with a simple crumb crust that is filled with a tart and sweet rhubarb vanilla filling covered by thin layer of cheesecake and topped with a smooth-as-silk tangy yogurt layer. It's summertime perfection, folks.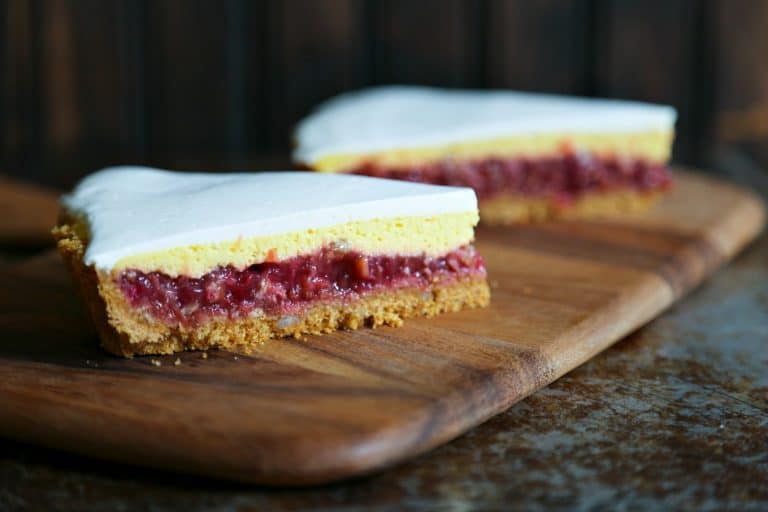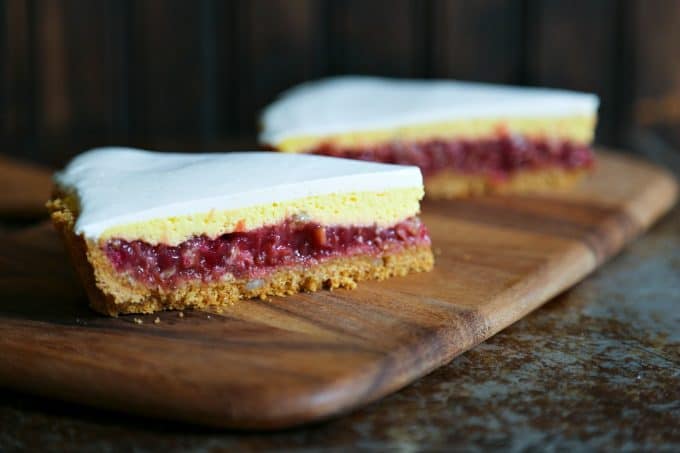 Rhubarb Cheesecake Pie is the ultimate dessert to celebrate my partnership with the American Dairy Association and Dairy Council -or ADADC- and National Dairy Month for so many reasons, not the least of which is that it puts the spotlight on not one, but two dairy power-houses; cream cheese and yogurt. Everyone knows cream cheese is loverly in a cheesecake, but yogurt? Let me tell you something kind of fun. Did you know New York is the top yogurt producing state in the country? We're so proud of that out here that yogurt is actually our state snack. Even though two of my kids work at a local dairy operation, I had no idea that New York is ranked 4th in the nation in dairy farming with more than 5,000 dairy farms in our state.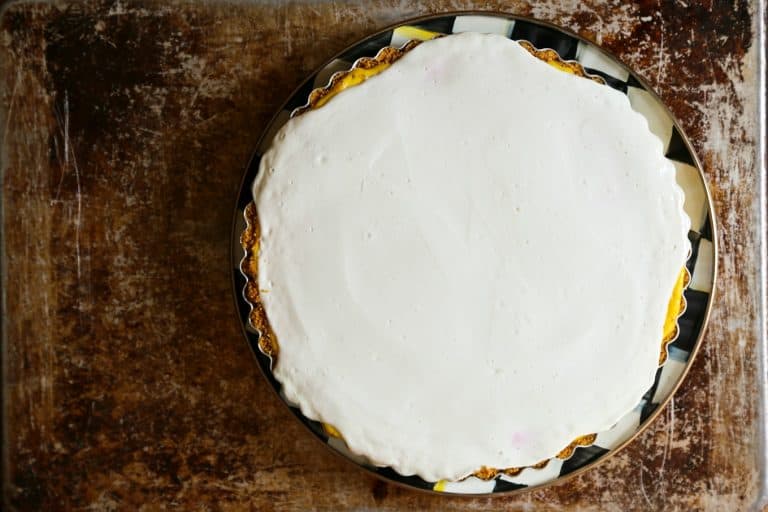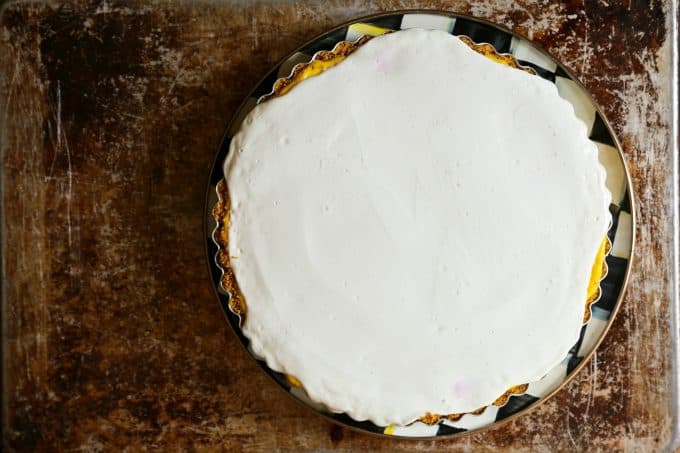 The truth is, even if my kids didn't work at a dairy farm, we'd be a major dairy eating family. Yogurt and slices of Cheddar cheese top our go-to snacks list. They always have and likely always will. Besides the facts that they're one of the easiest snacks to serve up and that all of my kids love them, you have to be impressed by the nutritional punch they pack. Nutritional guidelines tell us that 1 1/2 ounces of natural cheese and 6 to 8 ounces of yogurt each equal one serving of dairy. It's recommended that everyone eats two to three servings of dairy daily, so it looks like our snacks-du-choix set us up pretty well.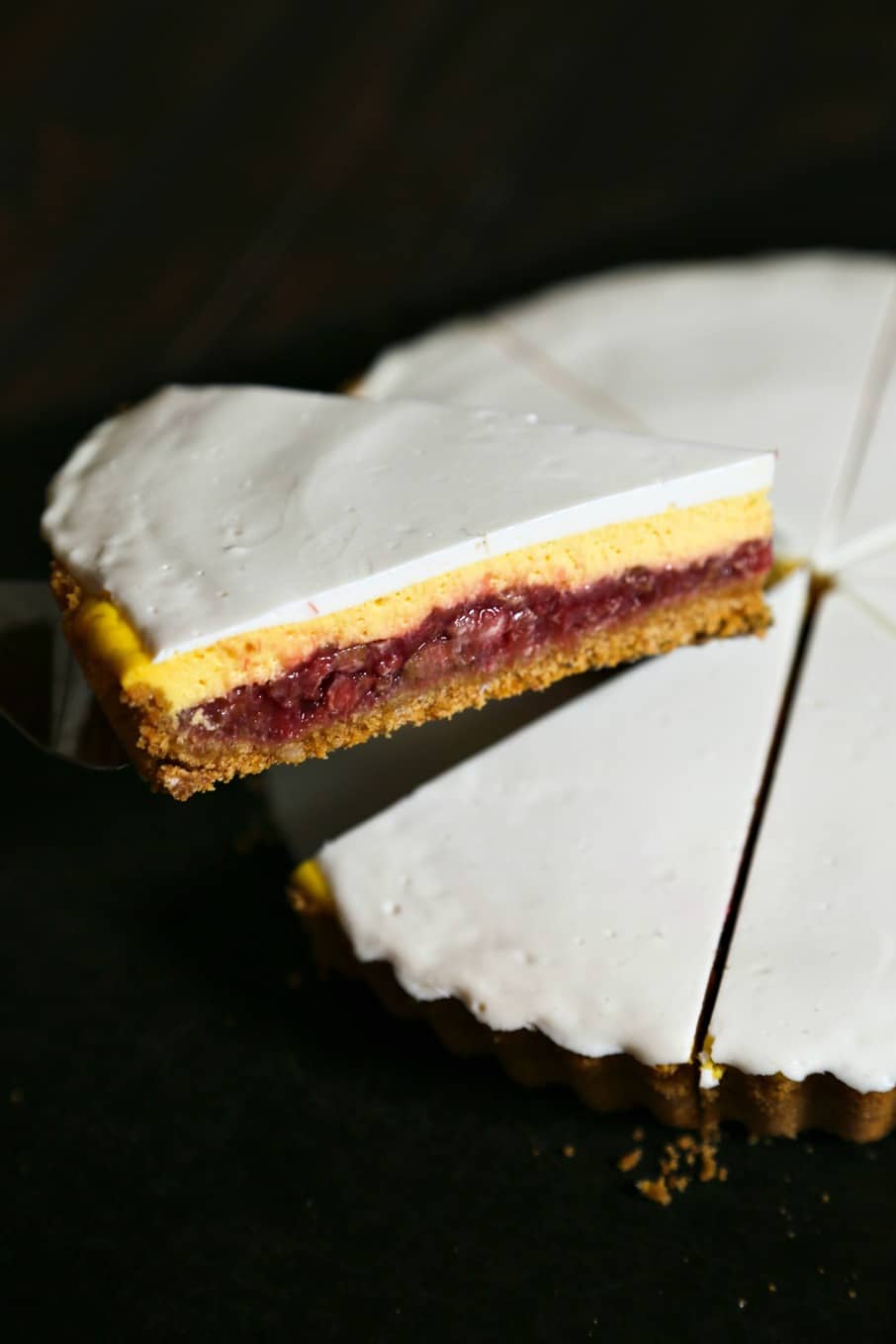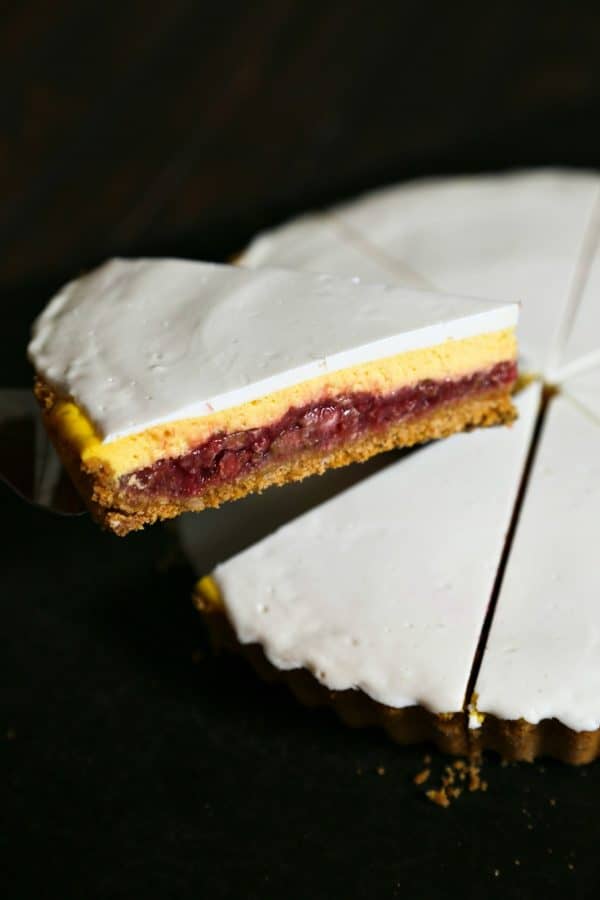 Shoot guys, if you take into account the nutritional guidelines and you slice this Rhubarb Cheesecake Pie into 8 generous portions, each slice of pie will give you one full serving of dairy. I call that a winning proposition. Pie for life, man. Pie for life.
 Cook's Notes
You have a couple of options for your pie. I prefer to use a removable bottom tart pan (9-inches) because I love the fluted edge and the ease of removal from the pan for presentation. I've also made it with standard pie plates when my removable bottom tart pan was otherwise occupied, and with springform pans. Each of them delivered a slightly different looking but equally delicious end product.
This crumb crust is easy-peasy. Don't be tempted to replace it with a purchased crust, because you're going to bake this homemade one off a few minutes before filling it with the goodies. I just don't know how a purchased crust would behave under the circumstances. If smashing the graham crackers is keeping you from making it, you can buy boxes of uniform crumbs in the baking aisle of the grocery store.
No vanilla beans? No problem. You can substitute another teaspoon of vanilla extract in the rhubarb filling. I confess, I do greatly prefer vanilla beans and the little brown flecked gorgeousness they impart to a dessert, but as long as you get the vanilla in there, you'll be a happy camper.
Easy does it as you spread the yogurt layer over the cheesecake layer. Your cheesecake should be set in the center, making it less fragile, but you still want to use a gentle hand to prevent tearing it up as you spread the yogurt to the edges of your pie.
When I say wait 'til that pie is cold through, I mean it. I know there are times when it's a-okay to dig in warm, but this pie deserves your patience and will reward you richly with perfection if you do wait. Hyperbole? Oh, probably. Still, just do yourself a favour and wait.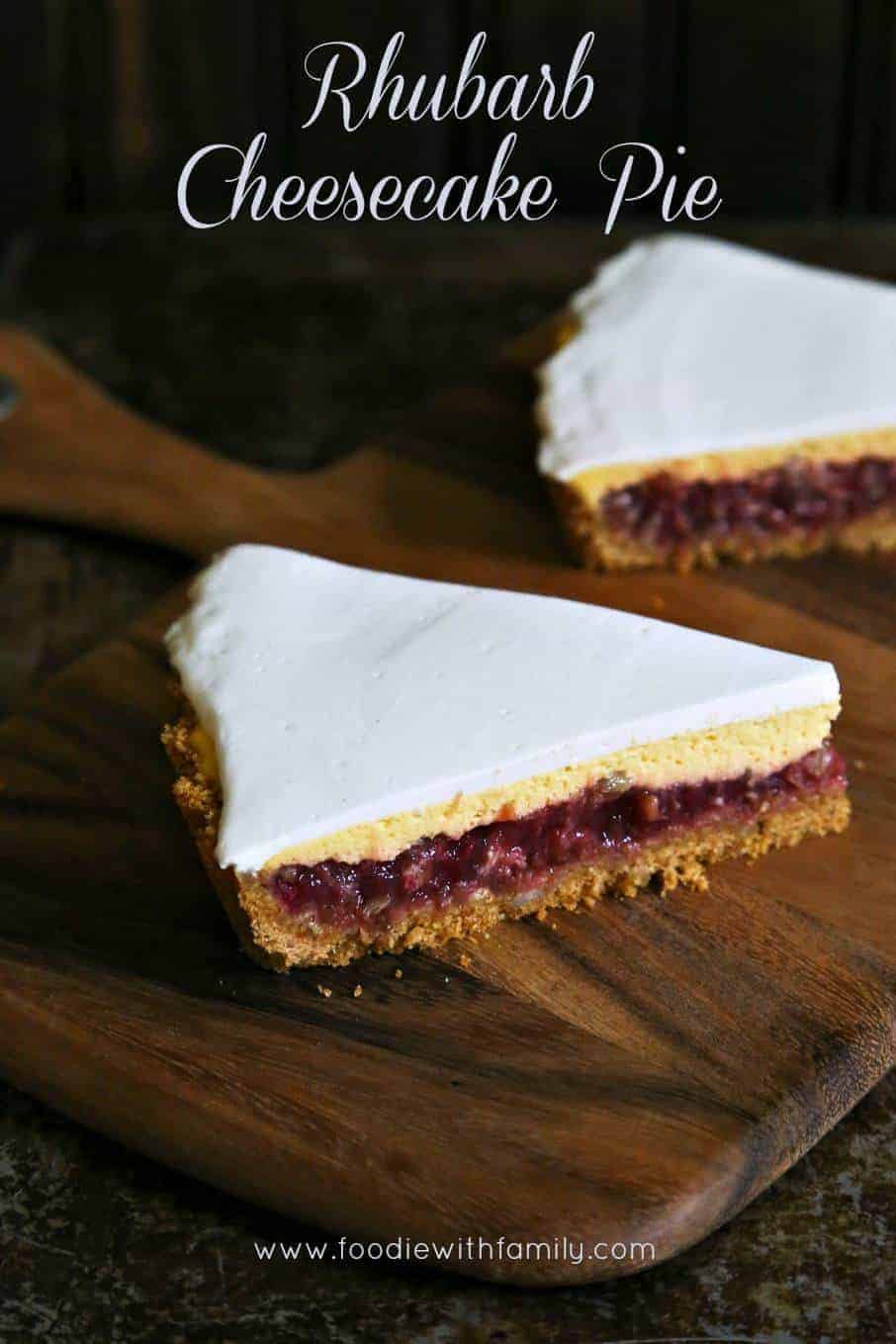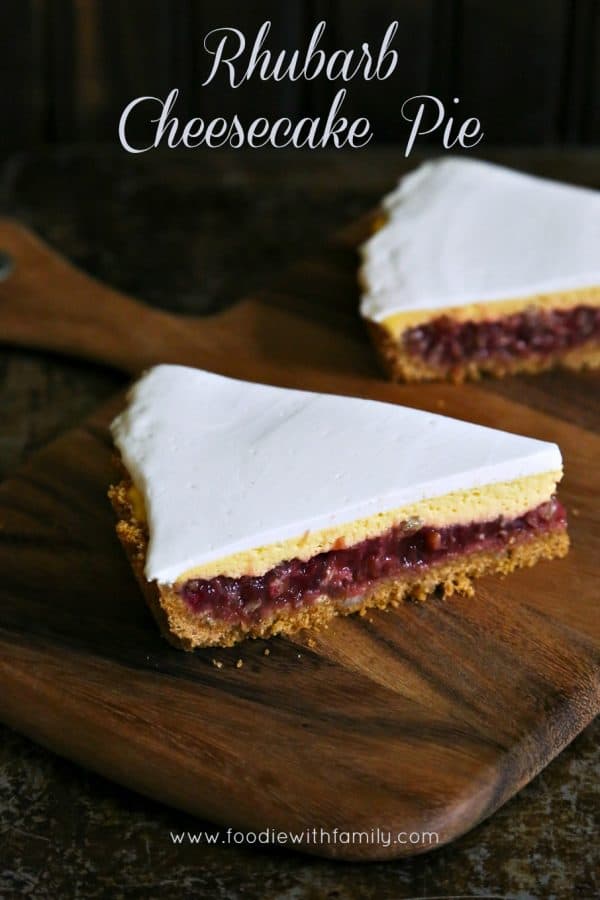 Connect with Foodie with Family
facebook | pinterest | instagram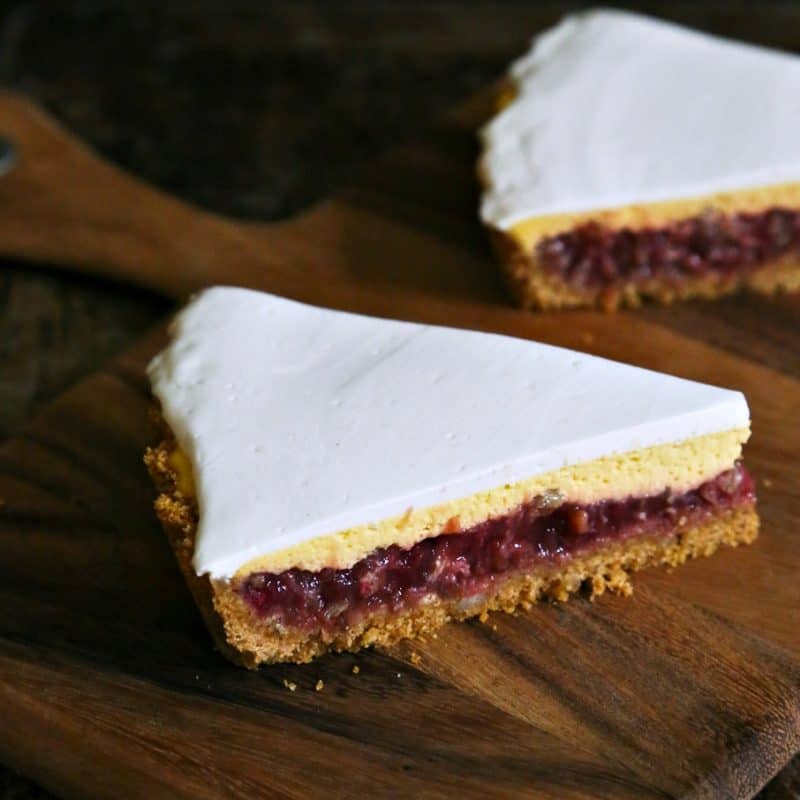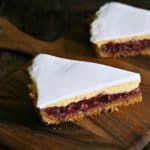 Print
Rhubarb Cheesecake Pie
Ingredients
For the Rhubarb Filling:
3/4

cup

sugar

3

tablespoons

cornstarch

1

tablespoon

orange juice

4

cups

diced rhubarb

about 1 pound, give or take a stalk

1/2

of a vanilla bean

split again in half lengthwise, seeds scraped
For the Crumb Crust:
1/4

cup

melted butter

1/4

cup

sugar

1 1/4

cups

fine graham cracker crumbs
For the Cheesecake Layer:
1

package cream cheese

8 ounces, regular or 1/3 less fat, softened to room temperature

2

large eggs

1

teaspoon

pure vanilla extract

2

tablespoons

sugar
For the Yogurt Layer:
1

cup

plain Greek yogurt

2

tablespoons

sugar
Instructions
Prepare the Rhubarb Filling:
Whisk the sugar and cornstarch together in a 2 quart saucepan until the cornstarch is evenly distributed throughout the sugar. Add the rhubarb and orange juice and toss gently until everything is evenly combined and there are no dry pockets of the sugar mixture. Place the pan over medium heat, stirring constantly until the sugar dissolves and forms a syrup. Continue cooking and stirring until it reaches boiling and becomes quite thick. Cover the pan and set aside.
Prepare the Crumb Crust:
Toss together all of the ingredients for the crumb crust. Press evenly across the bottom and up the sides of a standard pie plate or a removable bottom 9-inch tart pan. Set the pie plate or tart pan on a rimmed baking sheet. Bake for 8 minutes.
Prepare the Cheesecake Layer:
While the crumb crust bakes, add the cream cheese, eggs, vanilla, and 2 tablespoons of sugar to the bowl of a food processor fitted with a metal blade. Process until smooth, scraping down the sides as needed. If you do not have a food processor, you can use a blender, stand mixer, or mixing bowl with a hand mixer to blend the ingredients together.
Prepare the Yogurt Layer:
Whisk or use a fork to blend together the yogurt and sugar. Set aside.
To Make the Rhubarb Cheesecake Pie:
Fish the vanilla bean halves from the rhubarb filling. Gently spread the rhubarb filling over the bottom of the crumb crust. Pour the cheesecake filling over the rhubarb filling and carefully transfer the pan to the oven. Bake for 20 minutes, or until the cheesecake layer appears to be set in the center. Take the pie from the oven and gently spread the yogurt filling evenly over the top. Return the pie to the oven and bake 10 minutes longer. Remove the pan from the oven, cool for 30 minutes on a cooling rack, then transfer to the refrigerator and chill for at least 6 hours, or until the pie is cold all the way through. This pie is wonderful made in advance, holding up well for 3 days.
Be sure to check out the other New York bloggers celebrating ADADC and National Dairy Month. They have some seriously mouthwatering recipes to share with you.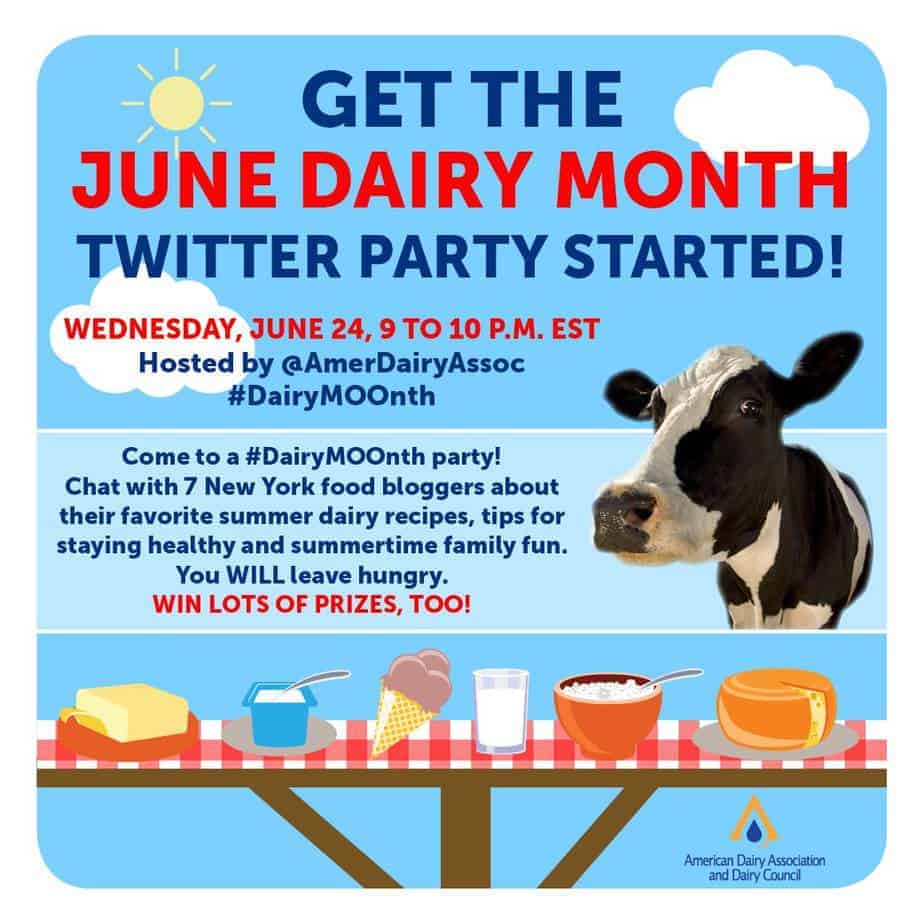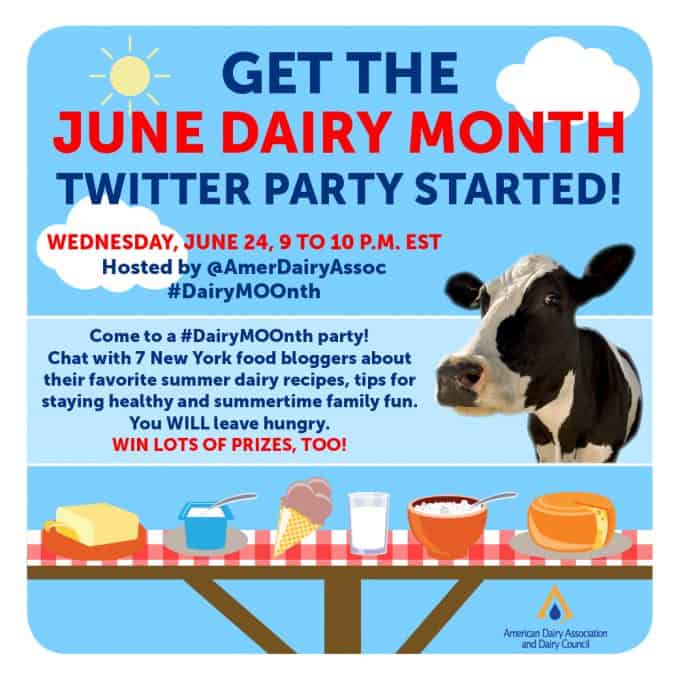 And mercy, we have more fun to share. Join those me and fabulous bloggers listed above along with the American Dairy Association and Dairy Council for a twitter party on June 24th from 9 to 10PM EST as we chat about our best loved dairy snacks, summertime family fun hacks, and staying healthy!
Would you like to get a look at how a dairy farm looks? Meet, Kendra Lamb, a dairy farmer at Lamb Farms, just outside of Buffalo, New York, who shares what it's like to grow up and live on a dairy farm and how milk produced by her 4,200 cows is used to make yogurt for New York City schools.