This is the story of a dessert that shouldn't have turned out. It should've been an abject failure, but instead, it turned into a giant kitchen redemption tale and an awfully wonderful Mother's Day treat. It is the tale of Brown Sugar Strawberries and Cream Tartlets.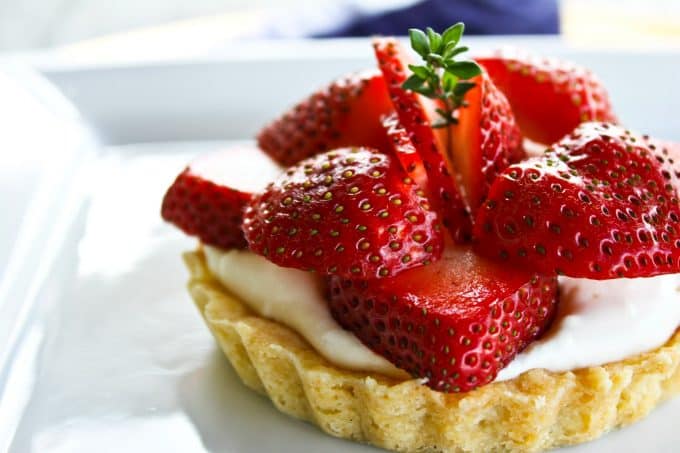 It started out with a beautiful recipe. One posted many moons ago by Evil Chef Mom. It had turned out perfectly for her and many other accomplished home cooks, so why shouldn't it have turned out?
Because I failed to follow instructions. Big time. It all started at the grocery store… While shopping, I grabbed a flat of strawberries and sallied forth further into the store to complete my task, confident that I remembered how to make her "Browned Butter Strawberry Mascarpone Tart". Mistake #1. I had the name totally wrong. Hers were "Brown Sugar Strawberry Tart". Mistake #2: the recipe didn't call for mascarpone at all. Anywhere. What it *did* call for, I will get to in a bit.
You may or may not know that when a recipe calls for mascarpone, I make my own. So since I mistakenly believed the recipe called for mascarpone, I decided to buy the cream to make my own mascarpone. Enter the second half of that mistake. I bought heavy cream instead of light cream or half and half. Mascarpone and Crème Fraîche are both made with light cream. But again, I didn't realize this until later.
How much later? I didn't realize it until I was home, groceries were put away and I had already cultured my cream. "Oh well, no biggie…" said I to myself as I put my newly minted Crème Fraîche into the refrigerator on Saturday afternoon*. At least until I got to the next royal screw-up on Sunday morning.
*Normally, to turn crème fraîche into a quick mascarpone, you simply drain the crème fraîche in super fine cheesecloth for a couple hours. However, this was so thick -owing to the fact that I had cultured HEAVY cream- that it didn't need to be drained to be mascarpone. This was great news until…
Sunday morning, I finally looked at the recipe over at Evil Chef Mom. The lightbulb that had hovered happily over my head since my Friday shopping trip blew its element. Dang. I was so wrong. So the recipe didn't call for browned butter. That wasn't the problem since I hadn't browned it yet anyway. The problems were that I had a quart of mascarpone instead of crème fraîche and no heavy cream as called for in the recipe because I had cultured all of mine. I knew the heavy cream (which I didn't have) she specified was crucial because as it was whipped into the crème fraîche (which I also didn't have) it helped thicken up the cream filling. And the cultured heavy cream/mascarpone creation in my refrigerator wouldn't whip up thick since it was already cultured. I'm nothing if not optimistic, so I mulled over my options.
I opened the refrigerator and looked around. My lightbulb started flickering again when I looked at the neufchâtel cheese (also known, horribly, as 1/3 Less Fat Cream Cheese!) on my shelf. Then the lightbulb threw out a massive beam. I could save this yet. I whipped eight ounces of neufchâtel in my mixer, added the mascarpone and some half and half and adjusted the sweetness and amount of vanilla accordingly. Voilà and ta da! A creamy, thick-enough-to-pile-into-a-tart-shell-and-top-with-berries filling!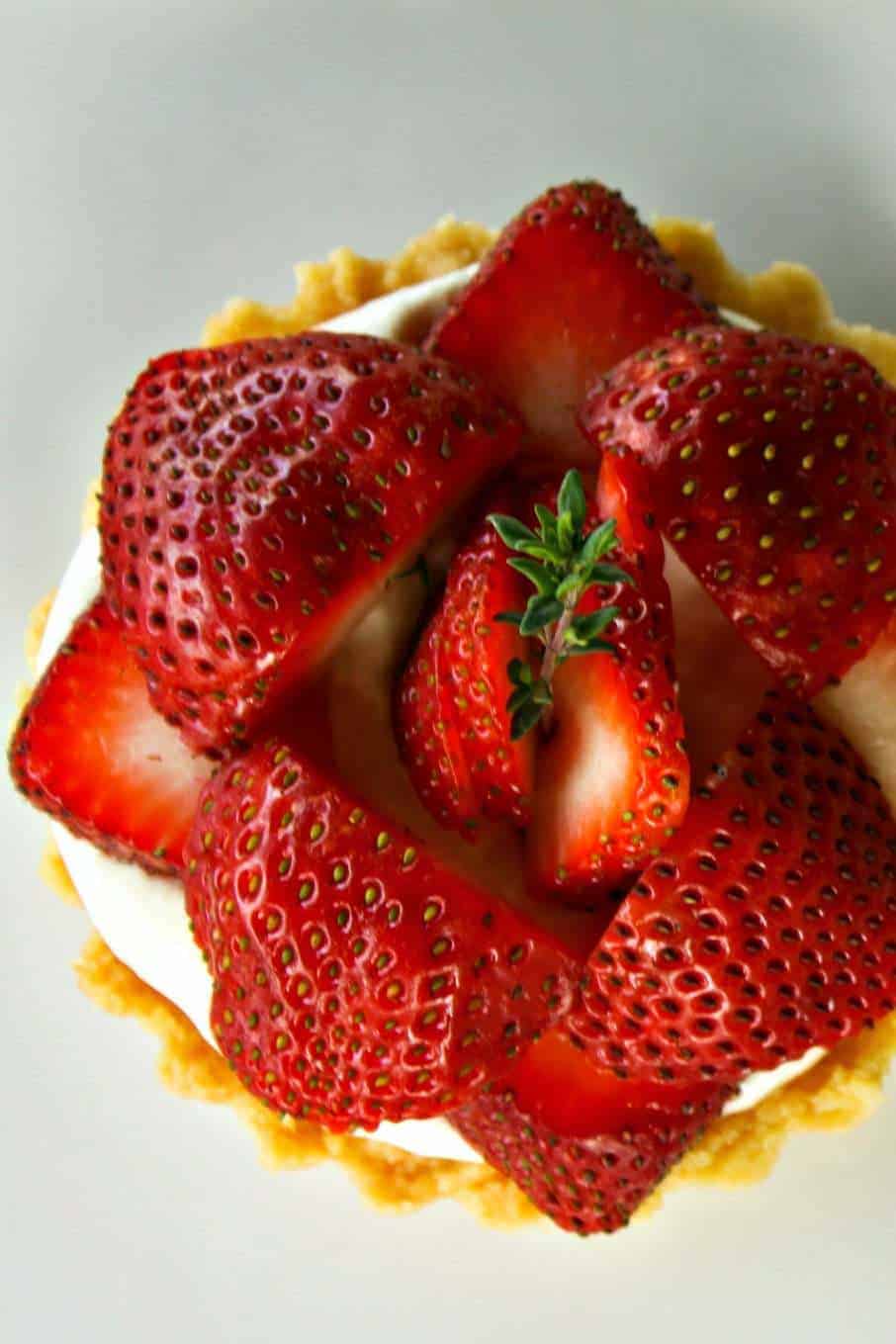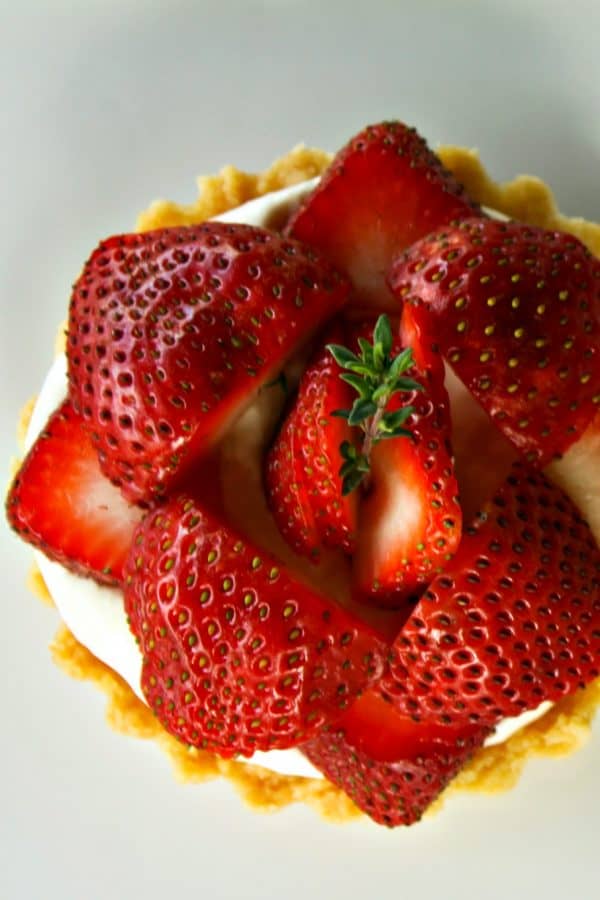 It wasn't just okay. It wasn't just passable. It was outstanding. The brown sugar shortbread tart shells were the perfect vehicle for the creamy, fluffy, slightly sweet and ever so slightly tangy mascarpone filling. But when topped with those fresh, fragrant, sweet,  bursting with flavour strawberries? It went to another level of heaven entirely. It was bliss.
A small sprig of English thyme graced the top of each mini-tart. It was the crown on this royal dessert. The herbal green not only looked lovely against the vibrant, red strawberries, but the light perfume it lent the dessert was a special, unexpectedly delicious touch.
So yeah. I botched it royally and made something completely different, but wow. What a beautiful mistake. What should've been a disaster is now firmly on the "repeat often" dessert short list. The next time I mess this up, it'll be on purpose.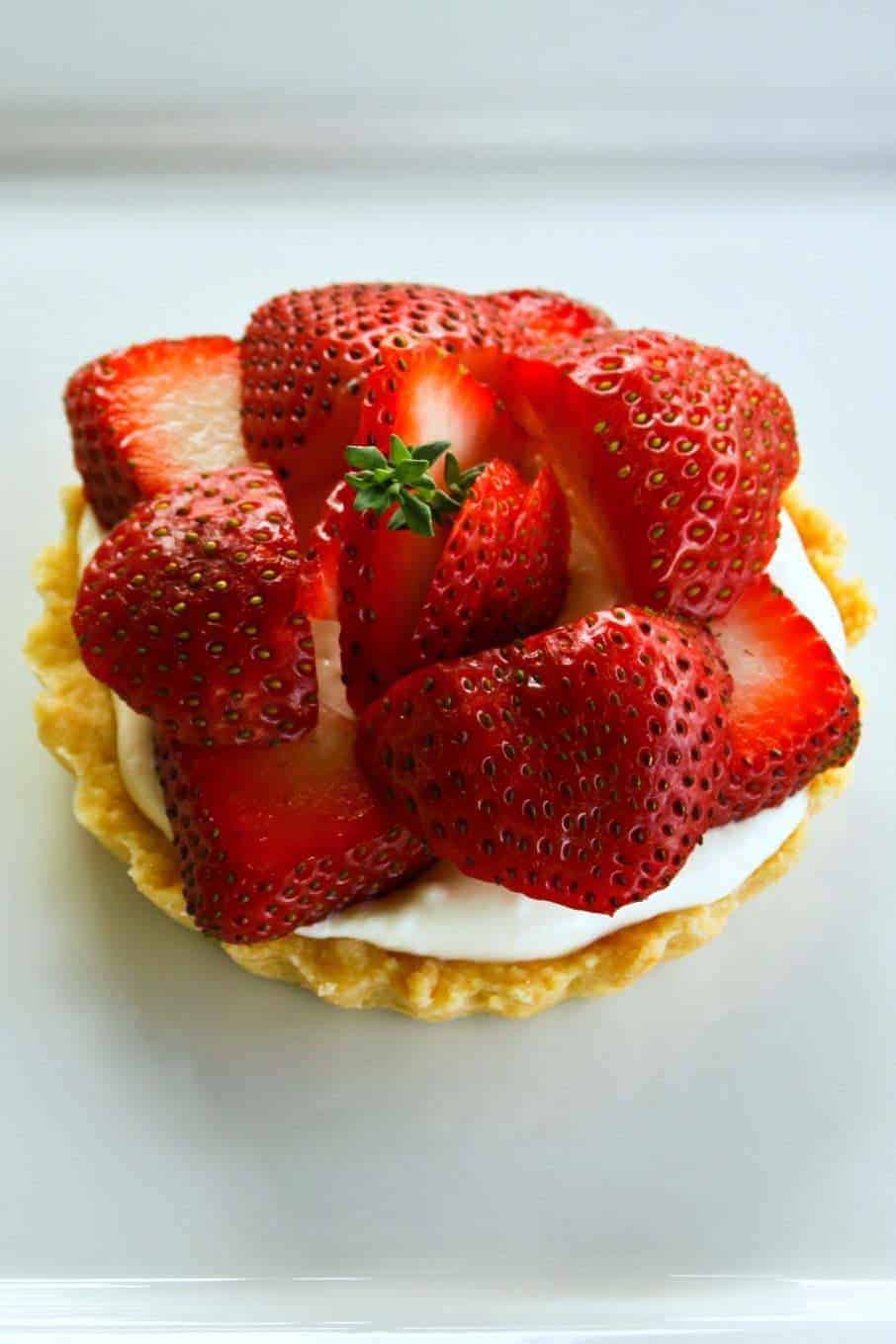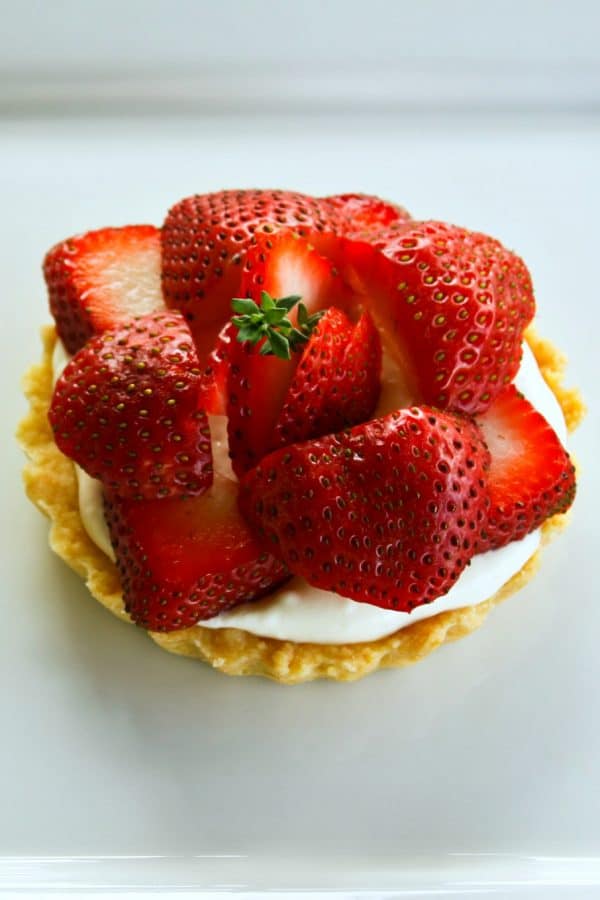 Cook's Notes
If time is tight, you can use pre-made mini tart or pie shells. The homemade butter version is sublime, but if that's the difference between making these and not, well? Use the pre-made ones.
I get a kick out of making my own mascarpone and whatnot, but that is strictly optional. While it is significantly cheaper to make your own, purchased mascarpone will work marvelously here.
This is a job for fresh strawberries. Frozen ones just won't have the right look or texture for Brown Sugar Strawberries and Cream Tartlets.
You can, as noted in the recipe, use one large tart pan instead of nine miniature ones. If you opt to do that, simply arrange the strawberries in alternating circles of cut sides up and down for visual appeal. You can scatter minced thyme over the top prior to serving or top each slice with a small sprig.
Connect with Foodie with Family
facebook | pinterest | instagram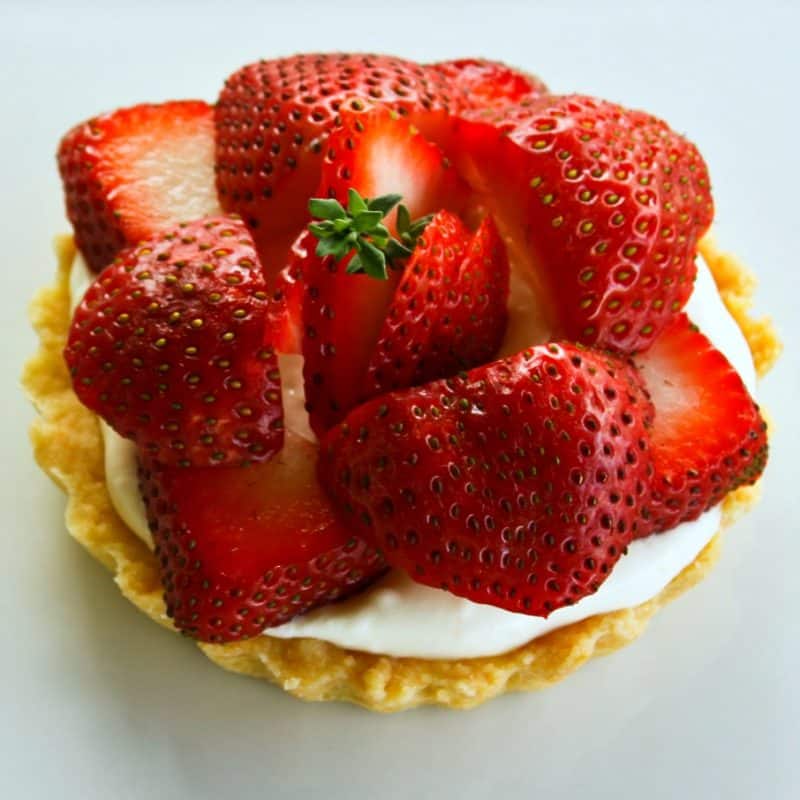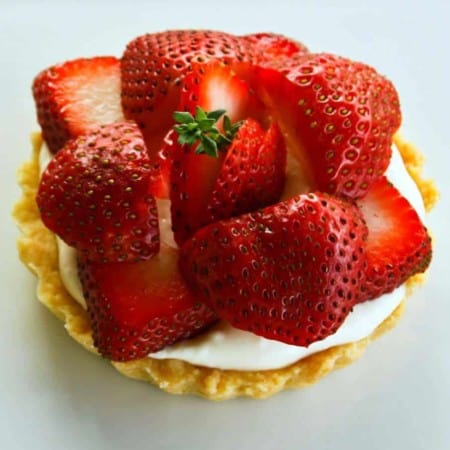 Brown Sugar Strawberries and Cream Tartlets
Rate Recipe
Brown sugar shortbread tart shells are the perfect vehicle for the creamy, fluffy, slightly sweet and ever so slightly tangy mascarpone filling topped with bursting-with-flavour strawberries and a touch of fresh thyme. Adapted from
Evil Chef Mom.
Ingredients
Ingredients for the tart shells:
1

cup

all-purpose flour

2

tablespoons

light brown sugar

firmly packed

1

tablespoon

corn starch

1/8

teaspoon

kosher salt

1/2

cup

well-chilled butter

cut into small pieces

1/2

teaspoon

vanilla extract
Ingredients for filling:
8

ounces

softened Neufchatel cheese

1

cup

mascarpone

8 ounces

1

cup

half and half

8 ounces

3

tablespoons

light brown sugar

firmly packed

1/2

teaspoon

vanilla extract
For topping
1

pound

fresh strawberries

about 1 quart, hulled and sliced. If you are making mini tarts, each tart requires about 3 berries.

Optional: 1 small sprig of fresh thyme per tart.
Instructions
Preheat oven to 350°F.

Spray 9 mini tart pans (with removable bottoms) ~or 1 [9-inch] large tart pan with a removable bottom~ with nonstick cooking spray and place on a rimmed baking sheet.

Using a food processor fitted with a blade, pulse together the flour, brown sugar, salt and cornstarch until evenly combined. Add the pieces of butter and vanilla extract to the food processor and pulse until you have very finely textured crumbs that hold together like a dough when you squeeze a small handful.

Divide the mixture between the tart pans and press evenly over the bottom and up the sides, taking care to firmly press the sides so it holds together. Shake off any excess crumbs.

Place baking sheet in the oven and bake for 15-20 minutes, or until the edges are golden. (If using one large tart pan, bake closer to 22 minutes.) Transfer the tart pans to a cooling rack to cool completely.

When tart shells are fully cooled, carefully push the bottom up through the tart pan, removing the cooked shell from the pan. If the shells seem sturdy, you can try to remove the bases as well, but if they're even the littlest bit crumbly, leave them on the bases. Set the removed tart shells on a rimmed platter or baking sheet.

Beat the softened neufchatel cheese on medium-high speed (in a stand mixer fitted with the whisk attachment or with a hand mixer) until it is smooth and creamy. Scrape down the sides of the bowl and add the mascarpone, half and half, brown sugar and vanilla. With the mixer on medium, blend, scraping the side of the bowl at least twice, until the mixture is smooth and even. Scoop the cream filling into the tart shells, mounding slightly.

Arrange a circle of strawberries, cut side up, around the edge of the tart. Follow this inside with slightly smaller, overlapping circle of strawberries, cut side down. Complete the topping with a couple slices of strawberries arranged in the center. Cover loosely with plastic wrap and chill for at least 2 hours prior to serving.

If desired, top each tart with a small sprig of fresh thyme just before serving.
Nutritional information is an estimate and provided to you as a courtesy. You should calculate the nutritional information with the actual ingredients used in your recipe using your preferred nutrition calculator.
This post was originally published May 9, 2011.