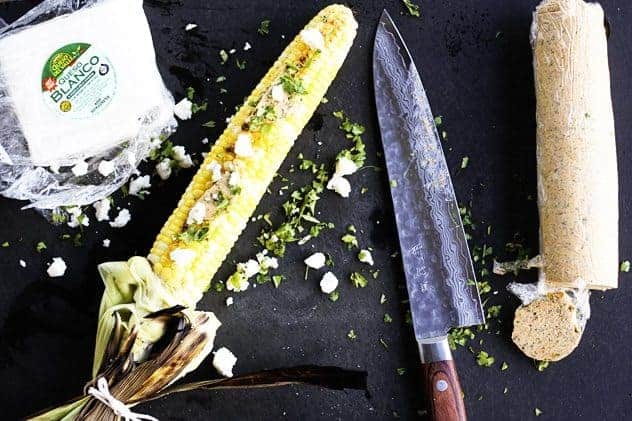 Last week, I had the opportunity to travel to Oregon to join a fabulous group of fellow bloggers in a tour of the Medford, Oregon area sponsored by Harry and David. It was an incredible trip filled with great food and great wine, respect and wonder for what Harry and David does as a company and how they do it (more on this and the trip in a subsequent post), and fantastic friends.
Just look at these gorgeous ladies and Matt who is not a lady but a talented and enthusiastic horticulturalist. Hi, Matt!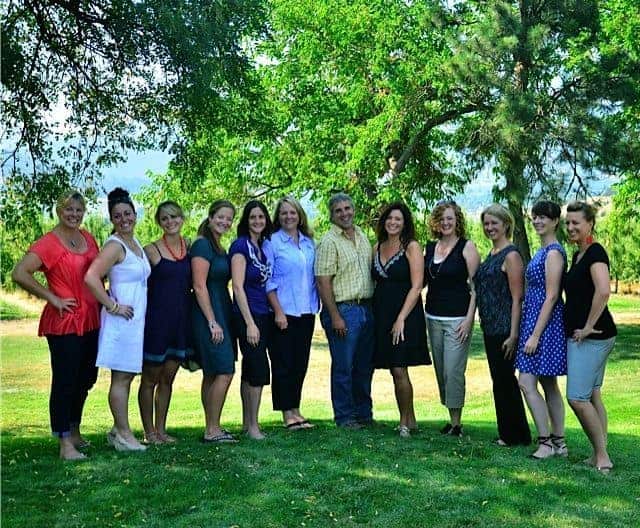 I'm telling you, I tried valiantly to figure out how to take all of them home with me. Lori, Jessica, Jenna, Rachel, Maria, Amy, Matt, Sandy– who helped pull this stupendous weekend together (see her posts about it here and here), Bridget, Kristen, me, and Heidi had a wonderful time reconnecting (in some cases) and finally meeting in real life (in other cases.) I'm taking away an obsession with Harry and David peaches and pears, Rogue creamery cheese, the entire state of Oregon (again, this is another cup of coffee. It's coming on another post.) and the company of all those fabulous bloggers with whom I was privileged to spend time. Talk about an inspiring and motivational group of people!
As I drove home from the airport on Saturday, I was so glad to see sweet corn signs had popped up all over the local roadsides. I pulled into my favourite stand (Hi, Mrs. Morton!), grabbed three dozen ears (WHAT?!? You don't go a little nuts over the first sweet corn of the year?), and drove hell for leather to get home and squash the tar out of my menfolk (who apparently didn't miss me all that much since my darlink little sister was way more fun that mommy. Folks, she helped the boys catch CRAYFISH to COOK and put in their macaroni and SMOKED cheese. ) and fire up the grill.
Yes. I said fire up the grill.
I know cooler corn is all the rage now, and if anyone could justify pouring buckets of boiling water into a cooler and cooking massive amounts of corn it'd be me. Truth is, though, I tried it (the cooler corn, that is) and wasn't in love with the process. It took too long, the idea of pouring boiling water into plastic didn't really ding my chimes, and I just plain love the flavour of roasted corn. Stick with what you love, right? Especially when we're talking corn. Oh corn.
I do love you.
Madly.
Grilling it somehow magnifies the, how to say, corniness of corn. You know, the sweetness, the freshness, the pure summer of the experience; it's all made bigger by the application of fire rather than water. It is so good.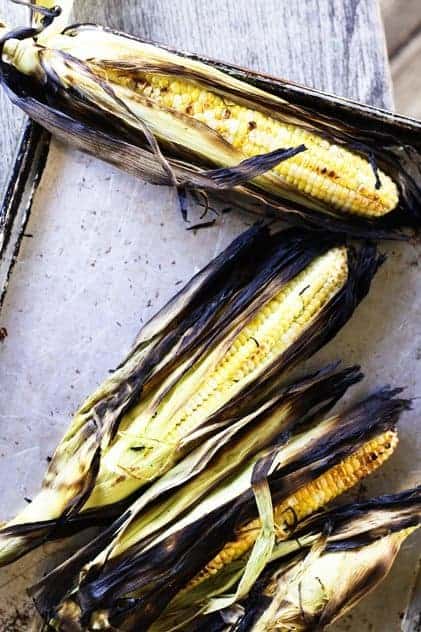 While eating it with obscene amounts of plain butter and salt is my usual method, I do so love dressing it up Mexican style with one of my favourite things: Chipotle Cilantro Lime Butter. This is the bees-knees, friends; smokey and spicy butter with the freshness of lime, studded with little emerald bits of cilantro to wake everything up. Here's the beautiful thing- you whip up a batch of the butter, shape it into a log, roll it up in plastic wrap and store it in the freezer where you can store it for three months, lobbing off little pats of this butter to put on grilled chicken, fish, pork, corn or whatever floats your culinary boat.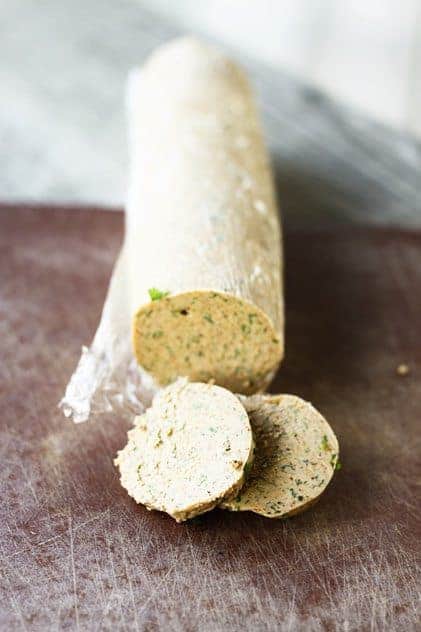 Imagine this dripping down a freshly grilled ear of corn and onto your fingers. You know you'd better lick that off. It's a sin to waste.
And gild the lily while you're at it with a fistful of crumbled Queso blanco and a shower of freshly chopped cilantro. Mmmm.
I hate the heat, but I love summer for the corn. Now, if you'll pardon me, I'm off to the farm stand for another three dozen. Summer only lasts so long here. I must take advantage of it!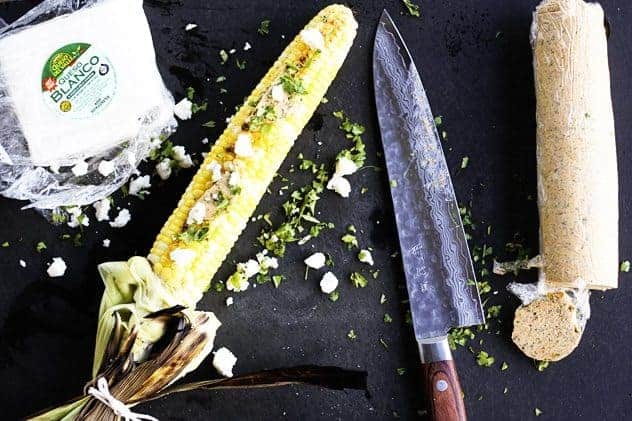 Chipotle Cilantro Lime Butter and Mexican Grilled Corn | Make Ahead Mondays
Rate Recipe
Spicy, smoky, lime laced chipotle butter is studded with bright green flecks of cilantro to wake everything up. Store in the freezer for up to three months. Serve on grilled fish, chicken, pork or on grilled or roasted sweet corn.
Ingredients
For the Chipotle Cilantro Lime Butter:
2

sticks

1/2 of a pound salted butter, softened to room temperature

the juice and zest of one lime

1

tablespoon

dried ground chipotle chiles

1/2

teaspoon

kosher salt

3-4

grinds of fresh black pepper

1/4-1/2

cup

minced fresh cilantro

depending on how strong you like the flavour
For the Mexican Grilled Corn:
Unshucked sweet corn

as many ears as you'd like

1

tablespoon

crumbled Queso Blanco or Chihuahua Cheese per ear

minced fresh cilantro

to taste
Instructions
To Make the Chipotle Cilantro Lime Butter:
Add the unwrapped, softened butter, juice and zest of lime, ground chipotle, salt and black pepper to the bowl of a stand mixer fitted with the whisk attachment (or a large mixing bowl with an electric hand mixer). Whip on high for 1-2 minutes, stopping to scrape down the sides of the bowl occasionally. When it is thoroughly and evenly mixed, add in the minced cilantro and mix again for about 30 seconds or until the cilantro is evenly distributed.

Lay a 12-inch long piece of plastic wrap on the counter.

Use a silicone spatula to scrape the whisk attachment clean. Scrape the butter onto the plastic wrap in a rough log shape. Fold one long edge over the butter and use it to help you shape into a cohesive, even log. Roll the butter log along the countertop, wrapping tightly in plastic wrap and evening up the shape as you go. Pat the ends even and twist the plastic wrap on the ends. Put the tightly wrapped butter log on a plate in the freezer until firm through, then transfer the wrapped butter log into a zipper top plastic bag. Cut off pats as needed and return what remains to the zipper top bag in the freezer, storing the remainder in the freezer for up to 3 months.
For the Mexican Grilled Corn:
Preheat a gas grill on low heat. (Or start a small bed of coals in a charcoal grill. When the coals are completely covered in ash, pile over to one side, leaving most of the grill under indirect heat.

Carefully peel the husks back from the corn (keeping intact). Remove the silk and fold the husks back up over the ears. Lay the ears of corn evenly over the grill (if using charcoal, be sure to leave the area immediately above the coals free of ears of corn.) Grill with the lid closed for about 30 minutes- 45 minutes, turning and changing the ears' positions about every 5-7 minutes

When the corn is finished, transfer to a rimmed baking sheet.
To Serve:
Shuck each ear of corn and top with pats of Chipotle Cilantro Lime Butter, about 1 tablespoon of crumbled Queso Blanco or Chihuahua cheese and a shower of minced cilantro. Let the butter melt and dribble down the corn and serve immediately. Make sure you wash your hands before eating so you can lick your fingers to get every last bit of that wonderful butter.
Nutritional information is an estimate and provided to you as a courtesy. You should calculate the nutritional information with the actual ingredients used in your recipe using your preferred nutrition calculator.