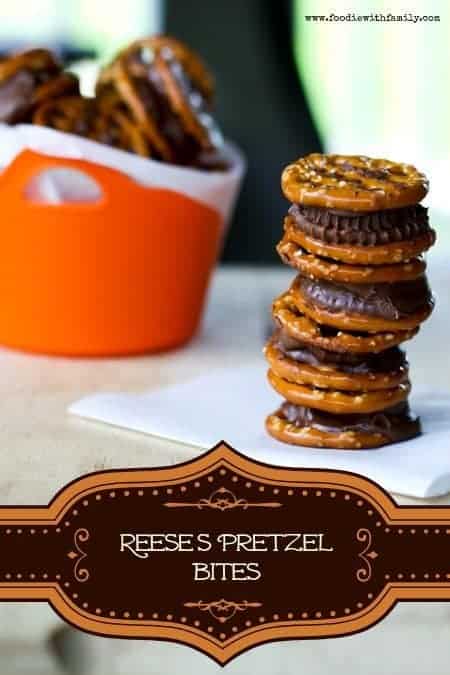 My father is obsessed -OBSESSED, I TELL YOU- with peanut butter. When we chat on the phone before visits, I ask what he'd like to eat while he's chez us. His response is almost infallibly "Peanut butter ____" because honestly, as long as the peanut butter part is there, my dad is a happy man.
There's one other food thing that is always sure to please my pater familias: pretzels. He likes all pretzels equally. There are no pretzels left behind.
My dad agreed to keep an eye on the boys (that's five of them. He offered to watch all five of them on their own home turf!) while my hubby and I make like a tree and leaf for fun trip to the Martha's Vineyard Food & Wine Festival in a couple of weeks, where we will be wined and dined and generally act like adults. In other words, my dad deserves a treat and a big one at that.
Today's recipe is what will await my dad in large quantities when he arrives. Shhh… I'm not saying a thing! This will test how thoroughly my dad reads my blog.
The recipe is almost ridiculously simple.
Lay a piece of parchment down, spread a bunch of waffle pretzels on the parchment, top each waffle pretzel with a mini Reese's Peanut Butter Cup.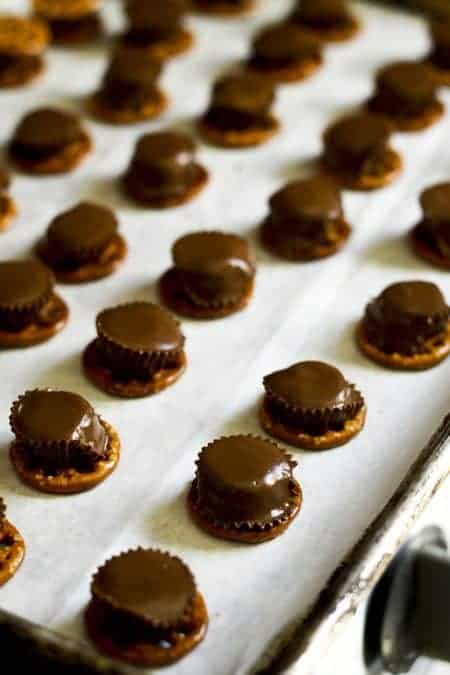 Now pop it in a hot oven for just a minute. No longer! The goal is just to make the peanut butter cups slump a little and not to melt them completely.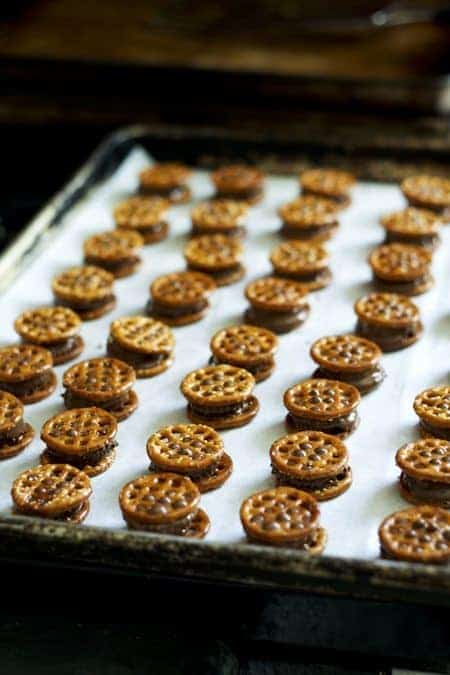 All that's left at that point is to drop another pretzel on top and squish it gently to stick the salty pretzels into the sweet melted chocolate and peanut butter. Okay, that's a lie, you also have to let it cool completely so the chocolate sets back up. That's kind of crucial. If you don't you'll end up with a face and hands covered in melted chocolate. This is the voice of experience talking, friends.
Yes, this is dead simple, but keep in mind that I'll have to beat the boys away from the container with sticks and chains to keep them out of it before Papa gets here. That ups the difficulty level a bit. I figure that might make up for the number of times he's sure to hear my emergent reader render "Green Eggs and Ham" and the hunters' safety course field day he will be attending with my enthusiastic eleven-year-old.
I must tell you these are addictive -I am my dad's daughter, after all- and you may want to make more than one baking sheet full of them. You may be surprised at just how quickly these peanut buttery, chocolatey, two-bite dreams disappear. These are a salty, sweet lover's dream! So grab a bag or two each of Miniature Reese's Peanut Butter Cups and either round or square waffle pretzels and whip up a batch of these goodies to share -or not- with the people you love best!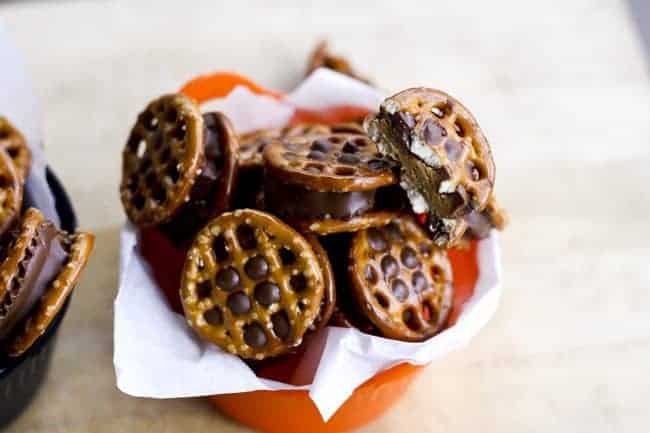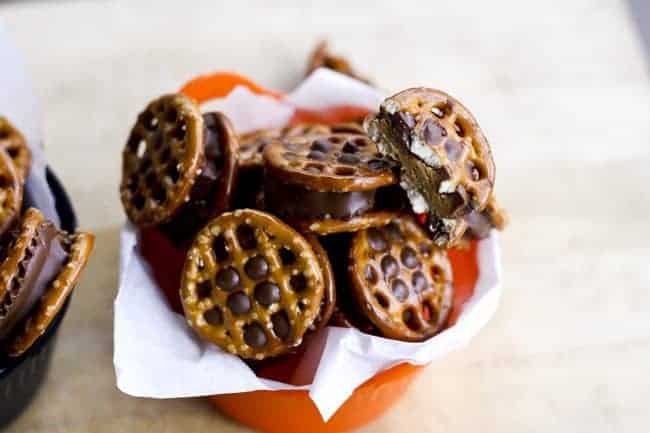 Just two ingredients- Reese's Peanut Butter Cups and waffle pretzels- are needed to create this salty, sweet lover's dream! What goes better with peanut butter and chocolate than pretzels? Grab a bag or two each of Miniature Reese's Peanut Butter Cups and waffle pretzels and whip up a batch of these goodies to share -or not- with the people you love best!
Ingredients
Miniature Reese's Peanut Butter Cups

as many as you'd like, unwrapped completely

Round or square waffle pretzels

Two per peanut butter cup

Parchment paper
Instructions
Preheat oven to 350°F.

Line a baking sheet with parchment paper. Arrange waffle pretzels over the parchment. Top each waffle pretzel with one unwrapped Miniature Reese's Peanut Butter Cup. Place tray in the preheated oven for JUST 1 MINUTE. The chocolate will look glossy and the edges may be a little slumpy. Remove the tray from the oven, immediately top each stack with another pretzel and gently push down until the chocolate rises up through the waffle holes in the top pretzel. Let it cool and set up completely before transferring to an airtight container. Store at room temperature for up to 5 days. I can't tell you whether they last beyond that point because we've never had them last longer than that!
Nutritional information is an estimate and provided to you as a courtesy. You should calculate the nutritional information with the actual ingredients used in your recipe using your preferred nutrition calculator.