Can you think of many foods that are more comforting than a big, brown, juicy, fragrant beef pot roast? I can't conjure up even one time in my life when I haven't eagerly awaited or at least been pleased to see a pot roast. It is -simply put- a powerful dish.
There is something in the time it takes to make it; while it is simple to create, it is most definitely not fast food. It feels luxurious in our hurry to sit down to something that cooked for hours not minutes.
Don't we all need this from time to time?
I surely do.
The hands-on investment is negligible. You spend about fifteen minutes browning the roast, peeling and cutting the carrots into chunks, lobbing the little potatoes in half, peeling the garlic, and smashing the ginger. The rest of the time is spent waiting.
…Ah, the waiting.
What you do with that time is up to you, but I prefer to stay close by, taking in the heady scent of garlic and ginger and beef. It's a sweet torture knowing that the smells that are making me salivate are going to be mine before too long. Maybe I read a book. Maybe I fold some laundry. Can I talk myself into waiting to eat? It's almost too much, but yes. Who wants to ruin that dinner with overactive snacking?
Today's pot roast is my default favourite with a mild, Asian flavour profile: ginger, garlic, fish or soy sauce plus the good old pot roast stand-bys of potatoes and carrots. Onions wedges are swapped out for long green onions. When I serve this roast, I most often thicken the sauces ever so slightly with cornstarch. This epic meal starts with a base of noodles or rice followed by a scoop of those lovely vegetables that soaked in the beef broth and juices and finished with a slice or two of meltingly tender beef and a drizzle of the pan sauce.
With leaves swirling and our lives speeding toward the cold months, can you deliberately slow down long enough to treat yourself to a piece of peace and quiet and a dinner that sweeps you gently into the evening and a cozy chair?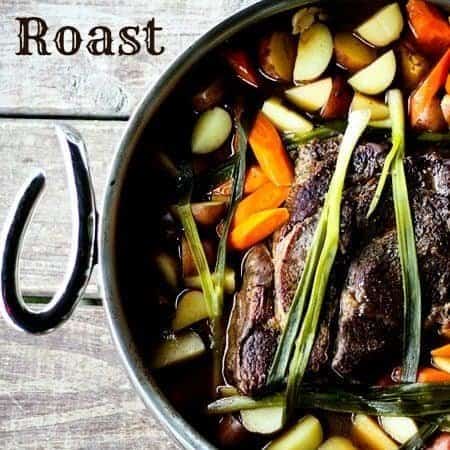 Meltingly tender, slow-braised Garlic & Ginger Pot Roast with lovely mellow carrots, potatoes, and green onions. This is braised in the oven, not a slow-cooker. Sometimes things are worth the effort, this is one of those things!
Ingredients
3-4

pound

boneless chuck roast

salt and pepper

2

teaspoons

vegetable or canola oil

3

inch

piece of fresh ginger root

cut in half and smashed with the side of a knife to break it up a bit

6

cloves

of garlic

peeled and lightly smashed with the side of a knife

4

cups

beef broth or stock

2

tablespoons

fish sauce or soy sauce

1-2

pounds

small

red potatoes, scrubbed and halved

3

medium size carrots

peeled and cut diagonally into 1-inch thick pieces

6

green onions

washed and trimmed of the root end
Optional, to thicken sauce:
1

teaspoon

cornstarch mixed into 1/4 cup water
To Serve:
Hot

cooked rice or noodles

soy sauce

toasted sesame oil
Instructions
Preheat the oven to 350°F.

Generously salt and pepper the chuck roast.

Place a large, heavy, oven-safe pan with a tight fitting lid over high heat. When the pan is very hot, add the oil and swirl to coat the bottom of the pan. When the oil is shimmery, lay the chuck roast down on the hot pan and do not move it for 4 minutes. After 4 minutes, lift the corner of the roast to see whether it has a dark brown surface. If it does not, continue cooking for another 1-2 minutes before flipping to cook the other side the same way. After the roast is well-browned on both sides, toss in the ginger and garlic, pour in the broth or stock and the fish or soy sauce, put the lid in place and put the covered pan in the preheated oven. Leave it alone without peeking in the pan for 2 hours.

After 2 hours, scatter the potatoes, carrots, and onions around the roast in the pan, replace the lid and cook for another hour or until the beef, potatoes, and carrots are all fork-tender. Using a slotted spoon, transfer the vegetables to a bowl (fishing out and discarding the pieces of ginger.) Use tongs to transfer the roast to a cutting board and lightly tent it with foil to prevent it from drying.

You can cut the roast, drizzle the pan sauces over it, and serve it with the vegetables immediately, or you can thicken the sauces before serving. If desired, drizzle with soy sauce and toasted sesame oil.
To thicken pan sauces:
Return the pan to the stove top over medium high heat and whisk the cornstarch/water blend into the pan sauces. Continue whisking until it reaches a boil and thickens. Serve the thickened sauce poured over the sliced pot roast and vegetables immediately. If desired, drizzle with soy sauce and toasted sesame oil.
Nutritional information is an estimate and provided to you as a courtesy. You should calculate the nutritional information with the actual ingredients used in your recipe using your preferred nutrition calculator.