Thank you all so much for spending time with me here at Foodie with Family. To those of you who have visited me regularly through the year, thank you for your continued support. It has meant the world to me to get to know you all. And to those who are new, Welcome! I hope you stick around. I'll put on a pot of tea! Hearing from you -whether it is questions or comments about recipes, a story, or sharing a recipe of your own- is one of the highlights of my days. Even if I'm a total dork and forget to respond, rest assured you've put a smile on my face. For this, my long-suffering kids thank you.

To all of you: I hope your New Year's Eve and New Year's Day are full of wonder, loved ones, great food and better memories. And more than that, I hope that your upcoming year is even better than those two days.

This week, I am going to post a series of my version of the traditional Southern New Year's meal. Yes, there will be greens and pork products. Yes, there will be cheese spread. There will be much delicious soul food. It'll be here. I'll be here. I hope you will be, too!
~~~~~~~~ ~~~~~~~~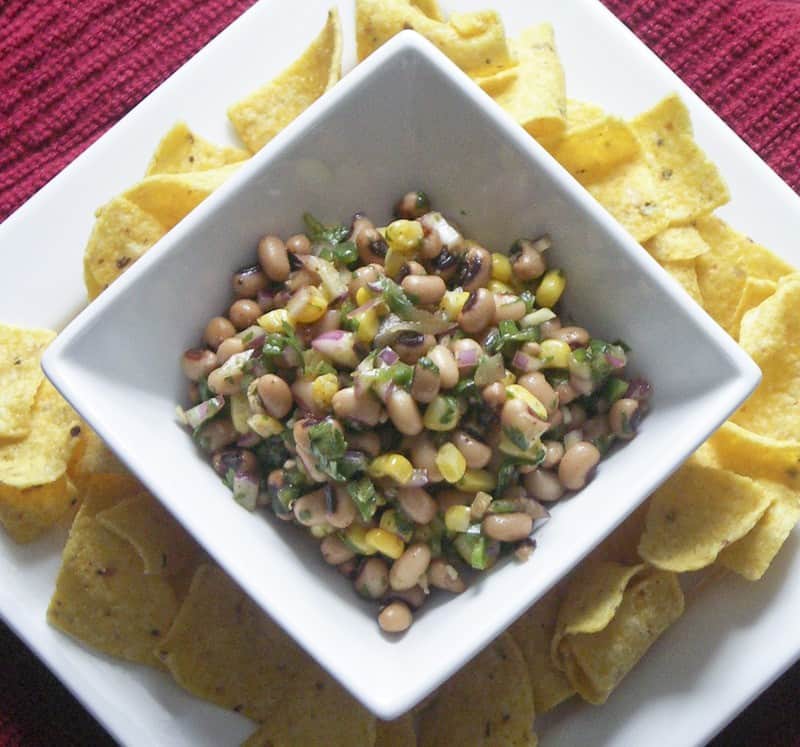 So. Who's ready for a brand-spankin', shiny New Year? A blank slate full of possibility? Another three hundred and sixty five opportunities to make your life exactly what you want it to be? Oh, I am. I so am.
I'm not exactly the resolution type. My anti-authoritarian streak runs so strong that I even rebel against the rules I make for myself. (Side note to my parents: I can hear you snickering from here. ) But I am crazy about the idea of self-improvement, on my own schedule and without pressure or someone telling me what to do, thankyouverymuch.
Instead of resolutions against which I would inevitably rail, I reflect on Longfellow's 'A Psalm of Life' (full text below the recipe.) My favorite stanza from the poem reads:
"Let us, then, be up and doing,
With a heart for any fate ;
Still achieving, still pursuing,
Learn to labor and to wait."
This poem is my little pep talk to myself at the beginning of each new year. It points my head and heart in the right direction. And as we celebrate the ending of a year and the possibilities that lie ahead, I turn to poetry and food. Food and poetry: Sustenance for the romantic heart and the sensual stomach.
Because really, it isn't a celebration if there isn't food. And New Year's Eve comes with a set of dishes as traditional and romantic as Christmas geese and Thanksgiving turkeys. I may have mentioned before that I married into a good Southern family and that my maternal grandparents are both Deep South born and bred. New Year's Day means you need black eyed peas. And I don't mean Fergie and her impossibly tight black leather pants. I mean the humble black-eyed pea or cowpea; the legume with the animal/vegetable name.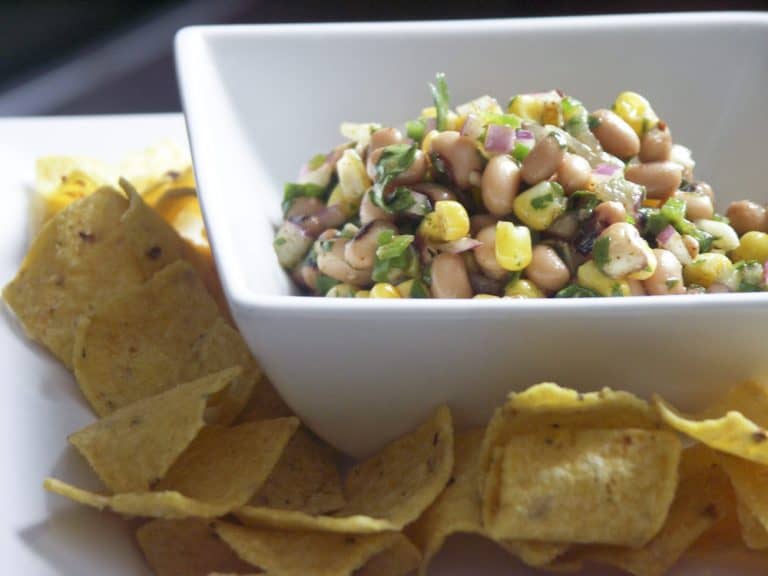 Southern tradition dictates that you improve your chances of having a great year if the first food you consume in the new year is black-eyed peas. The practice of eating black-eyed peas for luck on New Year's Day dates back to around the Civil War era. According to Wikipedia (who we all know is never, ever wrong) this came about when the Northern troops continually "stripped the countryside of all stored food, crops, and livestock, and destroyed whatever they couldn't carry away. At that time, Northerners considered "field peas" [black-eyed peas, among others] and field corn suitable only for animal fodder, and didn't steal or destroy these humble foods." Ha! The joke is on us, Yankees. Those black-eyed peas are the bees knees. Especially when tossed together with snappy corn, vibrant jalapenos and big old flavors in Recession Caviar.
But back to the legend. The black-eyed peas are supposed to represent coins. Tradition dictates that by pairing the black-eyed peas with greens (I'll post a killer green recipe later this week), which represent paper money, that you are starting your year out with wealth and the rest of the year will follow suit. Now, I don't know about all that, but I do know that starting the year out with a recipe that sure to save you some money can't be a bad thing.
Long a standard recipe in my family, budget-friendly Recession Caviar comes in many forms (made with black beans or chili beans instead of the black-eyed peas) and has many names (Lindamood Caviar, Hillbilly Caviar, Texas Caviar, et al.) depending on the occasion. Of course, this being for New Year's we'll be making it with the ubiquitous black-eyed peas. I recently made a giant bowlful of this for a gathering of family at The Evil Genius's Aunt Patty's home (would that make her my Aunt-in-law?). This room full of Virginians, Texans, Georgians, Floridians, and a couple assorted Yankee spouses (meself included) gave it the ultimate stamp of approval; an empty bowl. I'd say that's some pretty universal appeal with hearty representation from the drawl-contingent.
And true to the name I've given it, it's suitable for recession-stressed budgets. Beans -both canned and dried- are a perennially inexpensive and nutritious source of protein, fiber, iron, vitamins, minerals and other vague nebulous nutrients*. In fact, beans are, pound for pound, one of the least expensive and most nutritious foods you can introduce at your table.
*Vague and nebulous don't do it for you? Have a look at The American Journal of Clinical Nutrition's 'legumes and soybeans' page. There is a wealth of information beyond my simplistic explanation. But trust me. Beans are good for you. And your heart. Because the more you eat, the more you… I'm sorry. You DO remember I have five sons, right?
Recession Caviar isn't just easy on the pocketbook; it is a versatile contributor at the dinner table, snack time and parties, too. Whether served with tortilla or corn chips, spooned into a burrito or on top of tacos, or as a side dish to fish, chicken, or pork, it is certain to impress with its big, bold flavors and fresh texture. You can always change out the black-eyed peas for black beans or chili beans and throw any other fresh vegetables you have into the mix. Think of this a jumping off point…
Psst… Remember it's good for you, too! Consider this; you can ring in the New Year with proper Southern pride, please your belly, impress your guests, and watch your waistline all at the same time. Who loves ya, baby? Me! That's who!
For a photo-free, printer friendly version of this recipe, click here!
Recession Caviar (Black-Eyed Pea Salsa)
Ingredients:
3 cans (14.5 ounces each) Black-Eyed Peas, drained and rinsed
3 cups frozen corn, thawed
1/2 of a large red onion, or more to taste
1-4 fresh jalapeno peppers, according to preference
1-4 cloves of fresh garlic, according to preference, minced
1 large handful of fresh cilantro, rinsed and air-dried
2 Tablespoons light olive oil or canola oil
1 Tablespoon chili powder
the juice of two fresh limes (You can use bottled lime juice if necessary.)
1 teaspoon Kosher salt
Fresh ground black pepper to taste
Peel the red onion half and lay down on its cut side. Slice parallel cuts 1/8- 1/4 of an inch apart across the onion leaving the root end intact. Turn the onion 90 degrees and slice across the cuts for a small dice. And really, don't sweat trying for perfection on this one. Part of the charm of Recession Caviar is its rustic appearance.
Add diced onions, corn and the rinsed black-eyed peas to a mixing bowl with the garlic. Set aside.
Slice jalapeno peppers in half and use the tip of a spoon to remove the seeds, membranes and stems.
Slice the peppers into thin strips, turn the strips 90 degrees and slice across the strips to finely dice the peppers.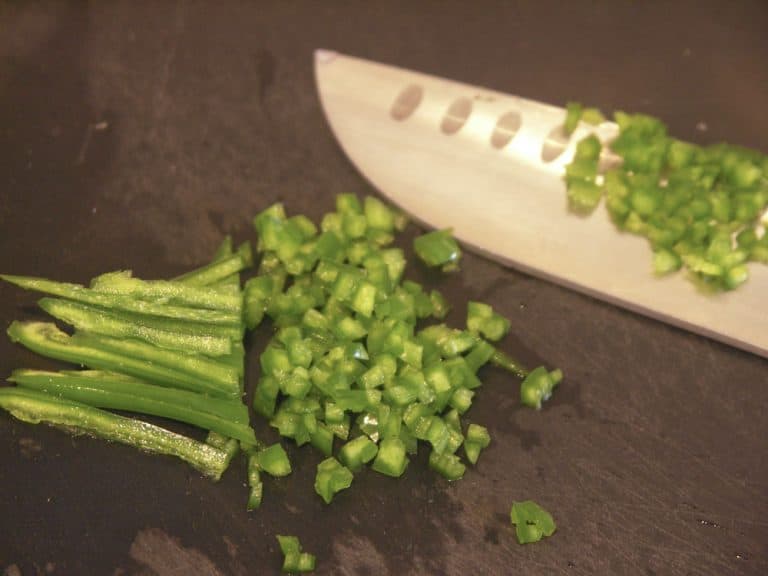 Transfer to the mixing bowl with the black-eyed peas, garlic and onions.
Roughly chop the cilantro and stir into the black-eyed pea mixture along with the oil, chili powder, lime juice, kosher salt and black pepper.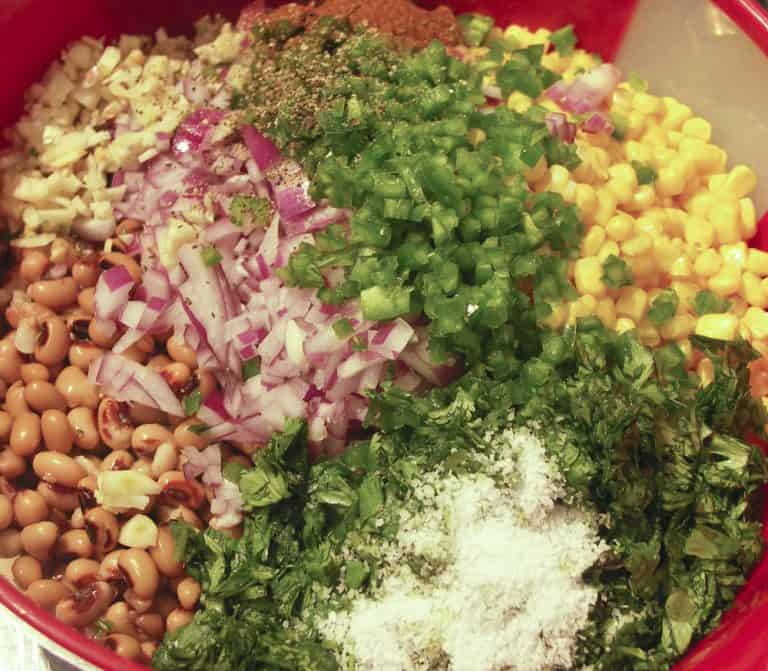 Allow to sit, covered at room temperature for an hour prior to serving or in the fridge for at least four hours prior to serving. Store leftovers for up to 5 days tightly covered in the refrigerator.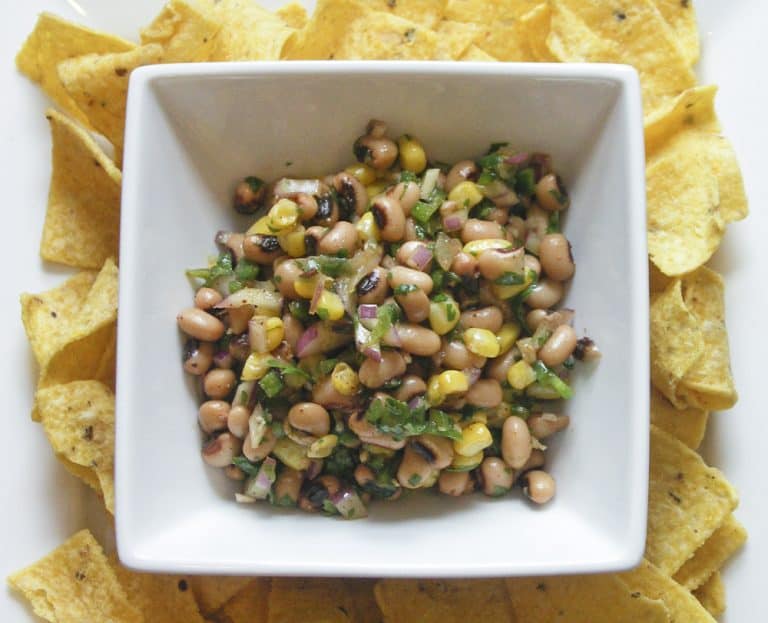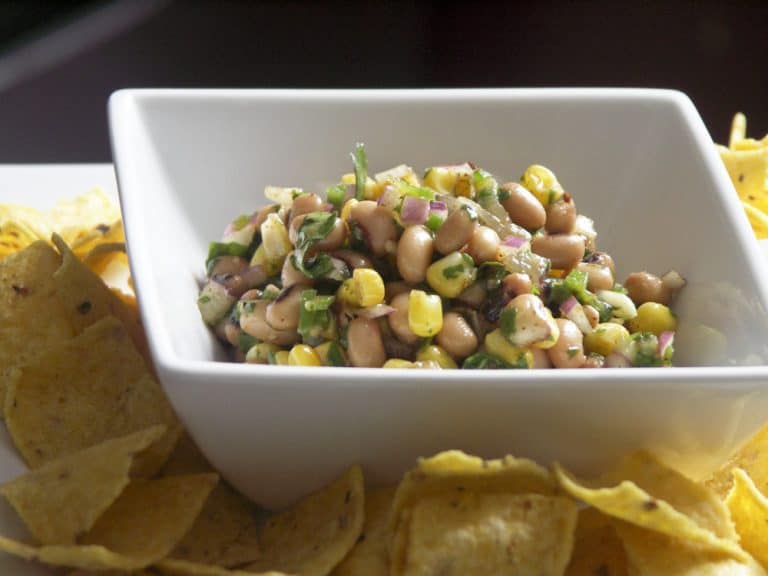 ~~~~~~~~ ~~~~~~~~
As promised, one of my favorite ways to ring in the New Year.
A PSALM OF LIFE

by Henry Wadsworth Longfellow


WHAT THE HEART OF THE YOUNG MAN
SAID TO THE PSALMIST

TELL me not, in mournful numbers,
Life is but an empty dream ! —
For the soul is dead that slumbers,
And things are not what they seem.

Life is real ! Life is earnest!
And the grave is not its goal ;
Dust thou art, to dust returnest,
Was not spoken of the soul.

Not enjoyment, and not sorrow,
Is our destined end or way ;
But to act, that each to-morrow
Find us farther than to-day.

Art is long, and Time is fleeting,
And our hearts, though stout and brave,
Still, like muffled drums, are beating
Funeral marches to the grave.

In the world's broad field of battle,
In the bivouac of Life,
Be not like dumb, driven cattle !
Be a hero in the strife !

Trust no Future, howe'er pleasant !
Let the dead Past bury its dead !
Act,— act in the living Present !
Heart within, and God o'erhead !

Lives of great men all remind us
We can make our lives sublime,
And, departing, leave behind us
Footprints on the sands of time ;

Footprints, that perhaps another,
Sailing o'er life's solemn main,
A forlorn and shipwrecked brother,
Seeing, shall take heart again.

Let us, then, be up and doing,
With a heart for any fate ;
Still achieving, still pursuing,
Learn to labor and to wait.