This tuna sandwich recipe isn't your average tuna salad slapped between two slices of Wonder bread. A crusty baguette hollowed out and filled with albacore tuna, hard boiled eggs, briny niçoise olives, anchovy fillets, whisper thin bell pepper slices, pickled onions, and a drizzle of oil make a tuna sandwich recipe worthy of the French countryside. Bon Appétit!
Have I told you before that one of the  "do-over" desires in my life is the school year I spent in France? The French people, culture, and countryside were beautiful. My school was wonderful. My friends there were great. "So what's the problem?" you may ask… The problem was that I was a vegetarian while I lived there and therefore missed out on all the lovely, delicious, succulent sausages for which the region where I lived -Alsace- was renowned. Dangit.
I don't put it in the regret category, however, because I ate more than my fair share of amazing French food. The bread? Yeah, that challenged my "Man cannot live by bread alone" notion. The cheese? Whoa baby. It was there that I acquired my life's devotion to stinky, well-aged cheese. The fish? Well, let's just say that while I was there I didn't miss meat at all because if there's any culinary field in which the French come as close to excelling as they do in bread and cheese it's in the preparation of fish. The French are wizards in fish dishes.
The Niçoise Tuna Sandwich Recipe I'm sharing today is so very in keeping with the French preparations of fish that I remember so fondly that I feel instantly transported back to the French countryside. The effect sadly doesn't extend to the size of my jeans which -despite having eaten my weight several times over in French pastries- remained significantly smaller during my tenure in La Belle France. Le sigh.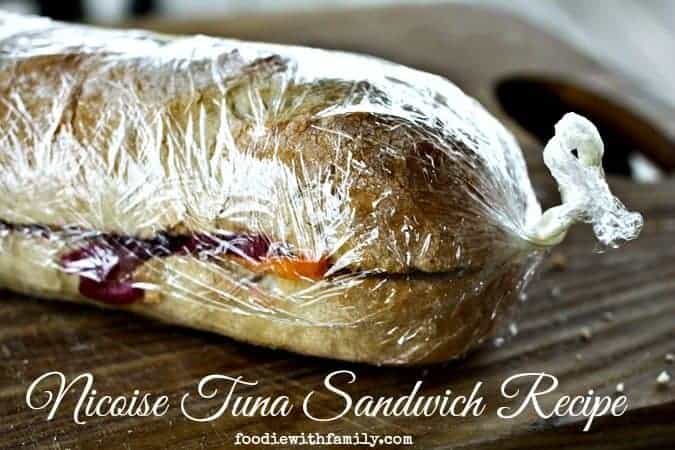 The beauty of the Niçoise Tuna Sandwich Recipe lies in the perfect balance of meaty albacore tuna, crisp-tender, sweet bell pepper strips, tangy pickled onions, briny-and-tiny Niçoise olives, and salty anchovy filets all tied together with a drizzle of olive oil and chopped hard boiled eggs on a chewy baguette. The whole package is compressed and wrapped tightly in plastic wrap and parked in the refrigerator, cooler, or picnic basket (accompanied by ice packs) for several hours. That gives you just long enough to do something très French; put your feet up and read or bicycle into the countryside to nap under a tree with your Niçoise Tuna Sandwich Recipe waiting for you for just the right moment.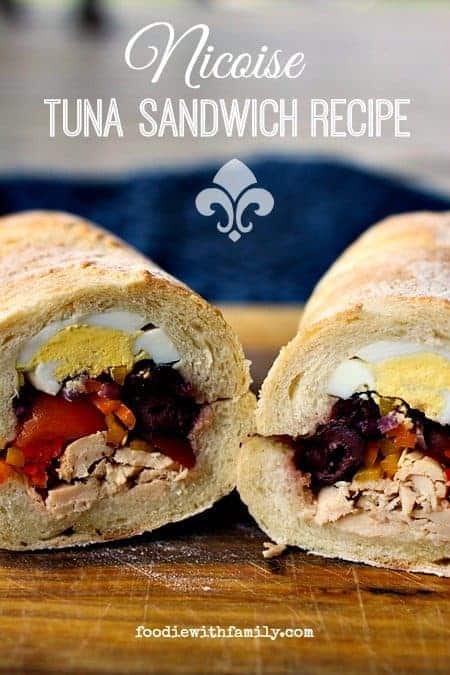 Cook's Notes:
Don't freak if you're not a fan of anchovies. They're kind of like the anchovies in Caesar salad in this sandwich… you mush them up with a fork and they disappear. The saltiness they deliver is integral to the Niçoise Tuna Sandwich Recipe, so please give it a try!
Can't lay your hands on Niçoise olives? Substitute pitted, oil-cured or kalamata olives. They won't be identical, but they'll be similar.
If you can get oil packed albacore, that's your best bet. If not, the water packed will do.
I like to use a handful of the little multi-coloured bell peppers that come in a bag in the produce department. If you can't find those, you can use a larger red, orange, or yellow bell pepper in their place.
Remember yesterday's Quick Pickled Red Onions? They're perfectly perfect here!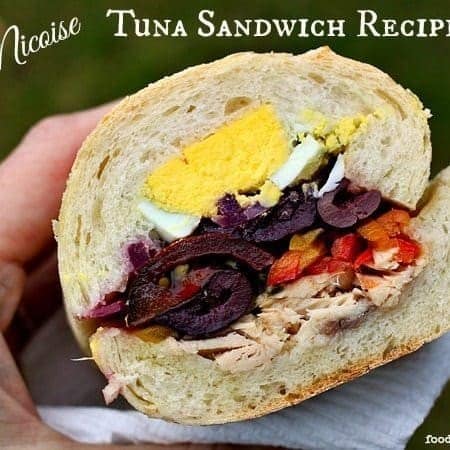 Ingredients
1

batard

about 12 inches long

1

tablespoon

coarse dijon mustard

6

anchovy filets

coarsely chopped, and 1 tablespoon of the oil in which the anchovies are packed OR 1 tablespoon olive oil plus 1/2 teaspoon coarse salt

1

can albacore tuna

drained

1/4-1/3

cup

nicoise olives

lightly smashed with the side of the knife and pitted

1/4

cup

cherry tomatoes

halved or quartered

3

tablespoons

pickled onion rings or 1 tablespoon chopped raw red onion

3

mini bell peppers cut into thin strips

2

hard boiled eggs

peeled, sliced into rounds

cracked or freshly ground coarse black pepper
Instructions
Slice the loaf of bread in half lengthwise. Use your fingers to pry out bread from the center of the loaf on the top and bottom leaving 1/2 to 3/4 inch shell all the way around both halves of the bread. This way more fillings can fit into the bread.

Divide the chopped anchovies, if using, between the top and bottom half of the bread, scattering them evenly. Break up and scatter the albacore tuna over the anchovies on the bottom half of the bread. Grind or sprinkle pepper, then arrange the nicoise olives, bell pepper strips, cherry tomato halves or quarters, then pickled onions over the tuna. Press the hard boiled eggs into the top half of the bread, breaking them up lightly as you do so. Drizzle the anchovy or olive oil over the eggs, then carefully position it over the fillings in the bottom half.

Lay out a piece of plastic wrap that is long enough to wrap all the way around the sandwich twice and have 2-inch overhangs on either end. It may be necessary to use two pieces of overlapping plastic wrap to get a sheet long enough to do the job. Position the sandwich about 1/3 of the way up the plastic wrap. Bring the edge up and over tightly and use it to press the sandwich. Now roll up the sandwich, pressing and tightening the plastic wrap as you do so, until the whole sandwich is rolled up. Twist both ends firmly shut and refrigerate for at least 4 hours, but preferably overnight before serving.

Remove plastic wrap before slicing in half to serve two as a main dish or into smaller slices as a starter.
Nutritional information is an estimate and provided to you as a courtesy. You should calculate the nutritional information with the actual ingredients used in your recipe using your preferred nutrition calculator.