There's nothing quite like the triple hit of chocolate these super moist cupcakes provide to get you going; deep, dark chocolate cake topped with airy, rich chocolate Italian buttercream, and grated chocolate.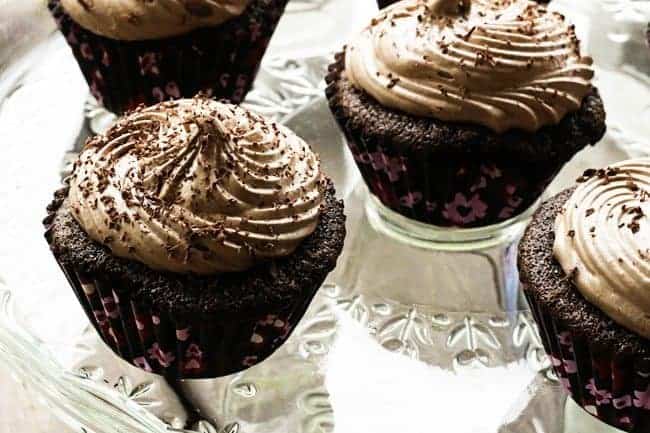 Do you really need a reason for cake? Oh sure, some occasions require it (weddings, graduations, birthdays, etc…) but do we REALLY need a concrete reason to break out the cake pans and mixer and flour and butter and sugar? I say no.
In fact, I'm going to go ahead and say that sometimes, providing a cake creates the occasion. All of a sudden, the first day of the farmer's market becomes THE FIRST DAY OF THE FARMER'S MARKET! Hooray! Produce!!
Boring old Thursday becomes THE LAST DAY BEFORE THE WEEKEND STARTS! The first night of family Karate lessons becomes THE DAY WE LEARN TO KICK BUTT AS A FAMILY! Cake wields this magic. Why ask why? Grin, grab the cupcake liners, fling a little flour, and go with it.
Take these cupcakes, for example. Or rather, don't take them because someone here might try to bite your hand off if you do. Oh shoot, there aren't any to take anyway. We ate them all with indecent speed. Here's my point. These cupcakes are moist, fluffy, cakey chocolate and coffee morsels of perfection. I know it sounds like I'm coming it a bit high, but really? These cakes are what cake oughta be. They don't require any wild and crazy ingredients beyond what you're likely to have in your pantry anyway; flour, cocoa powder, sugar, salt, baking soda, and butter.Isn't that the very definition of making ordinary extraordinary?
The coffee flavour doesn't come courtesy of some expensive extract, it comes from a double strength batch of coffee you can brew yourself. It's a subtle effect in the finished cupcake, lending just a hint of something something that you can't quite identify as coffee, much like a really good mocha. If you want to enhance that coffee effect, triple the strength of your coffee or substitute full-strength espresso in equal amounts for the strong coffee.
The cupcake part of what we're doing to day is as simple as pie, er, cake to make. It's not difficult by any means. I will tell you that the icing I chose to top them with is a little on the fussy side, but the end results speak for themselves. It's not clunky, crusty, or thick like some buttercreams, but rather is rich, airy, and almost unbelievably smooth. You might find yourself wishing you'd doubled your batch! In fact, if you want to pile your cupcakes high with the Chocolate Italian Meringue Buttercream, you may just want to do that out of the gates. Believe me, though, this stuff is rich enough to stand happily in smaller amounts.
What ordinary thing will you turn into an extraordinary occasion with cake?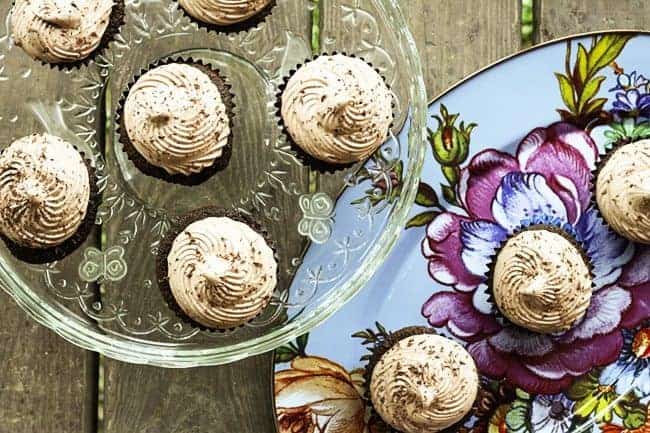 P.S. You still have time to enter to win an iPad on my not-so-ordinary extraordinary Chinese Barbecued Pork (Char Siu) post. Get on over there and enter!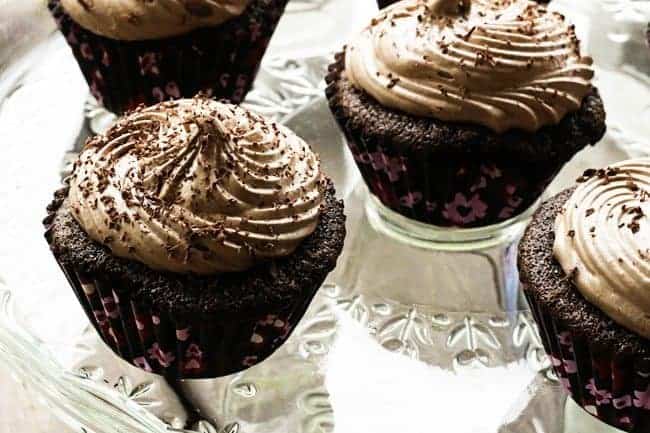 Mocha Cupcakes with Chocolate Italian Meringue Buttercream
Rate Recipe
Moist deep, dark chocolate mocha cupcakes are topped with a light-as-air, rich chocolate Italian meringue buttercream and garnished with grated dark chocolate. These treats are worth the effort! Adapted from the Devil's Food Cake and Silky Buttercream recipes in The King Arthur Flour Baker's Companion.
Ingredients
For the Mocha Cupcakes:
1 1/2

sticks unsalted butter

12 tablespoons, softened to room temperaure

1 3/4

cups

granulated sugar

1/2

teaspoon

salt

1 1/2

teaspoons

baking soda

2

teaspoons

pure vanilla extract

2

cups

all purpose flour

8 1/2 ounces by weight

3/4

cup

natural cocoa powder

not dutch processed cocoa powder

4

large eggs

at room temperature

1 1/2

cups

very strong brewed coffee

cooled to room temperature
For the Chocolate Italian Meringue Buttercream:
3

large egg whites

shells discarded and yolks saved for another purpose

1/4

cup

light corn syrup

1

cup

granulated sugar

1/3

cup

water

1/2

teaspoon

cream of tartar

1/2

teaspoon

salt

1

cup

butter

softened to room temperature

1/2

cup

vegetable shortening

2

ounces

unsweetened chocolate

or 2 squares Baker's brand, melted and slightly cooled

2

teaspoons

pure vanilla extract
For Garnish:
dark chocolate to grate over the top
Instructions
To Make the Mocha Cupcakes:
Preheat the oven to 350°F. Line two 12-cupcake pans with cupcake liners. Set aside.

Add the butter, sugar, salt, baking soda and vanilla to the bowl of a stand mixer fitted with a paddle attachment (or a large mixing bowl with a hand mixer.) Beat the ingredients for 5 minutes, or until the mixture is fluffy and has lightened in colour. Add the eggs one at a time, beating well after each addition.

In a separate bowl, sift together the flour and cocoa powder until it is lump free. Add about 1/3 of the flour mixture to the bowl and gently mix it in, scraping down the sides of the bowl from time to time. Add about 1/2 of the cooled coffee and then gently blend that in. Again, scrape down the sides of the bowl, then gently mix in another 1/3 of the flour mixture. Repeat with the scraping down, remaining coffee, then remaining flour, blending gently but well after each addition.

Divide the batter between the lined cupcake wells, filling each about 2/3 full. Tap the pan gently on the counter two or three times to remove air bubbles. Bake immediately for 23 to 25 minutes or until a toothpick inserted in the center of a cupcake comes out clean. Let the cupcakes rest in the pans for 5 minutes before carefully turning out onto a cooling rack. Let them cool completely while working on the icing.
To Make the Chocolate Italian Meringue Buttercream:
In the bowl of a stand mixer fitted with a paddle or whisk attachment, or in a large mixing bowl with a hand mixer, whip together the butter and shortening until smooth and fluffy. Scrape the butter mixture into a clean bowl and thoroughly clean the mixer, bowl and the attachments.

Place the egg whites in the bowl of your stand mixer fitted with the whisk attachment (or in a large mixing bowl with a hand mixer.)

Add the corn syrup, sugar, and water to a medium saucepan over medium high heat. Stir until the sugar has dissolved completely. Add a lid to the pan, bring to a boil and boil the mixture for 3 minutes BUT DO NOT STIR!!. Remove the lid, add a candy thermometer to the pan and cook the mixture to the Soft Ball Stage (or 240°F).

While the syrup is cooking to the Soft Ball Stage, start mixing the egg whites on low speed. After a minute or so, they will begin to look foamy. When they reach that stage, add the cream of tartar and the salt, then raise the speed of the mixer to HIGH, beating to soft peaks. (In other words, when you raise the mixer, the whisk head should leave a little mound of egg whites that has a peak that curls back down on itself. Leave the mixer off.

When the syrup reaches the Soft Ball Stage, remove it from the heat immediately! Carefully pour about 1/4 of the hot syrup down the inside of the mixing bowl, taking care not to get the syrup on your skin! Turn the mixer on low and gradually increase the speed to beat the mixture well. Turn the mixer off again (See notes), and quickly add half of the remaining syrup. Turn the mixer on again and beat well. Turn the mixer off and add the final remaining syrup. Turn the mixture on high and beat well until the meringue has cooled to room temperature. Do not try to hurry this process or you'll have droopy icing at the end of all your work! Expect the process to take about 20 minutes.

When the meringue is completely room temperature through and through, pull off pieces of the butter and toss them into the mixer, beating well. If it starts looking like it wants to separate, stop adding butter and just beat until everything re-incorporates and looks airy. Finish adding the butter, then add in the melted chocolate and vanilla and whip until completely even in colour. If it is too soft to pipe or spread onto the cupcakes, you can refrigerate the mixture until it has a little more body. Pipe or spread the buttercream onto the cooled cupcakes and grate a dark chocolate bar over the top.
Notes
*Do not add the hot syrup while the mixer is running. No matter how careful you are, there's a good chance it will splash out and get you. Hot syrup on the skin burns badly, so please err on the side of caution!
Nutritional information is an estimate and provided to you as a courtesy. You should calculate the nutritional information with the actual ingredients used in your recipe using your preferred nutrition calculator.