If you were around yesterday you may have a pot of beans hanging out in your fridge waiting for you. If you are scratching your head and saying, "Huh?" just click here and then rejoin us. It's okay. We'll wait…In the meantime, those of us who have beanpots in hand can enjoy this lovely ditty while we wait for the others to play catch up…
[youtube]http://www.youtube.com/watch?v=IpgPJ1uMDsU[/youtube]
Alrighty. We're all on the same page now? If you made the cannelini yesterday you are in for a tasty treat; Provence White Bean Puree (a.k.a. Mom's French Bean Dip.) I can get my kids to eat almost anything by pureeing it and calling it dip. This is a trick that you are welcome to borrow to use on picky children or spouses. I promise your secret is safe with me. I prefer the lovely name 'Provence White Bean Puree', but when at home do as the homies. Donc* (that's 'therefore' for the non-Francophiles out there) in my maison, it's called "Mom's French Bean Dip". My kids get a real charge out of it when I speak to them in French.
*This is where 'making my parents happy' comes into play. In case you haven't noticed yet I am going to liberally pepper, or poivre, this post with random French words and phrases so that my parents feel the money they put into sending me to France for my senior year of high school was l'argent well spent. How about that Maman et Papa?
If you've never been acquainted with Herbes de Provence, this seems like a good time to remedy that situation. Herbes de Provence is a blend of, well, herbs that are typically combined in the food of the Provence region of France. Voila! Herbes de Provence. Makes sense, non? The usual players in this blend are thyme, savory, fennel, basil, and lavender flowers and other herbs. Everyone has their own favorite ratio of herbs, but the two constants are that thyme is usually the dominant flavor and there is almost always lavender. Without it, you don't really have Herbes de Provence. If you've never eaten lavender just be brave and try it. I think you'll be pleasantly surprised.
This bean puree is incredibly versatile and it's more sophisticated than your average bean and cheese spread. Clearly, it's usually used as a dip 'round these parts but don't let that stop you from elevating it to another level entirely. It is equally good when warmed up and served as a base for a grilled firm-fleshed white fish that is simply dressed with salt, pepper and a squeeze of fresh lemon juice. It is wonderful when served hot on toast points with a grilled or broiled shrimp and crispy bacon on top. It's a sublime touch when stirred into hearty tomato based soups both as a thickener and as a flavoring agent. You catch my drift, right? It's so very good. C'est si bon.
As if all that wasn't enough to recommend it, it freezes like a dream since there's no dairy of any kind in it. You can freeze it in about any zipper top bag or other airtight container (so long as you lay a piece of plastic wrap directly on the surface of the bean puree before adding the lid to prevent the puree's surface from drying.) You can also freeze it in ice cube trays and then transfer the frozen cubes to a zipper top bag for single-serving convenience. Pop a cube of that in a bowl of soup or stew and you're in heaven.
Lest we forget, this gorgeous stuff is insanely inexpensive to make and insanely good for you. Lookie! Olive oil, lemon juice, beans, salt, pepper and herbs. Delicious and nutritious. Can I get a 'hallelujah'?
For a printer-friendly, photo-free version of the recipe, click here!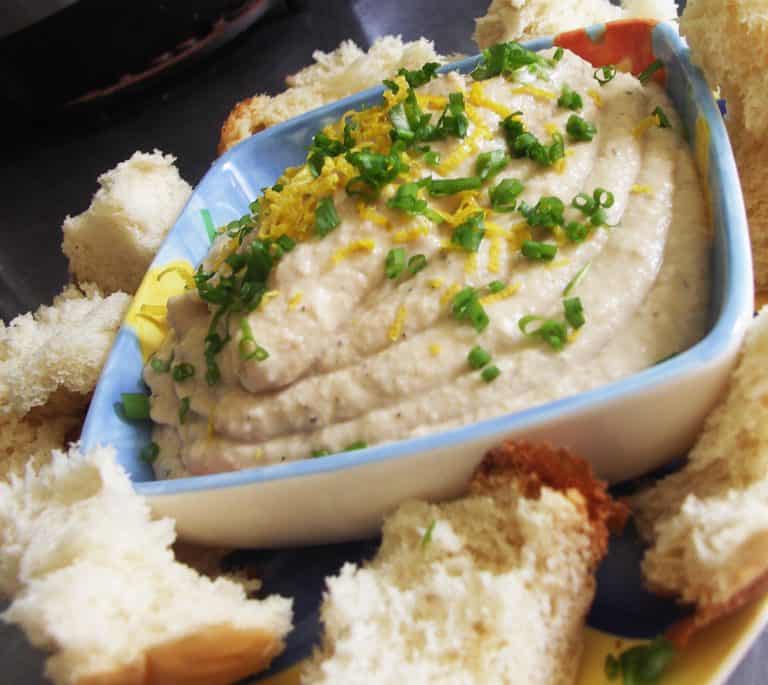 Provence White Bean Puree
4 cups cooked cannellini beans
¼ cup extra virgin olive oil
1 ½ Tablespoons garlic paste (or chopped garlic)
1 Tablespoon dried herbes de Provence
the juice and zest of half a lemon
salt and pepper to taste
Use a slotted spoon to add the beans to the bowl of a food processor (No food processor? No prob. Just beat the tar out of the ingredients with a potato masher or the bottom of a heavy glass.)  Using a slotted spoon allows most of the bean liquid to drain away without overdraining them. Did you know you could overdrain beans? You do now! Seriously, though, if you drain ALL the liquid away your dip will be too dry.
Add the garlic paste, herbes de Provence, salt and pepper, olive oil,  and the juice of the lemon to the bowl of a food processor.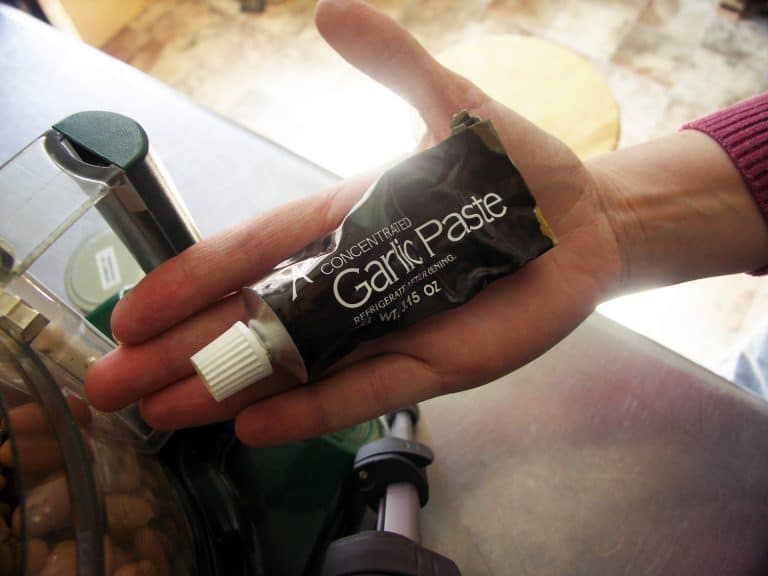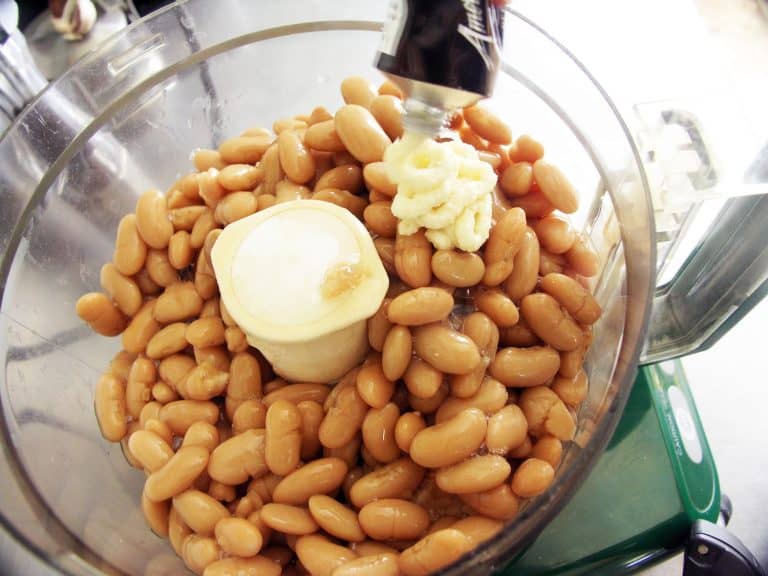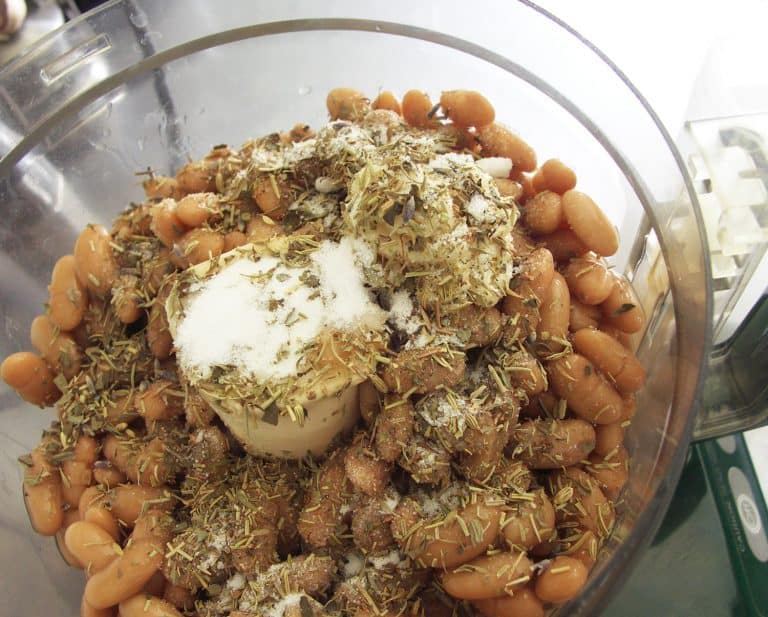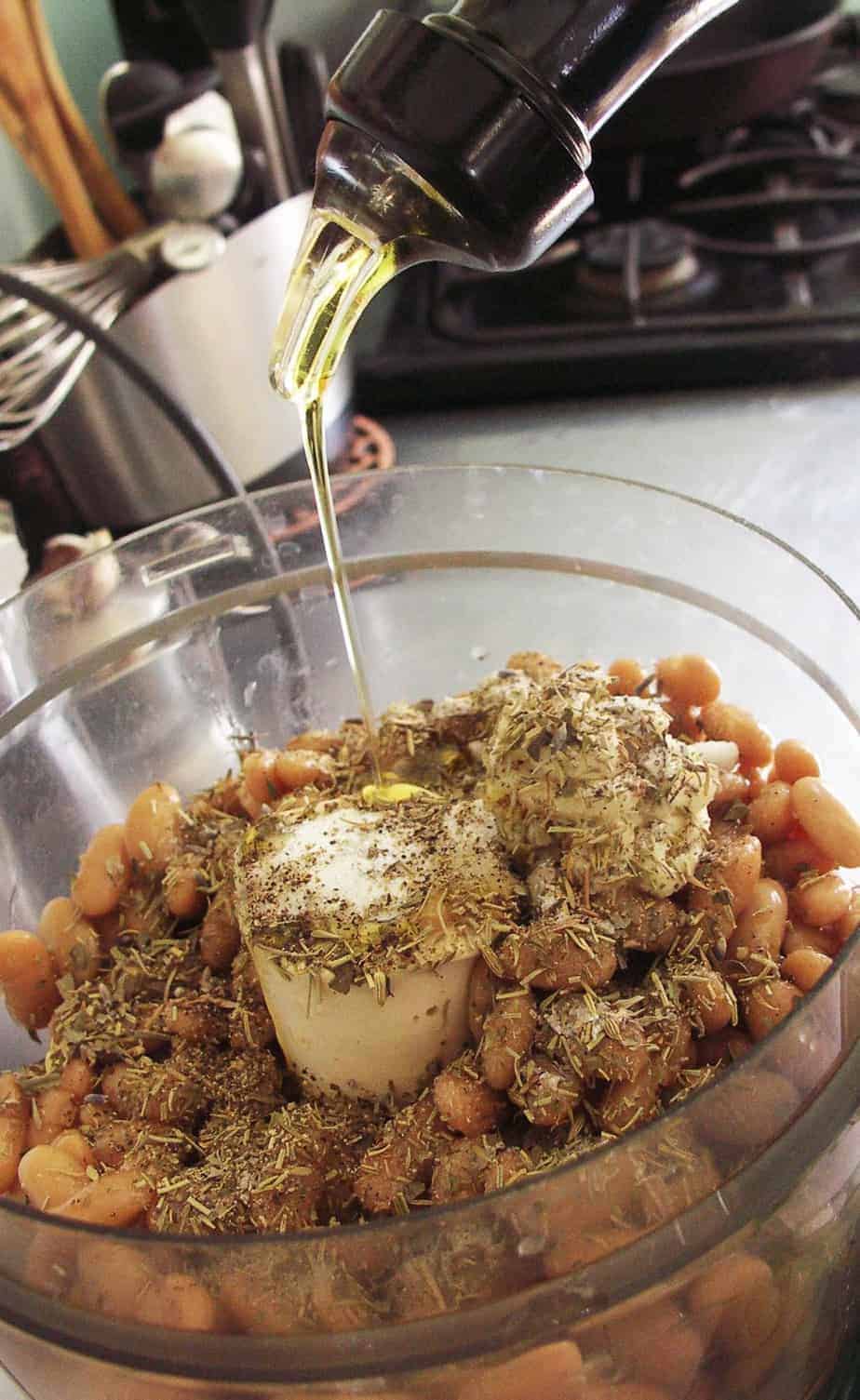 Secure the lid and process until smooth. Try a small bite of the dip on bread or a carrot stick (or a spoon!).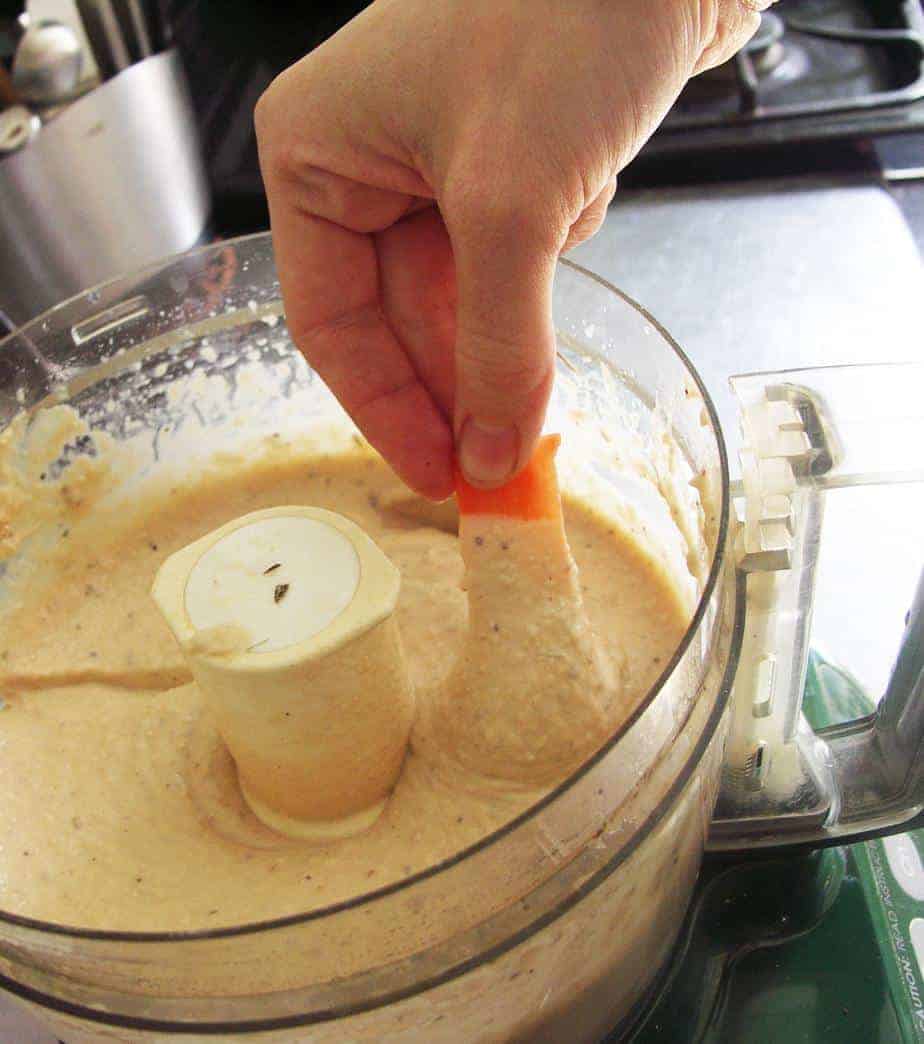 Adjust flavor by adding salt and pepper to taste. Stir well and pour into a container with a tight fitting lid. Refrigerate prior to serving, at least an hour, but preferably overnight. This gives the flavors a chance to blend and bloom.
Garnish with lemon zest and finely chopped green onions.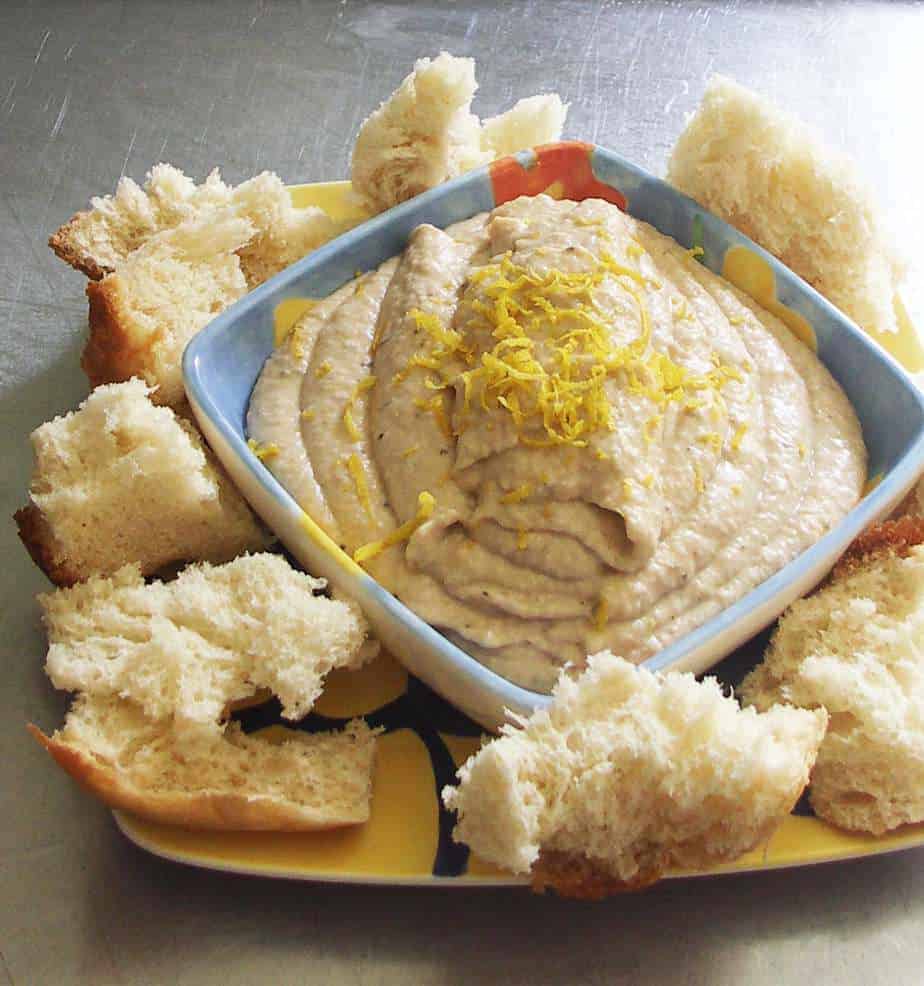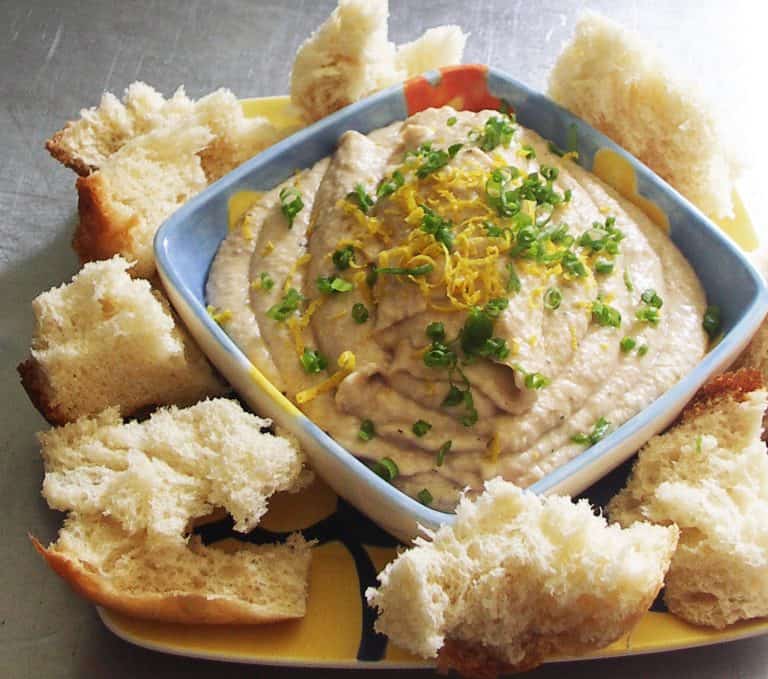 Serve cold with vegetable sticks, pita chips, breadsticks, toast or crackers. You can also serve this warm as an accompaniment to grilled fish or chicken.