Christmas just isn't Christmas without eggnog. And eggnog just isn't eggnog unless it's Homemade Classic Eggnog. It's just truth, friends. It ABSOLUTELY takes more time than buying a quart of the stuff at the store, but the payoff is so enormous that you'll never question it when once you've made your own. Redolent with freshly grated nutmeg and vanilla bean, Homemade Classic Eggnog is thick but impossibly light because you essentially make a thin custard and stirr whipped egg whites into it. It's like drinkable ice cream mixed with a cloud. My husband couldn't stop sipping it, declaring it to be "So thick and soft and drinkable! It's like you could bake this and it would be a soufflé!" Because that's what Evil Geniuses say.
The Homemade Classic Eggnog itself is absolutely non-alcoholic making it family friendly, but you can certainly add a little high-octane fun by stirring a shot of dark or spiced rum or some brandy (for a more traditional flavour) into individual servings.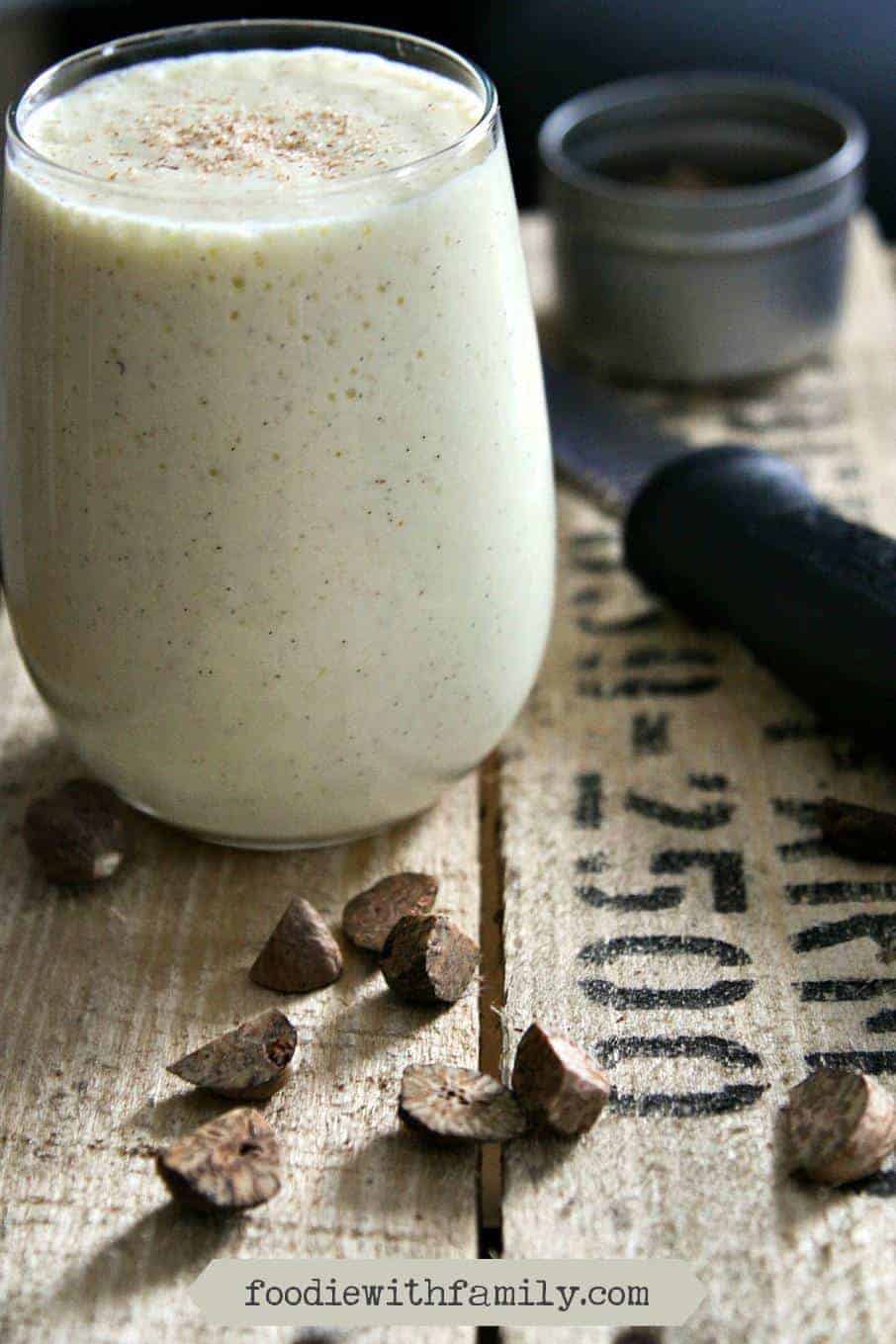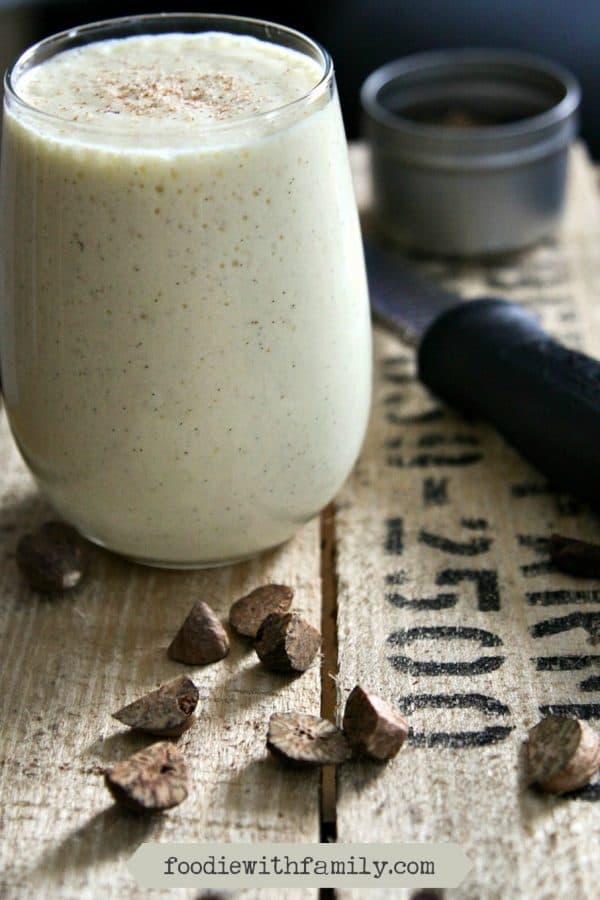 I took a quart up the hill to my Amish friends and they decided it was destined to be their dinner post barn chores. If all you've ever had was store bought eggnog, you're probably perplexed. How can something be light and filling at the same time? It's a particular trait of real, Homemade Classic Eggnog.
Cook's Notes
It's a little tricky to find light cream, which is absolutely ideal for Homemade Classic Eggnog. If you straight up can't locate any, use half and half in its place.
I'm going to go ahead and get all Ina on you. Don't sub in pre-ground nutmeg for the freshly ground nutmeg in Homemade Classic Eggnog. If you're going as far as making your own eggnog, you can absolutely grate the nutmeg yourself. The difference in flavour will convert you for once and for all. All you really need for this is whole nutmegs and a grater. I love my microplane, but any fine grater will do.
This might sound a little fussy if you've never made an old school custard before, but I assure you it's been done throughout the ages because it really works!While you bring the dairies and aromatics to a gentle boil you whisk together the egg yolks and sugar until they've lightened in colour and thickened a bit. As soon as the milk/light cream mixture reaches a boil, you whisk about a cup of it into the egg yolks, whisking vigorously while slowly pouring a thin stream of the milk/cream into the thickened egg yolk/sugar combination. This brings the temperature of the eggs up slowly which prevents them -theoretically anyway- from scrambling when you whisk it into the rest of the milk/light cream mixture.
You don't truly need an instant read thermometer for this process, although it's dead helpful if you have one handy or need a good excuse for one. I won't lie. It's far easier to use an instant read thermometer to tell if you've reached 160°F if you don't have experience with it, but it can be done without one. To test a custard for doneness without an instant read thermometer, dip a metal spoon down into the custard. Draw your finger down through the liquid and if it leaves clear lines in the spoon without them running back in toward itself, it's done!
If you're in a real bind, you can use pure vanilla extract stirred in after you strain your custard, but you'll find the richness imparted by a real vanilla bean to be incomparable. More Ina. I'm sorry.
While your careful old-school custard tempering will eliminate most issues, it's not an insurance policy, and that (and straining the vanilla bean out) is why you always strain the finished base through a fine mesh sieve.
You absolutely, positively cannot skip chilling the custard before stirring in the whipped egg whites, or you will scramble the egg whites which is absolutely, positively lovely in an egg white omelet, but no bueno in Homemade Classic Eggnog.
If you want hooch in the mix, do so after it's all been stirred together (whipped egg whites and all) per serving. The alcohol can curdle the dairy and eggs if left for long periods of time. There's no concern it'll happen between mixing and sipping if you do so within an hour or so, but longer than that and you're outta luck.
I love to garnish each serving with a little extra freshly grated nutmeg for the super nutmeg boost Homemade Classic Eggnog makes famous.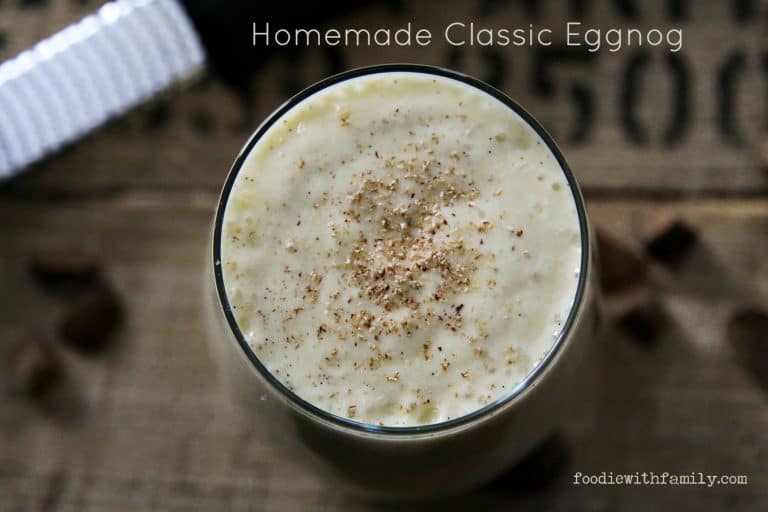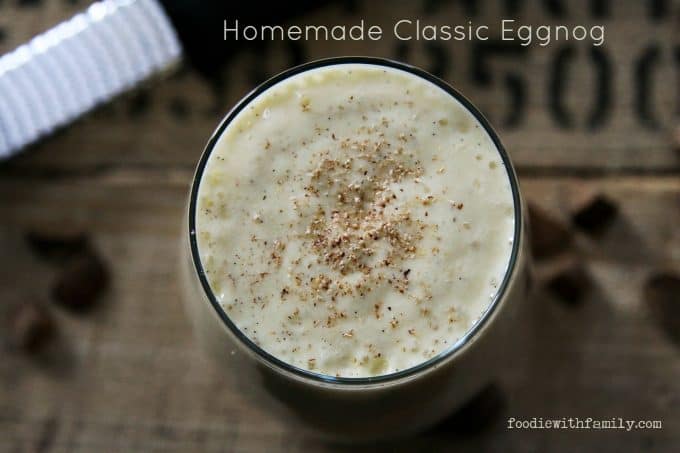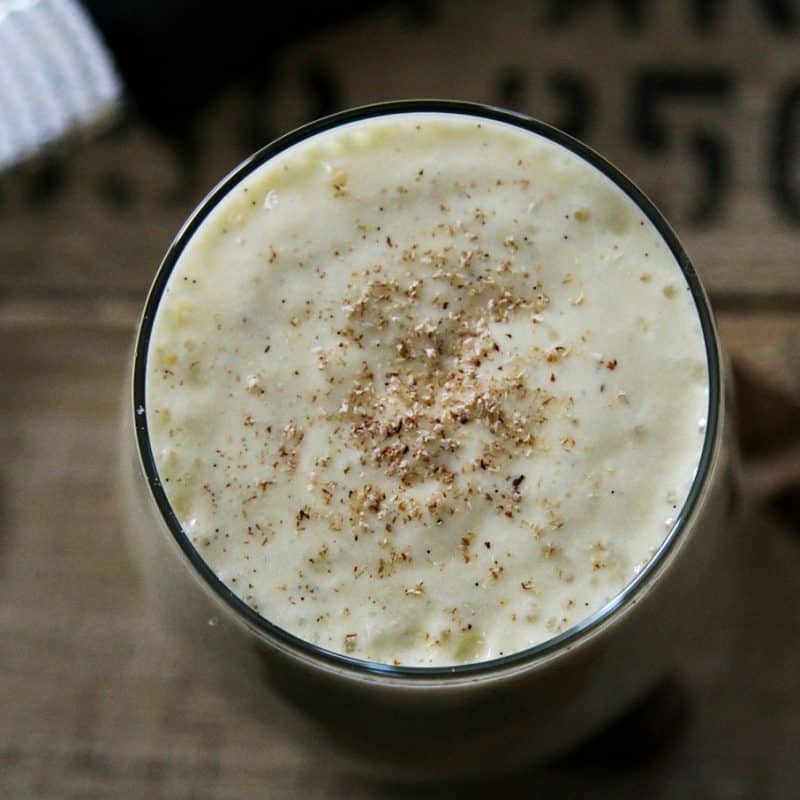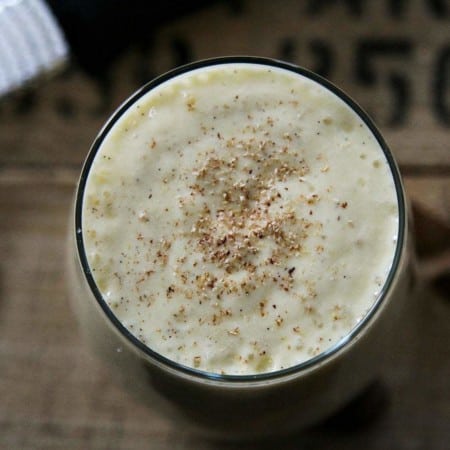 Ingredients
1

cup

light cream

3

cups

whole milk

1

vanilla bean

split and scraped

1/4

teaspoon

freshly grated nutmeg

6

egg yolks

3/4

cup

sugar

6

egg whites
Optional but tasty:
1

shot brandy or rum per serving

more freshly grated nutmeg for garnish
Instructions
Stir together the light cream, milk, vanilla bean and scraped contents, and nutmeg in a 3 quart stockpot. Bring just to a boil over low heat.

While the dairy mixture is coming to a boil, whisk together the egg yolks and sugar in a heat-proof bowl until lightened in colour and slightly thickened. When the dairy mixture reaches a boil,use a ladle to drizzle in about 1 cup of it while vigorously whisking the egg yolk mixture. As soon as it is thoroughly incorporated, pour it in a thin stream into the remaining hot dairy mixture over low heat. Bring to 160°F. Pour through a fine mesh strainer and let cool slightly before covering and cooling completely.

Use a stand mixer or hand mixer to whip the egg whites to firm peaks. Once it reaches firm peaks, whisk into the chilled custard base until evenly incorporated. Serve as is, or garnish with freshly grated nutmeg and/or a shot of brandy or rum.
Nutritional information is an estimate and provided to you as a courtesy. You should calculate the nutritional information with the actual ingredients used in your recipe using your preferred nutrition calculator.