While I was familiar with plantains and had eaten them several ways before, I had my first plantain chips ever while visiting Miami in May. I have since made up for lost time by FRYING ALL THE PLANTAINS. It's easy as can be and yields a chip that is sturdy enough to dip just about anything, dead crispy, and a fun departure from the norm. My kids are going a little bonkers for them. One of them defines his love for Plantain Chips as being, "Crazy, because they LOOK like bananas but don't TASTE like bananas which is BANANAS!"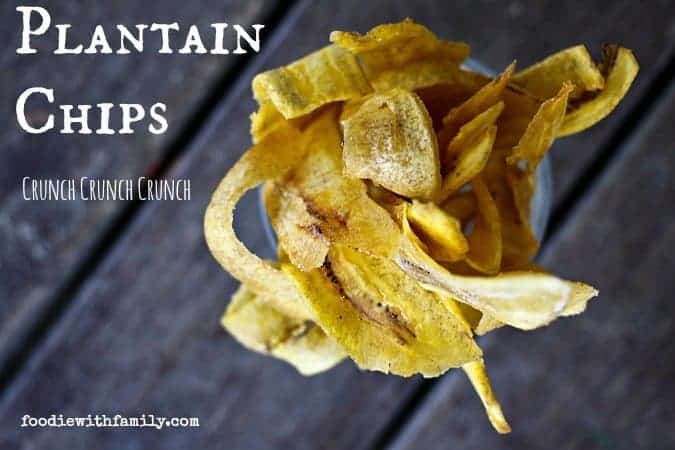 So if they look like bananas and don't taste like bananas, what DO they taste like? Well, they are a little sweet (but not anywhere in the territory of banana sweet) and a little nutty. It's kind of hard to explain if you have never had them.
And keeping with the 'looks like a banana but doesn't ____ like a banana" theme, there is a bit of a trick to peeling them. You might think you just peel 'em, but that would be an exercise in serious frustration. Luckily, my gal, Meseidy of The Noshery, has a great tutorial on her blog on how to peel the little beasts.
Rest assured, though, that it's totally worth the learning curve on peeling this NOT-A-BANANA. And yes, I'm asking you to break out the hot oil here, but I'm telling you, the payoff is immense. When you fry them instead of baking them, they stay crispier FAR longer than they otherwise would have. All bets are off, of course, if you're in massively humid weather… Then you'd do best to eat them like the wind. It's not a big sacrifice; trust me.
The beauty of Plantain Chips is multi-faceted. Sure, they're crunchy and snacky, but they have something potato chips don't have (and believe me, I still love my potato chips); they have a backbone. Not literally, of course, but figuratively. They're STURDY! Not in an "I-can't-bite-this-it's-so-hard" way, but rather in a "WOW, that's crispy! And it held up beautifully to that Slow-Cooker Spicy Bacon Corn Dip!" kind of way.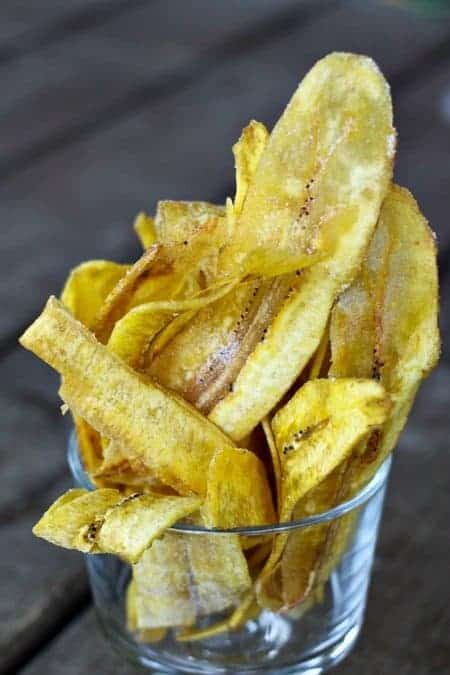 Cook's Notes
Once you've peeled your plantains, you can decide which direction you're going to slice them. If you have a mandoline handy, I recommend slicing them lengthwise in 1/8-inch thick strips. This is how I had them in Miami, and it will be how I forever crave them. No mandoline (or a dreadful fear of them)? Use a sharp knife to cut crosswise into 1/8-thick rounds. Either way will be delicious, but LONG CHIPS=DELICIOUS to me.
I prefer peanut oil for all my frying jobs, but you can sub in vegetable or canola oil. I don't recommend extra virgin olive oil as the smoke point is too low and burnt flavoured chips are not a happy food in my book.
Salt them. Please. For the love of all that is good, salt them as soon as they're out of the oil. Salt them BEFORE you add another batch to the hot oil. This solves two issues. It lets the oil return to the proper frying temperature and it keeps the salt stuck to the chips.
As for WHICH salt to use, I like to use a fine popcorn salt. I've also used coarse kosher salt and enjoyed it. It's up to you!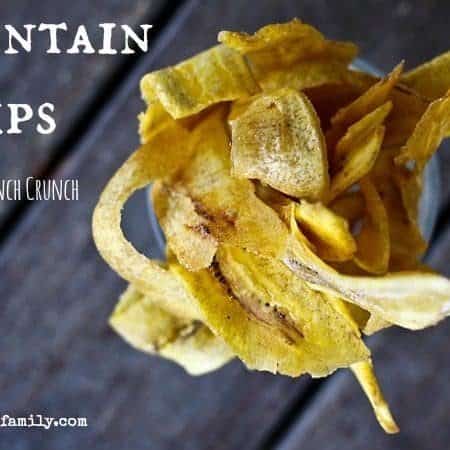 Ingredients
2

green plantains

not sweet ones!, peeled and sliced 1/8-inch thick either lengthwise or crosswise

2

to 3 inches of peanut oil in a heavy bottomed

high-sided pot OR a properly stocked deep-fryer

salt
Instructions
Heat the oil to 350°F. If you do not have a thermometer, this temperature can be gauged visually by watching the oil. If it is shimmery and seems to be moving around, and many bubbles form vigorously around the edge of a small piece of plantain when it is eased into the oil, it is ready.

Separate your plantain slices and put them in one at a time, stirring as you do. Do not overcrowd the pan, and work in batches if necessary. Fry the plantain chips for 2-4 minutes, or until golden brown. They will continue to darken after being removed from the oil.

Transfer the fried chips to a paper towel lined bowl or plate and sprinkle with salt. Serve warm or room temperature.
Nutritional information is an estimate and provided to you as a courtesy. You should calculate the nutritional information with the actual ingredients used in your recipe using your preferred nutrition calculator.